Looking for a quick and yummy recipe for an appetizer or snack? You need this Vegetarian Puff Pastry Tart for sure!
Holidays are almost here and it is time to start working on a menu for Holiday dinners. When thinking of recipes for the Holiday season, I like to use ingredients that are easy to find, recipes that come together quickly and ones that will be LOVED by kids and adults alike.
First up, is this super easy tart that is full of vegetables, cheese and yet super quick to make. From start to finish it takes under 30 minutes to make this tart and it tastes amazing as an appetizer or snack.
I made several recipes using Pepperidge Farm Puff Pastry Sheet in the past. This Holiday season I decided to make a simple appetizer that is a family favorite. We LOVE our home-made pizzas and are always on a lookout for new recipes that combine classic pizzas with something offbeat.
From switching the base to Puff Pastry, bread slices or lavash, adding new toppings, sprinkling cottage cheese instead of cheese; we love to innovate recipes and make something different each time.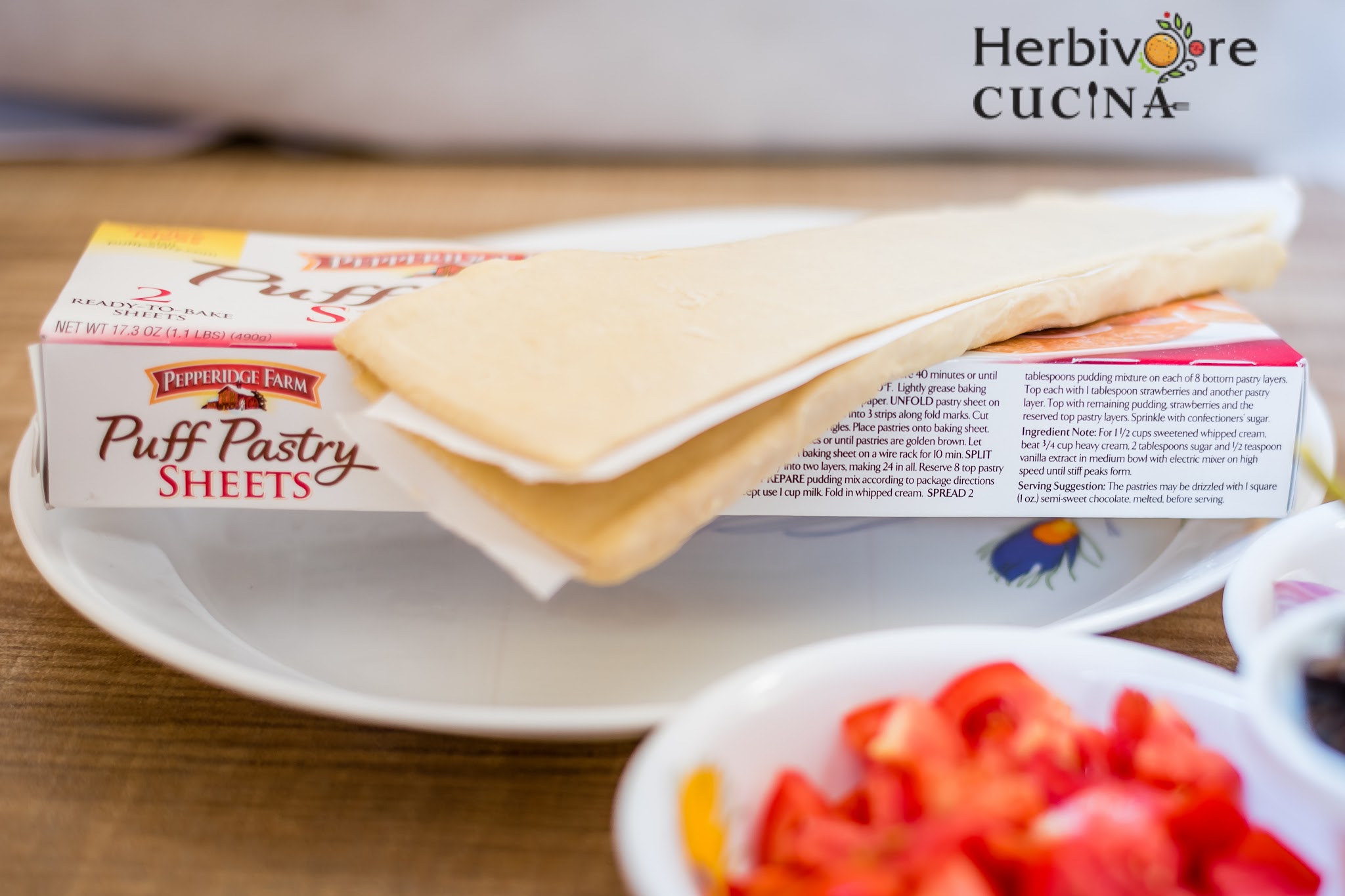 Yesterday I made a tart using Pepperidge Farm Puff Pastry Sheet and some vegetables that I had in the refrigerator. I added very little mozzarella cheese to the tart to keep it simple and not very heavy. The result was a perfect dish that was gobbled by us in minutes.
If you are looking for something that is easy and quick, you need to head straight to the recipe and make it for the Holiday Season. Looking for more? Head to this page and get #InspiredbyPuff!
Variations
I used the vegetables I had in my refrigerator. However, if you like, add in zucchini, broccoli, colored peppers, artichoke hearts, pineapple and so on. Plus, if you would rather have something with a pesto base or a alfredo sauce, you can swap out the marinara for that. And last, if you want pizza pockets instead of a large one, just divide the Puff Pastry into squares, add the toppings and fold it over.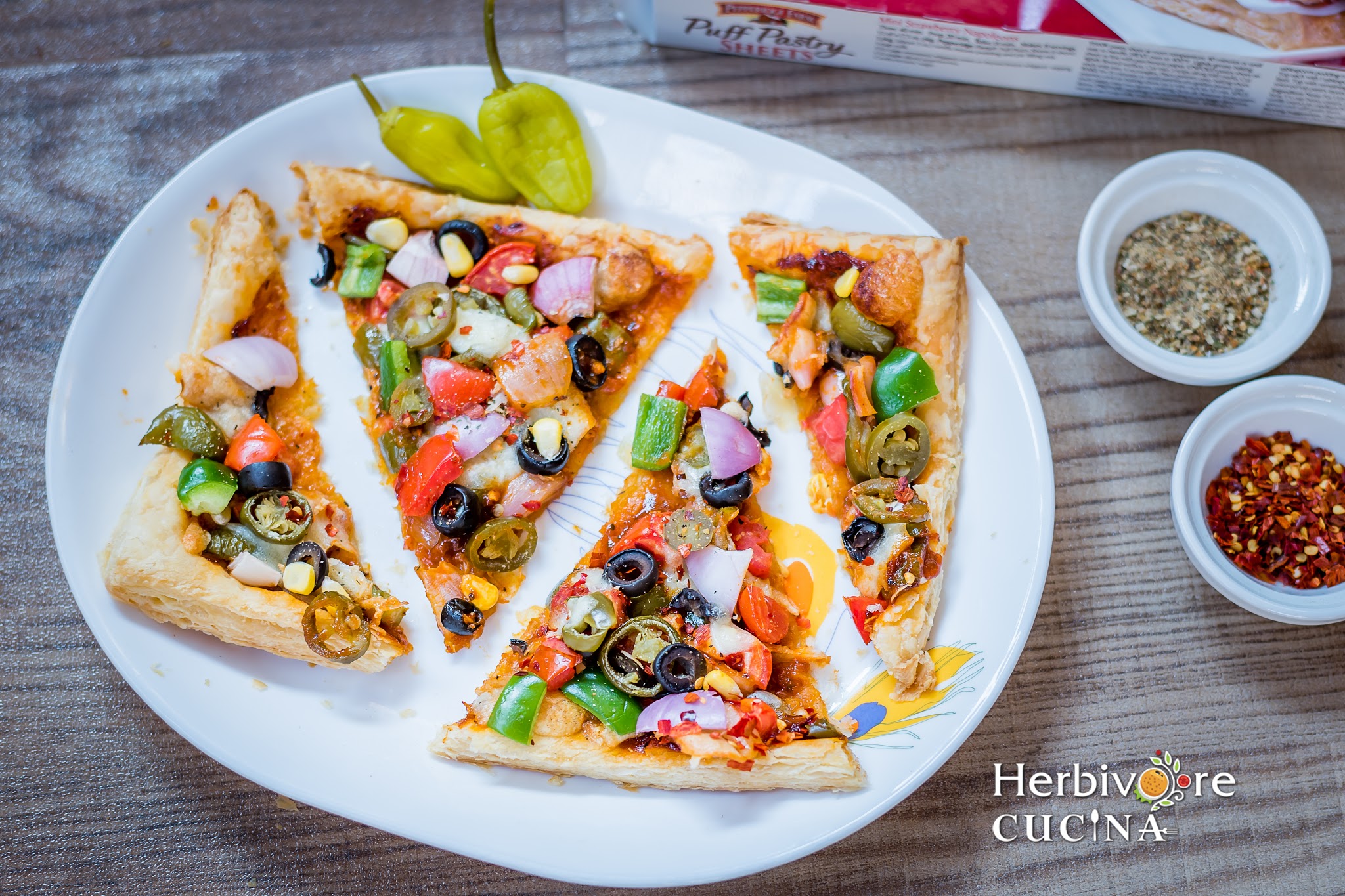 Ingredients
Pepperidge Farm Puff Pastry Sheet 1
Marinara Sauce of your choice (homemade or store bought) ½ cup
Vegetables (I used onion, pepper, tomato, olives, jalapeno and corn) 1 cup
Shredded Mozzarella Cheese ¼ cup
Oregano 1 tsp
Chilli Flakes 1 tsp
Method
Thaw the Pepperidge Farm Puff Pastry Sheet to room temperature. Open the sheet and place on a baking tray. Preheat oven to 350 F/ 180 C.
Using a fork pierce the sheet leaving an inch on all sides. This prevents the sheet from rising in the center.
Spread the marinara sauce and place vegetables of your choice. Sprinkle cheese on top and also add oregano and chilli flakes.
Place the baking tray in the preheated oven and bake for 20-25 minutes, till the base is crisp and the cheese melts.
Remove and serve with some marinara on the side.