This is a sponsored post on behalf of Cost Plus World Market and I have been compensated. All opinions are 100% my own.
A super delicious and easy to make appetizer for any party, these Flatbread Pizzas are a treat for everybody of all ages!
Can you believe the BIG GAME is almost here? I can still think of the nail biting finish at the game last year, and here we are again; preparing for the big day.
The most important decision we make as a group is the FOOD! With all the friends being big fans of the game and of delicious finger foods, we have already planned it all out for this year.
Thinking what is on the menu? Here is a little hint, it is going to be a pizza and soda party! What is a game night without pizza anyway? This year I decided to make the EASIEST pizza I have ever made. This snack comes together in under 15 minutes, needs a few readily available ingredients and is really easy to make. Yes, I bet it is super simple!
The only ingredients you need to make this is Rosemary and Sea Salt Flatbread and Everything Flatbread for the base, Puttanesca Sauce and Basil Pesto for the sauce and vegetables and cheese to top. This recipe is a perfect candidate for all kinds of parties; as it is easily scalable, super quick to make and 100% customizable! Just one trip to the Mountain View Cost Plus World Market, and I was all set to make the appetizers! Head straight to your closest store from the list here and start prepping for the game!
Once you have all the ingredients ready, start with these simple things: covert the glass to a game-day special using dry erase markers, decorate the slate cheese board using chalk and get the green turf ready.
While that is done, make the pizzas using the recipe below. I made them before hand but they tend to become a little soggy in a few hours. Plus, they need to be heated before serving. So instead, I would like to bake them just before serving. It takes only 7-8 minutes to make them.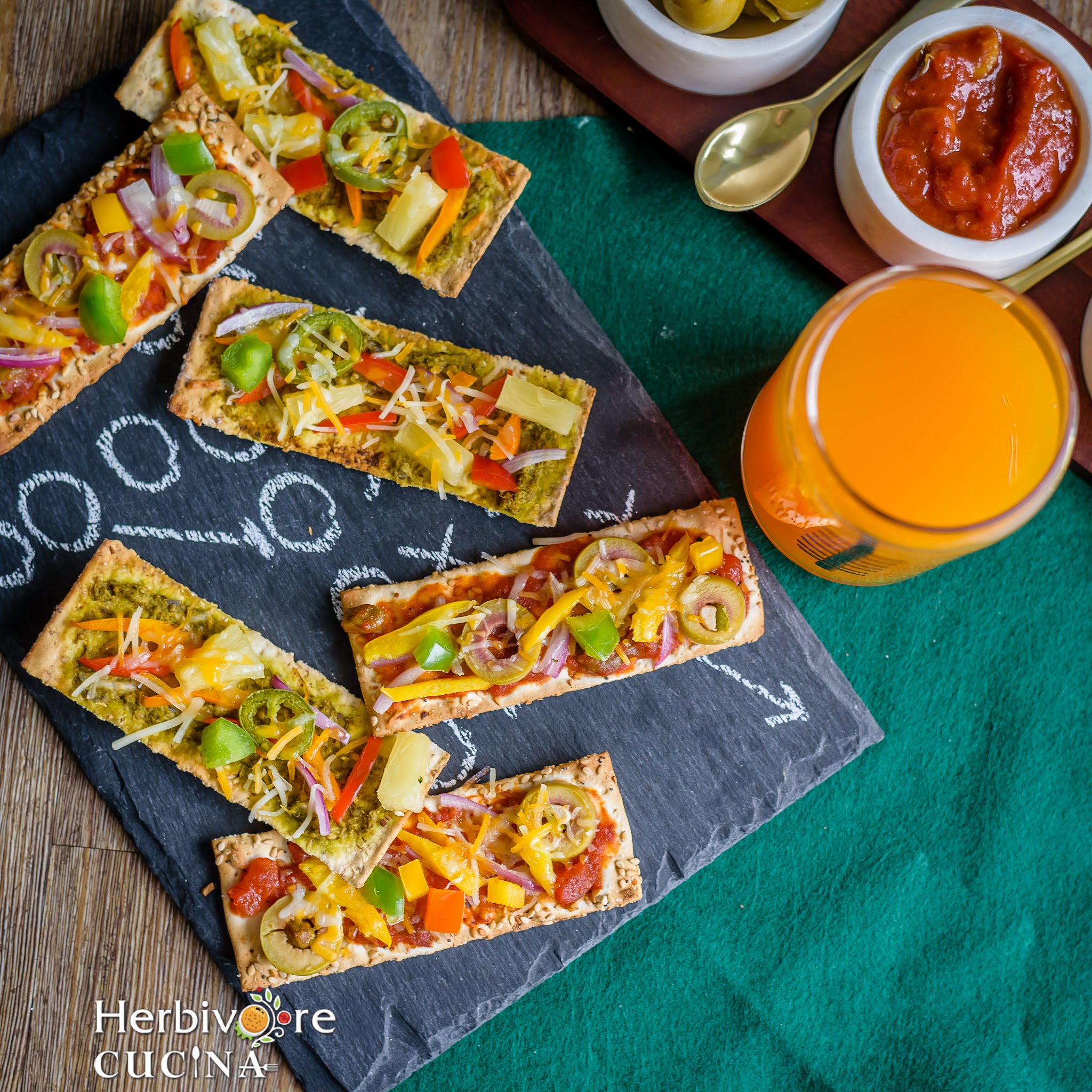 The last time I made these I had my nephew at home and he had such a great time helping decorate the pizzas! He handpicked pineapple, onions and peppers to go on his pizzas along with a TON of cheese. That made me realize that this is a perfect activity for a kids party too!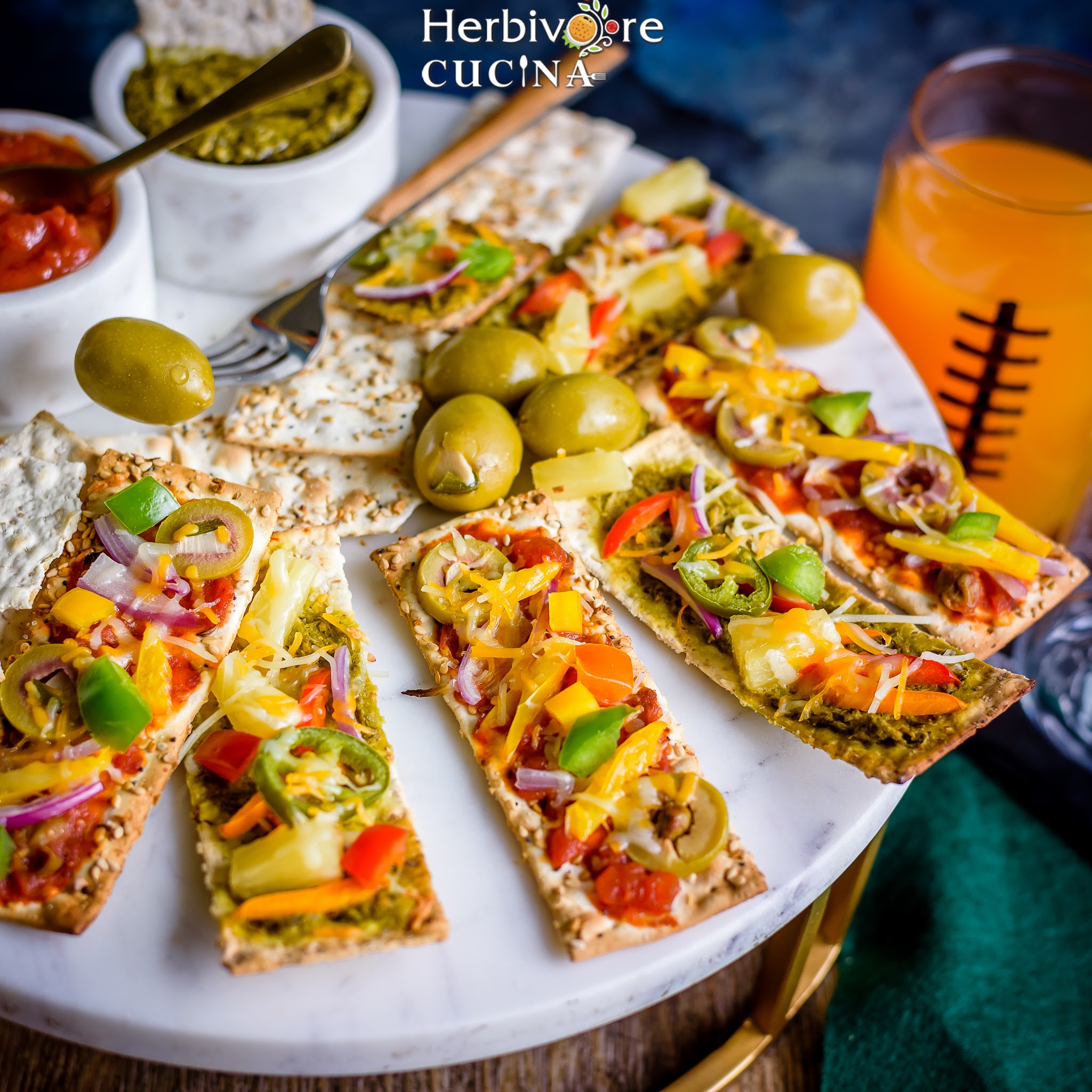 I made two kinds of pizzas, some with red Puttanesca sauce and the rest with basil pesto. The toppings were different on the pizzas and the guests get to pick and choose which ones they like better! But, they all turned out so good, my friends were not ready to leave out any of these pizzas.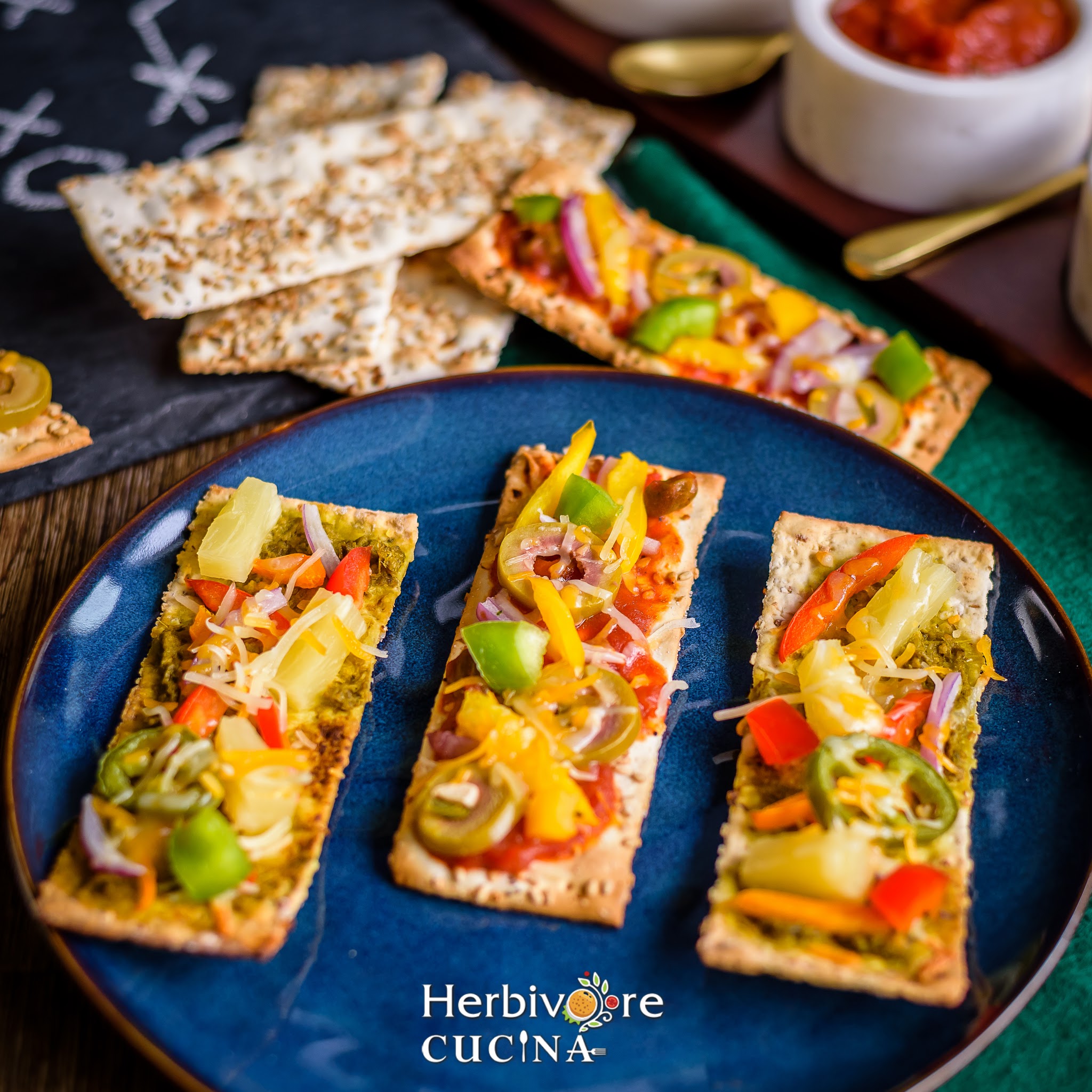 I served the pizzas with Clementine Soda in the Can shaped Glasses from World Market. The glasses are perfect for any drinks, and I love how they look like soda cans that can be filled with any drink of your choice.
To make the centerpiece for the party, I used the pretty Gold and Marble Pedestal to place the pizzas and the Marble Dipping Bowls to add some more sauces for dipping the flatbreads. The setup is pretty easy to make and comes together in no time!
Variations
If you like one sauce or want to make them all from one sauce, you can do so. I know a ton of people who define pizza with red sauce and do not prefer pesto on theirs. If you are one of them, go ahead and do that.
I added the vegetables that most people like. However; broccoli, basil, spinach, mushrooms and tofu can go on these pizzas too! Plus, if you would like the basic Margherita Pizza, just add cheese, sauce and basil. They turn out pretty delicious too! So waste no more time and make this pizza for this Game-Day! May the BEST team win!
Ingredients
Flatbreads of your choice 2 packets
Marinara/ Puttanesca Sauce ½ cup
Basil Pesto ½ cup
Vegetables of your choice (I used onions, colored peppers, jalapeño, olives, pineapple and tomatoes) 1 ½ cup
Grated Cheese ½ cup
Olive Oil 2 tbsp
Method
Cut all the vegetables into small pieces. Preheat oven to 350 F/ 180 C.
Lay the flatbreads on a baking tray. I used World Market's Everything and Sea Salt Flatbreads.
On half the flatbreads spread 1 tablespoon of Puttanesca Sauce. On the remaining spread a tablespoon of Basil Pesto.
Divide the vegetables on the breads and sprinkle the cheese. Place the flatbread pizzas in the oven and bake for 7-8 minutes.
Remove from oven and drizzle olive oil on top. Serve on a platter with a side of flatbreads, Puttanesca sauce, Basil Pesto and stuffed olives.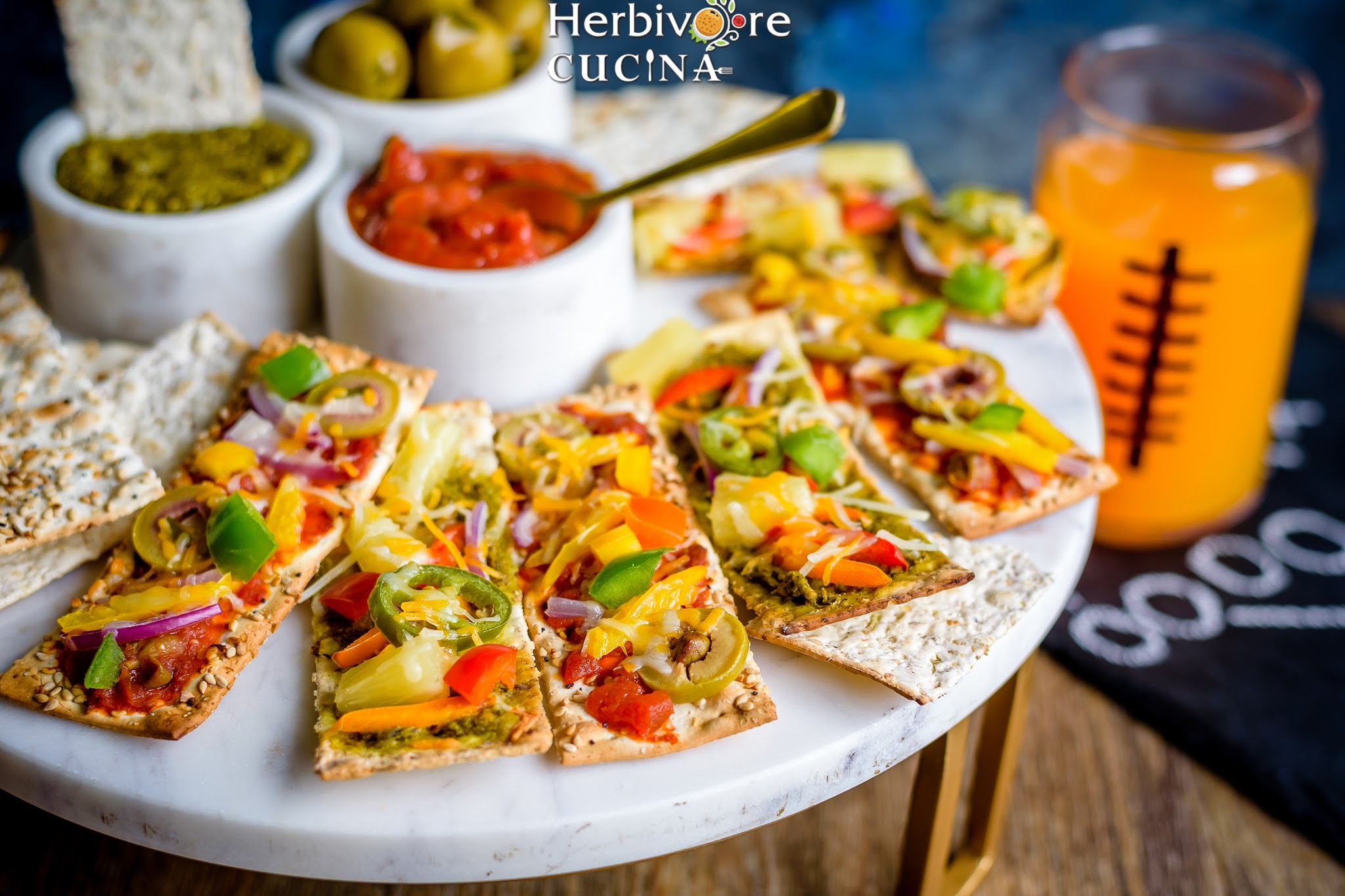 Shop this post
Rosemary and Sea Salt Flatbread | Everything Flatbread | Puttanesca Sauce | Basil Pesto | Jalapeño and Garlic stuffed Olives | 3 Cheese Grated Cheese | Extra Virgin Olive Oil | Gold and Marble Pedestal | Marble Dipping Bowls | Gray Napkins | Clementine Soda | Can shaped Glasses | Indigo Plates | Sawyer Forks
Pin for Later