Blogging Marathon# 63 -Journey through the cuisines: Day 20

State: Punjab
Dish: Tava Naan
Today is the last day of this week that was loaded with Punjabi cooking on my blog. It was quite an interesting week in many ways; I added some authentic Punjabi recipes on the blog that were long pending, I made quite a bit of Punjabi food and we sure had a great time devouring all the yummy food at home!
For today, the last day; the letter is T and there were various options before I decided what I wanted to make. I started off thinking that I would do a Tava Sabji with mixed vegetables and a tomato curry, or a tava potato or even tava mushroom curry. But then I saw the list I had for Punjabi main course in the last couple of days: Paneer Matar, Quinoa Kofta in Makhani gravy and Sarson da Saag. And one bread: Onion Kulcha. So I decided to round up the week with another bread: Tava Naan.
Naan is an unleavened bread generally made in a tandoor. There are two kinds: one with yeast and one without. Indians enjoy all flavors of Naans like plain, butter, cheese, onion and garlic. The most outrageous naan I have ever tasted is Pizza Naan in Mumbai. The naan is stuffed with pizza ingredients including onion, tomato, pepper and tomato sauce. The naan is topped with cheese. I would probably call that a Kulcha but they chose to name it naan. A thin line divides the two breads I guess!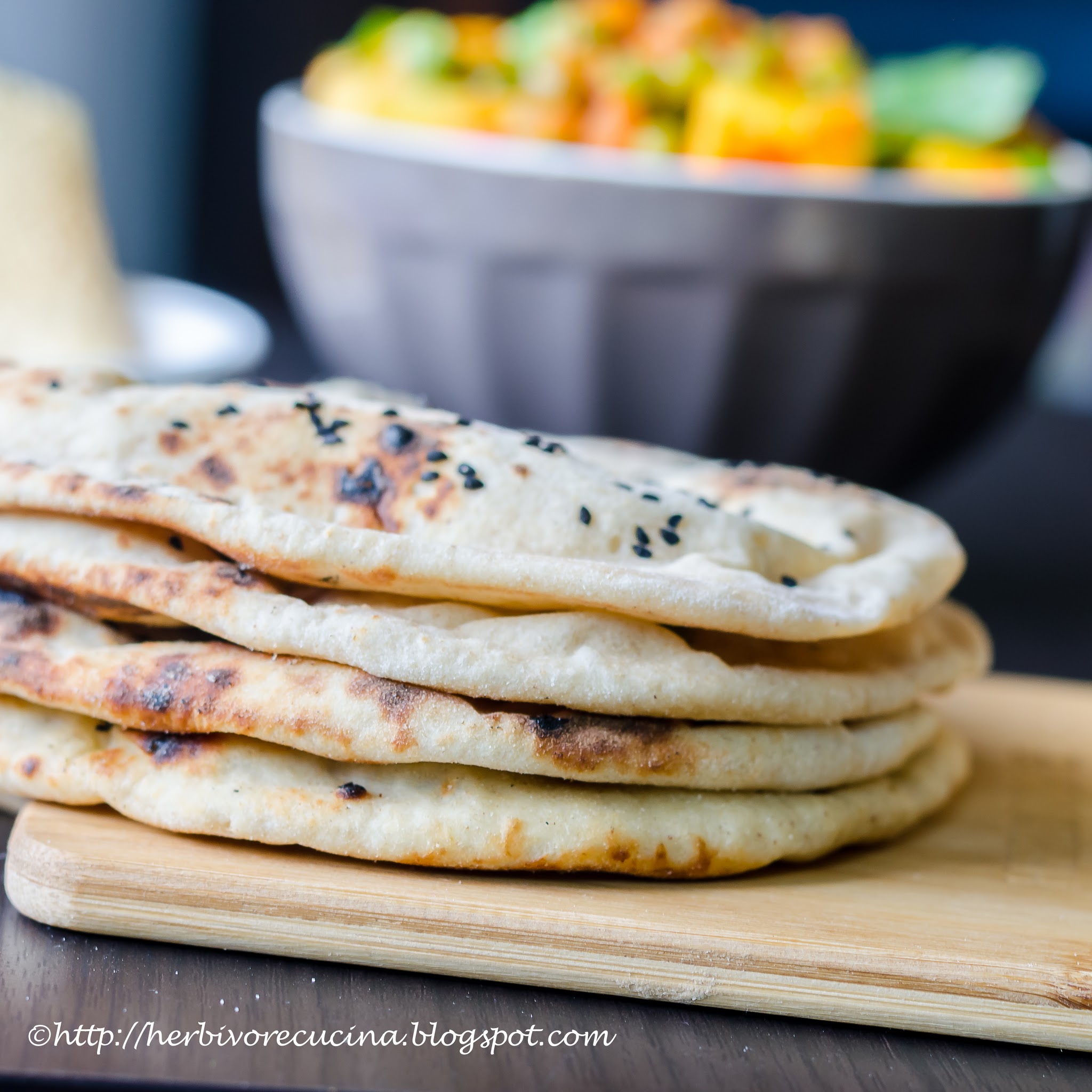 When making Naan at home, we cannot make it in a tandoor. The alternate would be to make them in an oven. But if you prefer not to do that, you could make them on a tava, yes you can 🙂 I know a lot of people are not comfortable or confident about using yeast. So this recipe is one that uses no yeast, just baking powder and yogurt to make the naans super puffy. I have made garlic naan using this recipe too, but never ended up taking pictures before we would devour them completely. So I made plain naans and took pictures before serving, just to make sure the recipe makes it to the blog this time around. This post is super special too, it features the personalized board my husband made for me with the blog name and anniversary date engraved 🙂 I love such surprises!!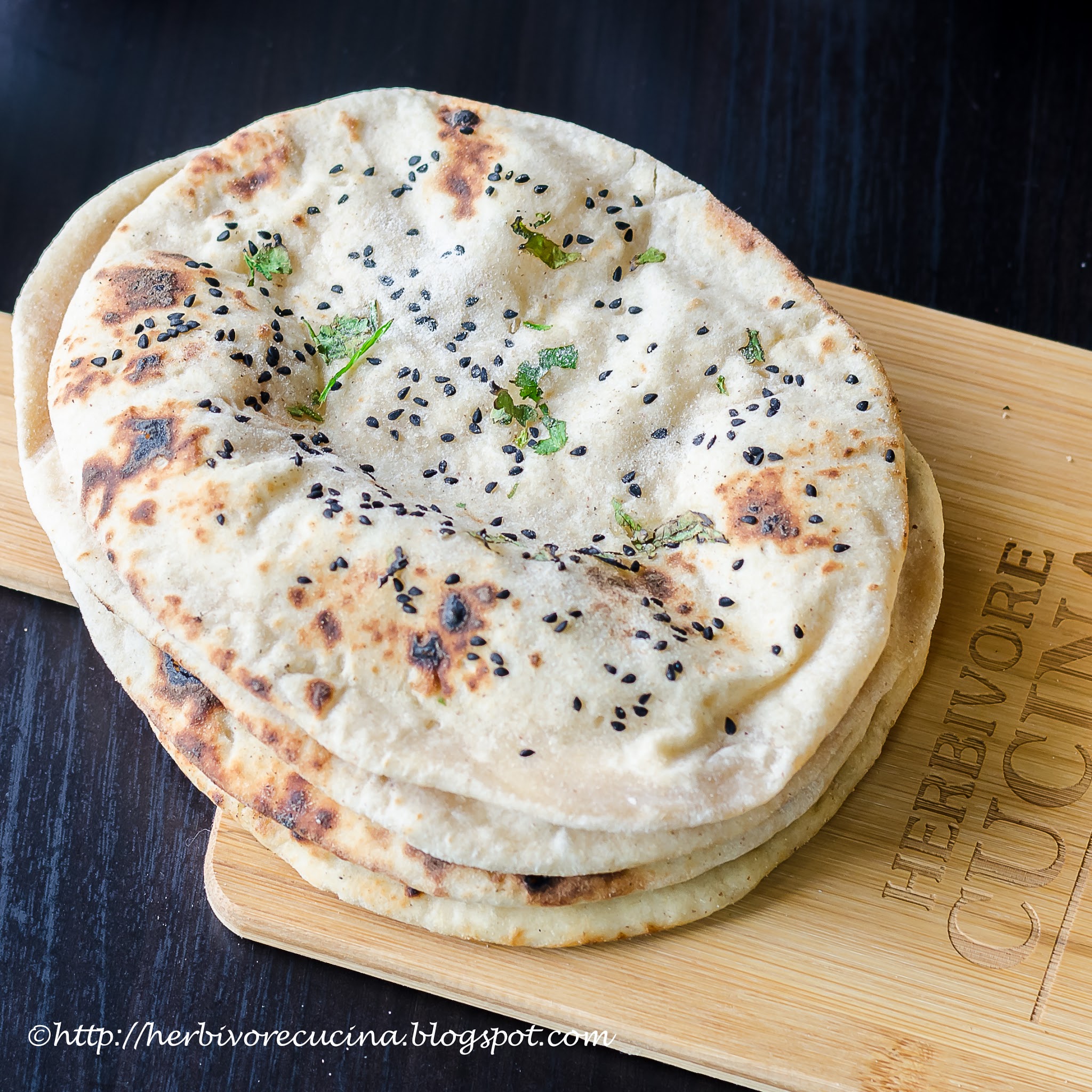 When I made the naans for the first time, I made them completely with all purpose flour. I slowly started decreasing the APF and adding whole wheat to the dough to make them healthier. This recipe is a balanced one; with half of wheat flour and half of maida. I have been meaning to try making them with 100% wheat flour. But I am not sure how they will turn out and whether they will even puff up the same way! Till then I am pretty delighted with these half and half. The recipe is straight forward: make the dough, let it rest, make the naans and finally cook them over a flame using an overturned tava. It does not take too long once the dough is made and well rested. Hope you enjoy this one, and don't forget to come back on Monday for yet another state and the most complex letters from U to Z!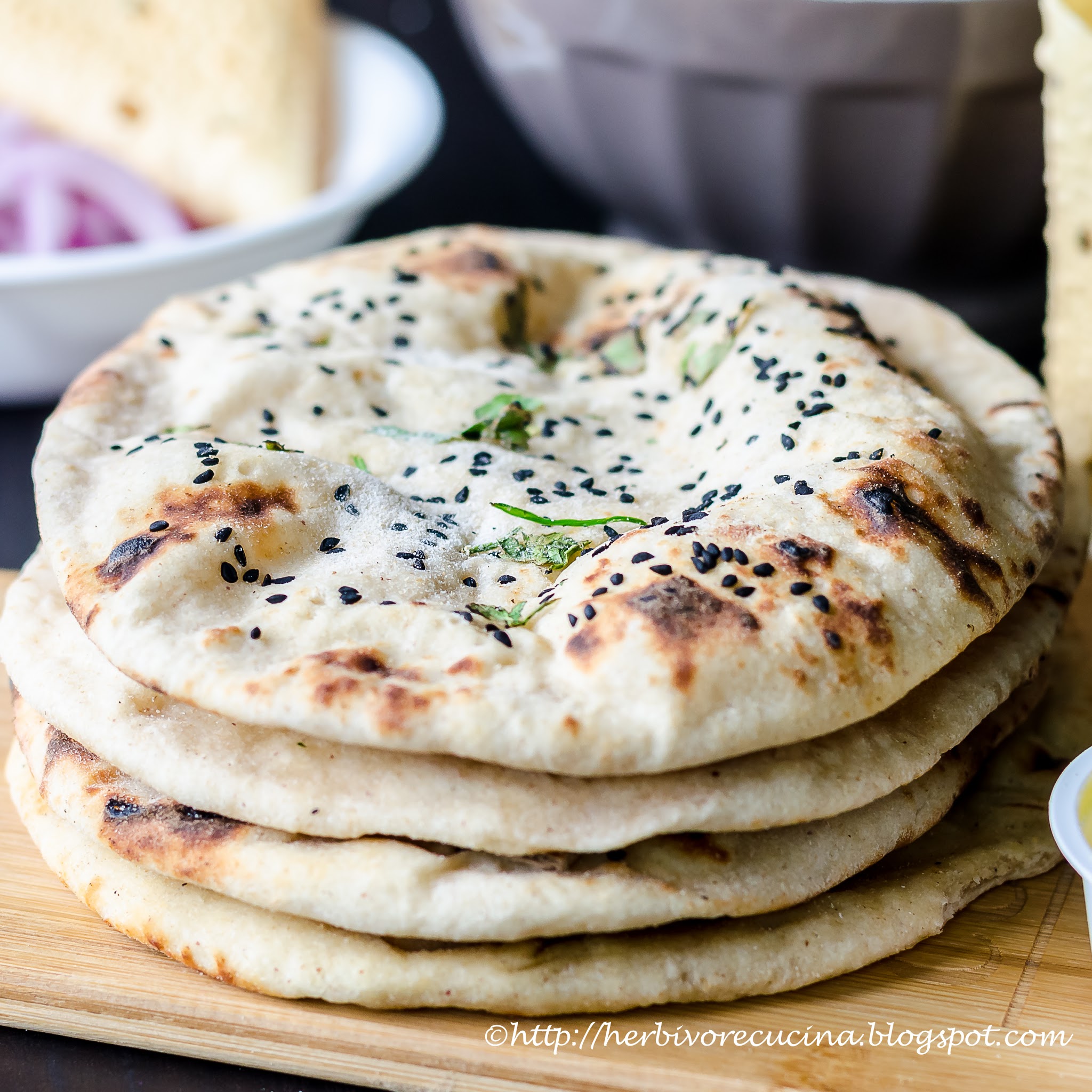 Ingredients
Whole wheat flour 1 cup
All purpose flour/ maida 1 cup
Yogurt ½ cup
Baking Powder 1 tsp
Baking Soda ½ tsp
Oil 3 tbsp
Flour to dust
Salt
To top
Cilantro, finely chopped
Black sesame seeds




Method
Sieve the flours, salt, baking powder and baking soda in a mixing bowl. Add the yogurt and oil and blend well to make a crumbly mixture. Add water as required to make a soft dough. Wrap the dough with a plastic film or transfer to a ziplock and let it rest for atleast 30 minutes. I generally keep it for 45 minutes to an hour.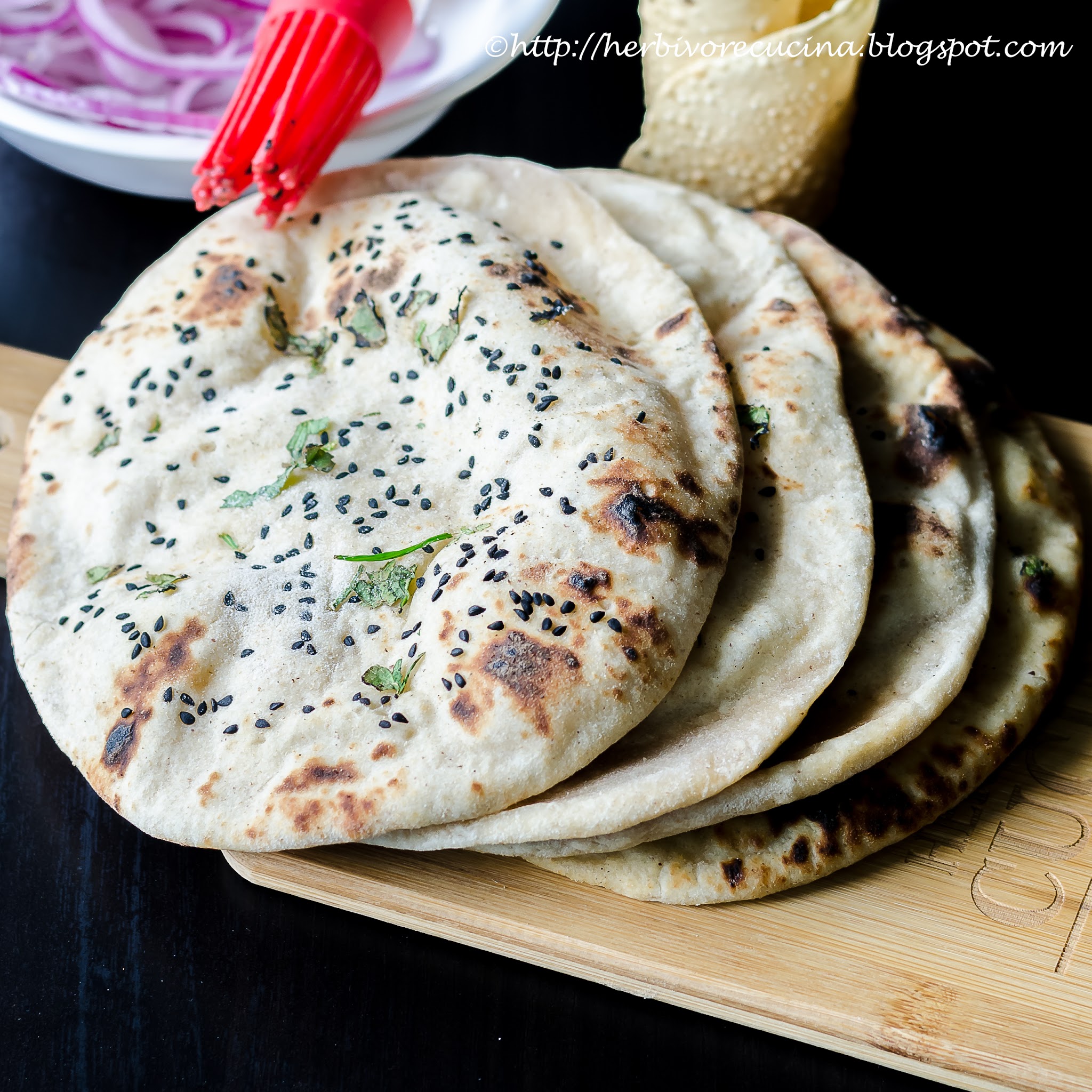 When the dough is well rested, knead for a couple of minutes. Divide into 4-5 equal parts. Using each part, make a round, press it down and roll in dry flour. Then roll it out to a round or oval. Add sesame seeds and cilantro, and give it one final roll to ensure the toppings are stuck well. Turn the naan over and apply water on the bottom side.
Heat a tava and transfer the naan on it, wet side down. A few bubbles will appear in a couple of minutes. Then turn the tava upside down and roast the naan on the open flame. Once the charred spots start to appear, remove from the tava.
Apply butter if desired and serve with Paneer Matar or any curry of your choice.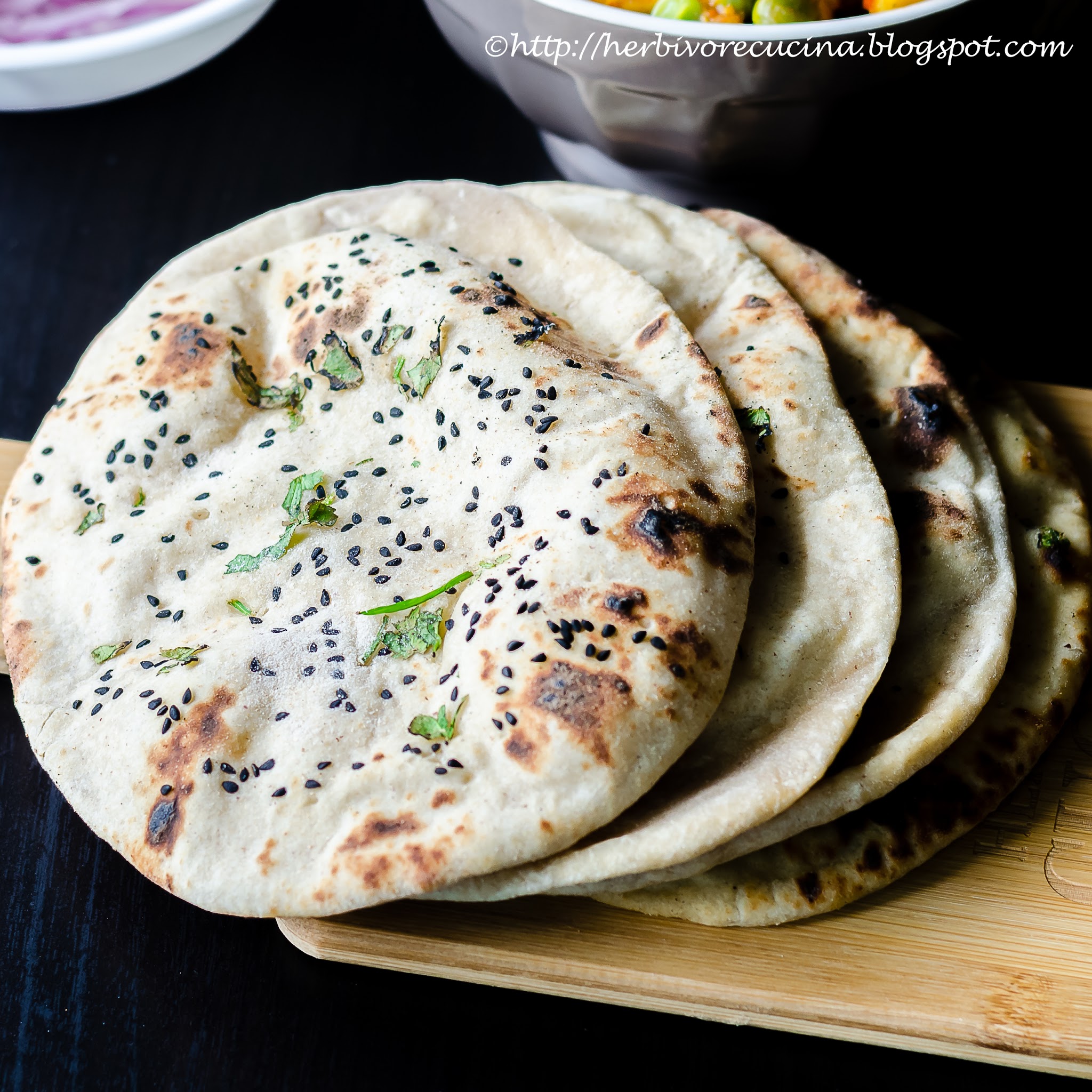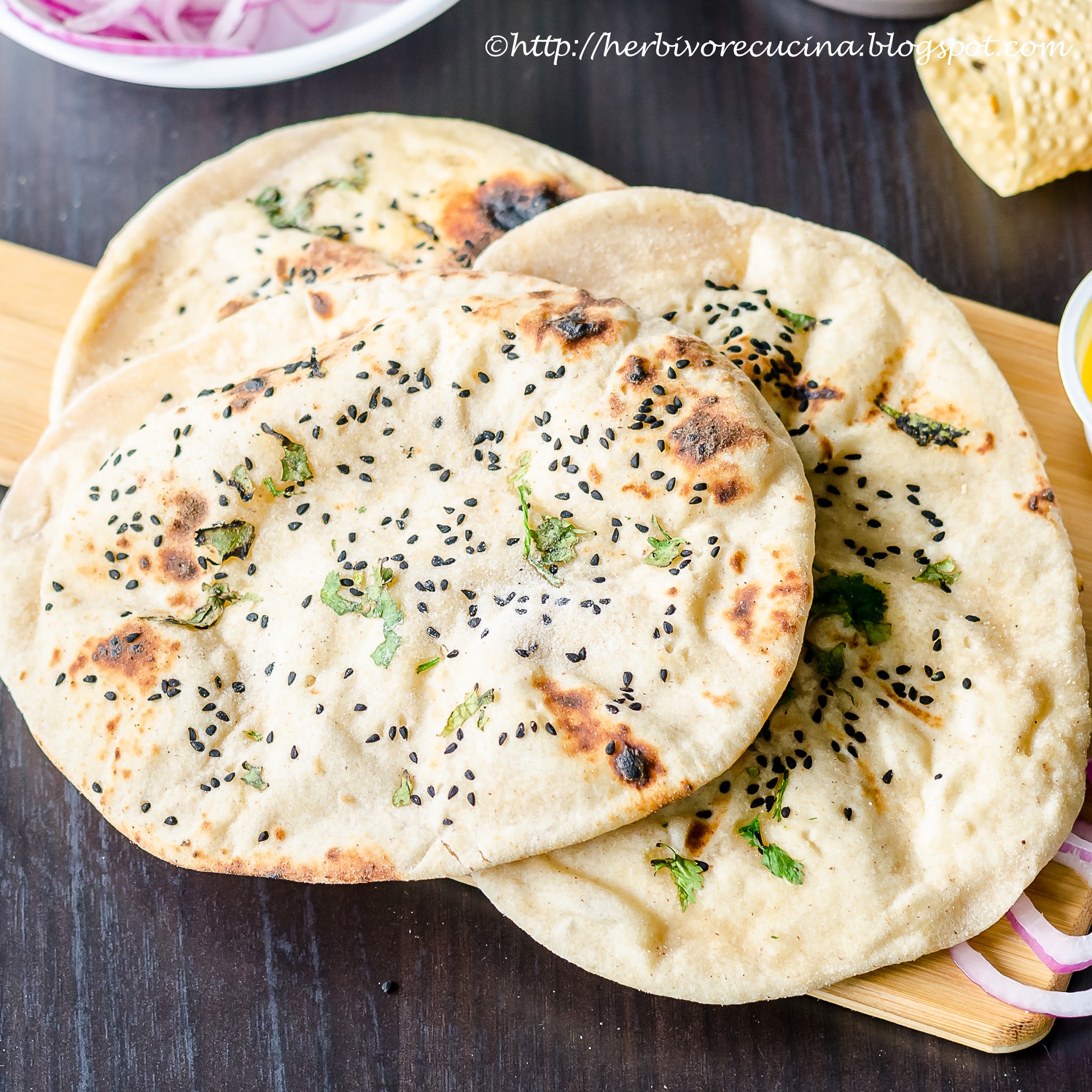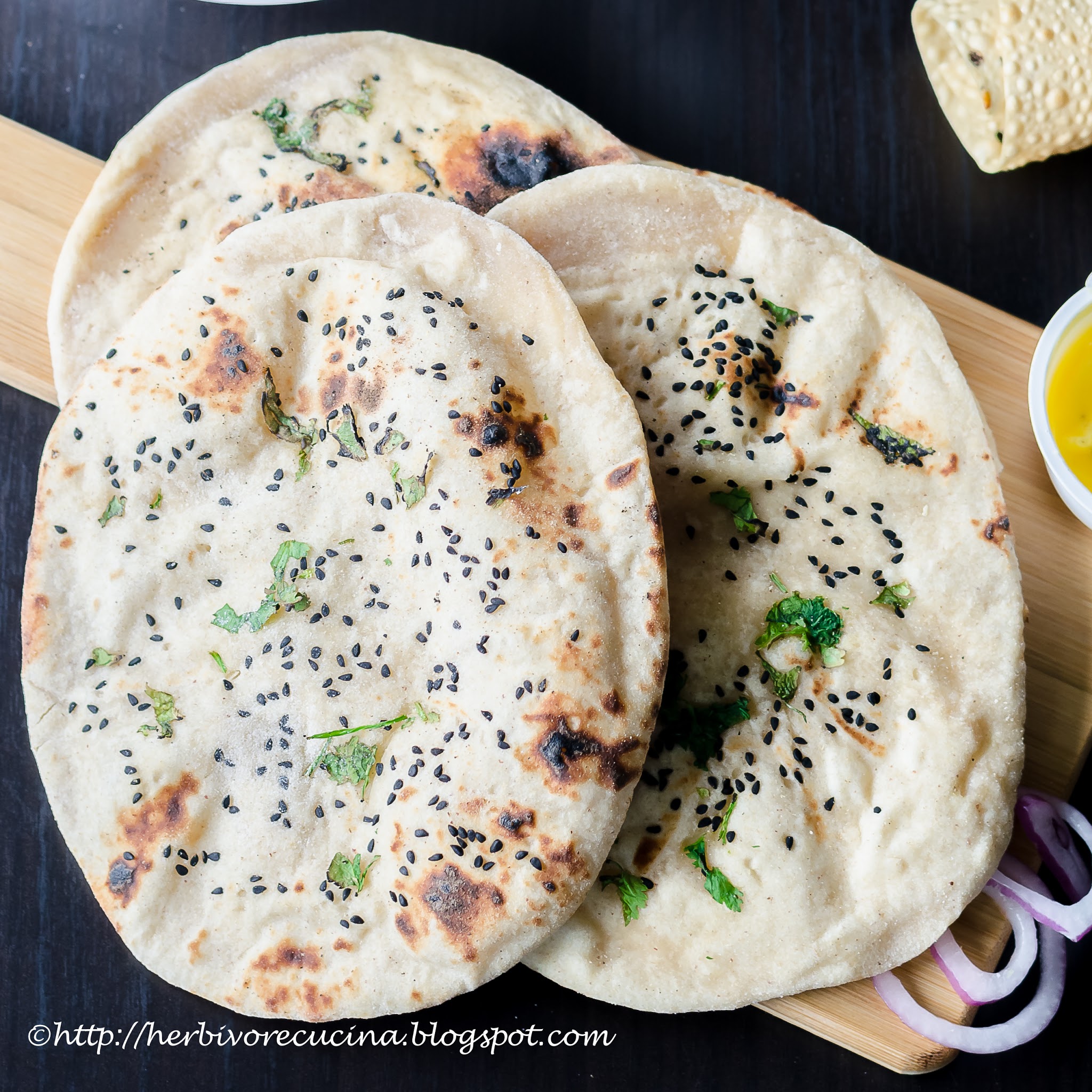 Check out the Blogging Marathon page for the other Blogging Marathoners doing BM# 63