Blogging Marathon# 63 -Journey through the cuisines: Day 15

State: Punjab
Dish: Onion Kulcha

Today is the start of another week in the Mega Marathon, and for me it is also the start of a new state. For the coming six days, I shall post recipes from Punjab, starting from O all the way to T coming saturday. So coming to O, the options were okra, orange both of which do not have a very strong connection to Punjab, but there is ONION. And it is so amazing that onion is used widely in my choice of state.
If you have seen my blog closely, you would know I put an oven version of the Garlic Kulcha long time ago. Now, here is another Kulcha, one stuffed with onion. For those who are new to kulcha, it is a type of leavened Indian bread eaten on the Indian subcontinent, made from maida or APF. Kulcha is a typical Punjabi recipe. Amritsar, a city in Punjab is famous for its Amritsari kulchas.

Flour dough is rolled into a flat, round shape and baked in an earthen clay oven until golden brown. When baked, it is usually rubbed with butter, and then eaten with a Punjabi sabji. While I have had a lot of kulchas when I visited Punjab and the adjoining states, I had the most delicious kulchas recently in US. A gurudwara close to home has a celebration of Hola Mohalla in the month of March every year. They actually bring a brick tandoor to the park and make fresh kulchas from scratch there. Served along with kali dal and chole, they are by far the best kulchas I have ever had. Not to forget they also have fresh jalebis, pani puris and corn on the cob. However, what amazes me most is the traditional sugarcane juice machine that they bring out and serve freshly squeezed sugarcane juice.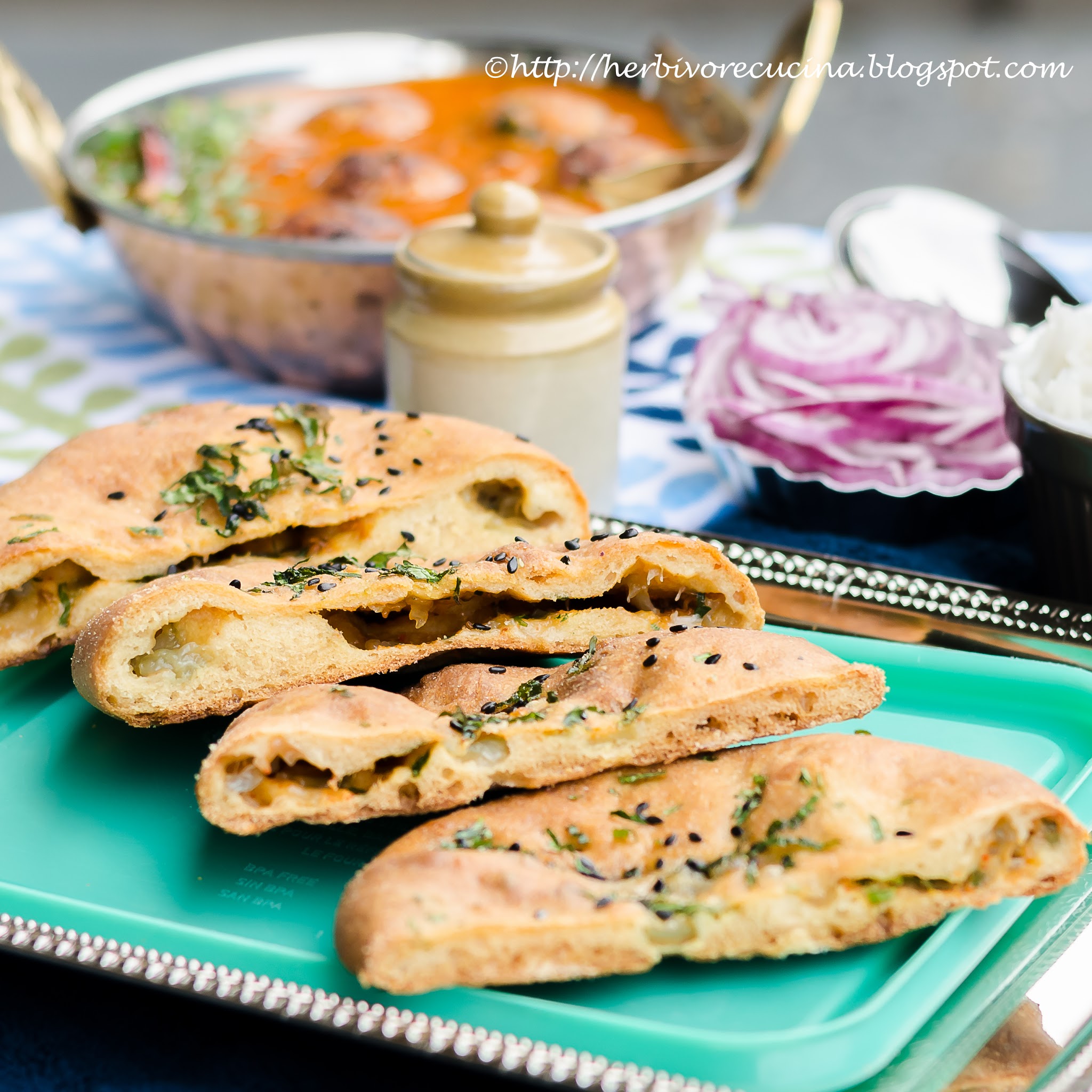 Back to the recipe, while making kulchas at home it is not very feasible to make them in a clay oven. Thus, here is the recipe for baked Onion Kulcha, made in the oven. Make these Kulchas and serve them with Chole, Rajma or any other Vegetable of your choice! The temperature of the oven is set to maximum and then it is left on for a few minutes to replicate the environment of an oven. When the kulchas are placed in a hot oven, they cook and rise in minutes and you get steaming kulchas straight from the oven.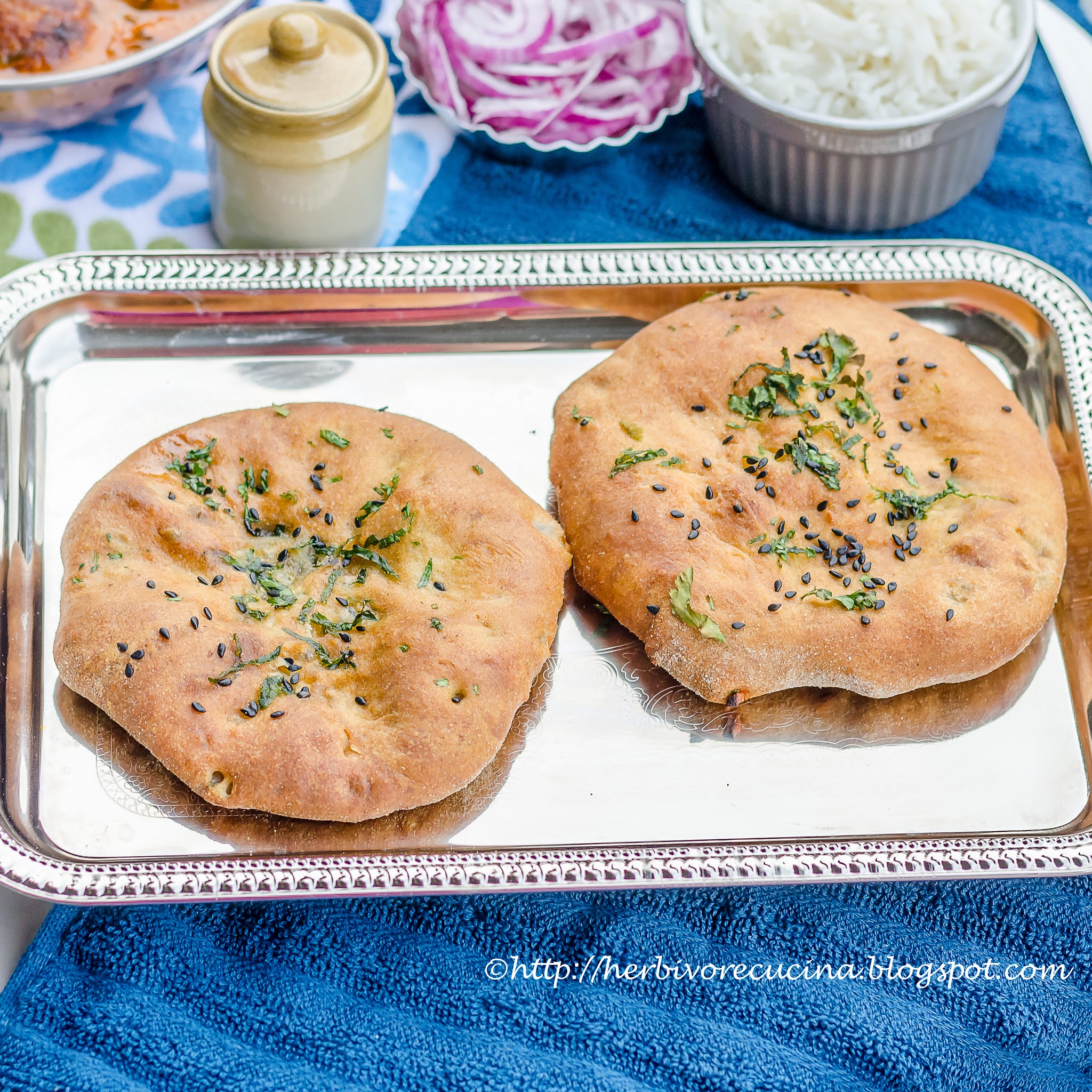 Ingredients
For the dough
All purpose flour/ Maida 3 cups
Ghee 1 ½ tsp
Baking powder 1 ½ tsp
Yogurt ¾ cup
Water ¼ cup
salt to taste
Cilantro
Black toasted sesame
Oil/butter to brush
For the filling
Onion 2 minced
Ginger Chili and garlic paste 1 tbsp
Garam Masala 1 tsp
Lime Juice, Salt, Sugar
Cilantro, finely chopped
Oil 1 tbsp
Method
Sieve the all purpose flour with baking powder and salt. Add ghee and yogurt, mix well. Add water slowly to the dough as required, and form a dough ball. Knead several times till the dough is soft, pliable and smooth. Keep the dough in a bowl, cover it and let it rest for half an hour.
While the dough is resting, prepare the filling. Heat oil in a pan. Add the ginger chilli garlic paste and cook till the raw flavor goes away. Then add the onions and let them cook on medium flame till soft. Add garam masala, salt, sugar and lime juice. Mix well. Turn down flame and add the chopped cilantro. Mix well, set aside to cool.
Preheat oven to 500 F for 10-12 minutes. Knead the dough a couple of times. Make equal sized balls out of the dough. I could make six. Roll out the dough to form a small disc. Put a tablespoon of filling and close the edges (just like any stuffed paratha). Apply little oil to the top surface, and roll it into kulcha of about 6 inches. Apply little oil on it, press cilantro and toasted sesame seeds on it. Repeat for the remaining kulchas.
Place about 3 Kulchas on a pizza pan, and bake them for just 5-6 minutes. Do not leave the oven unattended, and as you see them browning, remove them and top with melted butter.
Serve the Onion Kulchas with any kind of Punjabi sabji like Paneer Matar, Chole, Kofta Curry or Palak Paneer. Also add some pickle and onion rings on the side and finish the meal with Lassi or buttermilk.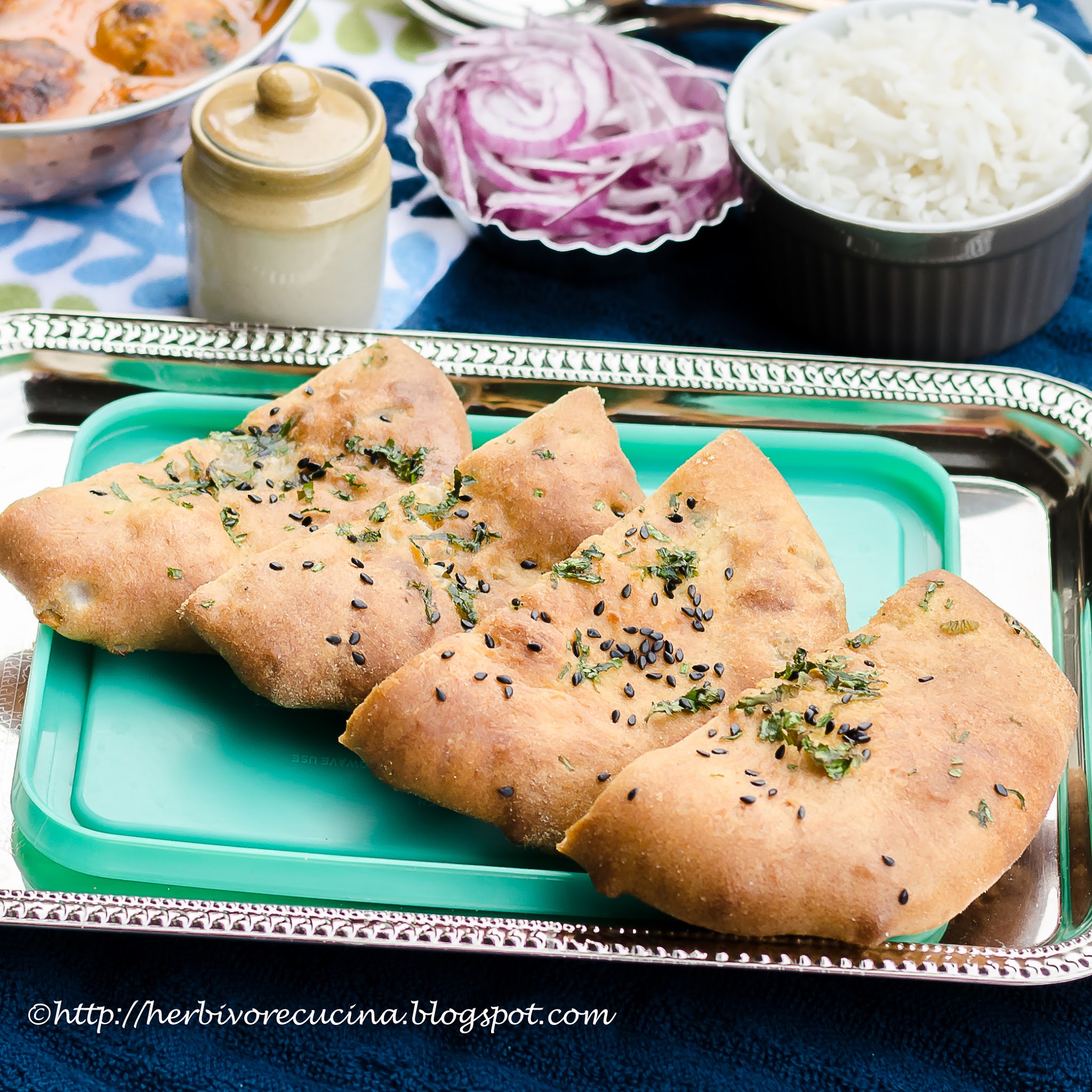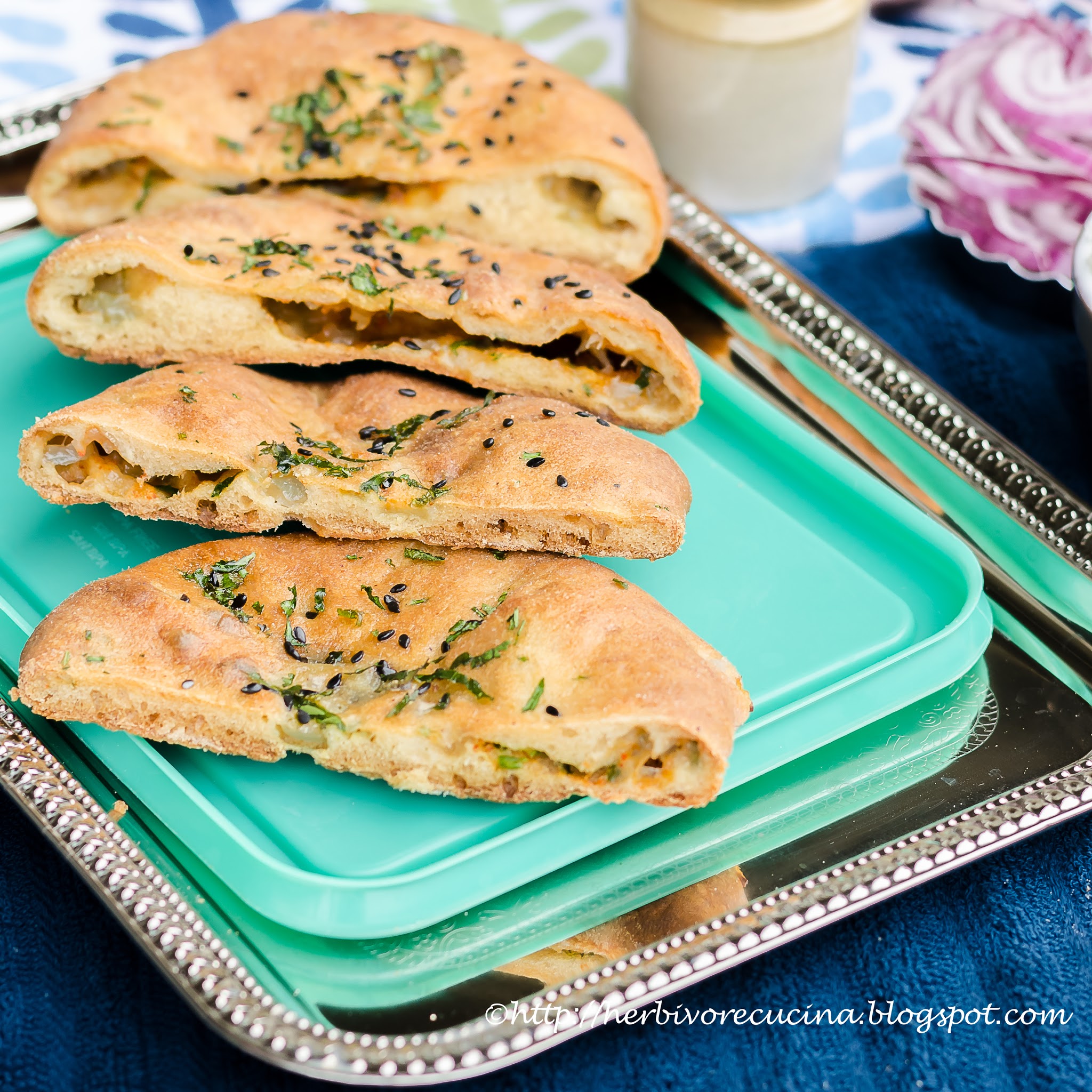 Check out the Blogging Marathon page for the other Blogging Marathoners doing BM# 63