Combine Cauliflower, Peas and spices with Garlic Naan to get a super delicious and easy to make Naan-iza! You will be addicted, I promise!
P-I-Z-Z-A; one word is enough to get everyone's mouth watering! Pizzas make a regular appearance on our menu, especially on weekends. But making the same Veggie Pizza all the time can get boring. To break away from that, I make a TON of other pizzas like Chole Naan Pizza, Easy Summer Fruit Pizza, Pav Bhaji Pizza or Paneer Pizza.
Most of the pizzas I have on the blog are made from scratch. However, when I am pressed for time I choose to make pizzas from store bought pizza base. And when I can't get myself to go to the store, I use frozen naan to make pizzas.
A couple of days ago I was craving pizza and it was pretty close to dinner time to make it from scratch. So I pulled out a few California Lavash Garlic Naan. To keep things simple, I made a super simple Cauliflower Peas sauté to top the naans. The combination was PERFECT and we had an awesome Indian inspired dinner!
Why Cauliflower?
Wondering why I chose Cauliflower for the topping? Let me tell you, I am obsessed with this vegetable since a while. I made a ton of recipes lately using this white beauty. From Cauliflower Sauce Mac n Cheese and Cauliflower Dipping Sauce to Gobi Manchurian and Indian Spiced Roasted Cauliflower; I have made these and many more recipes.
Who would believe that I HATED cauliflower not long ago. And now that I like it, I guess I am making up for all the years that I refused to eat it. Now with Thanksgiving already on my mind, I am planning a couple of Cauliflower dishes to make really soon!
Variations
I was on a small mission of finishing everything from my refrigerator the day I made this. However, if you do not like cauliflower or are looking for something different; try paneer or tofu to top the pizza. And meat eaters have a TON of options to select from.
Another quick hack is to use leftover sabji that you might have in the refrigerator. If you have an Indian style cauliflower potato or cauliflower peas sabji cooked and stored, just add some sautéed onions and garlic to that. Mix it all and use as a topping for naans.
If you like a loaded version, add some grated paneer or cheese to the topping. Plus, sprinkle some on top too. I chose to skip that and just sprinkled some cheese before spreading the topping.
If you make this recipe or any other recipe from my blog, don't forget to share it on Facebook, Instagram or Twitter and tag me or use #herbivorecucina. Follow me on Facebook, Instagram, Pinterest and Twitter for latest updates from the blog!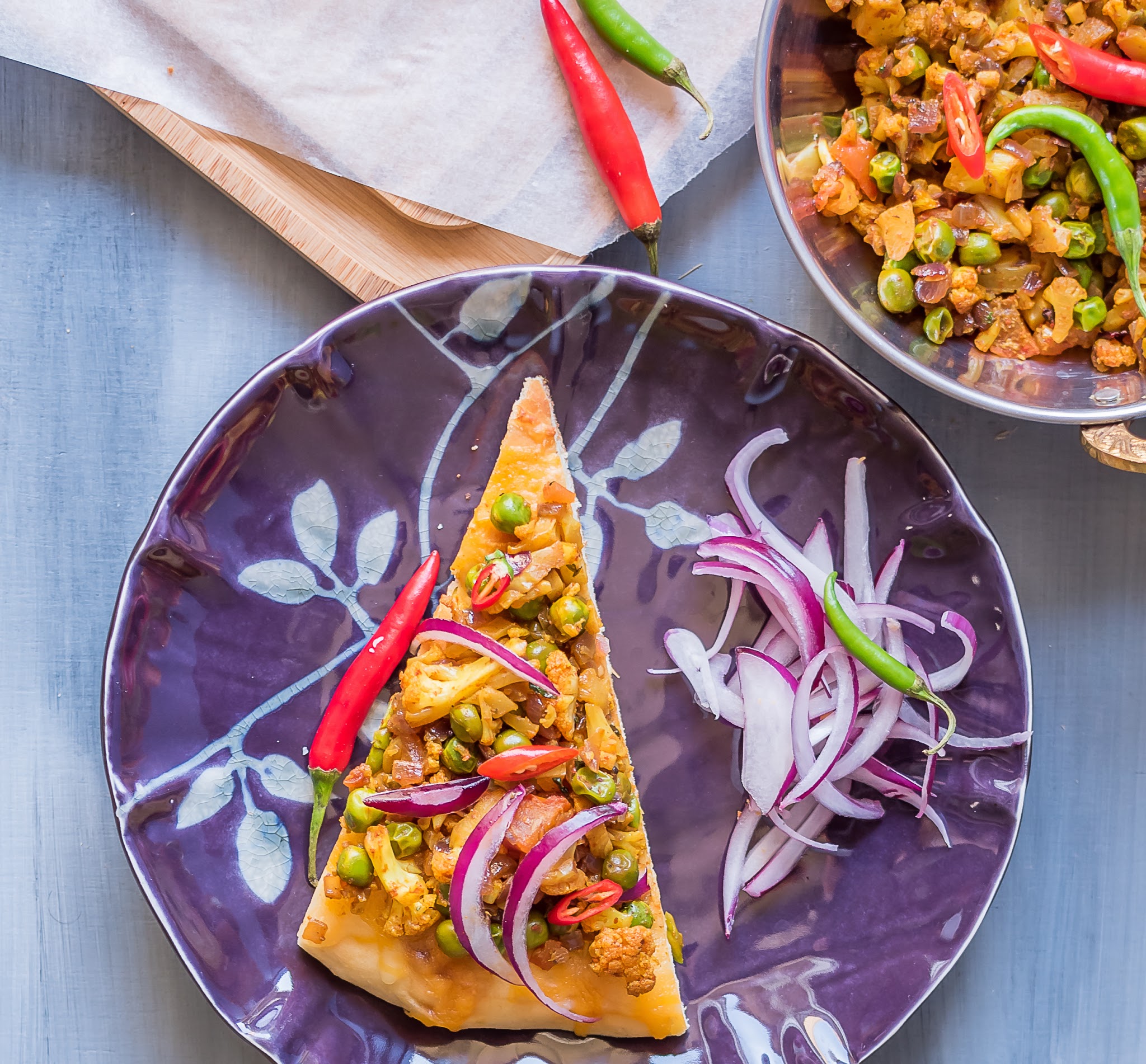 Ingredients
For the Topping
Cauliflower Florets 1 cup
Green Peas 1 cup (fresh or frozen)
Onion ½ medium diced
Garlic 1-2 cloves minced
Turmeric Powder 1 tsp
Red Chilli Powder 1 tsp
Curry Powder 1 tsp
Cumin seeds ¼ tsp
Oil 1 tsp
Lemon Juice ¼ tsp
Salt to taste
Cilantro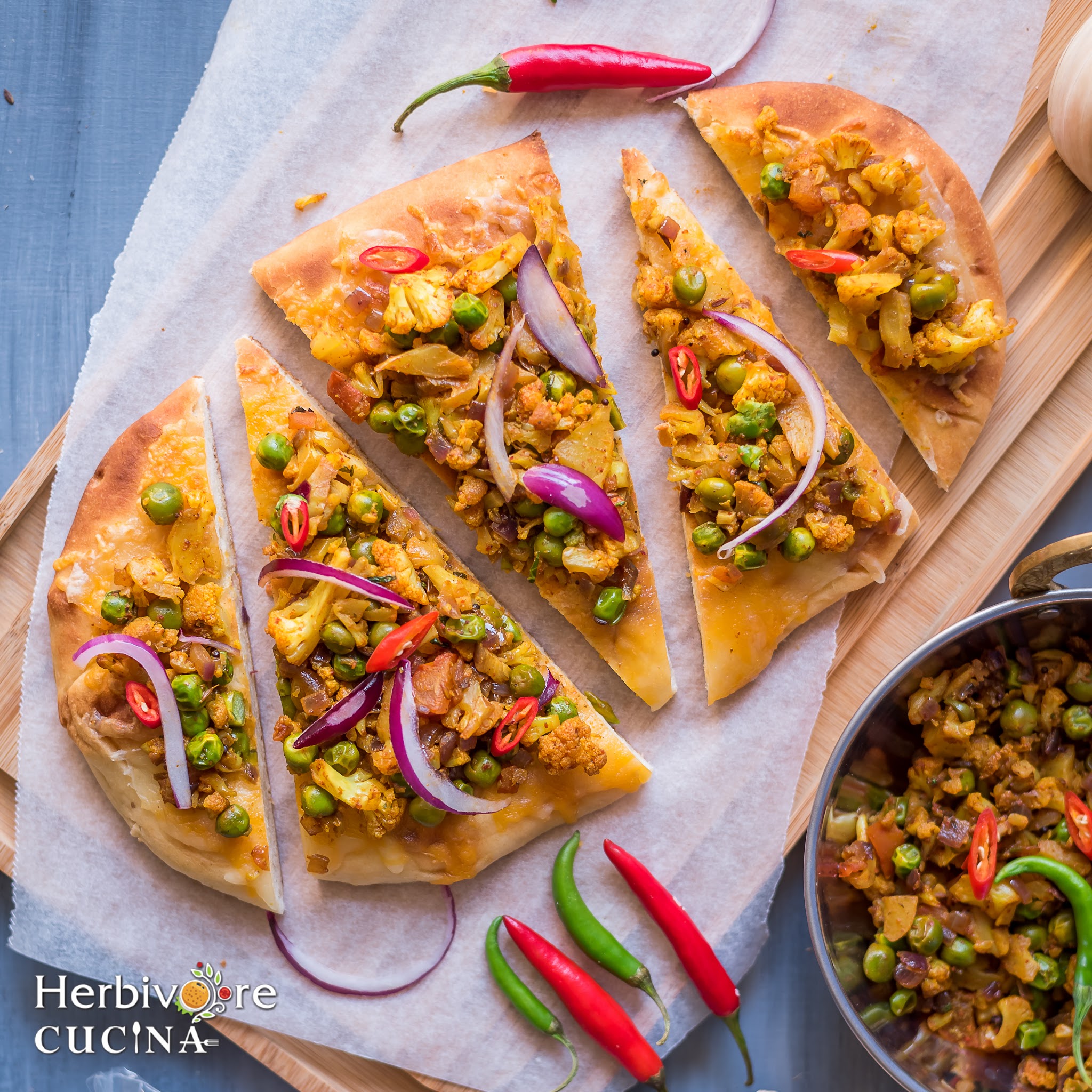 For the Pizza
Plain/ Garlic Naan 2
Mozzarella Cheese and Cheddar Cheese ½ cup, shredded
Onion sliced
Red Chilli sliced
Method
In a pan heat oil and add cumin seeds. Once they pop add garlic and sauté till fragrant. Then add onion and sauté till the onions are cooked. Add cauliflower and peas, mix well and sprinkle a pinch of salt.
Cover and cook for 6-7 minutes, till the cauliflower is soft. Then add turmeric powder, Curry powder and red chilli powder. Mix well and cook covered for another couple of minutes.
Taste the salt and add more if need be. Add lime juice and cilantro leaves; mix well. Cool till you prep the naans.
If using frozen naans, remove from packing and sprinkle cheese on the sides. Bake in a preheated oven at 400 F for 5-6 minutes, till the cheese melts.
Remove from oven, spread the cauliflower topping and bake for another 8-10 minutes, till the base is crisp. Remove from oven, sprinkle some onion and red chillies. Serve warm.
Looking for more Indian style pizzas? Try these: Chole Naan Pizza, Pav Bhaji Pizza or Paneer Pizza.