Blogging Marathon #66 Week 1 Day 2
Theme: Pizza
Dish: Easy Summer fruit Pizza
Today is the last day of the Pizza theme for this week. After the stove top chole naan pizza and the New York style Thin crust Pizza, it is time for a no cooking pita based pizza that is best for breakfast and as a dessert.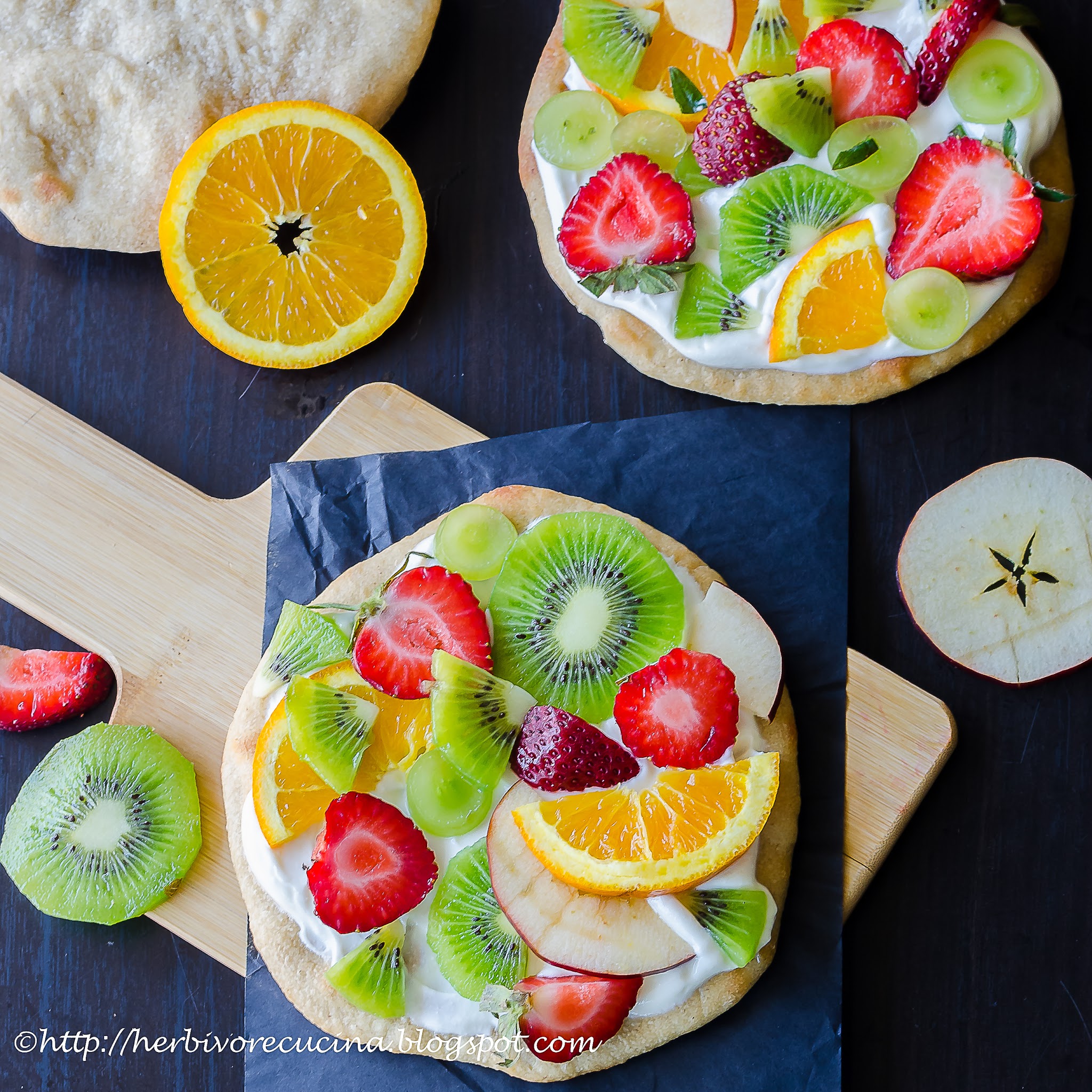 This pizza uses home-made whole wheat pita bread as the base, honey and vanilla flavored yogurt as sauce and assorted fruit as toppings. One can drizzle some balsamic vinegar or sprinkle some powdered sugar on top for extra flavor. We had this pizza for breakfast and chose not to add that.
While I added the fruits that I had my refrigerator; orange, apple, strawberries, grapes and kiwi, you can add the ones the family enjoys. Also, adding fruits with a pop of color makes the pizza really beautiful. Blackberries and peaches are great too. For the sauce, I added honey and vanilla to greek yogurt. If you like a different flavored sauce, add some fruit puree to the yogurt and it will make a wonderful combination. If you are making these for a kids party, make small pita breads that are easy to hold and eat. Making a big bread base gives more area to arrange the fruits and decorate the pizza. Just make sure the fruits are sliced thinly. To do so, I used my brand new knives from Passion Gusto. The set has four ceramic knives that are super sharp and do the job well. Get your set here.
For the pizza I used my Whole Wheat Pita bread recipe to make the breads. If you are pressed for time, buy any pita breads and make the pizzas in a jiffy. These pizzas are best as desserts for barbeque parties or kids play dates. Almost as healthy as it can get, these colorful pizzas are a great treat as well!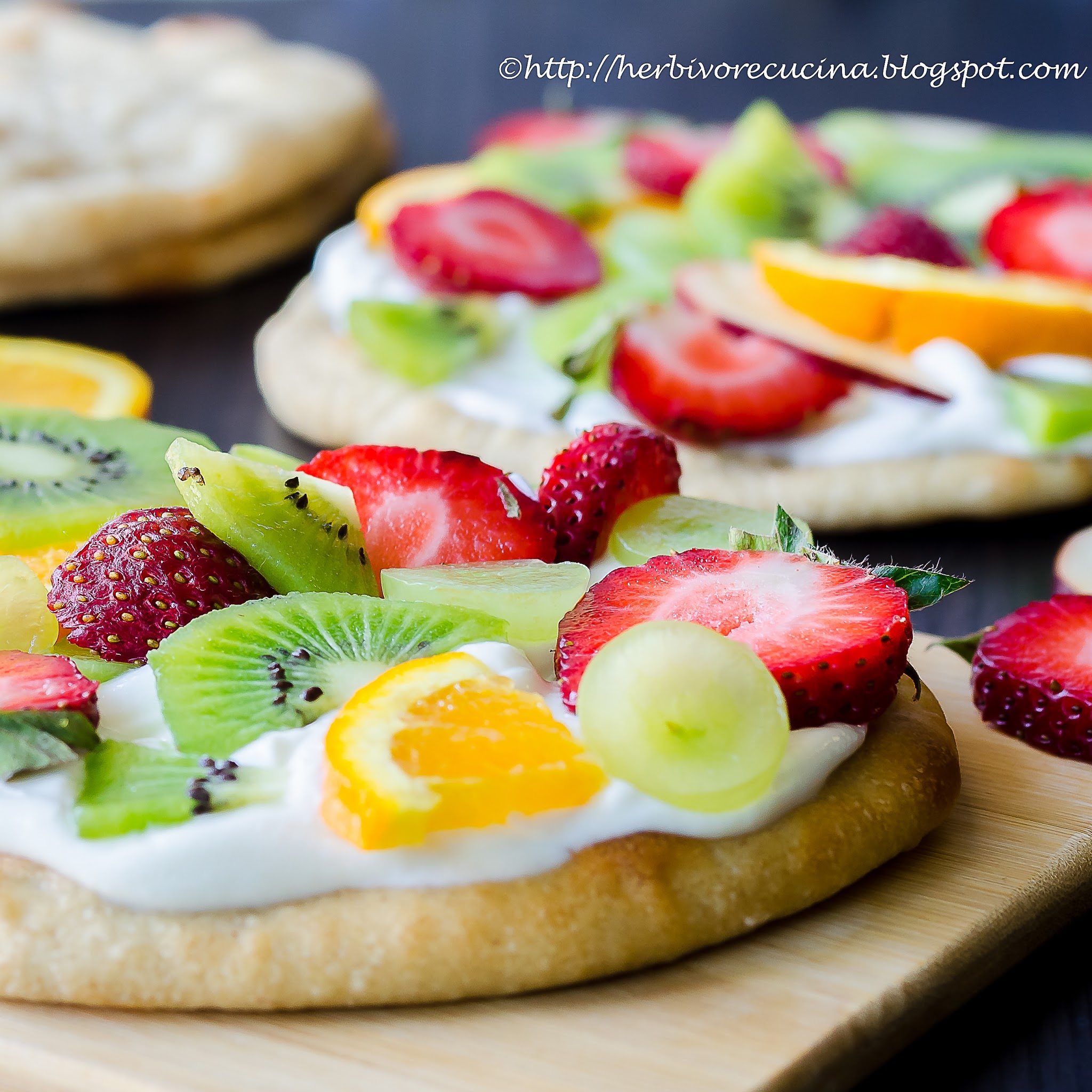 Ingredients
Greek Yogurt 1 cup
Vanilla Extract 1 tsp
Honey 2 tbsp
Sliced Mixed Fruits (I used apple, kiwi, strawberry, orange and grapes)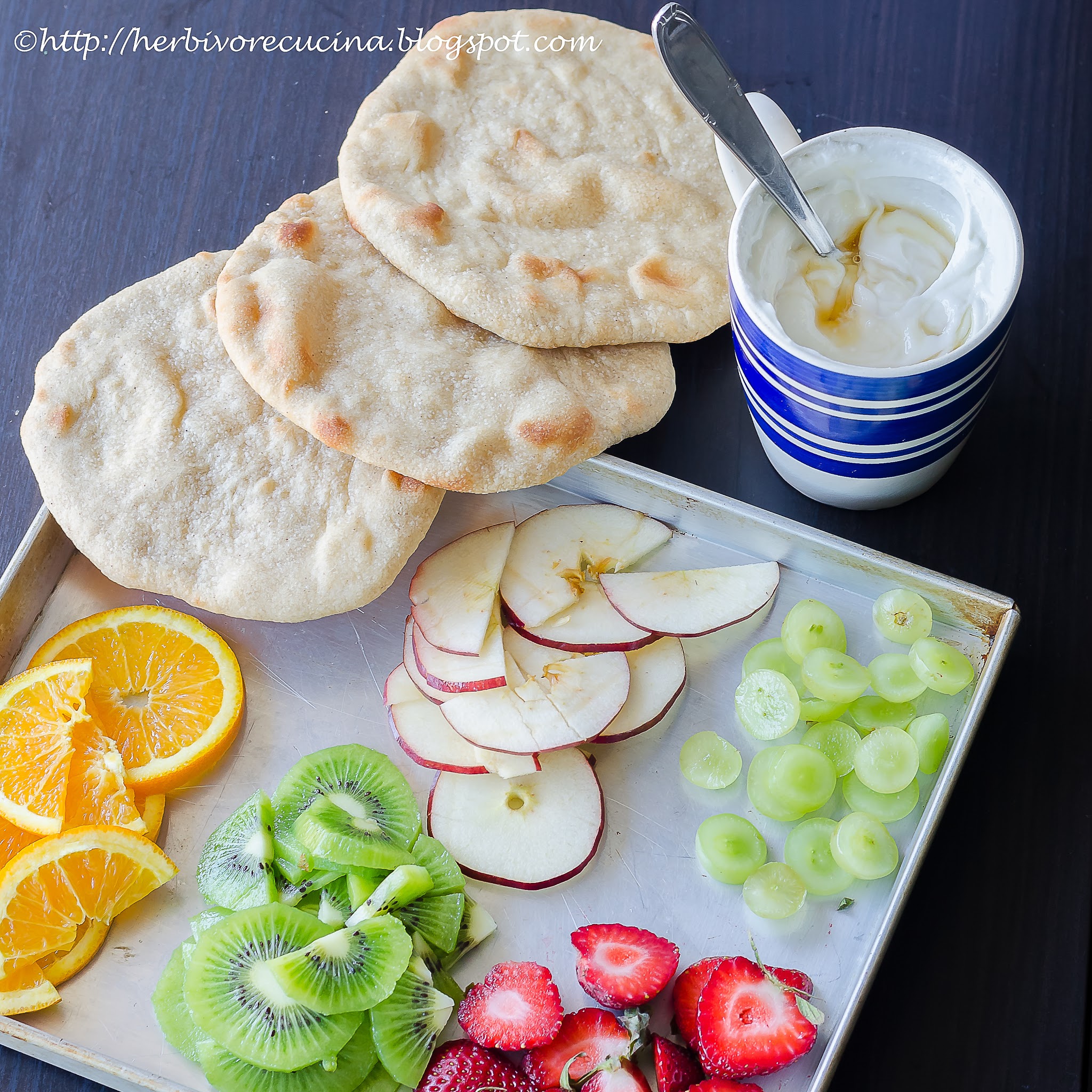 Method
Make pita breads using this recipe. Just make the base a little more brown and crispy. Make them atleast a couple of hours before you are ready to serve. Cool them completely.
In a bowl mix the yogurt, honey and vanilla extract. If using regular yogurt, strain in a cheesecloth for a couple of hours and use the yogurt.
To assemble; place a pita bread, spread yogurt on it and arrange the fruits. I used apple, kiwi, strawberry, orange and grapes this time, but blackberries, sweet lemons, raspberry and mango tastes equally great! Enjoy your pita pizza for breakfast or as a dessert.
Check out the Blogging Marathon page for the other Blogging Marathoners doing this BM#66