Take your summer barbecue to the next level with these Tofu Tikka Skewers! Make them on a grill, oven or pan. Enjoy Indian style bbq.
Summer is here and grilling season is back. We are just past the 4th July weekend, America's Independence Day and the summer weekend is mostly enjoyed with barbecue and fireworks in the country. For those who are not taking a trip this weekend, it is the best time to enjoy with friends and family. This weekend we indulged in a lot of grilling too. It has not been too long since we have a coal grill and we are still learning the nuances of coal grilling.
Over the time, I have met a ton of people who either say there is nothing for vegetarians in grilling or just limit themselves to corn on the cob. Neither of these theories are true! In fact there are as many options for vegetarians to grill as the meat lovers. From paneer marinated in spices to zucchini, potatoes, eggplants, mushrooms and even vegetarian cutlets, the options are unlimited! We started out with grilling paneer tikka some time ago, and now we grill almost all the vegetables on a bbq. Also, grilled cheese on a barbecue is unmatched. However, we generally grill with friends or family and I have absolutely no patience to take pictures.



Finally, this is the first barbecue recipe on the blog and I am thrilled I managed! While this recipe is for tofu tikka (just trying to eat a little healthier) the same marinade works well with paneer as well. However, after using firm tofu I am going to biased towards tofu for all my grilling dishes. The store bought paneer does taste great but it is a little too hard for my liking.
If you intend to make any of the tikkas, I would strongly recommend making the marinade a day earlier and refrigerating. It really helps to enhance the flavor. Brush the marinade over the vegetables and tofu and let them rest for an hour or so. Again, that is great to get flavorsome tikaas. Grill the skewers on a grill or in the oven or on a pan. When done, serve with spicy green chutney and ketchup. I also like to sprinkle some smoked paprika and chaat masala on the skewers. Another great idea is to make these Tofu Tikka Naan-Wich using these skewers 🙂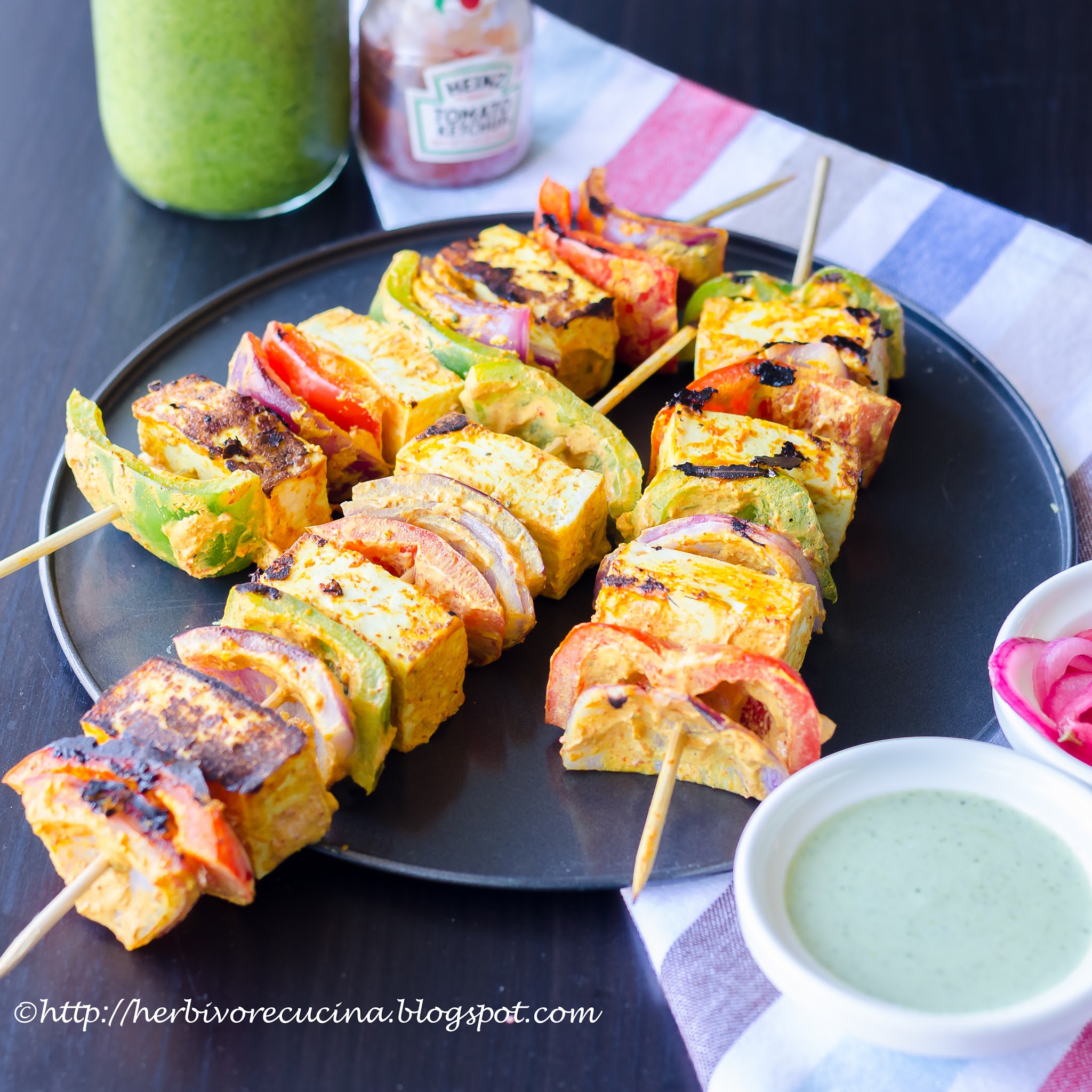 Ingredients
Firm Tofu 1 block
Pink Onions 2 medium
Green Pepper 1 medium
Red/ Yellow Pepper 1 medium
For the Marinade
Greek Yogurt or Hung curd 1 cup
Garlic Chilli paste 2 tbsp
Red Chilli Powder 1 tbsp
Turmeric powder 1 tsp
Garam Masala 1 tbsp
Kasoori Methi 1 tbsp
Carom seeds 1 tsp
Salt 1 tbsp
Sugar 1 tbsp
Lime Juice 1 tbsp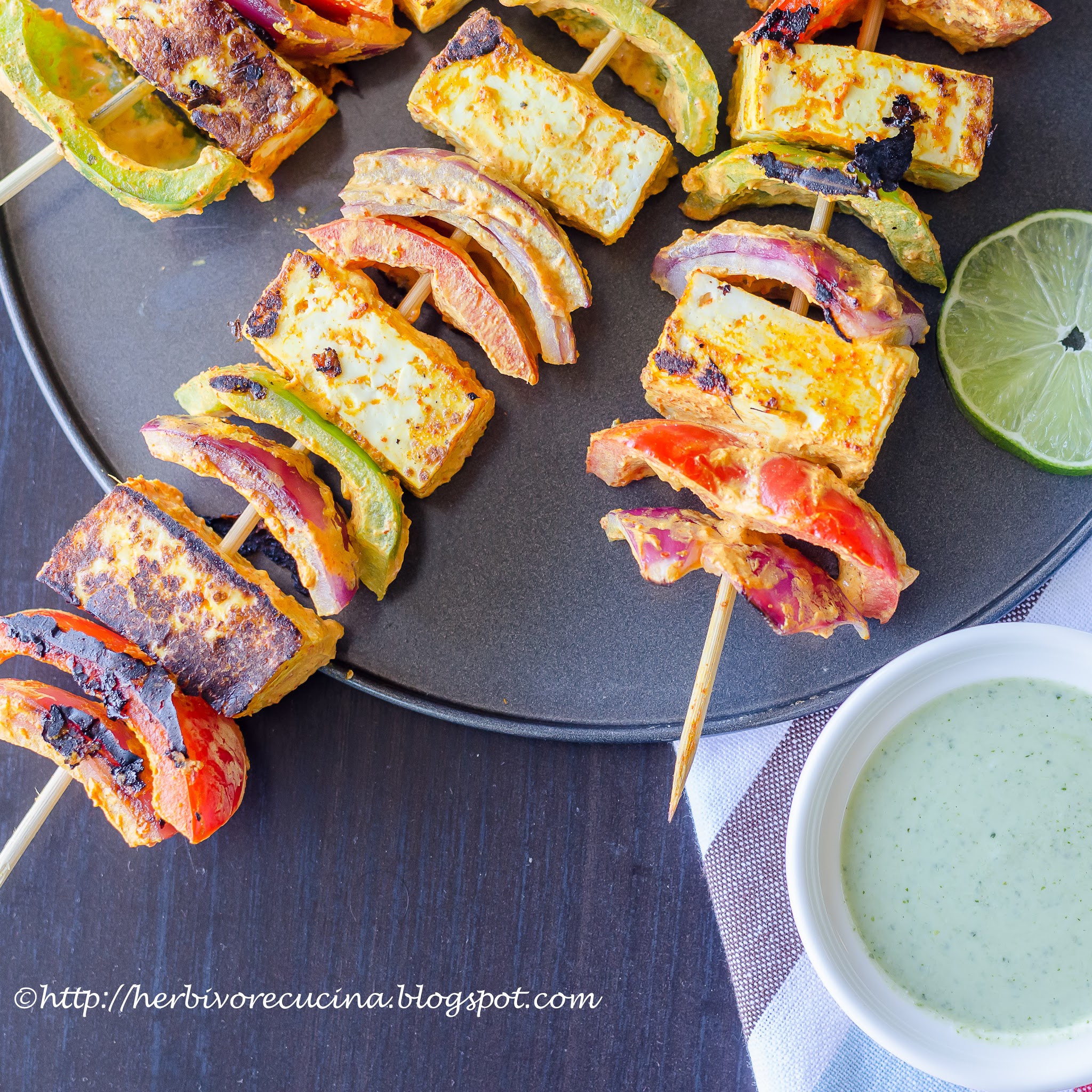 Method
If using regular yogurt, add it in a cheesecloth and get all the moisture out. This step is not required for greek yogurt. Once the yogurt is ready, add all the ingredients under marinade. Mix well and set aside. Adjust sugar and salt as required.
Keep the tofu between a few tissues or kitchen towel till all the water is absorbed. Then, cut equal size pieces of tofu, onion and peppers.
Apply the marinade evenly on all the pieces and let them rest for atleast an hour or even refrigerate it overnight. Put all the pieces on metal skewers or on wooden skewers soaked in water for 10 minutes.
The grilling can be done in multiple ways: On a non stick pan, in the oven or on the grill. If using the pan, lay the skewers on the pan and add some olive oil around it. Grill while rotating occasionally till all the sides are brown. If using the oven, lay the pieces in a grilling tray and bake on 350 F for 20-25 minutes till brown. On a grill, just place the skewers on it and grill till all the sides are brown.
Serve with Cilantro Chutney, Ketchup and sliced onions.