Grilling season is awesome with these grilled eggplants. A quick marinade; an easy recipe and perfect results each time!
Are you an eggplant lover? Then this recipe is MADE for you! If not, I promise you will atleast try this and then fall in love with eggplants. In my family and with friends, everyone either LOVES or HATES this violet vegetable. There are a few who would NEVER touch this vegetable in any form! However, this recipe was able to pull over a few on the other side. If you are in a similar spot, read on to find out more.
We have reached the peak of grilling season and I realized I did not post any grilling recipe this year. As I mentioned in my last post, the last few months have been pretty crazy and we ended up eating take out or making something quick in the Instant Pot.
However, I did make this SUPER delicious Eggplant recipe not long ago. Finally, it makes its way to the blog! This recipe works great with a bunch of other grilled recipes like these:
I tried this recipe a couple of times and it turned out awesome each time. The starting point of this one is picking a good plump eggplant. If it has only a few seeds, it helps in making the recipe super yum and easy to make. I like to make this with big eggplants, but if you cannot find them, Chinese eggplants and Indian ones work well too.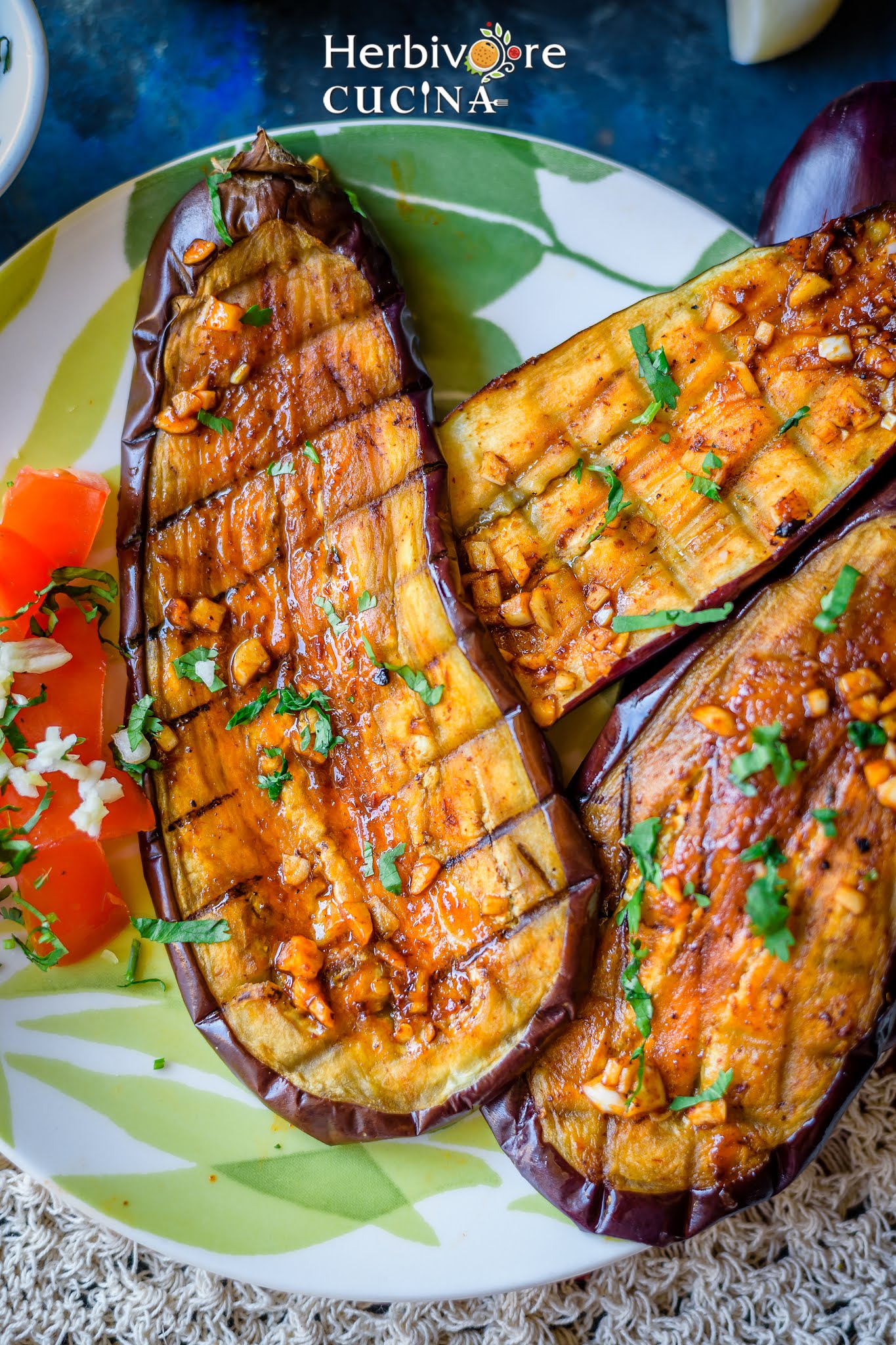 Made from just FIVE ingredients, this delicious grilling recipe takes hardly any time to bring together. These eggplants need no time to marinate; just top with any easy to make marinade and grill. You can actually bring this together while you grill corn on the cob on the grill! Or make the marinade before time and use that to make these strips at the grill.
We enjoyed these with a simple tomato salad; but this tastes amazing when stuffed into a naan with green chutney and cheese. It makes a great grilled eggplant sandwich that is healthy, filling and easy to make. Plus, it is a great way to get the kids to enjoy eggplant!
For this recipe I used store bought Chipotle Sauce. Any hot sauce works well for this, but I love how Chipotle blends so well with the eggplant and helps make a flavorful grilling recipe. If you do not like Chipotle for any reason, use any hot sauce like Sriracha chilli garlic sauce. If that is super spicy for you, mix in some ketchup to make the sauce sweet and spicy. You can also add diced onions and chilli flakes to the marinade. And yes, this marinade works well with all kinds of vegetables; so use your favorite vegetables to grill this summer!
I hope you enjoy this recipe and make it before Summer passes us by! I am working on a few more recipes that make summer awesome. So hop back to the blog and read about them. Hope you are having a great summer peeps!
Pin for Later
Ingredients
Big Eggplant 1
Chipotle Sauce 1 tbsp
Minced Garlic 1 tsp
Olive Oil 2 tbsp
Salt and Pepper as required
Method
Slice an eggplant into ¼ inch slices. Sprinkle salt and rest for a few minutes till the water drains from the slices.
In a bowl mix together Olive oil, Chipotle sauce, minced garlic, ½ teaspoon salt and 1 teaspoon pepper powder.
Start the outdoor grill or the stove top grill. Brush the marinade over the eggplant slices.
Spray non-stick cooking spray on the grill (if required) and grill the slices on both sides. Remove and serve with tomato balsamic salad, pasta or enjoy the slices by themselves.