Summer weekends are made for barbecue! And when you and your family are vegetarians, you got to think and be a little creative. If you grill often, you know patty and paneer tikka is rejected very soon. It is difficult to have the same grilled vegetables and the same spices. So recently when Fresh Jax sent me their grilling spices, I was so glad. The spice mix comes in five small bottles in these flavors: Pepper Habanero, Fresh Bay, Grill Master, Smoky Southwest and Citrus Pepper. They also sent me a few a few suggestions on pairings and I was thrilled.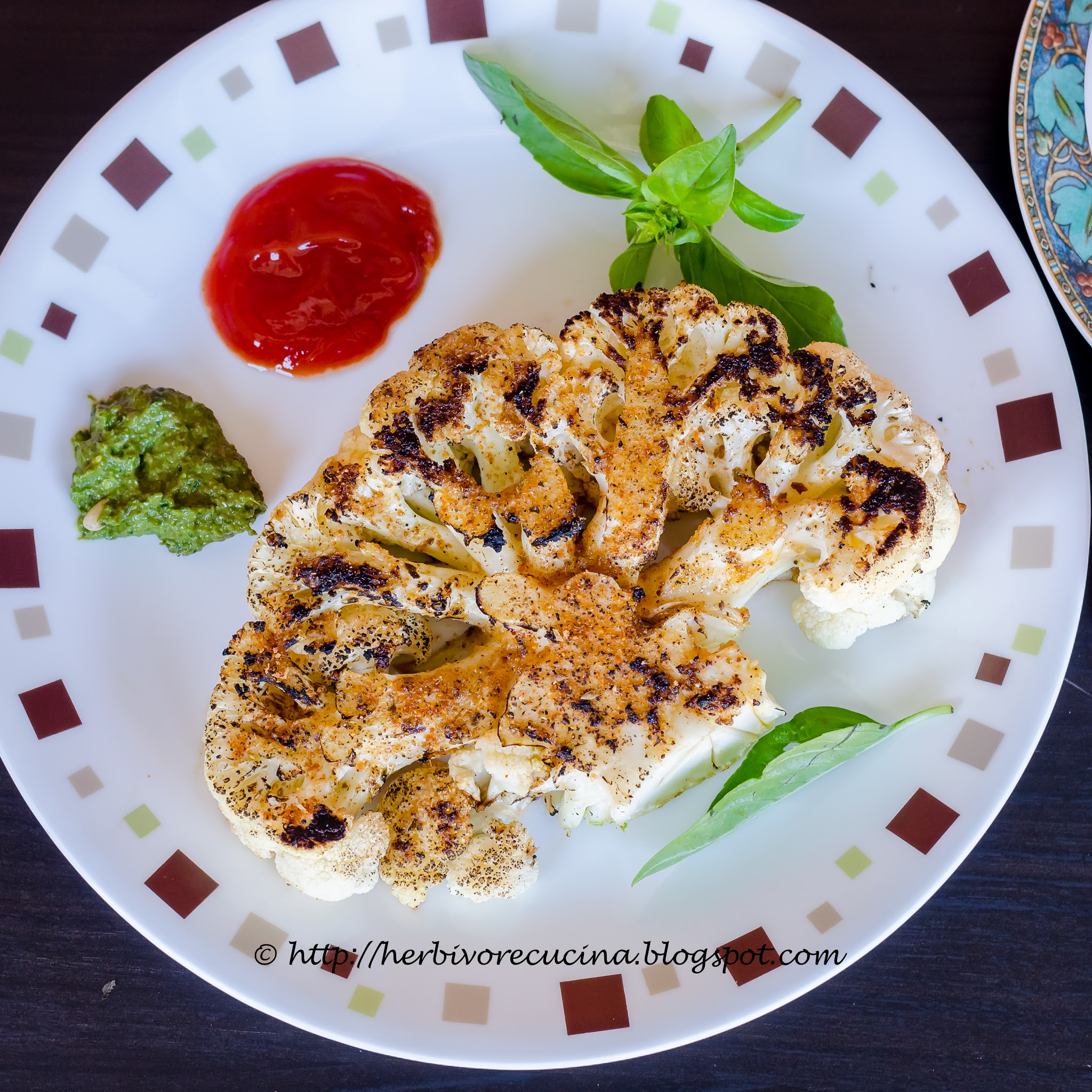 Over the last weekend we enjoyed some steak, vegetarian of course! If you look online for vegetarian steak, cauliflower seems to be the obvious choice. So a fresh cauliflower from the Farmer's Market got a makeover. The method is as easy as 1-2-3. Carefully cut the cauliflower, season it and grill the slices. You are good to go! For the steak I used Peppered Habanero and Grill Master. While cutting the cauliflower, a few florets might fall off. Use them the same way as the steaks. They taste as good, just doesn't look as pretty!
These cauliflower steaks take just 15 minutes to make. And they taste so good with a side of basil pesto and ketchup or bbq sauce. If having them as a full meal, serve them with mashed potato or mac and cheese. The combination is perfect. We had it as part of a meal, and so skipped the sides. Finally, before going on to the recipe, I would strongly recommend these spices from Fresh Jax. They are not only tasty, but also strong. The small bottles are made to last a long time. Made from good quality ingredients, this plant based company gets my thumbs up!
Ingredients
Cauliflower 1 medium
Olive Oil ½ cup
Grilling Spices (I used Fresh Jax)
Salt, Pepper
Method
To make steaks, slice the cauliflower from the centre. Then, starting from the cut side, make slices of about ½ to ¾ inch thickness. A few florets might fall off, but you should be left with a few slices that look great. Using those slices, sprinkle some salt and let them rest for a while. This will remove all the moisture from the florets.
Once ready, place the cauliflower steaks on the grill. In a bowl mix olive oil and Grill Master. Brush the mixture on the cauliflower and turn the slices over. Let them grill for a while and brush some more of the oil spice mixture. Continue till the steak is charred in places. You can also grill the loose florets in the same way. They look different but taste just as good.
Remove from grill, sprinkle some Peppered Habanero seasoning and serve with a side of mashed potato, barbecue sauce and basil pesto.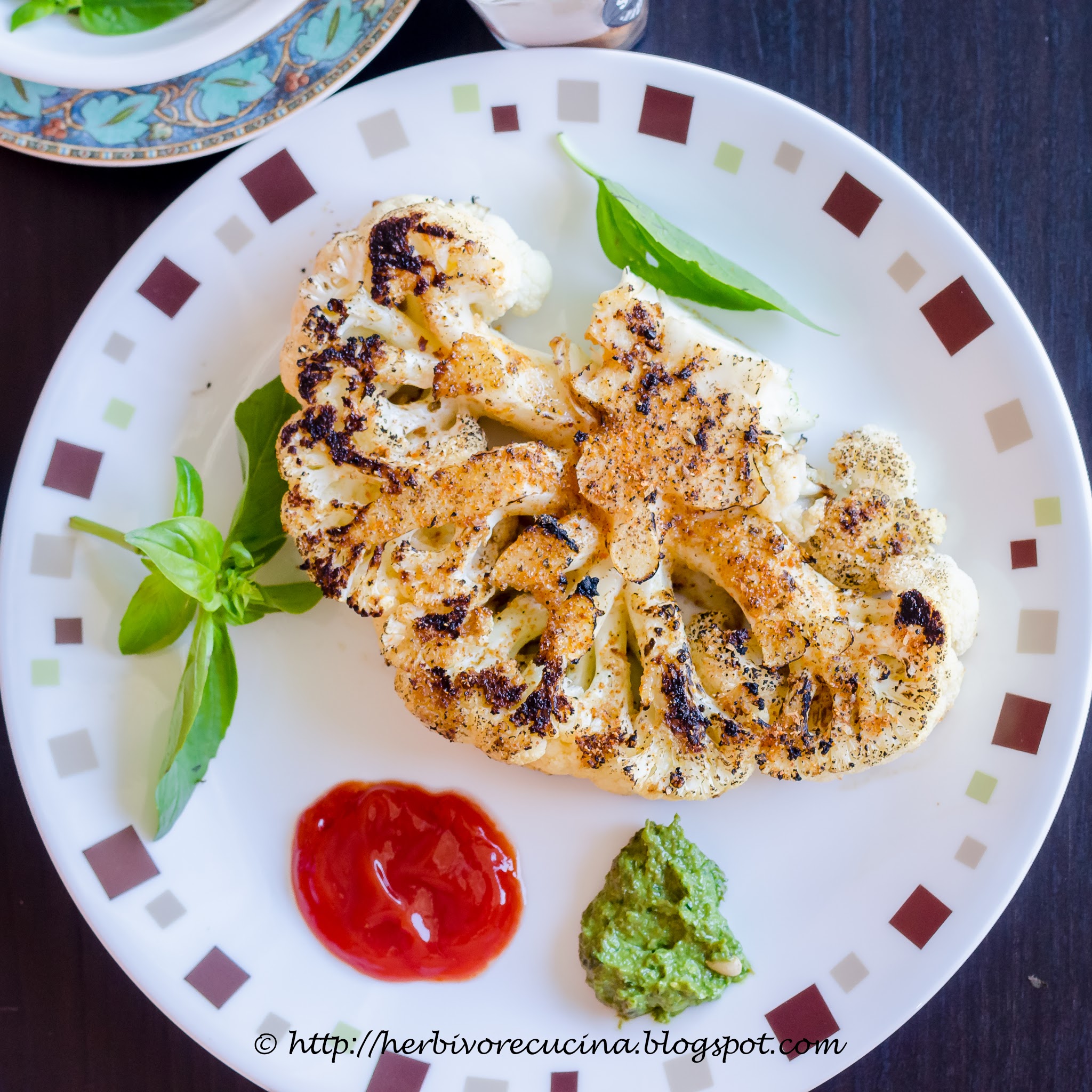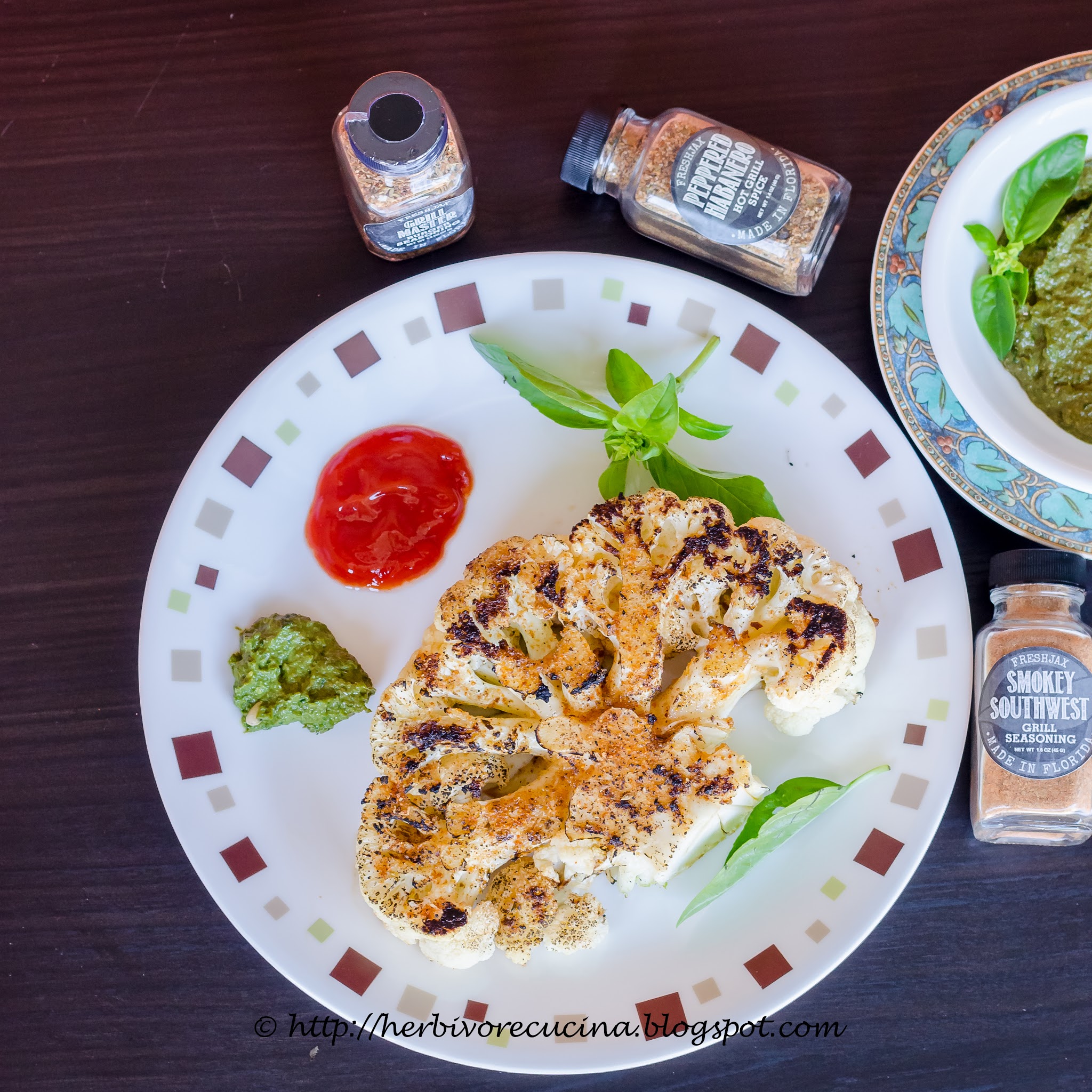 ** This post contains affiliate links. The post is sponsored by FreshJax Spices.