Blogging Marathon #76 Week 1 Day 1
Theme: Vegetarian Grilling Recipes
Dish: Whole Wheat Grilled Pizza with Vegetables and Paneer
A Grilled Pizza recipe that has it all. This pizza is loaded with vegetables and paneer and made on a whole wheat Panini Pressed base!
May is here and we are getting ready for Grilling Season. The days are warmer and getting longer. That makes it really convenient to grill even on weekdays. I was thinking about ideas for the first grill of the season and this one came to mind.

For the longest time I have been wanting to try a grilled pizza. This month my first theme for the Blogging Marathon being 'Vegetarian Grilling', I knew what was coming up. My first grill for the season and first post for this BM is a super quick and yummy 10 minute pizza made from very simple ingredients.
I made pizza base in a Panini Press yesterday. The recipe is here. These breads are made from whole wheat flour and they need no baking. Plus the panini press makes grooves on the bread, making it a perfect carrier for the sauce! I loved the pizza so much, I wish I can make this every time I want to have pizza!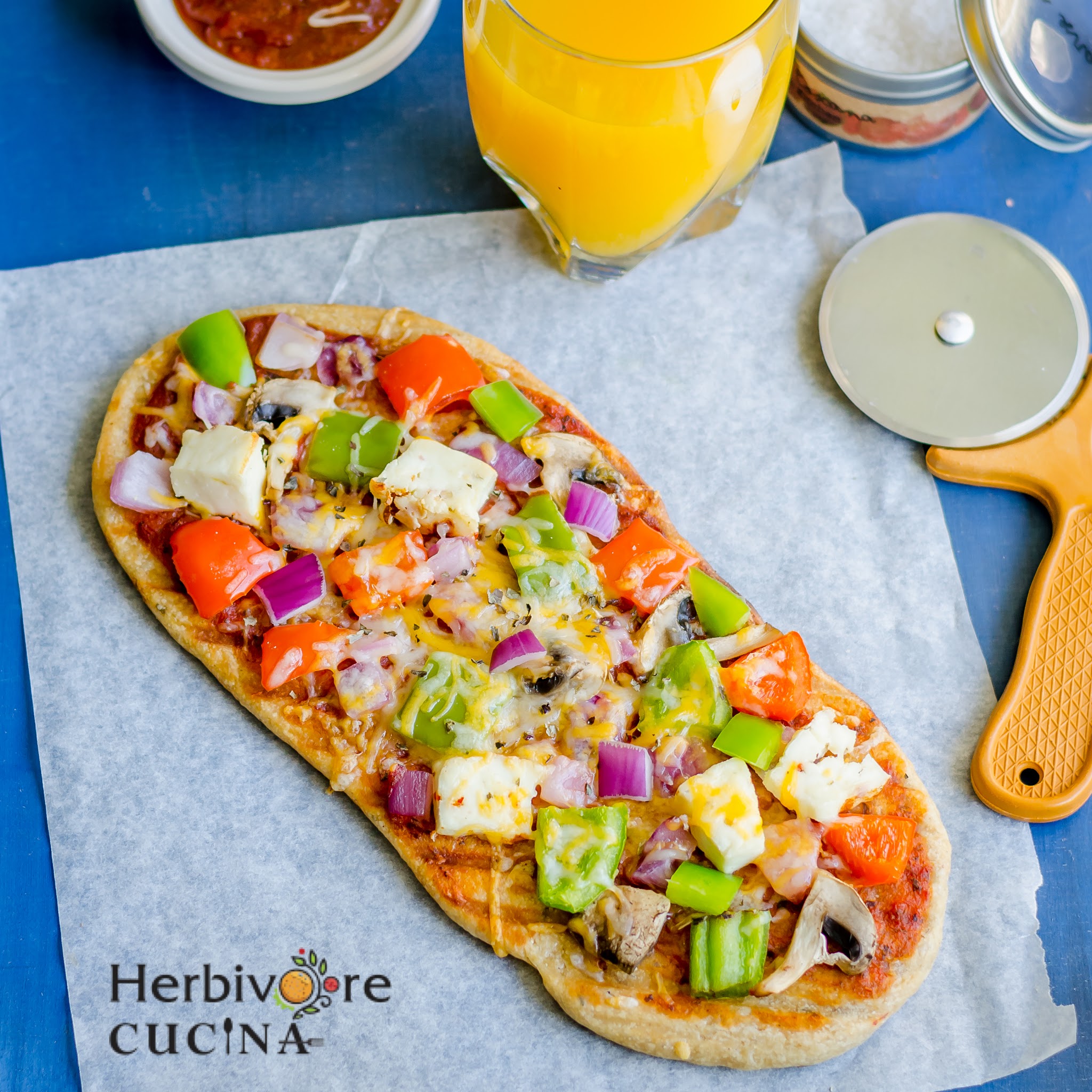 Grilling the pizza gives it a perfect char and flavor. Also, it makes the crust super crisp just like a biscuit. After having grilled many pizzas, I realized that the toppings do not get grilled very well as they never touch the grilling base. So I started grilling the toppings before they go on the base. That way everything above and below is perfectly grilled and the result is a super delicious pizza.
For those looking for a more traditional version, you can grill the regular ones too. You do not necessarily have to use a Panini Press base. Use a regular base and it works well too. Another pizza I love grilled is the rustic mozzarella and basil pizza. A super thin crust topped with Marinara and basic toppings, this pizza tastes best just off the grill!
Why grill the Pizza?
Grilled pizzas make the BEST pizzas! The main reason is that a grill is the hottest device you can get a hold of! It is much hotter than the regular oven, giving the best results. Once you have a grilled pizza, it is difficult to go back to oven baked ones.
And another advantage of grilling is that you can make many pizzas at once. Turn on the grill and place all the pizzas at once. You will have perfectly grilled pizzas all at once. Everyone in the family can get their version all at once!
Tric

ks to get a perfectly grilled pizza
After trying many combinations and ways of making a grilled pizza, here are my learnings. The first tip is to get ALL your ingredients together before starting. If you try to look for the cheese or reach out to grab a spoon for the sauce, you might end up burning the base!
The second trick is to assemble the pizza on the grill. Place the base on the grill and let it cook for a minute. Turn it over and start assembling it. That way, you give the base some time to cook before the toppings are on.
Third and most important is that you should be really careful with the grill. As mentioned above, it is SUPER hot. Use a pair of tongs, a mitt and a long spatula or pizza peel to handle the hot pizza.
And do not forget to enjoy the grilling season with this and many other recipes from the blog!
Ingredients
Marinara Sauce of your choice 1 cup
Onion 1 medium, diced
Pepper 1 medium, diced
Mushrooms 6-7, diced
Paneer ½ block, diced
Shredded Mozzarella Cheese ½ cup
Dried Oregano 1 tsp
Olive Oil 1 tsp
Salt ½ tsp
Pepper ½ tsp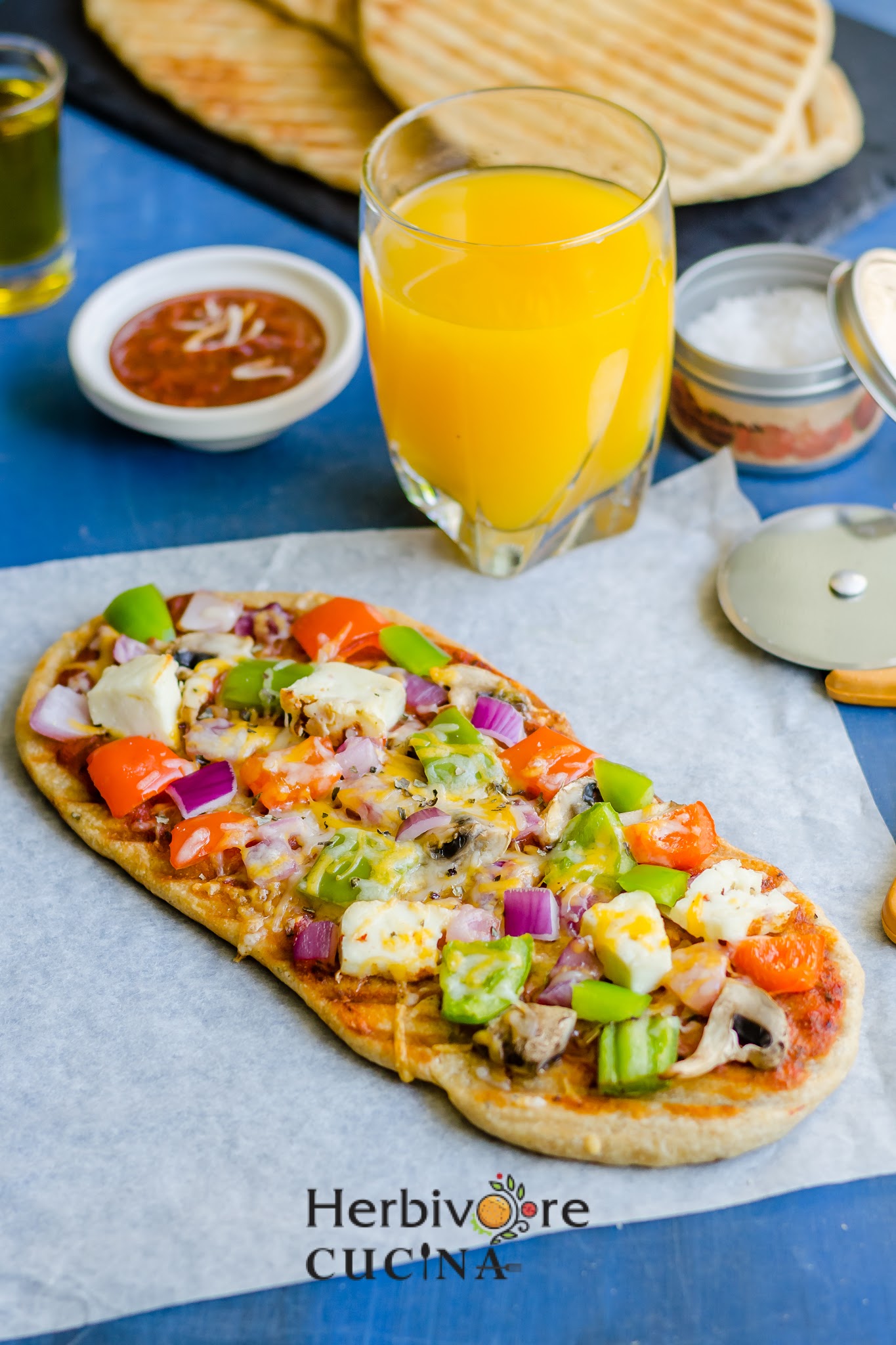 Method

Start the grill and place the vegetables and paneer pieces on it. Grill for 4-5 minutes, till just charred. Sprinkle salt and pepper and set aside.

Place a pizza base on the grill and cook for a minute. Turn it over, spread your favorite Marinara Sauce on it. Arrange the grilled vegetables and paneer, sprinkle shredded cheese and dried oregano.

Grill the pizza on medium for 5-6 minutes. The time varies according to the make so grill till the cheese melts.

Remove from grill and brush little olive oil on top. Enjoy with a side of Marinara.