A fun way to make bread in a Panini Press. These can be used to make Panini, Pizza or as Flatbreads!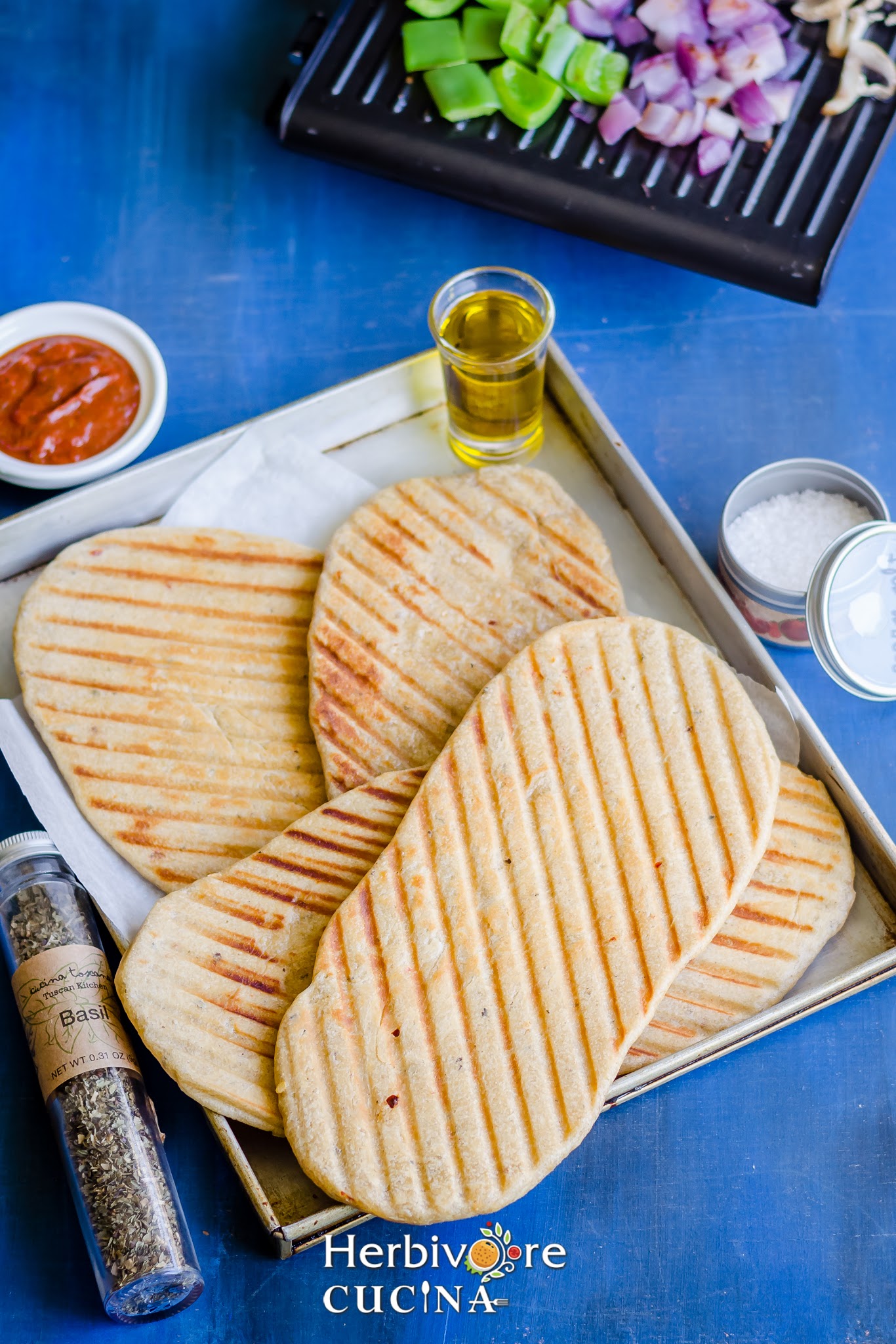 As a family we love pizzas. Whether it is Indian inspired Pav Bhaji Pizza or the most popular Veggie Pizza with Tomato sauce, we enjoy them all. We are fans of all purpose version and enjoy our healthier whole wheat version too. Whether it is the one with a stuffed crust or one with no cheese, we don't mind any of them!
Given our love for pizzas, I end up baking more often than I should. And it does take a while waiting for the BIG pizza to bake. I am always on a lookout for recipes that will make pizza quickly. One option is to make it on the tava. The other one is to use a panini press or a waffle maker.
I tried making bread on the panini maker and the result was spectacular! The first time I used pizza dough from all purpose flour and managed to make flatbreads that were crisp and super delicious.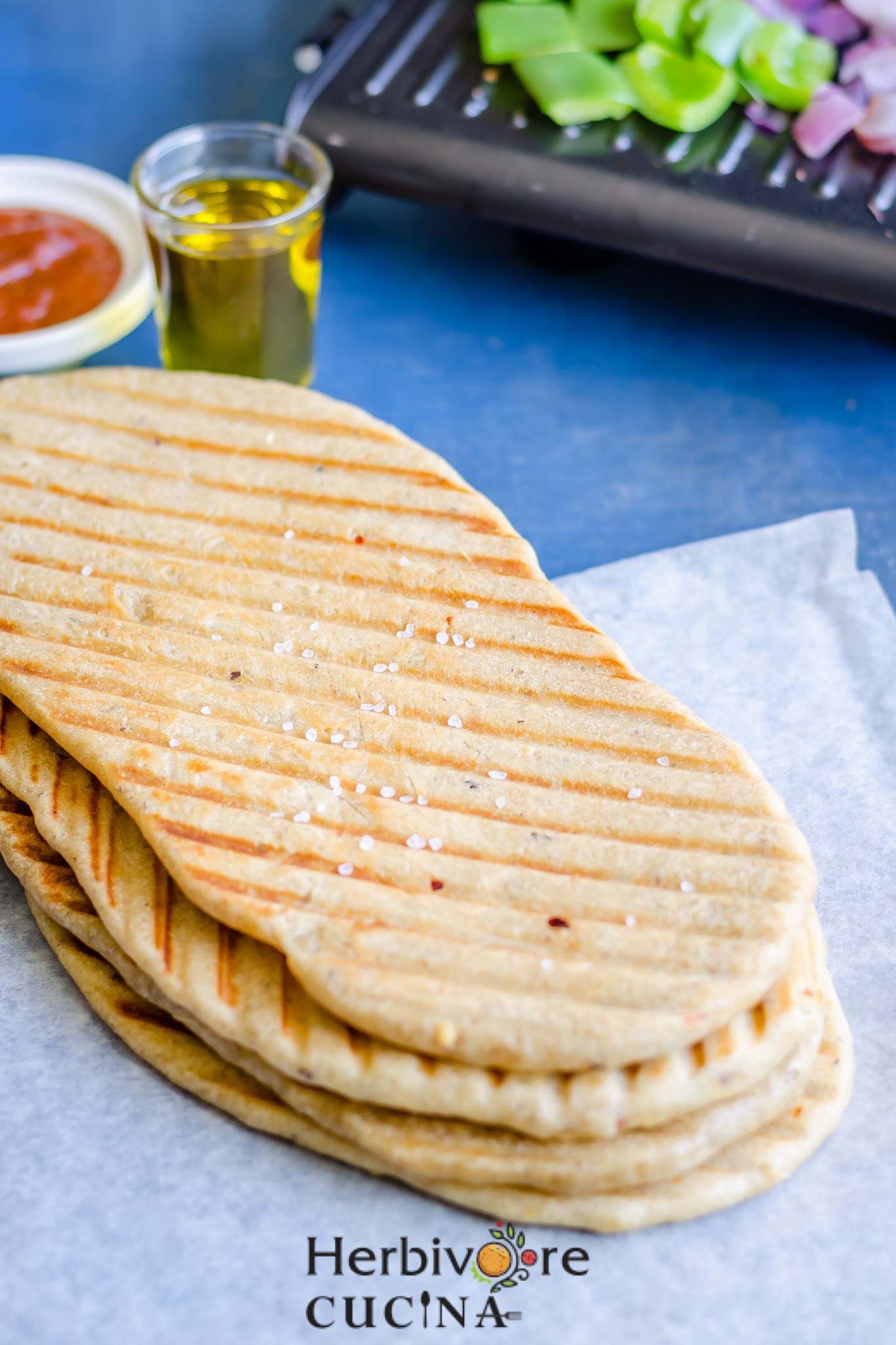 Yesterday I was craving pizza again. But given that it is 94 F in the afternoons, I refused to switch on the oven. That is when I decided to use my faithful Panini Press to make the pizza base. This time I used a wheat flour, with some all purpose flour added in it. The result was so good!
The breads are ready in about 6-7 minutes and can be used to make anything from pizza to panini and from flatbreads to chips. Once the breads are baked, you can store them in an airtight container till ready to serve. This time I made grilled pizzas with these breads and the result was spectacular!
There are many advantages of making pizza in a Panini Maker. First you need to let the dough rise just once. The second rise is not required. You can adjust the thickness by varying the pressure on the press. And last, you can carry your press for your next camping trip or barbeque party and make fresh pizzas there!!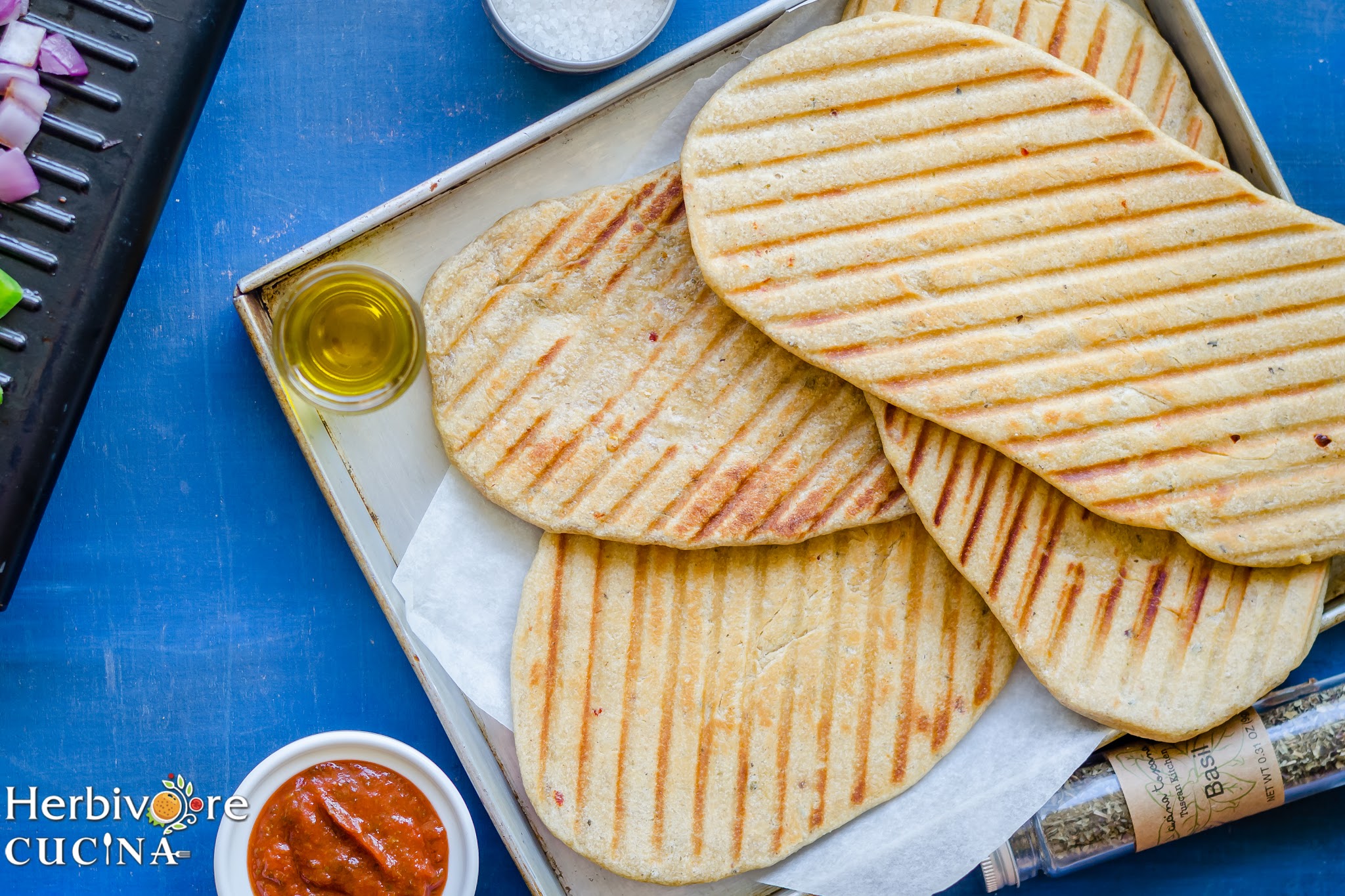 The variations you can make
I made fairly thin breads as I was going to grill them on a grill. If you are going to make a panini or prefer thick bases, roll out the dough to a small thick round.
I used wheat flour and all purpose flour. However, the same can be made using just all purpose flour too. An essential ingredient in this base is essential wheat gluten. This can be found in most grocery stores across US or ordered online. It is required to get enough gluten into the wheat dough.
Do not have a Panini Press? Make the same in your waffle iron. It will be a slightly thinner and crisper bread, but still tastes just as good!
Go on and check out this recipe of the bread. And do not forget to check out the Grilled Pizza that is coming on the blog after this!


Ingredients
Whole Wheat Flour 2 cups
All purpose flour 1 cup
Essential Wheat Gluten 2 tbsp
Instant Active Dry Yeast 1 sachet (2 ¼ tsp)
Olive Oil 4 tbsp, room temperature
Salt 2 tsp
Sugar 1 tsp
Red Chilli Flakes 1 tsp
Dried Oregano/Basil 1 tsp
Method
In a bowl add 1 cup water, 1 teaspoon salt and 1 teaspoon sugar. Heat till just warm (105-110 F). Add yeast and mix well. Cover and rest for 10-12 minutes till it blooms.
In the base of a stand mixer or a large bowl mix together the flours, wheat gluten, salt, chilli flakes and oregano. Pour in yeast and add 3 tablespoon olive oil.
Using the dough hook, process till the dough comes together and the sides are clean. Brush the dough with olive oil and rest covered for an hour, till it doubles.
Once the dough doubles, press it down and divide into four or five parts. Roll out one part to a oval or round that is smaller than the panini press.
Start the panini press and set to high. Brush the bottom blade with olive oil and place the rolled out dough. Brush some oil on top and press the dough.
In 2-3 minutes the top and bottom will be cooked. Lower the setting to medium and cook for another 3-4 minutes.
Remove and set aside. The bread can be used to make pizza, panini or just enjoyed with some coarse salt and olive oil.