This shop has been compensated by Collective Bias, Inc. and its advertiser. All opinions are mine alone. #MarinadesWithMazola #MakeItWithHeart #CollectiveBias
Button Mushrooms combined with an easy to make Balsamic Garlic glaze makes a great Vegetarian Grilling option that everyone will LOVE!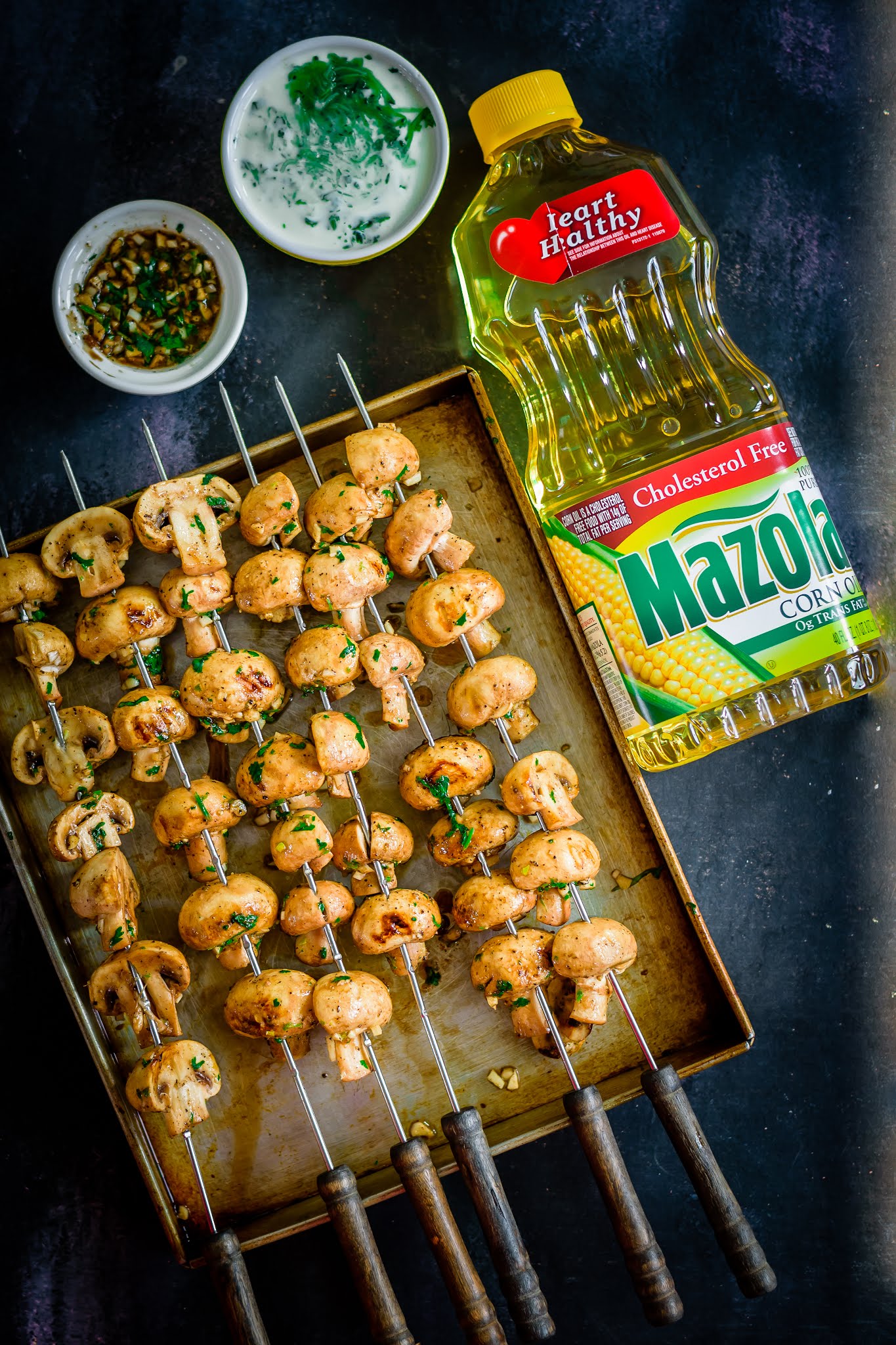 Love Vegetarian grilling? If you do, this recipe is made for you! Grilled mushrooms with an easy to make 6 ingredient marinade is perfect for everyone. Balsamic Vinegar, minced garlic, fresh herbs and Mazola Corn Oil makes a great marinade for all kinds of vegetables and meat. A clinical study showed Mazola Corn Oil reduces cholesterol 2x more than extra virgin olive oil. To learn more about this claim, see Mazola.com.
Text MAZOLA to 79495 between 6/20/19 – 9/26/19 to receive $1.00 back on your purchase of Mazola 40oz Corn Oil! Limit 1 rebate per household. PayPal account required. By texting, you expressly consent to receive multiple automated text messages on this offer. Consent not required as a condition of purchase. Message & data rates apply. Text HELP or STOP to 79495 at any time. Full terms here.
Grilling season is our favorite and we love to make innovative recipes using different vegetables and marinades. This year we are trying marinades that come together quickly and need less than 10 ingredients. This recipe is PERFECT for that. Plus, super customizable with options mentioned below!

Video Recipe
The PERFECT Marinade for Mushrooms
For the longest time I have been in love with a yogurt marinade that works well with paneer, tofu and vegetables. But that makes the grilled recipes super heavy and we can only enjoy a couple of skewers. Then I discovered Balsamic glaze for my grilling.
Ever since I found that, I have been using it over and over again. I use Mazola Corn Oil in the recipe and it turns out great each time. This oil is an all-purpose, cholesterol free cooking oil that is a smart heart-healthy choice for your family. The oil has a neutral taste that lets the natural flavor of your food stand out.
Mazola has a smoke point higher than most cooking oils at 450°F and performs well in a variety of cooking applications. This makes it PERFECT for grilling compared to the other oils.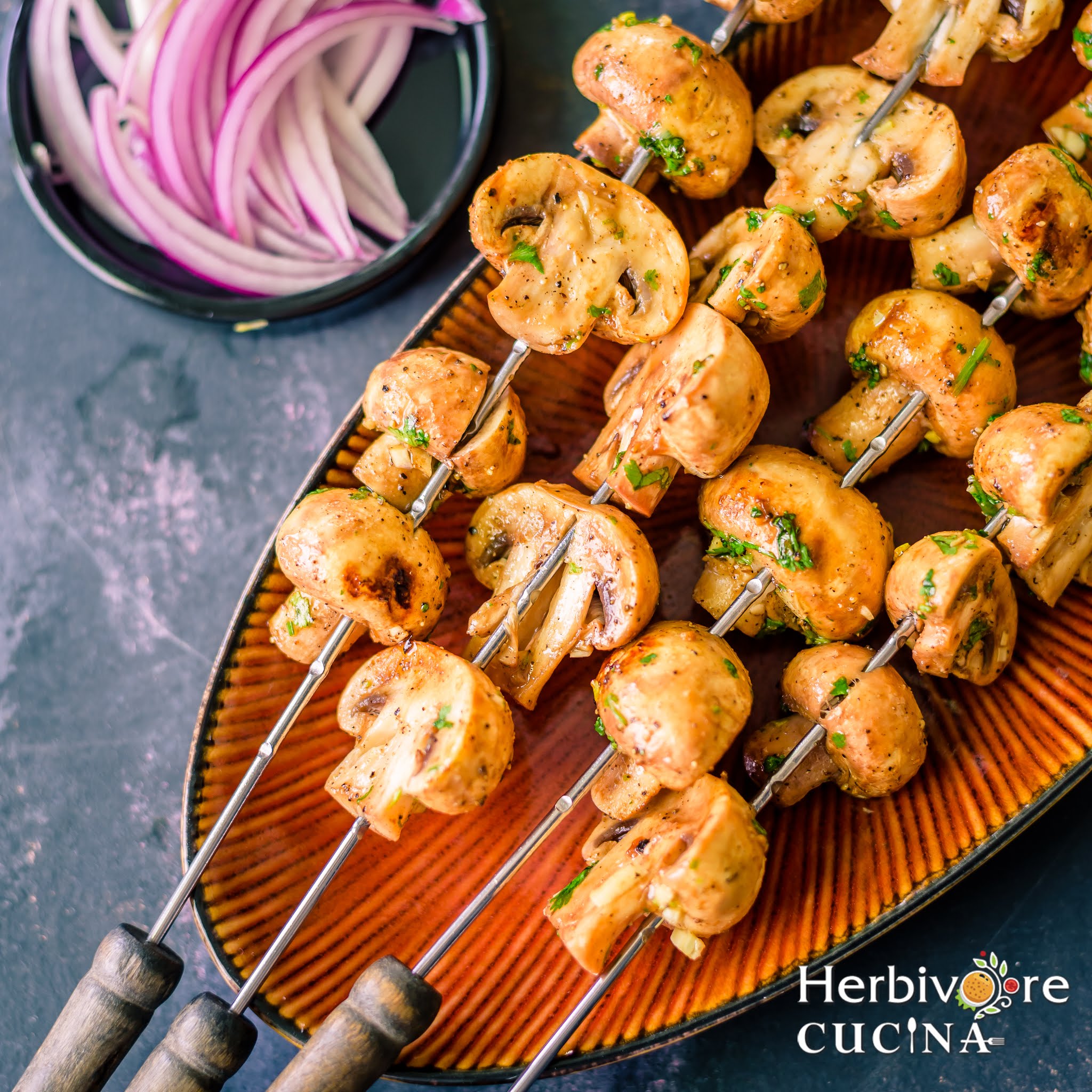 How to make the BEST Grilled Mushrooms
Mushrooms are ingredients that can sometimes be tricky to work with. But follow a few simple tricks and get it right each time! The first step is picking the right kind of mushrooms. This recipe works great with Button mushrooms and Crimini mushrooms. Fresh mushrooms grill the best so buy them the day you are grilling!
Next is to pick the mushrooms of similar size. Hit the bulk bin in the stores and pick the ones that are more or less evenly sized. They cook well together taking the same time, yielding perfect results.
CLEAN the mushrooms well in cold water. Any kind of mushroom can be muddy and need to be cleaned really well. I like to soak them in cold water for 10-12 minutes and then pick them out from the water. This cleans them well.
Marinade the mushrooms in a light marinade that is flavorful. I like to keep them for about 30 minutes so the flavors soak in. Balsamic Vinegar and Corn Oil work great for mushrooms. And yes, garlic and herbs are perfect to flavor the marinade.
Grill them at medium-high flame on a gas grill or only after the charcoal is hot. They tend to cook fast, so make sure they are on the flame for only 5-7 minutes. After that, they tend to shrink and become rubbery.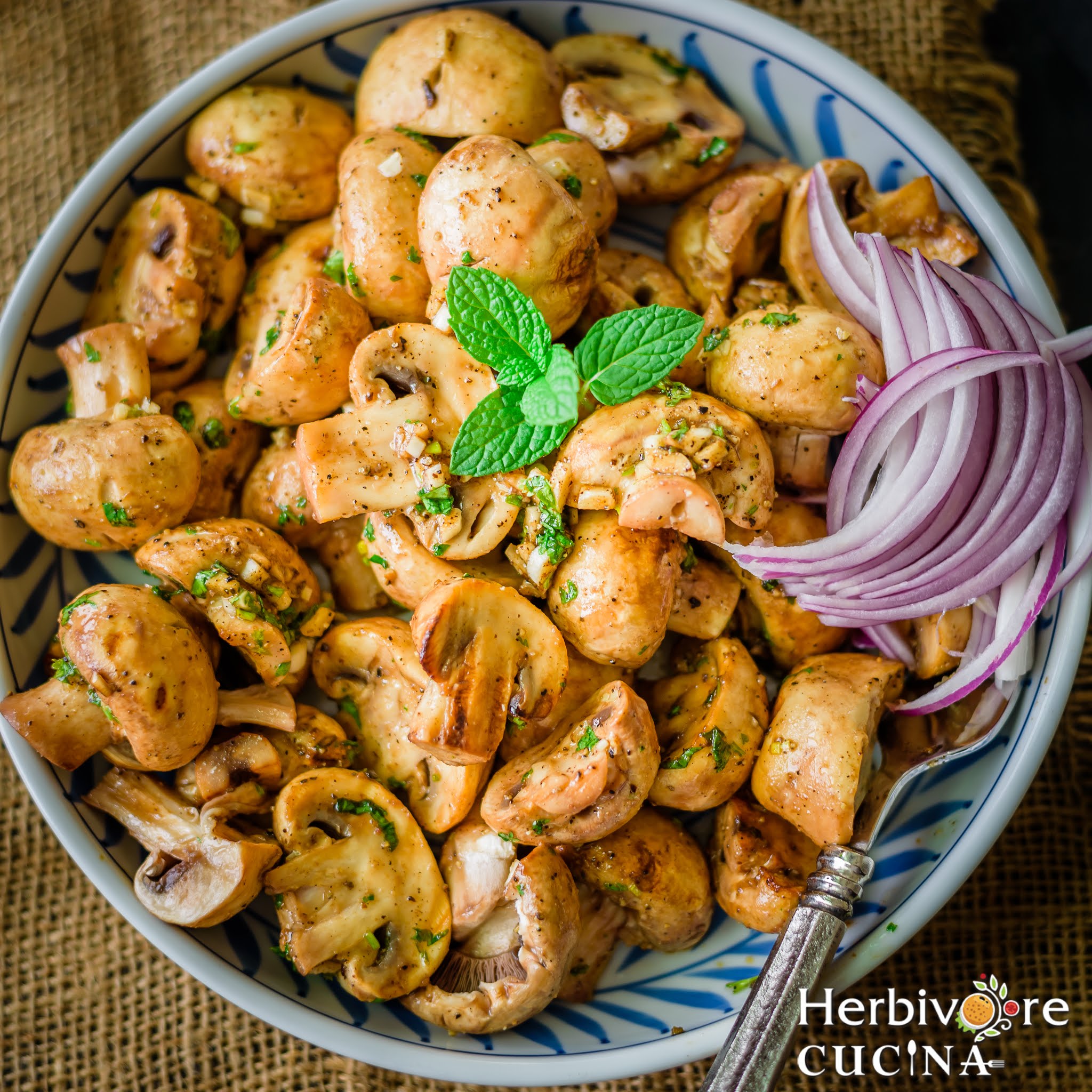 Swaps to make the recipe Better for You!
A few swaps can make this recipe better for you! Here are the swaps I made:
I have used FRESH garlic and parsley and would TOTALLY recommend that. Not only are they flavorful, they are not processed like dried herbs or store bought minced garlic. They make the mushrooms flavorful and free from processed ingredients. Use parsley or replace it with basil, cilantro, oregano. They all work well.

As you read above, I have used

Mazola Corn Oil

for the recipe. With a high smoke point, this oil makes the recipe healthier than using butter. You must try this oil for your grilling too!

Last, the dipping sauce. Give a break to store bought ketchup, mayo and the like. Swap it for delicious homemade yogurt dip. I have included a recipe that is great with the flavorful mushrooms. Do try that too!
Variations
This recipe uses a handful of ingredients that are easy to find. However, these can be substituted with other ingredients to make them.
The star ingredient here is Mushrooms. I used Button Mushrooms but Crimini Mushrooms work well for the recipe too. Pick your favorite and make the recipe.
Balsamic Vinegar has a flavor that cannot be matched. I would totally recommend getting a bottle for this recipe and for pizzas and bruschetta! We love it here and I always have a bottle in my refrigerator!
Add some extra vegetables or protein if you like. Peppers, onions, broccoli, tofu and even pineapple works well with the marinade.
Ingredients
White Button Mushrooms 15-20
Garlic 4-5 cloves, minced/grated
Parsley/ Cilantro 2 tbsp, roughly chopped
Mazola Corn Oil 3 tbsp
Balsamic Vinegar 1 tbsp
Salt 1 tsp
Black Pepper Powder ½ tsp
Method
Clean and dry the mushrooms. Cut all the big mushrooms into half and leave the small ones as is.
In a pan add all the ingredients except the mushrooms and mix well. Add the mushrooms and toss to coat well.
Let the mushrooms marinate at room temperature for 30-40 minutes. If using wooden skewers, soak them in water at this time.
After that time arrange the mushrooms on skewers, grouping them by size. Save the marinade that remains in the bowl.
Set a gas grill to medium high or heat a charcoal grill till the coals are red. Grill the mushrooms on the open flame for 5-7 minutes, flipping them once. The mushrooms may give out some moisture but that is perfectly okay.
Remove from the grill and brush the remaining marinade on them. Transfer to a bowl, add some extra black pepper on top.
I served these with some chopped onions and a delicious yogurt dip.
To make the dip whip 1 cup Greek yogurt, add ¼ cup grated cucumber, 1 teaspoon chopped cilantro, ½ teaspoon salt and ½ teaspoon cumin powder. Serve with the mushrooms.