What is better than Za'atar Spiced Mushrooms for weekend grilling?Super quick recipe for a filling and yummy meal!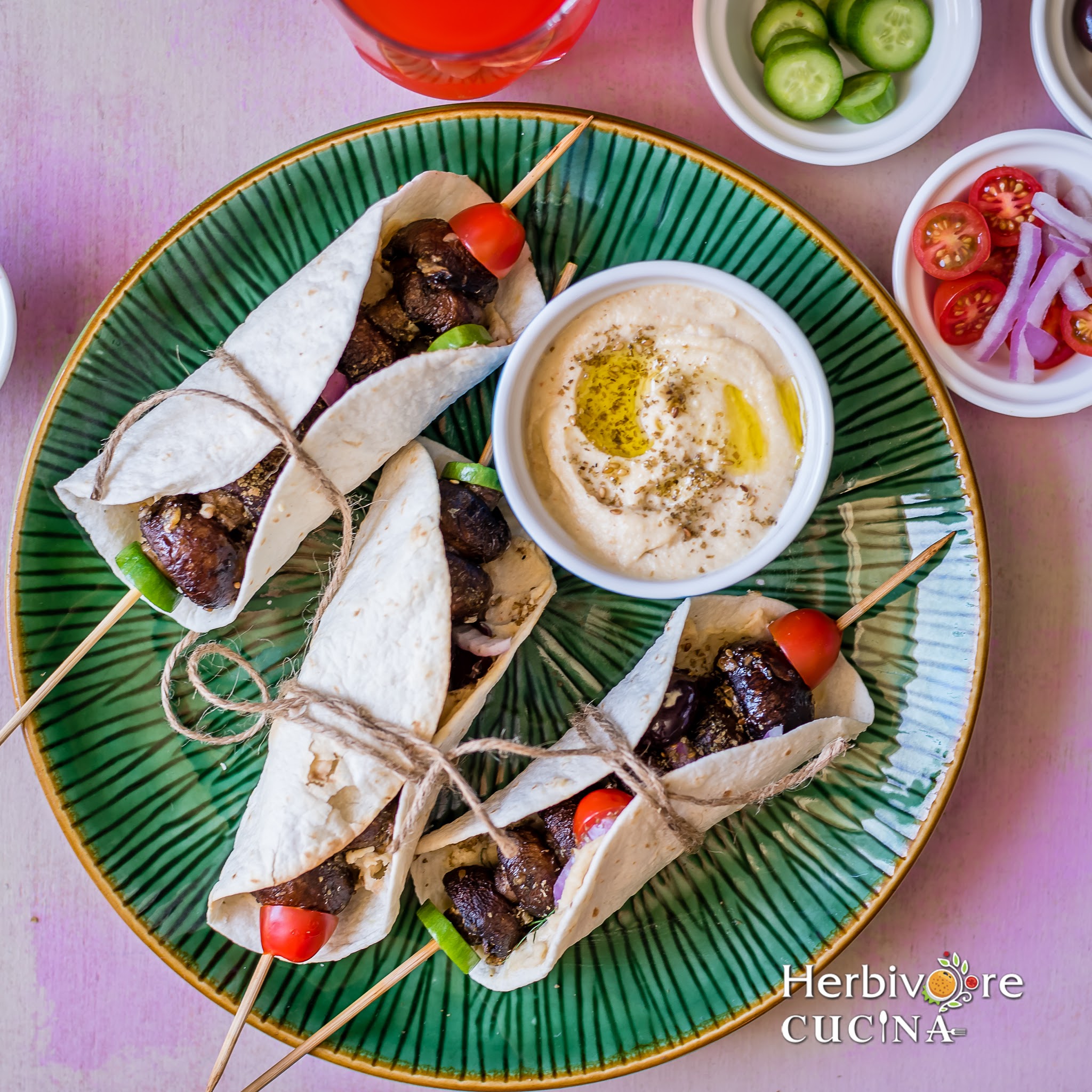 Summers are made for grilling! I love grilling all kinds of vegetables marinated in different sauces and ingredients. Not to forget the grilled peaches and pineapple that scream S-U-M-M-E-R!
I have tried quite a few combinations; most work, some fail. A couple of combinations taste really bland once cooked. Then I have to season it before serving. My favorites are these: Super Quick Balsamic Grilled Vegetables, Grilled Cauliflower Steak, Oven Grilled Tandoori Vegetables.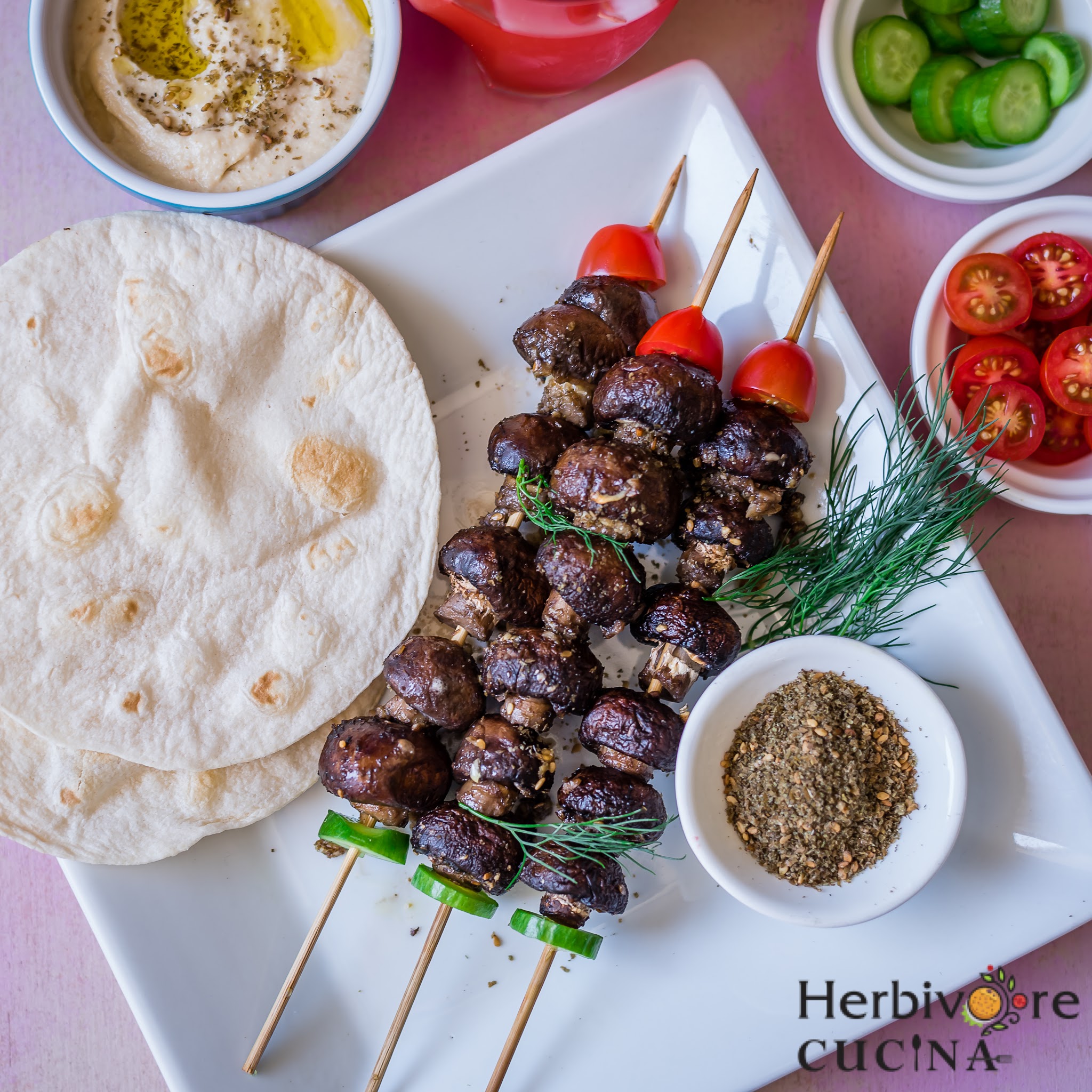 This weekend I wanted to grill something different. I recently bought a large package of Za'atar Spice and decided to use that. And what better than garlic and olive oil to go with it? So I put all this together and made these yummy grilled Mushrooms.
I served it with some grilled tortilla, olives and salad. These wraps were made perfect with some Blazing Hummus. And yes, and extra dash of Za'atar spice on it completed the taste and flavor. However, tortilla can be substituted with pita breads. They complete the Greek feel to the meal.
This recipe is inspired from my trip to Dubai some time ago. We had a traditional meal as part of a Dessert Safari and had something similar there. Since then, I have been wanting to make these. Finally, I got myself to make these over the weekend. We had a great meal with everything!


Variations


If you are one of those who do not like or consume mushrooms, do not worry. The recipe can be used for any vegetable that you like best! Whether it is zucchini, peppers or even paneer; the spice is great with all of these. It will make a perfect grilled dish!
I used store bought Za'atar Spice. However, you can make your own using any of the recipes that are easily available online. I would suggest you make a BIG batch and use it for all your Greek recipes. They become 'even better' with that!
Finally, as I mentioned above, use Pita breads, homemade flatbreads or tortillas to make the wraps. And I used traditional hummus but any of these flavored hummus work really well too: Roasted Butternut Squash Hummus, Green Chickpea Hummus, Lime Cilantro Hummus or Roasted Beetroot Hummus. You can even add in Tzatziki or Muhammara.
Not a fan of wraps? Just enjoy the Mushroom Skewers and enjoy them! I would love to make these again with my Oven Grilled Tandoori Vegetables.
Ingredients
Brown Mushrooms 12-14
Garlic 1-2 cloves, minced
Za'atar Spice 1 tbsp
Olive Oil 2 tbsp
Salt ½ tsp
Tortilla/ Pita
Hummus (Store bought or home-made)
Kalamata Olives, Cherry Tomatoes, Onion and Persian Cucumbers
Method
Wash and dry the mushrooms. In a bowl mix together Olive oil, garlic, za'atar spice and salt. Add in mushrooms, and toss well.
Start the grill and set to medium heat. Alternatively, preheat the oven to 350 F/ 180 C.
Divide the mushrooms among three skewers. Grill on the grill or in the oven till it cooks (Mine takes 15 minutes in the oven or 8-10 minutes on the grill).
Also, grill the tortillas or pita breads. To assemble, spread hummus on the bread and place a skewer of grilled mushrooms. Sprinkle some more Za'atar Spice and add tomatoes, onion, olives and cucumbers. Roll and serve.