Blogging Marathon #78 Week 2 Day 3
Theme: Secret Ingredients
Dish: Cauliflower Sauce Mac n Cheese
Can't give up on Mac n Cheese, but do not want the guilty ingredients? Make your own with this incredibly easy Cauliflower sauce!

Any pasta lovers here?? I am definitely one. And when it comes to Mac n Cheese, I am the first one to reach out for it! I eat a lot of it and then I feel guilty of consuming all the packaged food ingredients. But it is definitely difficult to resist the urge to gobble a bowl full of Mac n Cheese.

To make sure I can eat my pasta without feeling guilty, I decided to try making it with Cauliflower sauce. Yes, it is the same sauce I posted a couple of days back. I really loved how the Mac n Cheese came out and we definitely did not miss the authentic one!
At first I was skeptic of tasting cauliflower in my pasta. However, after adding garlic, cheese and bread crumbs, I could definitely not tell it had half a head of cauliflower hidden in it! And I made a big plate and a few ramekins, making sure I have enough for TWO meals!

For the longest time my definition of Mac n Cheese was to get a package and prepare it according to the instructions. Then I happened to travel to Tucson, AZ some time ago. The University town has a small place that serves just one dish; Mac n Cheese. Wondering how it runs? They have a long menu with tons of variations to Mac n Cheese. Flavors like Caprese, Cheddar, Pizza, Jalapeño, Bacon, Hawaiian, Baked Potato make an appearance on their menu!

I had a few flavors there and felt like they changed Mac n Cheese for me forever! Once back, I finally started experimenting with this staple and it has been super fun. Cauliflower sauce is my latest obsession!


Variations


Coming to the recipe, this one is pretty versatile. The only required ingredients are pasta, cauliflower sauce and some cheese. Everything else from peppers and seasoning to breadcrumbs is optional.

I baked mine to melt the cheese and get a wonderful topping of crumbs and cheese. However, the step can be eliminated and the whole thing can be made on the stove top. It all depends how you like it.

For this recipe use any short pasta like mini farfalle or elbows. The smaller pasta helps in a way that the sauce clings well to them. As this recipe does not have too much butter or oil and vegetables, it is important that the sauce and pasta cling well.

What to do with left-over Cauliflower sauce?


This recipe needs one cup of sauce, but I made about 2 cups. The sauce was yummy by itself and I ate quite a bit even before making anything out of it.

The sauce is super creamy given the ingredients. I like it a little thick, so that it can be served with chips. I also like to serve it with chopped vegetables and on top of french fries.
Wait no further and head straight to the recipe. You need to make this TODAY!!



Ingredients
Dried Elbow or Shell Pasta 1 cup
Cauliflower Sauce 1 cup (recipe here)
Mozzarella and Cheddar Cheese ¼ cup, shredded
Oregano and Chilli Flakes 1 tsp
Garlic 1-2 cloves, minced
Olive Oil 1 tsp
Bread Crumbs ¼ cup
Salt and Pepper to taste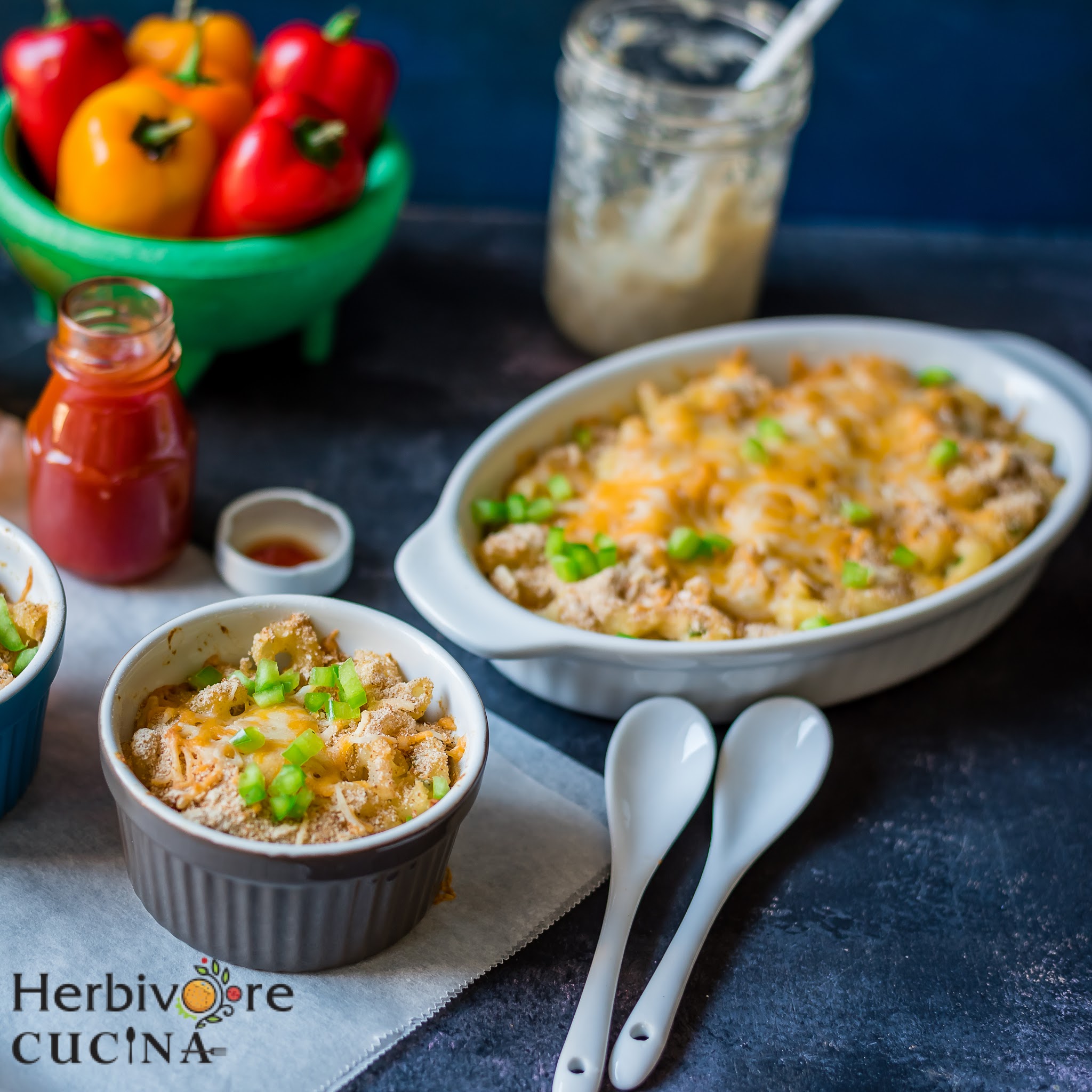 Method


Heat 4 cups water in a pan. Add the dried pasta and cook till al-dente. Drain and set aside.
In a pan heat olive oil and add garlic. Sauté till the raw flavors vanish. Then add this Cauliflower sauce and mix in oregano, chilli flakes, salt and pepper.
Add the boiled pasta, mix well and turn down the heat. In ramekins or oven safe tray add the pasta. Sprinkle cheese and bread crumbs.
Place in a preheated oven at 350 F/ 180 C for 10-12 minutes. Once the cheese starts to melt and the bread crumb is light brown, remove. Serve with a side of Garlic Bread or this delicious Whole wheat Pizza Braid Bread.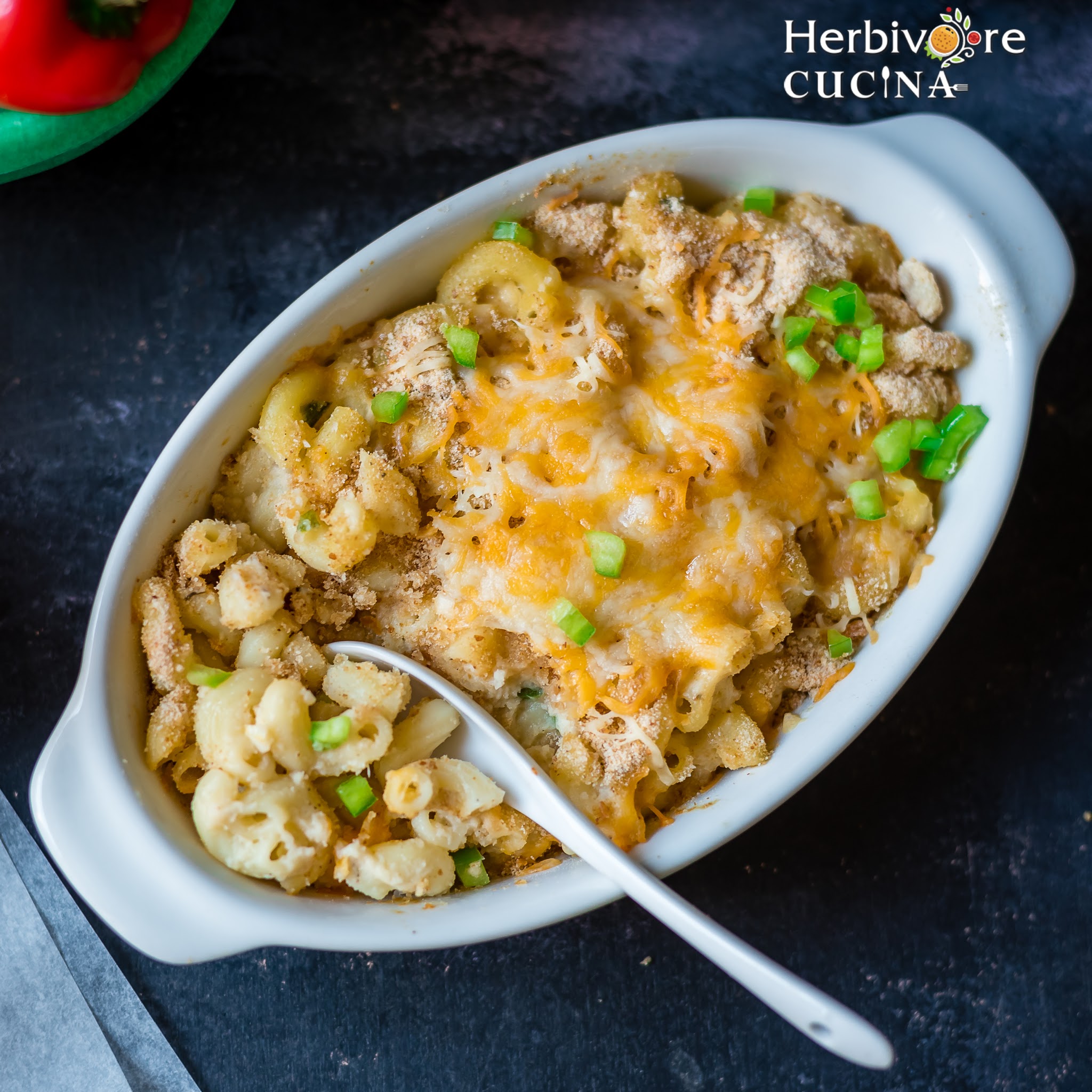 Want more Cauliflower recipes? Check these Grilled Cauliflower Steak, Gobi Musallam: Roasted Whole Cauliflower and Spiced Roasted Cauliflower.
Check out the Blogging Marathon page to see what the other Blogging Marathoners are doing for this BM.