Blogging Marathon #78 Week 2 Day 1
Theme: Secret Ingredients
Dish:The BEST Cauliflower Dipping Sauce
The simplest and yummiest dipping sauce you need for EVERYTHING. This Cauliflower sauce takes just 10 minutes to make!
The last few days have been super hectic here. I have been running errands, meeting old friends, cooking for the blog, shooting and shopping! Amidst all this, I have not got the time to sit and type out the recipes for this week's Marathon. Finally I decided to give everything a break and concentrate on writing.

So today I am binge watching my favorite TV show, sipping Vanilla Coffee and typing out this incredible sauce! And yes, I am dreaming about making it again for dinner tonight. Along with the Indian style pizza I plan to make.



Wondering what's with Cauliflower and sauce?

Here is a little story about this vegetable. Cauliflower was lowest in my list of favorites while growing up. After getting married I started eating this, given that my husband likes all vegetables. And before it became a food trend, I was already in love with everything cauliflower.

Believe it or not, I have FIVE recipes in my drafts, all cauliflower based and waiting to see the light of day on the blog. In the past, I have posted a couple of delicious recipes; Grilled Cauliflower Steak, Gobi Musallam: Roasted Whole Cauliflower and Spiced Roasted Cauliflower.
This weekend I made this Cauliflower Sauce, planning to make Mac and Cheese using it. However, the flavor of garlic and jalepeño was perfect to make it a creamy sauce for dipping. I shot this with tortilla chips and as soon as I finished, I devoured all the chips with some sauce, in the name of recipe testing!


Variations


The sauce has just a few ingredients and comes together in UNDER TEN MINUTES! And yes, it can be made in bulk and stored. I made it using white cauliflower and the sauce was just like alfredo. However, I cannot wait to make a purple sauce using the colored cauliflowers!
Plus, I added milk and cheese to this one. If you are looking for a Vegan version, add soy, almond or coconut milk and skip the cheese. The sauce does not change a lot with these changes.
Lastly, adjust the amount of jalapeño according to the spice level you like. I made a medium spicy version and it turned out perfect! Make the required changes to the sauce.


Uses of the sauce


The sauce is super creamy given the ingredients. I like it a little thick, so that it coats the chips. I also like to serve it with chopped vegetables and on top of french fries.
Plus, when you need a 'lighter' version of alfredo sauce for your pastas, try this one! It is amazing and makes the pasta creamy and delicious! So look no further, and head straight to the recipe.
Ingredients
Cauliflower florets 1 cup
Garlic 2-3 cloves
Onion ½ medium
Jalapeño ½
Milk ½ cup
Olive Oil 1 tsp
Salt 1 tsp
Pepper Powder ½ tsp
Sharp Cheddar Cheese 2 tbsp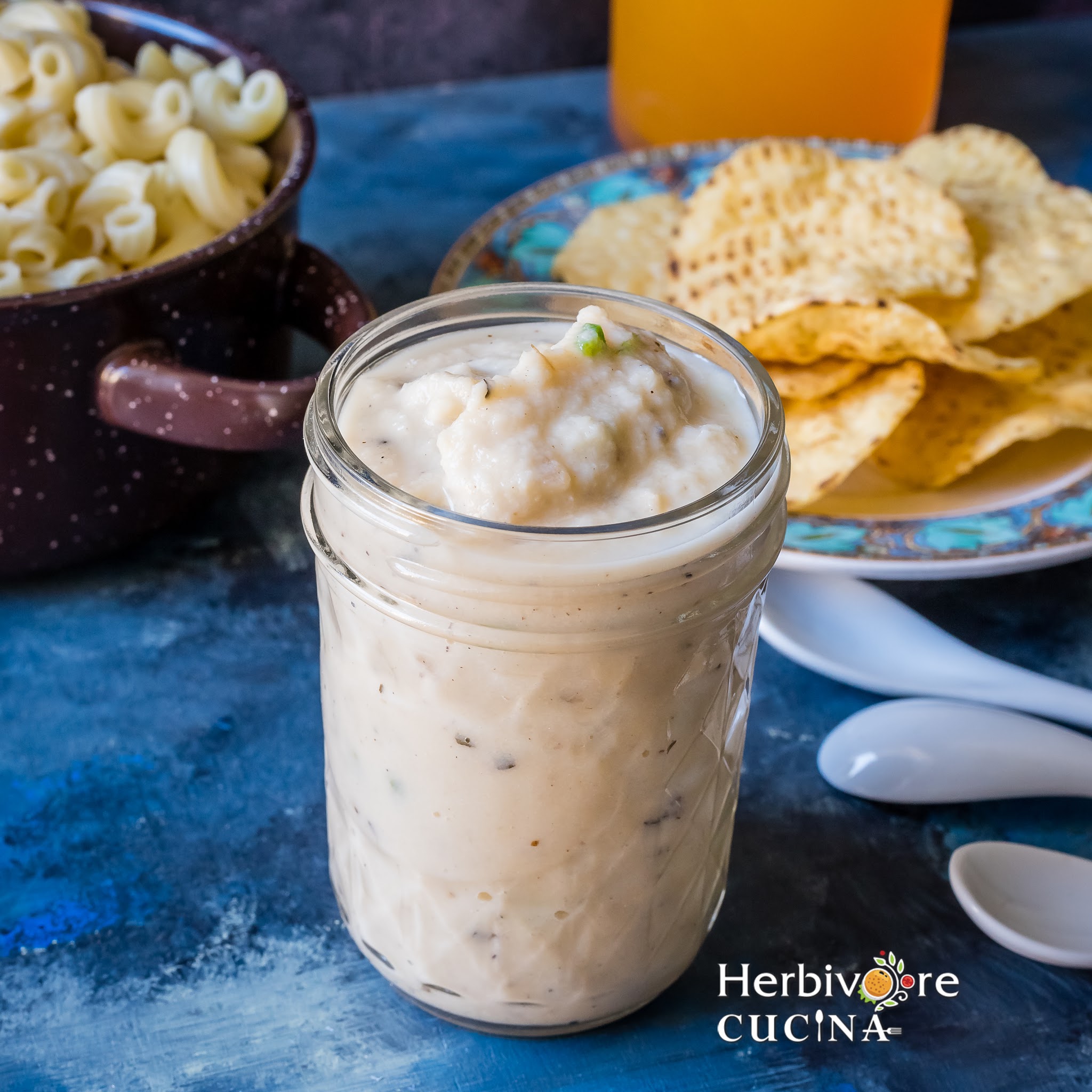 Method
In a pan add 3-4 cups water. Bring to a boil and add the cauliflower florets. Cook till a fork pierces well.
Turn down the heat and remove the florets. Purée with milk to a smooth paste.
Mince the garlic, jalapeño and onions. Heat the olive oil and add garlic. Sautè till the raw flavor vanishes and add jalapeño and onions. Saute till the onions cook.
Then add the cauliflower milk mixture, salt and pepper. Mix well and add the cheese.
Mix everything well till the cheese melts and the sauce comes together. Add more milk or water if the sauce is too thick.
Turn down the flame and remove in a jar. Serve with chips, vegetable sticks or use it as a sauce for pasta or mac and cheese!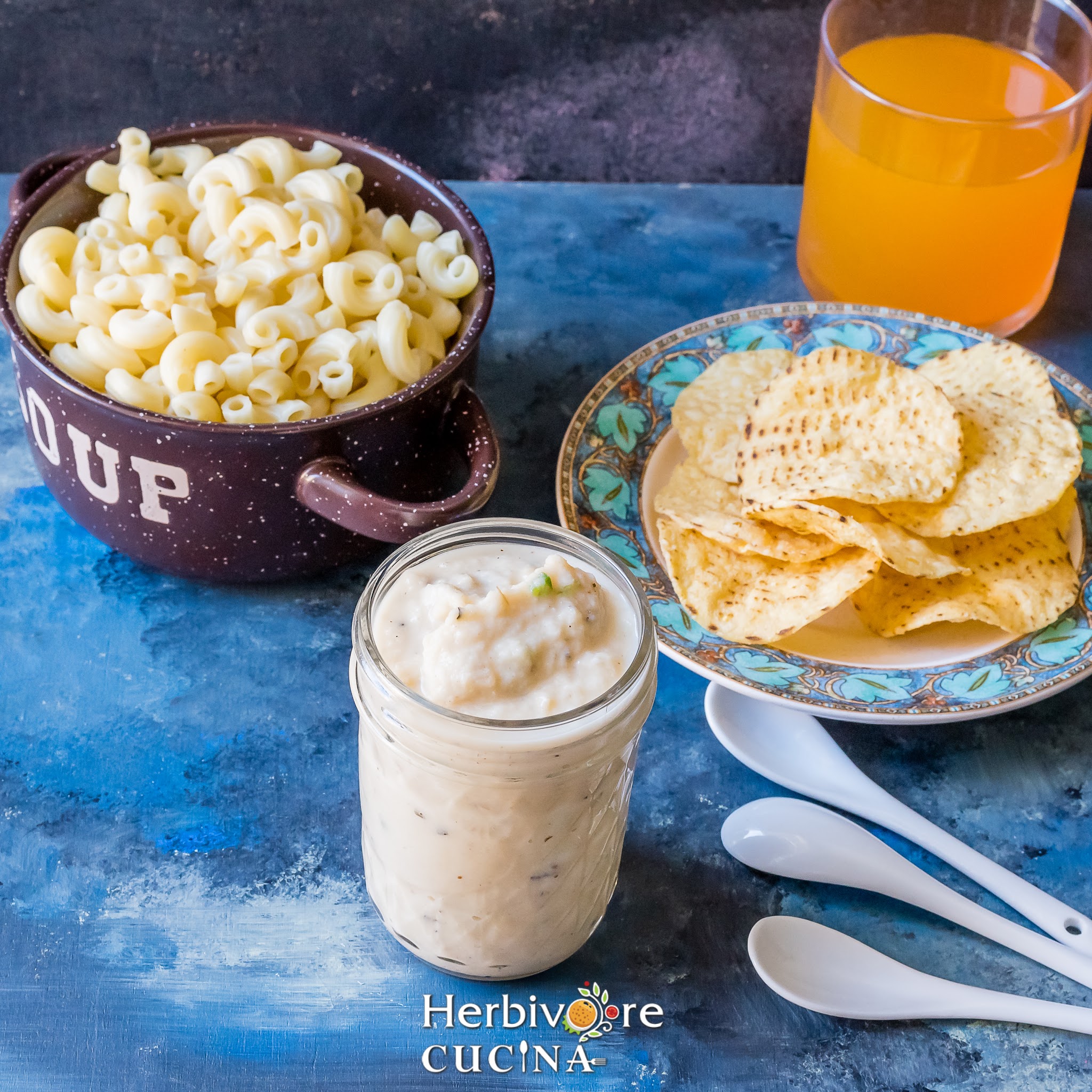 Check out the Blogging Marathon page to see what the other Blogging Marathoners are doing for this BM.