It is just a couple of days away from Thanksgiving, and preparation for the grand meal are at it's best. So what do you do if you do not eat any meat, leave alone the turkey?? The simple solution to make a vegan centre piece for the Thanksgiving dinner is Gobi Musallam.
Season, blanch and roast an entire cauliflower, make a thick tomato sauce with Indian spices and bake the entire dish. All it takes a little more than an hour and you have your own Thanksgiving dish all set!! This dish has multiple advantages: No chopping vegetables, make the gobi and serve on the dinner table and each guest can mix and match the amount of vegetable they want with the gravy!! A pretty straight forward recipe, make it your holiday special!!
Ingredients
Cauliflower 1 (size depends on your family size)
Tomatoes 3 medium
Onion 1 medium
Garlic 3 cloves
Ginger 1 inch
Watermelon seeds/ Magaj seeds 2 tsp
Cashewnuts ¼ cup
Dried Red Chili
Spices(Cinnamon, Cloves, Black pepper, turmeric powder, Dhania Jeera powder)
Kasoori Methi
Salt, Sugar, Lime Juice
Cilantro to garnish
Method
For this recipe, choose the cauliflower size depending on the number of guests for dinner. Also, ensure you buy it from a good store and the cauliflower looks clean. I bought an Organic orange Cauliflower, but you can make the same dish from any colored cauliflower or the white one. Thoroughly clean the cauliflower and chop off the leaves and the thick bottom. This is very important as we are using the cauliflower as a whole!
In a large pot boil water and add salt, turmeric powder and red chili powder. Take a deep pot such that the cauliflower can be entirely immersed in it. Once water starts boiling, put the cauliflower in it. Let it cook for about 5-10 minutes and remove from water and set aside.
Heat oil in a skillet and sauté  garlic and ginger. Add cinnamon, cloves and pepper followed by diced onions, and salt and cook till they are transparent. After it is cooked, add the tomatoes and watermelon seeds. Add dhania jeera powder and turmeric powder. Cook everything and adjust the salt and sugar. Turn down the heat. In a blender jar, blend cashewnuts. Now add the tomato mixture prepared and blend to a paste. Strain the gravy and transfer to a pan. Boil the gravy till thick. Add Lime juice and Kasoori Methi. Set aside.
Preheat oven to 350 F. In a baking dish, lay the cauliflower and roast for 10-15 minutes. Next pour half the gravy on the cauliflower and reserve the rest of the gravy to serve. Bake the cauliflower and gravy for 25-30 minutes, till the top of the cauliflower becomes dry and the gravy thickens further. Remove from the oven, add rest of the gravy and garnish with cilantro. Serve with Roti, Paratha, Naan or Kulcha.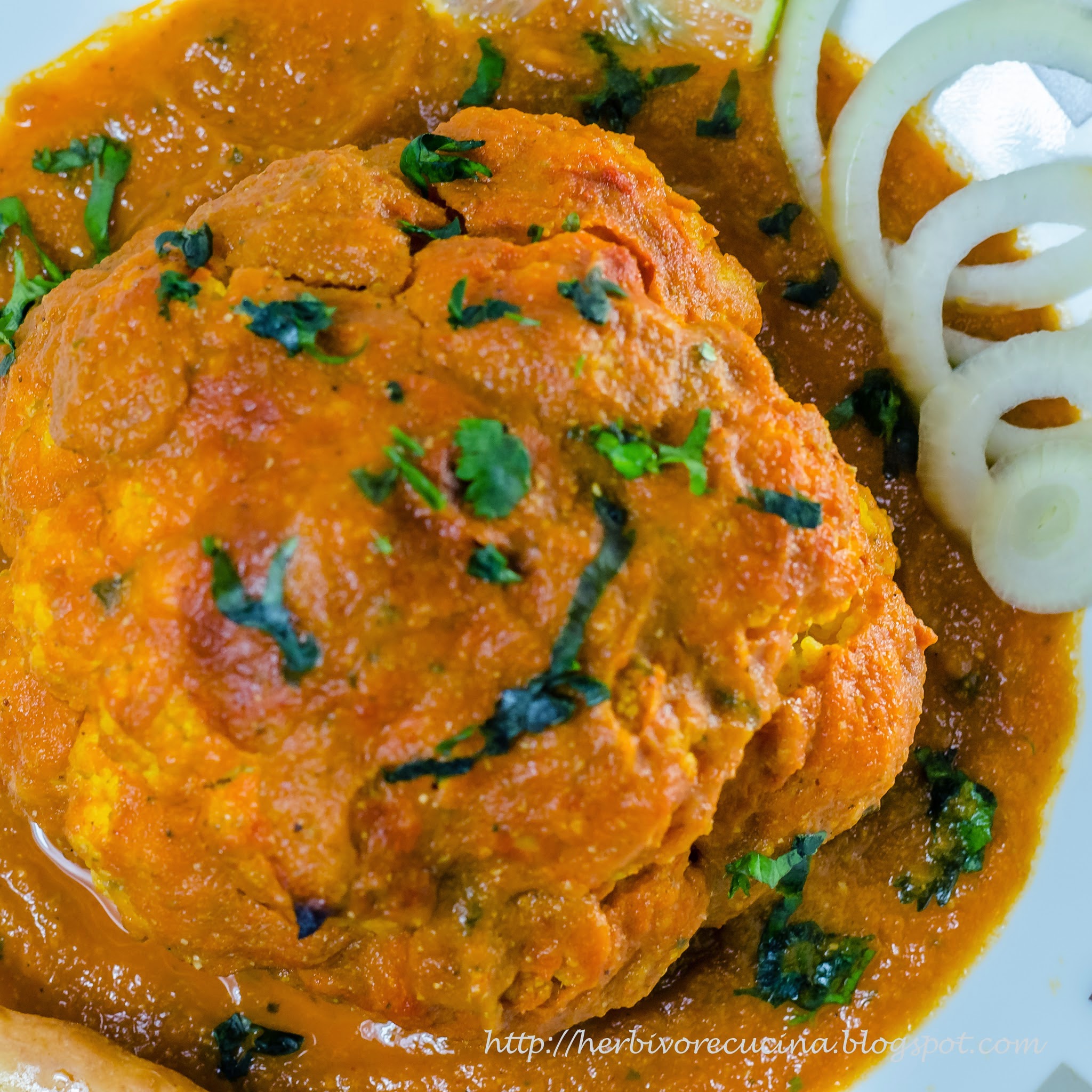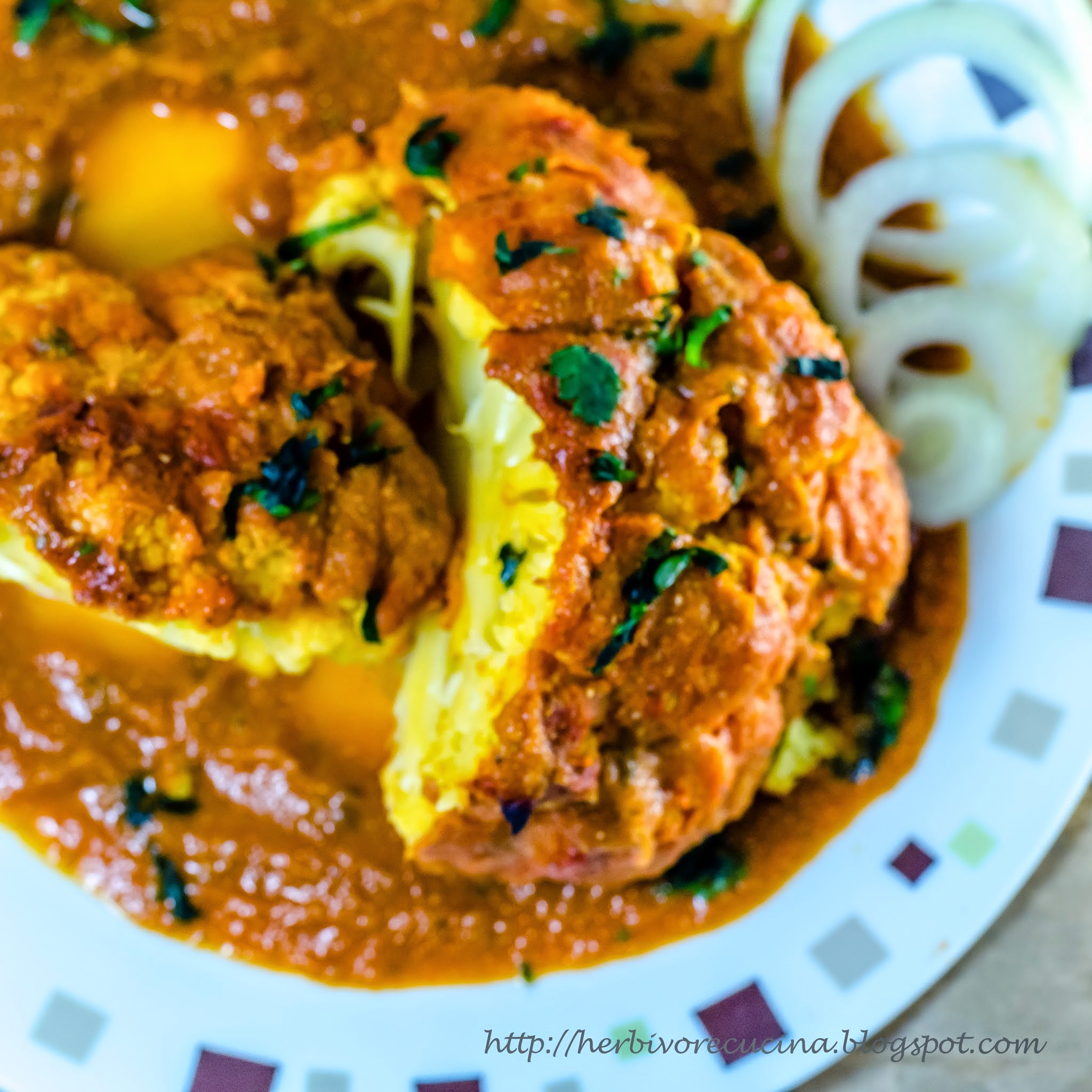 Also try other Thanksgiving recipes like Chunky Cranberry Lemon Jam and Cranberry Orange Bread!!