How about a braided pizza bread? This one has everything from the regular pizza, made into a loaf. Plus, it is made from whole wheat flour!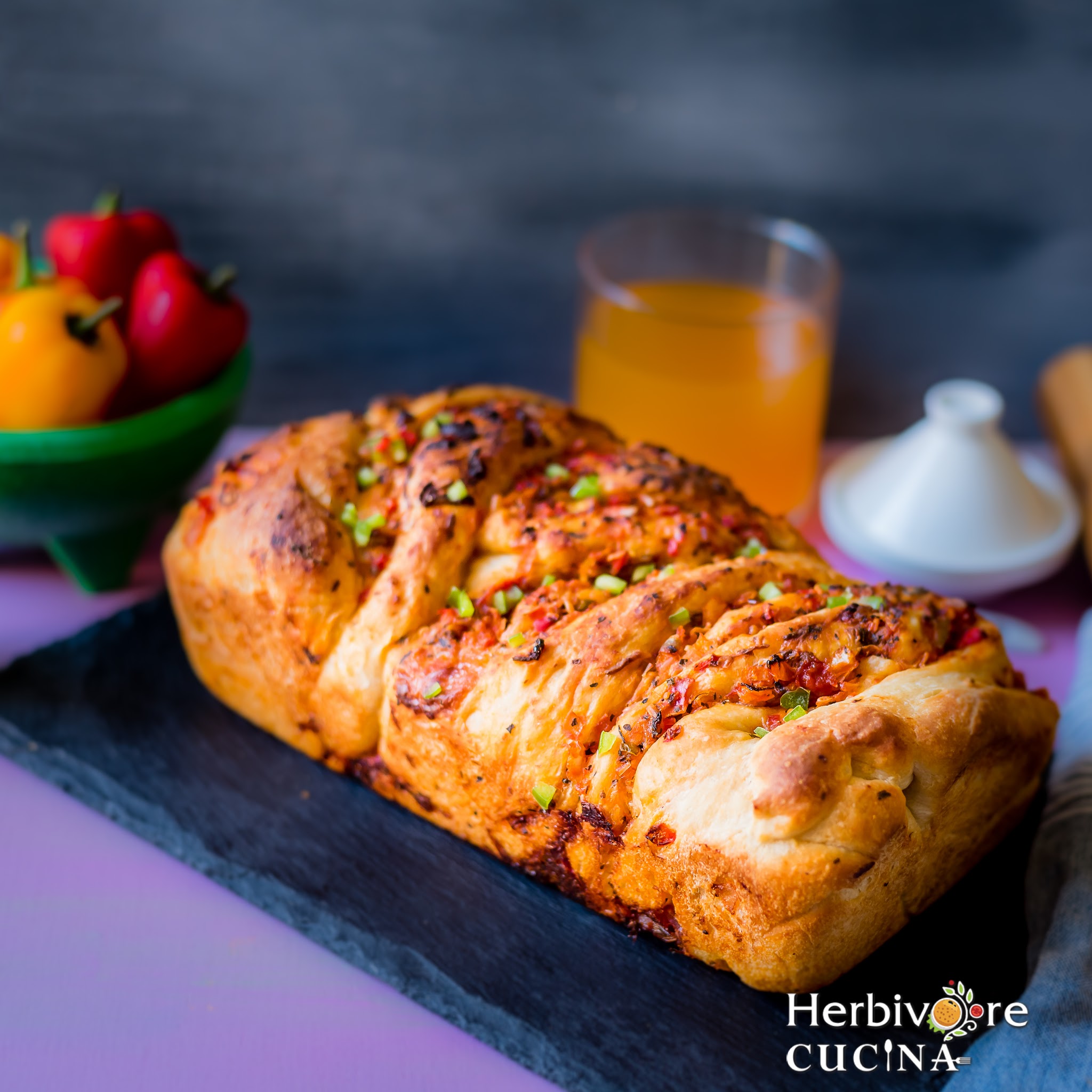 PIZZA! One word is enough to make everyone think of a large round dough base, loads of toppings and unlimited amount of cheese. The aroma while baking it at home is amazing, it tastes good no matter where you order it from and is perfect to describe Friday evening!
Back in India, my knowledge of pizza was limited to the ones that Pizza Hut and Domino's fed us back then. Now that I am in US, I see the unlimited types of pizzas available and cannot wait to try all of them soon. We are pizza fanatics, and can do crazy things for pizza. Once my husband was on a work trip to Chicago and on his way back he got a large Giovanni's Pizza home. It travelled from coast to coast and reached me in perfect condition!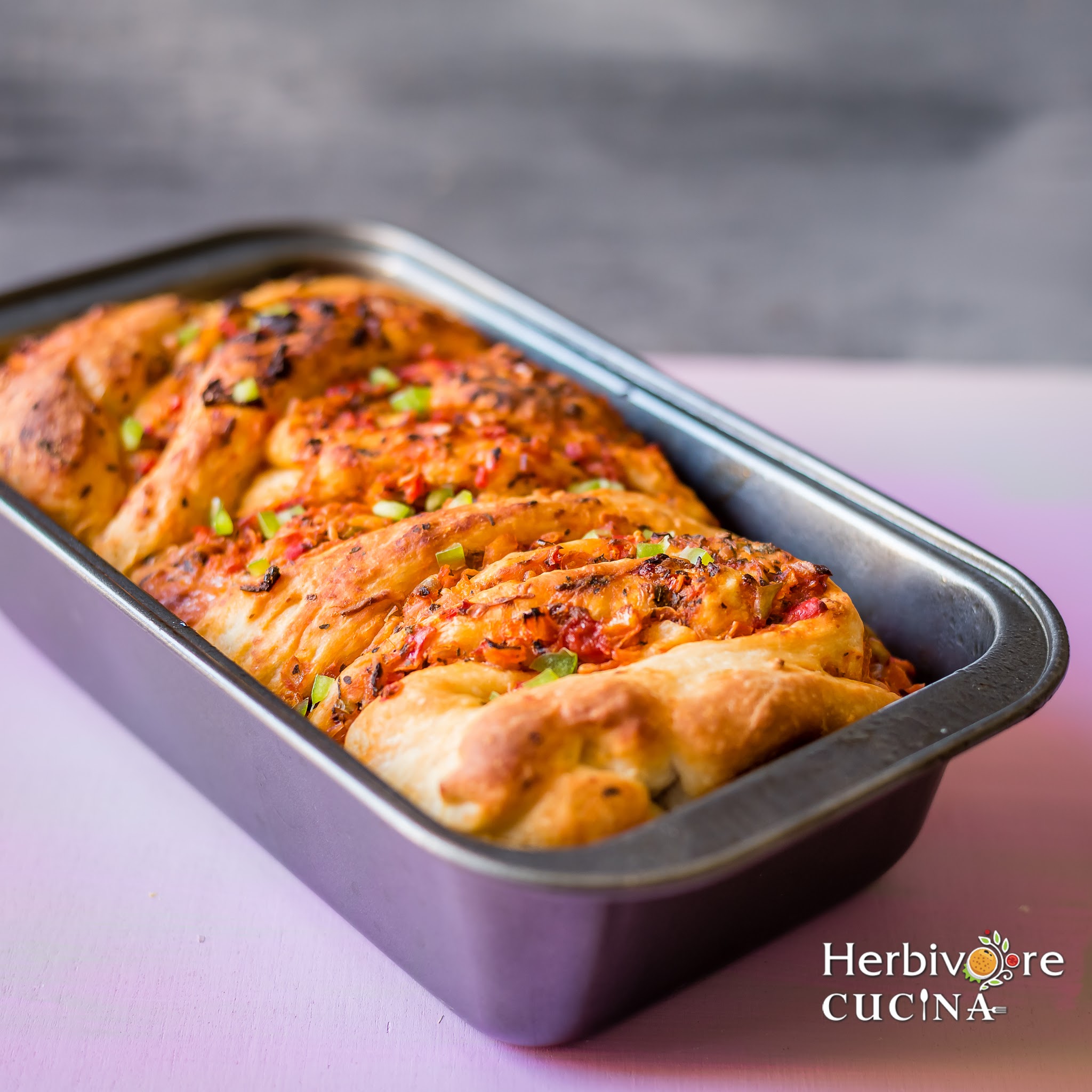 So apart from the round pizzas, we also enjoy making breads inspired from pizzas. Pizza Buns is one of the most popular recipe from the blog. Homemade Stromboli and Braided Pizza Bread was on my mind since a long time.
When our hostess for the month Gayathri announced the theme as braided breads, I HAD to make this one. Do check out her blog for some amazing recipes, I am particularly fond of her eggless bakes!
I thought about the bread, I planned it, I decided to make it but it never materialized! Finally, I made this yesterday and is one of the quickest turnaround recipes on the blog. In under 5 hours I made it, shot it, ate it and posted it on the blog! I was almost giving up on this one, but managed to make a good one finally!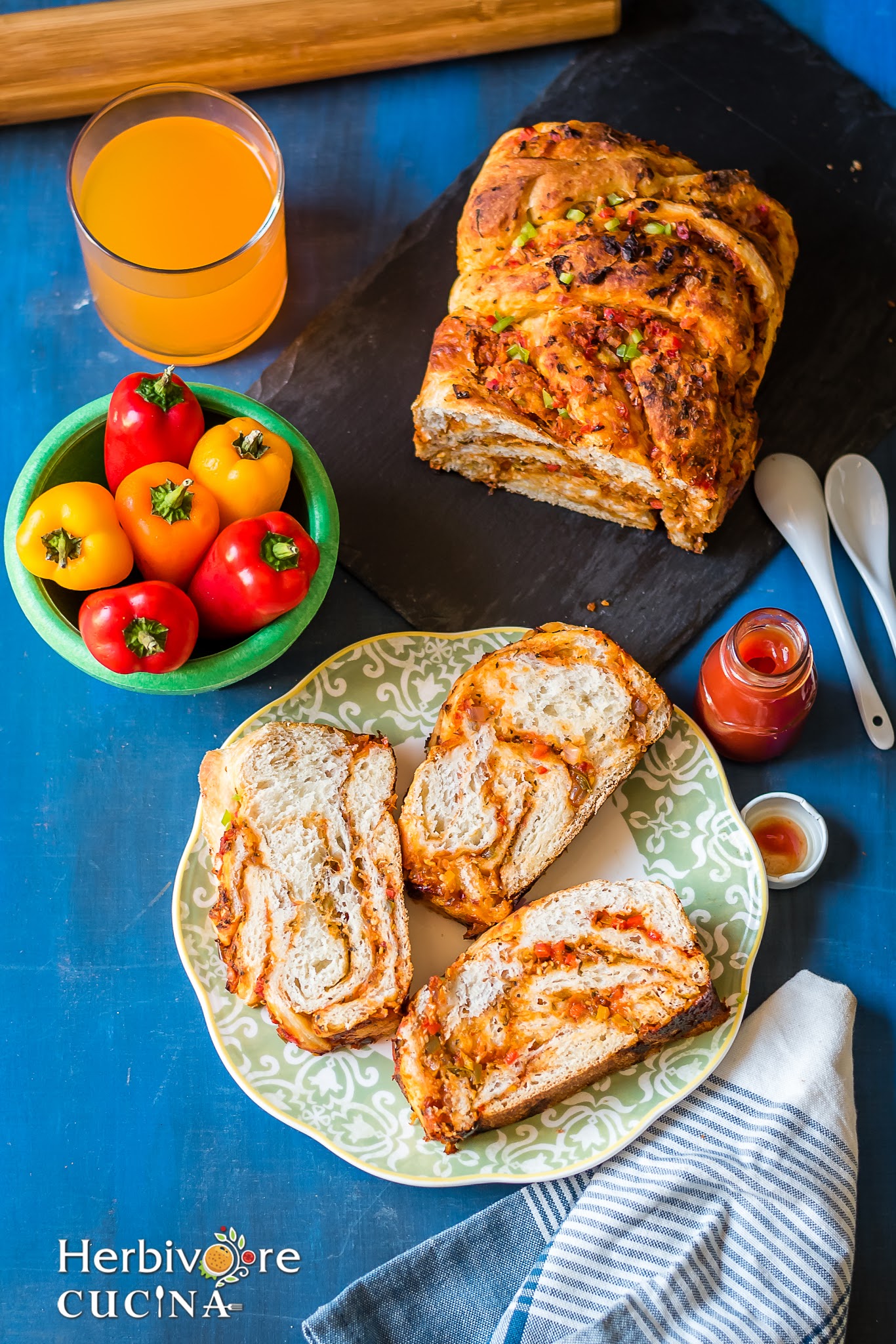 This bread is rather simple; a whole wheat bread dough, pizza sauce or marinara, vegetables of your choice and the art of braiding. That basically sums up the recipe in one sentence.


The bread turned out perfect! It was delicious, easy to make and came out really well. Plus, made from whole wheat flour, it is perfect to make it 'healthier' given that there is cheese in it anyway! Plus, it is really portable; make this for your picnic, movie nights or weeknight dinner.
Variations


I made mine using white whole wheat flour. It can also be made with regular wheat flour, multigrain flour or all purpose flour. They will all work perfectly well in the recipe.
For this bake I used olive oil. However, unsalted butter or even salted butter works pretty well. If using salted butter, just watch out for the extra salt you might end up adding.
The marinara sauce can be made at home or store bought. I generally make a big batch and freeze it in muffin pans. Then I transfer it to ziplocs and have a supply of sauce for a while.
Lastly, the filling can be customized based on how you like it. Add in vegetables of your choice, play around with the kinds of cheese or add meat in it if you like. Just make sure it is chopped fine enough to allow you fold it well.
Ingredients


For the Bread

White Whole Wheat Flour 3 cups
Essential Wheat Gluten 3 tbsp
Olive Oil 3 tbsp
Sugar 1 tsp
Dry Active yeast 1 sachet (2 ¼ tsp)
Salt 2 tsp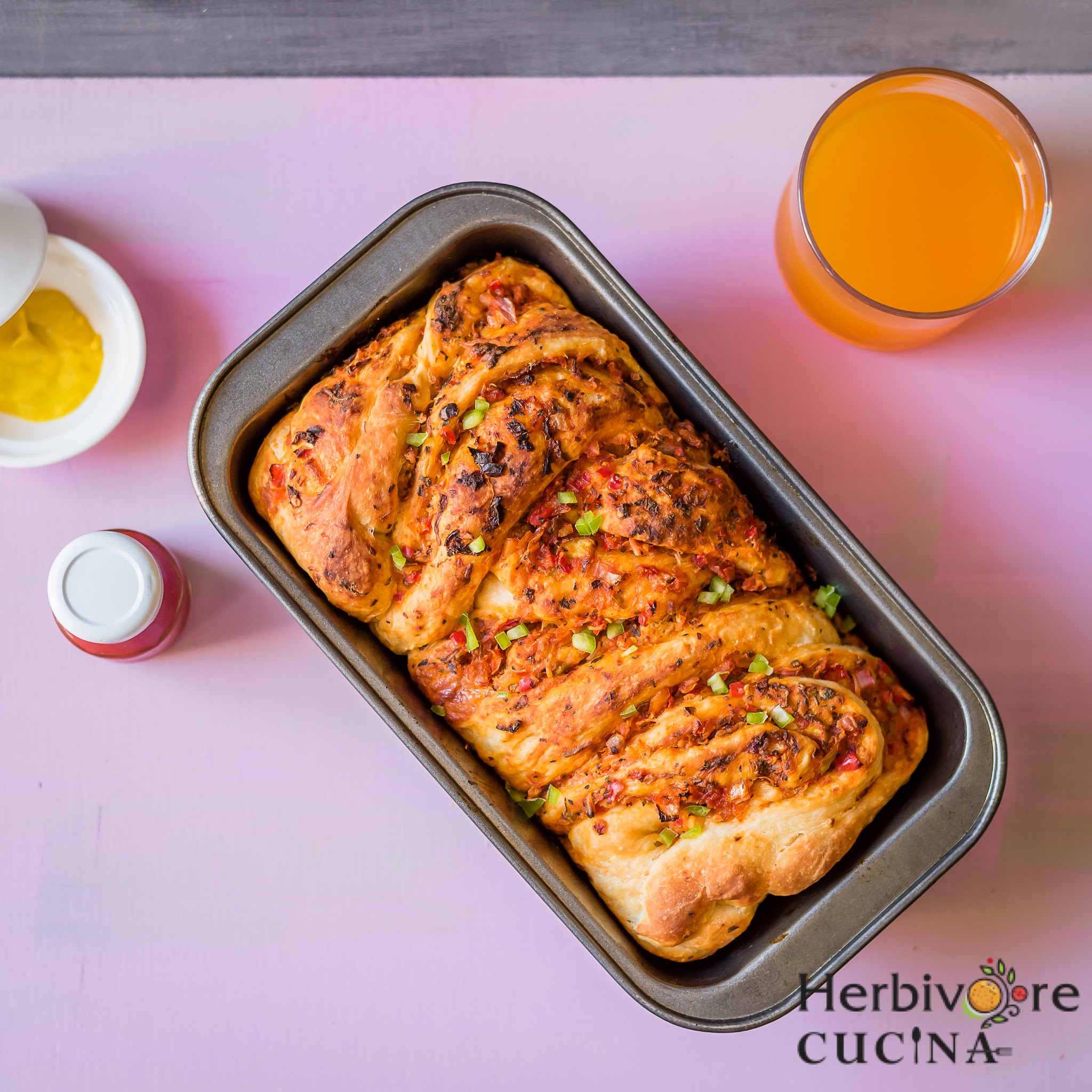 For the filling


Marinara Sauce ½ cup (home-made or store bought)
Onion ¼ cup, finely diced
Peppers ¼ cup, finely diced
Jalapeño 1 tsp, diced
Shredded Cheese ¼ cup (I used Mozzarella and Mild Cheddar)
Oregano 1 tsp
Salt and Pepper to taste
Method


For the Bread

In a bowl heat 1 cup water. When just warm, add the honey, 1 teaspoon salt and the yeast. Let the yeast bloom for 10 minutes.
In a large bowl, add the whole wheat flour, essential wheat gluten, remaining salt and olive oil. Mix everything together and add the yeast mixture. Knead for 8-10 minutes till the dough comes together and is soft.
Coat the dough with some oil and place it in a bowl. Cover it and rest in a warm area for an hour till it doubles in size. Line a bread pan with parchment paper or with non stick spray. Set aside.


For the Filling


In a pan heat the marinara sauce. Thicken it enough so that it does not wet the dough. Turn down the heat and add in the remaining ingredients. Set aside to cool.


To make the Braid

After the dough doubles, punch it down and knead for a minute or two. Roll out the dough into a large rectangle of ¼ inch thickness.
Spread the filling evenly on the rectangle, leaving an inch on all sides. Top with shredded cheese. Start rolling the dough along the long side in a tight loaf.

Using a sharp knife cut the roll lengthwise. Stick the top edges together. Braid the dough slowly ensuring that the filling doesn't spill out.

Carefully transfer the loaf to the prepared tin and rest covered for an hour.
Preheat oven to 400 F/ 250 C. Place the bread and bake for 20-22 minutes, till it is no longer wobbly and the top is brown and crisp.
Remove and cool completely on a cooling rack. Slice the bread and enjoy with a side of butter or warm marinara sauce!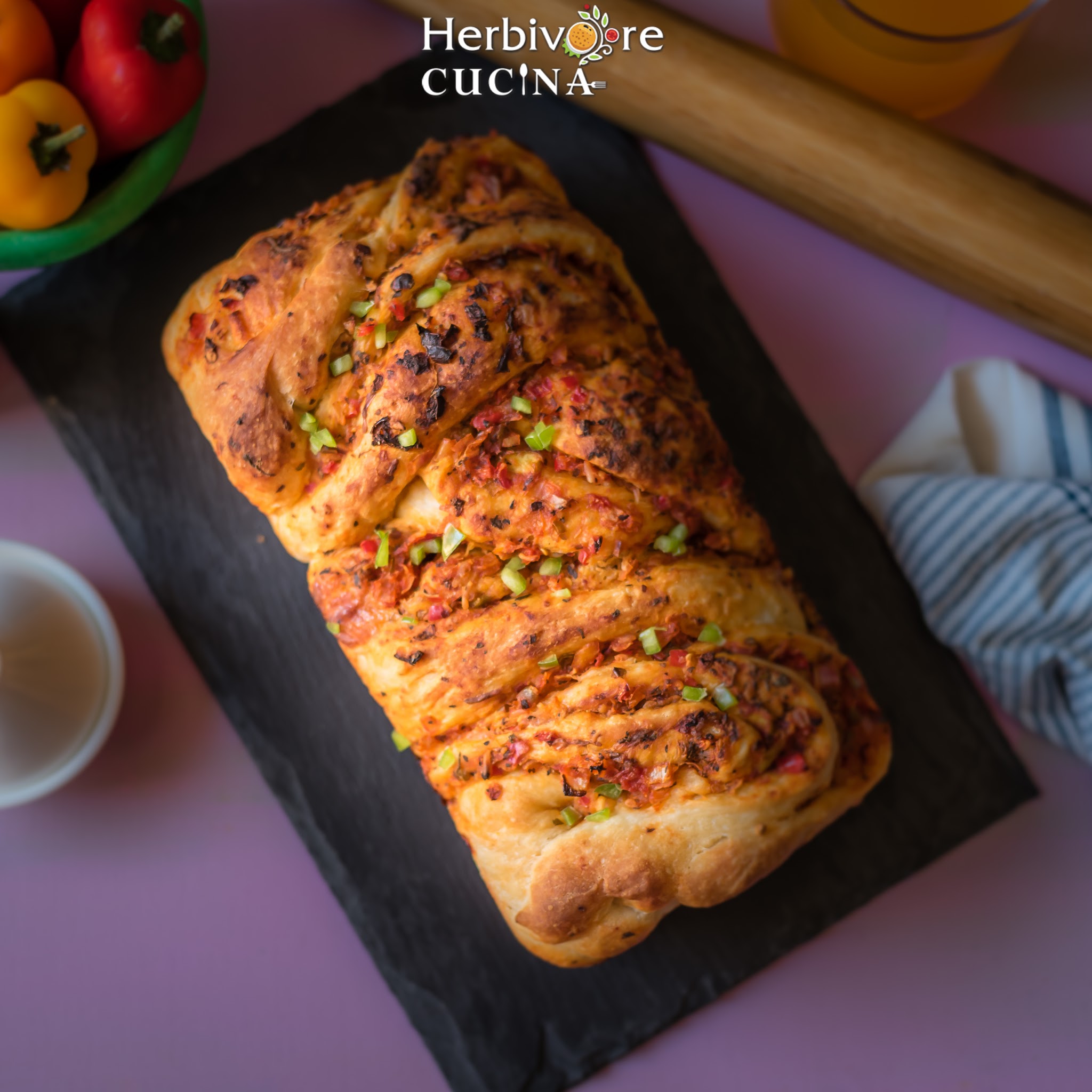 Want more pizza? Try these Pizza Buns! They are amazing with all the stuffing in there! I promise 🙂

#BreadBakers is a group of bread loving bakers who get together once a month to bake bread with a common ingredient or theme. You can see all our of lovely bread by following our Pinterest board right here. Links are also updated after each event on the #BreadBakers home page.
We take turns hosting each month and choosing the theme/ingredient. If you are a food blogger and would like to join us, just send Stacy an email with your blog URL to foodlustpeoplelove@gmail.com.
Check out the Braided Breads that our fellow #BreadBakers have baked this month: