Hummus is a Levantine and Egyptian food dip or spread made from cooked, mashed chickpeas or other beans, blended with tahini, olive oil, lemon juice, salt and garlic. Today, it is popular throughout the Middle East, North Africa, and in Middle Eastern cuisine around the globe.
While the traditional hummus has the basic ingredients mentioned above, many other types of hummus are made in varying coarseness and with different colored vegetables. Some ingredients like edamame, kale, cilantro and mint are added as is into the hummus, other ingredients like beets and carrots are generally roasted before adding to the hummus.
After having tried different combinations of hummus, I decided to make this lime cilantro hummus. What i did differently this time was using my muscle power to make this one in a mortar pestle. I have a medium sized marble mortar pestle and it was perfect to make this hummus. It has a wide container that can easily fit the ingredients required for hummus for two.
While this post is just one part of the Greek dinner we had last night, stay tuned to get all the other recipes soon too! Till then, enjoy the hummus and if you are looking for another recipe, try this Green Chickpea hummus. Not to forget, the home-made whole wheat pita breads and Toasted Pita triangles.
Ingredients
Chickpeas ½ cup
Cilantro 1 cup
Lime Juice 2 tsp
Sesame seeds 1 tsp
Garlic 2-3 pods
Olive Oil 4-5 tbsp
Salt 1 tsp
Pepper to taste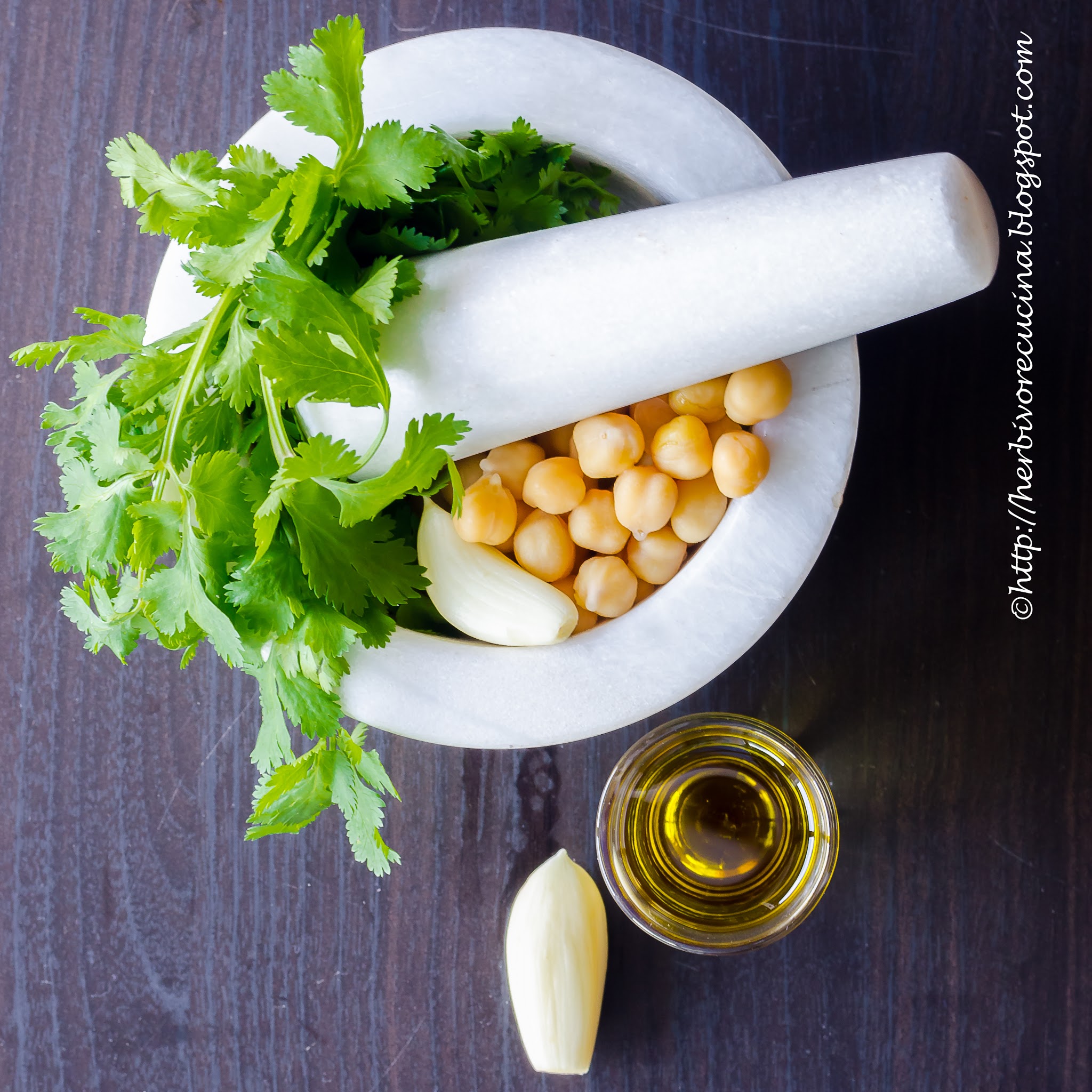 Method
Soak and pressure cook the chickpeas in 1 cup water. Reserve the water. If using canned chickpeas, just drain the liquid and set aside.
In a mortar, add the garlic and cilantro with salt. Crush well to a smooth mixture. Add some liquid from the chickpeas if required. Once the mixture is smooth, add the chickpeas and sesame seeds. Crush to a smooth paste using olive oil as required.
Once the required consistency is achieved, salt, pepper and lime juice. Mix everything well and serve with falafel, pita breads or toasted pita triangle .
If you do not have a mortar pestle, you can use a food processor too.