The Holiday season is almost here and we are all getting ready to serve our guests something interesting. Holidays mean a LOT of food, many people and super chaotic schedules. How would it be if you could minimum the effort required and cook something yummy for the guests? That is something that is always on top of my mind, and I think using Hefty® for most of the beating, marinating, mixing and storing purposes reduces a lot of efforts. This is one such use of the storage bags to marinate a TON of vegetables in no time and with minimum effort.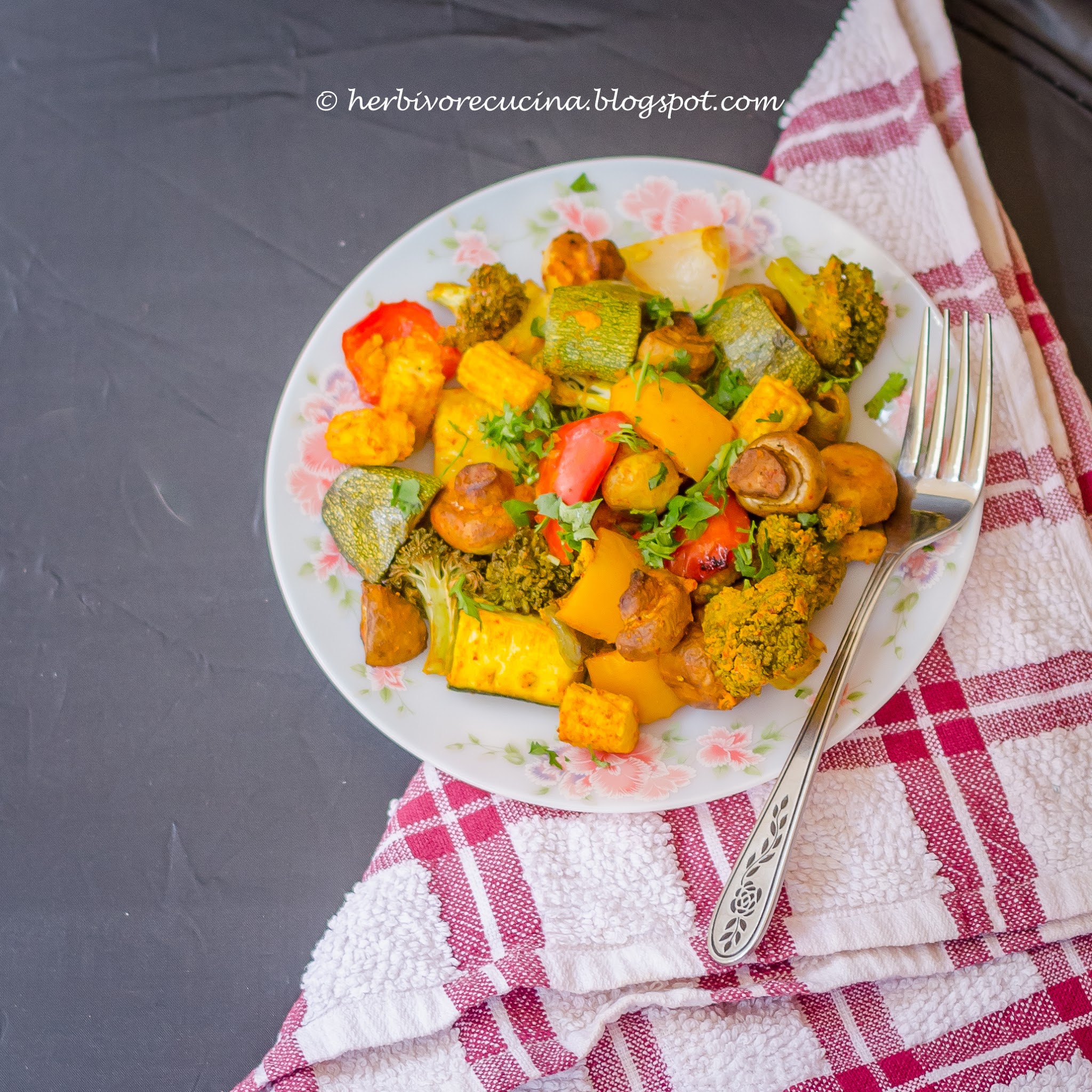 The recipe is easy to make and yet really yummy and amazing. It is so simple that kids can help in most of the process too! After all, who doesn't like kids helping around for small errands. Initially, I was hesitant to use a storage bag to marinate my vegetables and tofu, fearing that it would pop open or not be strong enough to hold the weight of vegetables and marinade. But Hefty® storage bags are really strong to hold it all and cost less than Ziploc® Slider Bags, when comparing the same type of bag (freezer/storage) and size (quart/gallon). Plus their Maxlock® track design features extra strong seal that ensures nothing comes out of the bag when you shake it to mix in the marinade with the vegetables! Do try these Hefty® bags at Walmart just like I did and yes, do not forget to use the Ibotta rebate on these Hefty® bags.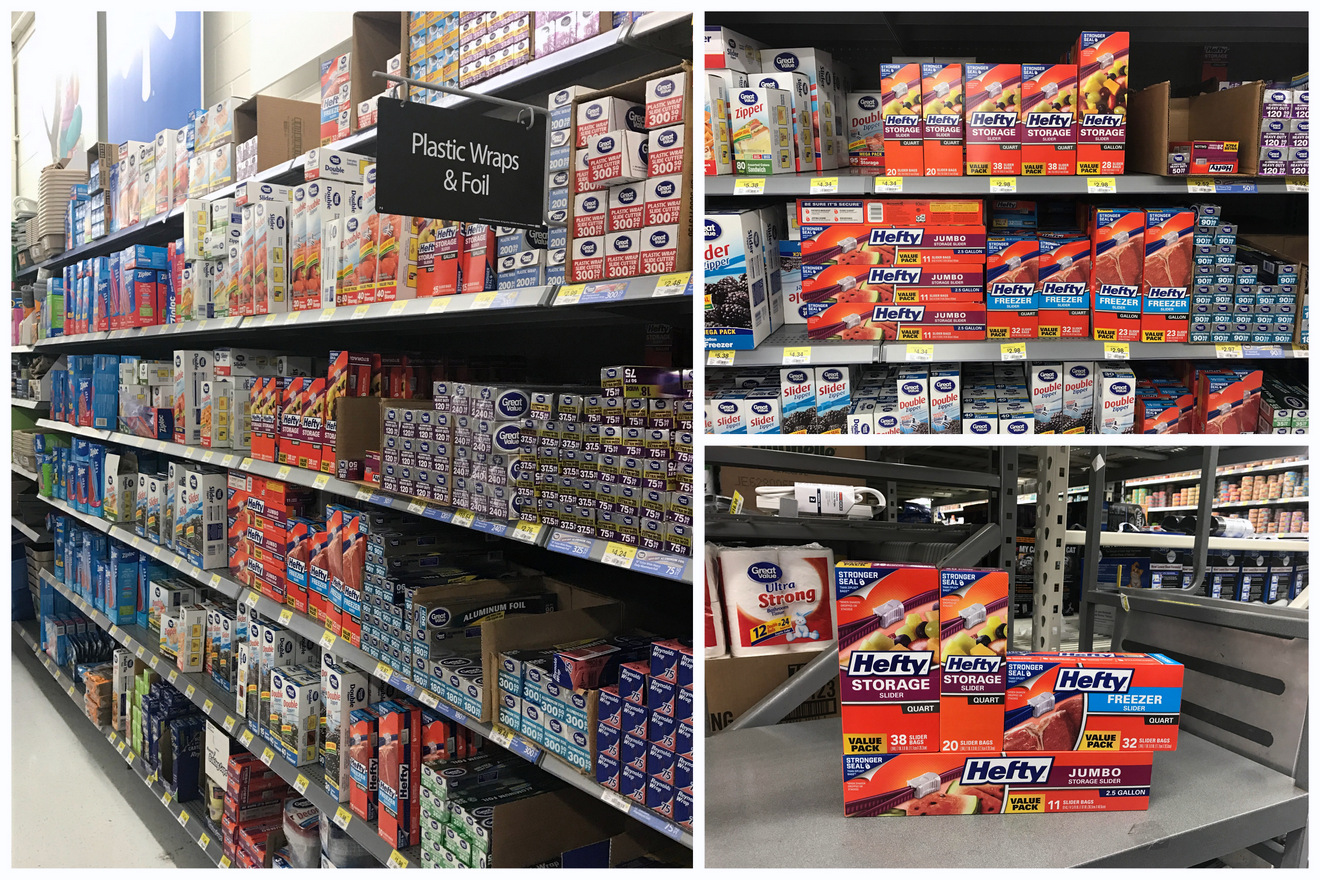 Coming to the recipe, this one is just like the barbeque we have on the grill, but made easier using a storage bag for marinating and an oven to bake the vegetables. I know we generally grill using skewers, but why not eliminate that to make a big batch of vegetables straight on the baking tray? Bake and finally broil them for a minute to get the perfect charred taste and flavor as grilling, minus the skewers. For this recipe I used onions, peppers, zucchini, mushroom, baby corn and broccoli but you can use any vegetables you like. Besides the ones mentioned, I love to add brussel sprouts and sometimes even proteins like tofu and paneer to the grilled dish. They absorb the yogurt based really well and are super delicious.
The method is simple as 1-2-3. Get all the vegetables and the marination in place, marinate using a Hefty® storage bag, and bake them to perfection. While the dish can be served with a side of rice, we LOVE to dig into it with just some cilantro and chaat masala. This one makes a perfect appetizer or snack. Besides. I also like to make a curry out of these grilled vegetables. The baked flavor is perfect for a smoky tomato curry. Serve that with a side of bread and your dinner is all set! The possibilities are endless with these yummy ingredients and the result is generally satisfying!
If you are a DIY person or a lover of simple and easy ways to entertain a crowd, head straight to this page. it has TONS of ideas on how to make life easier and better with creative hacks like this one! If you thought you need skewers and a lot of utensils to marinade and grill vegetable, think again. All you need is a small bowl for the marinade, a Hefty® bag and a baking tray! Wow I never imagined grilling could be so easy. I am grilling all the way into winter now and serving my guests these and many more recipes for the Holidays.
Ingredients
Vegetables 2 cups ( I used onions, peppers, zucchini, mushroom, baby corn and broccoli)
Thick/ Greek Yogurt 1 cup
For the spice mix
Carom seeds 1 tsp
Garlic Paste 1 tsp
Red Chilli Powder 1 tsp
Haldi/turmeric powder ½ tsp
Garam Masala 1 ½ tsp
Salt 2 tsp
Sugar a pinch
Cilantro and chaat masala to top
Hefty® Gallon bag 1 or Hefty Quart bag 2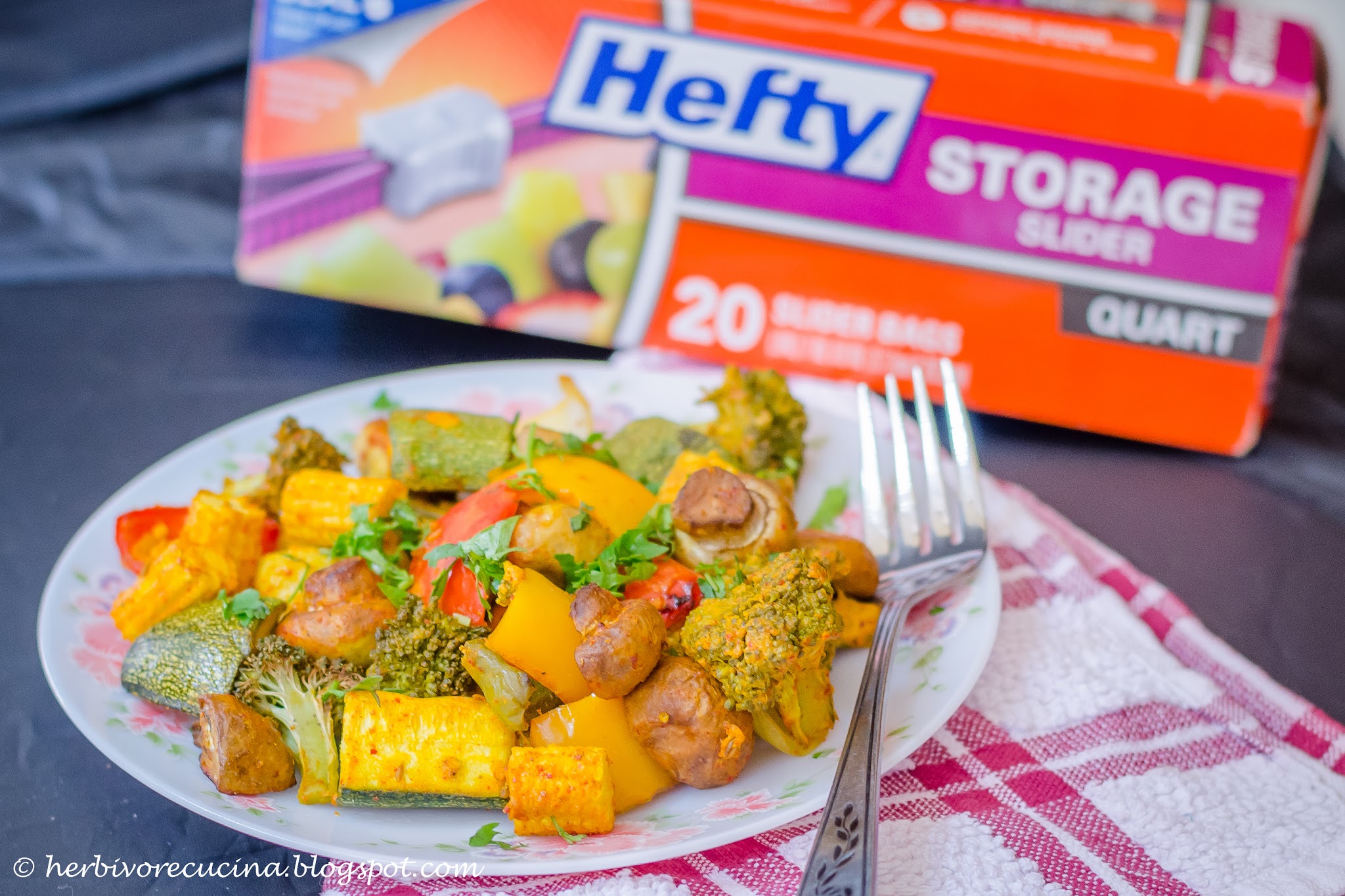 Method
In a bowl beat yogurt. Add all the ingredients for the spice mix and beat well. Set aside till ready to use.
Chop all the vegetables to even size pieces. Drop all the vegetables in a Hefty® gallon bag or divide among two bags. Add the spiced yogurt and seal the bag.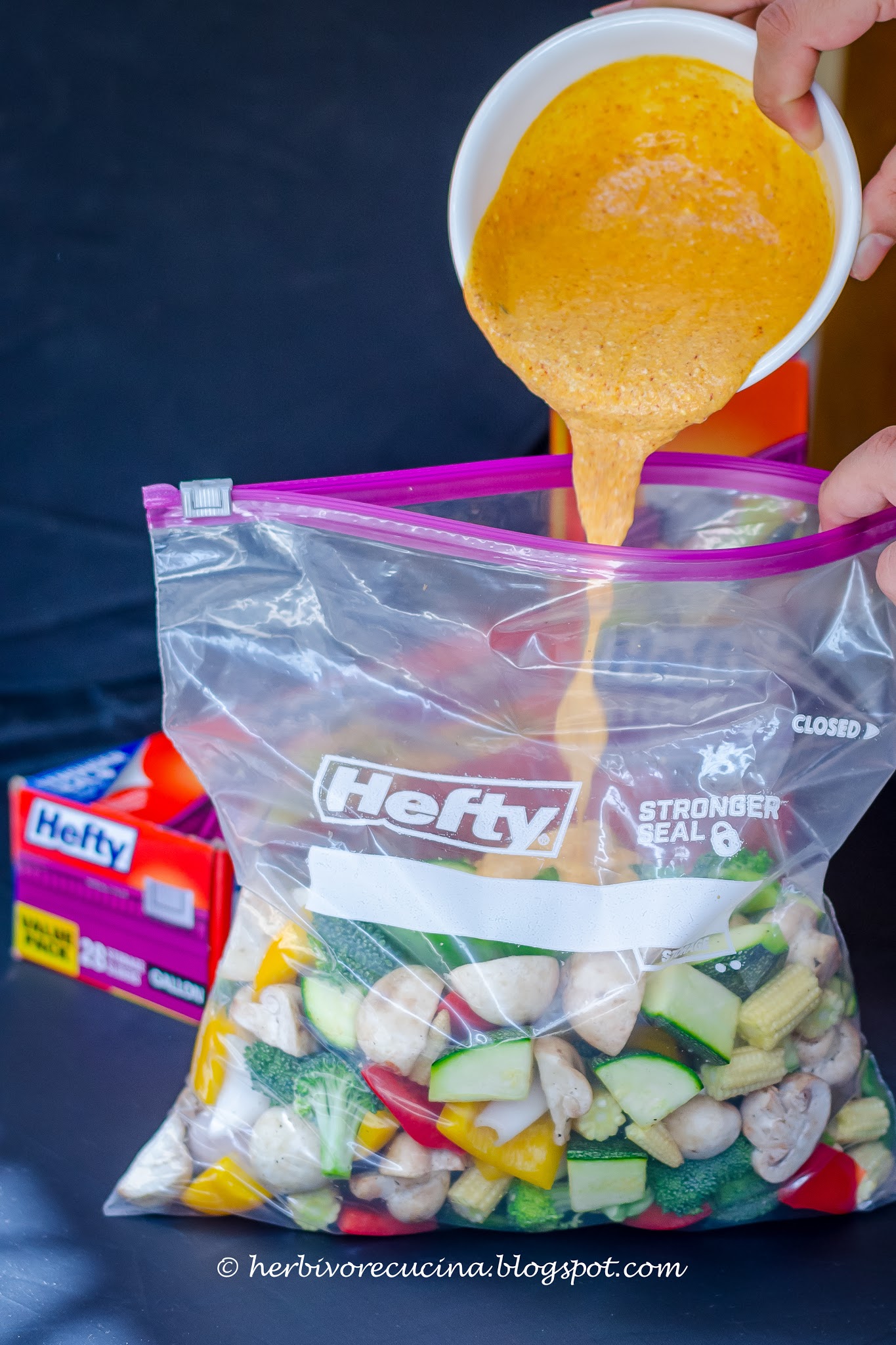 Shake the bag well so that the marinade will coat all the vegetables evenly. The vegetables can be rested for a few minutes. If resting for more than 30 minutes, refrigerate the bag.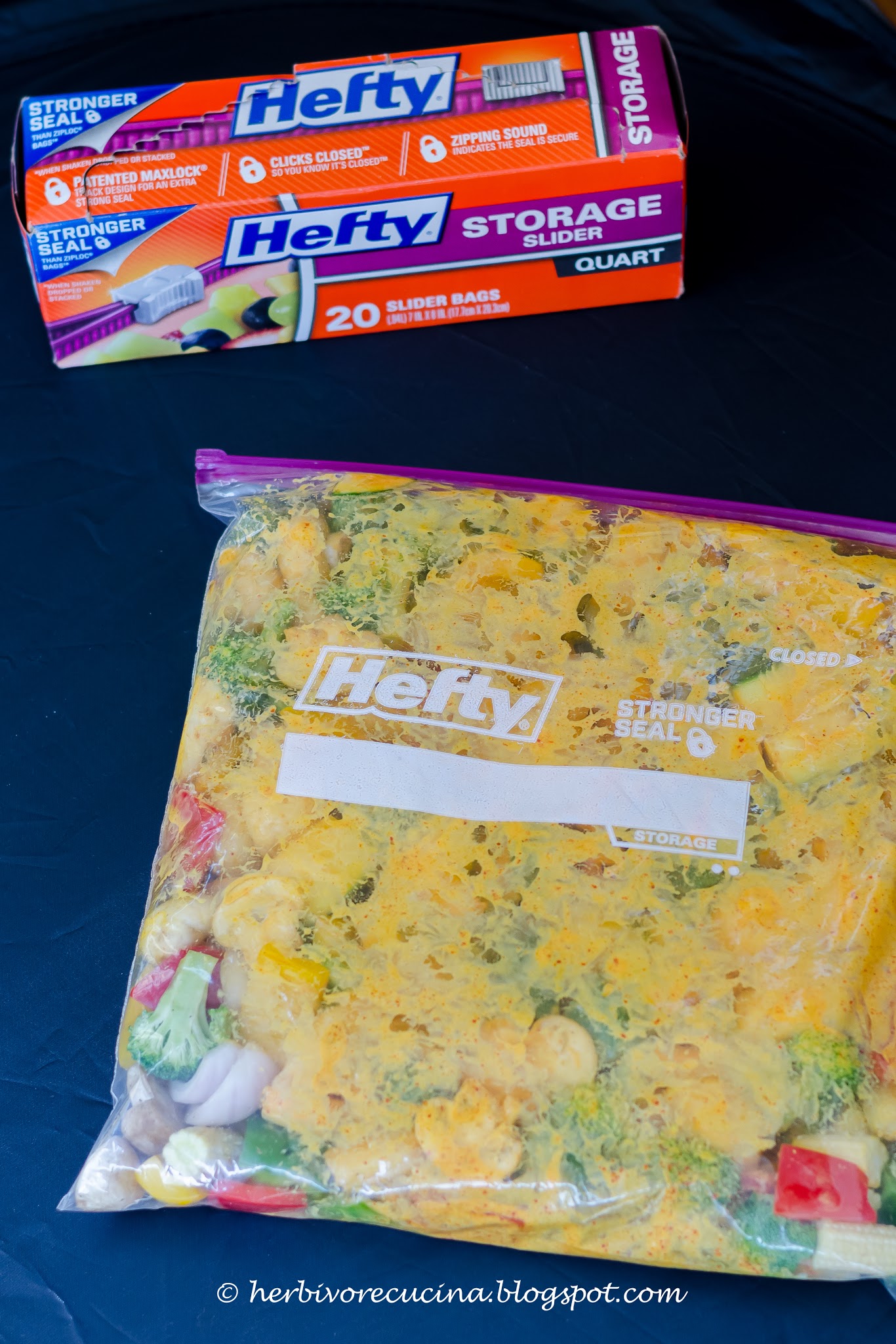 Once the marination time is done, preheat oven to 400 F/ 200 C. Line a baking tray with oil or nonstick spray. Spread the vegetables evenly in a single layer. Bake for 25-30 minutes till the vegetables are slightly charred and cooked through.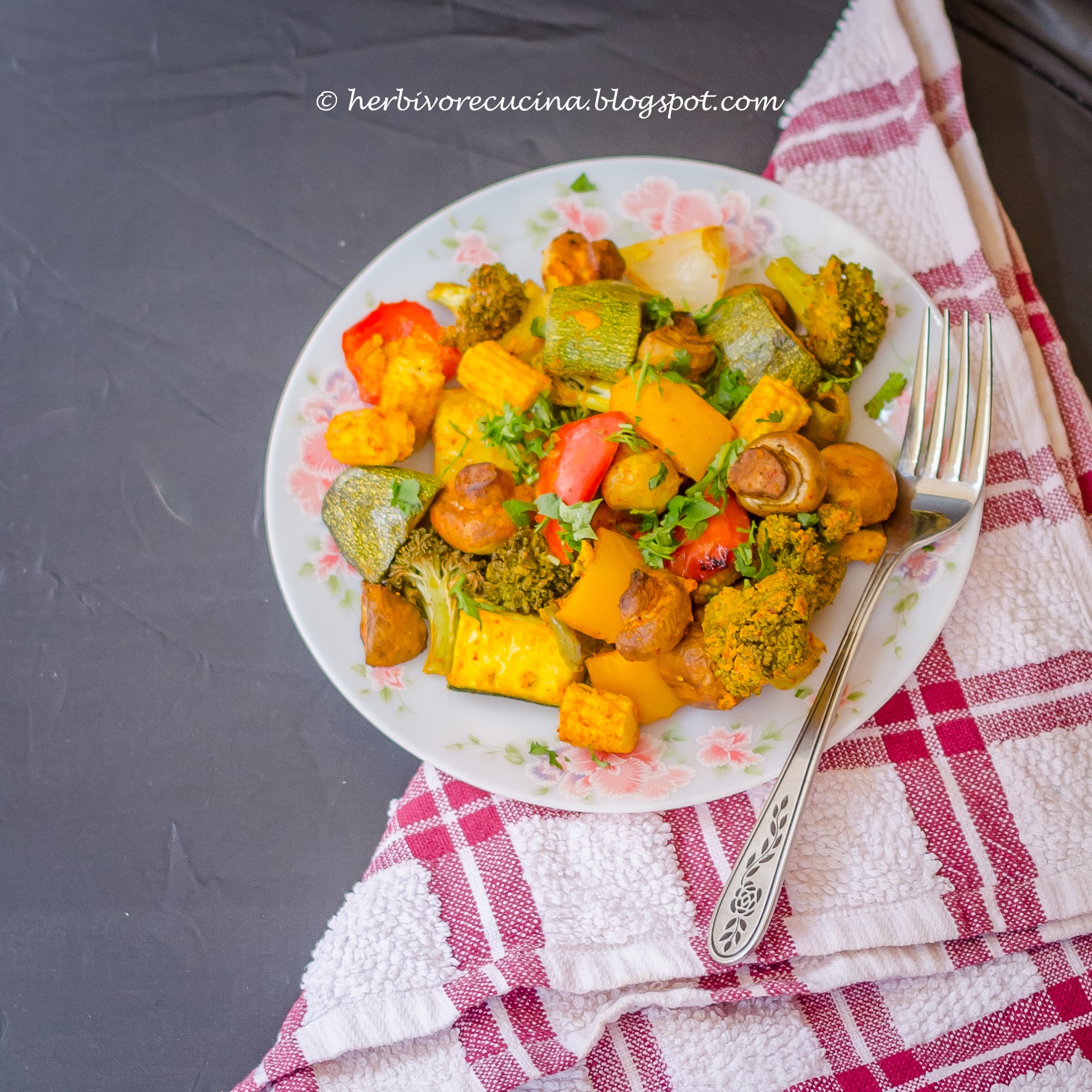 Remove, top with cilantro and chaat masala. Serve immediately.