Blogging Marathon #68 Week 2 Day 4
Theme: Appetizers
Dish: Gobi Manchurian
After posting three appetizers this week for the Cooking Carnival, it is time for another yummy appetizer. I posted the non fried version of falafel and dahi vada, now it is time to indulge, fried appetizer today! We barely have any fried snacks at home and when I make something like this, we have a feast. And plus when it is from our favorite cuisine Indo-Chinese, I know it is going to be a great dinner.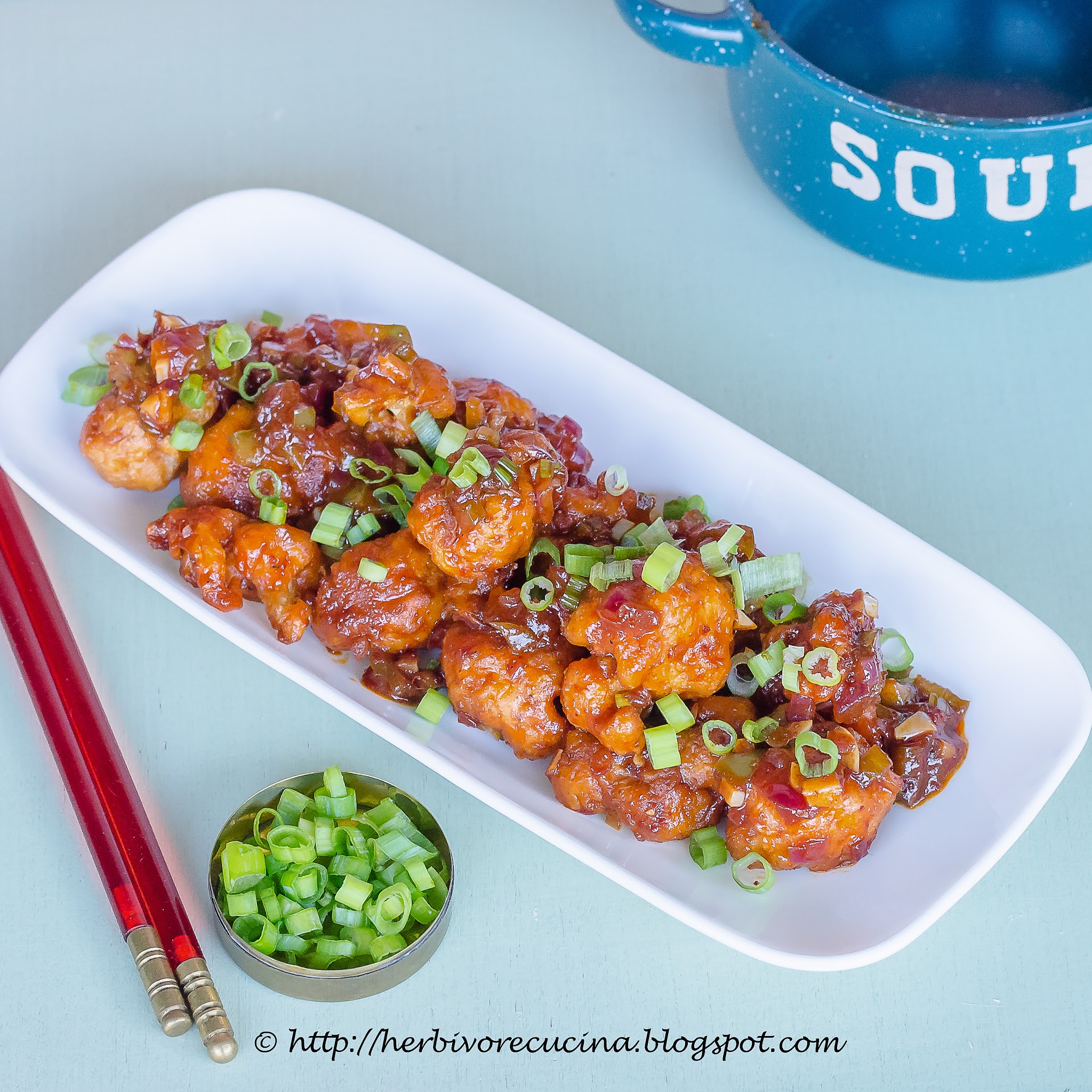 Last weekend I made this Gobi Manchurian, a very famous appetizer from the Indo Chinese cuisine. For those not familiar with the cuisine, this is a rather interesting way to adopting a cuisine and making changes so that the taste is perfect for the palate. In this cuisine, we take recipes from the Asian cuisine and make it spicy, tangy and flavorful like Indian. Over the past I have posted several Indo Chinese delicacies like this and this. Today is yet another favorite from our kitchen.
A few years back I never liked cauliflower, especially when made into an Indian style sabji. However, I used to enjoy cauliflower manchurian then too! The sauces and flavors turn the boring cauliflower in something super interesting. At the restaurants that serve Indo-Chinese food also we order this or these lettuce wraps. I love how every restaurant serves their own version of this manchurian. However, making these at home is pretty simple too. And you can easily gobble up a whole cauliflower without realizing it!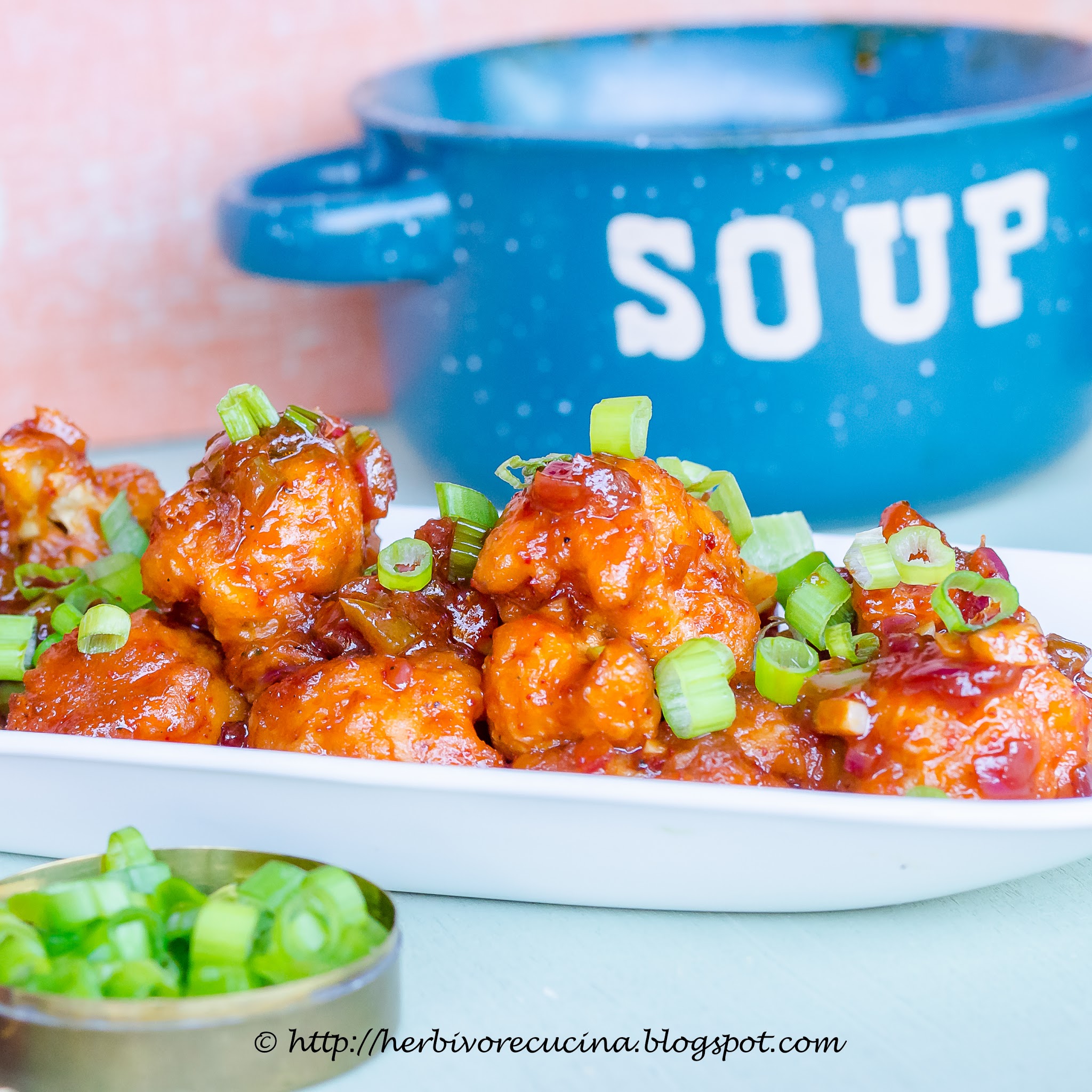 The recipe is really easy; marinate cauliflower florets in a schezwan sauce based flour mixture. Fry the coated florets and dunk them in a spicy sauce. This dry dish is apt as an appetizer. However, the same can be made with more gravy to serve with rice or noodles. I have listed out the ingredients to make a spicy version of the dish. However, adjust the spice level based on how you like your dishes.


Ingredients


Cauliflower 1 medium
Chickpea Flour ½ cup
Cornstarch 3 tbsp
Rice Flour 1 tbsp
Schezwan Sauce ½ tsp
Garlic 4-5 cloves, minced
Ginger 1 inch piece, grated
Green Chilli 1-2
Spring Onion 6-7 stalks, white and green separate
Green Pepper ½ medium, diced
Soy Sauce, Vinegar, Chilli Sauce
Chilli Oil ½ tsp
Oil to fry
Salt, Pepper
Chinese Salt (optional)

Method


Separate the florets of the cauliflower. Wash and dry them on a kitchen towel. In a bowl, mix chickpea flour, 1 tbsp cornstarch and rice flour. Add a pinch of salt and pepper and schezwan sauce. Also add a teaspoon of soy sauce and some vinegar. Mix it all together with about ¼ cup water to make a thick batter. Drop the cauliflower florets and coat them evenly with the batter. Refrigerate for 30 minutes or so, for the flavors to seep in.

Toward the end of 30 minutes, heat oil in a pan. Remove the cauliflower florets from the marinade and fry them till golden brown. Remove and place on paper towels to remove excess oil.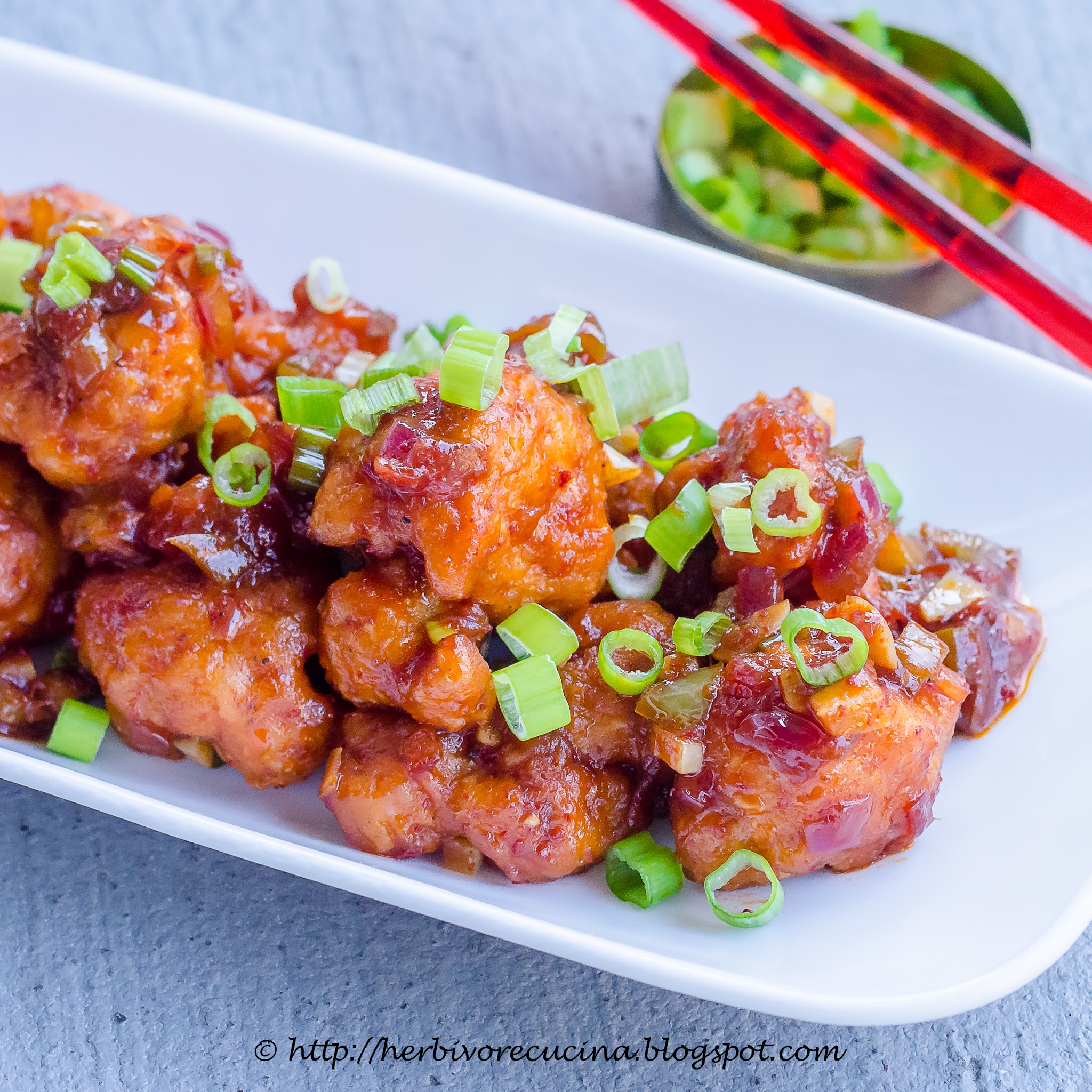 In a small bowl mix together the remaining 2 tablespoon cornstarch with ¼ cup water, a teaspoon of soy sauce, ½ teaspoon vinegar and 1 teaspoon chilli sauce. Also add a pinch of salt, black pepper powder and chinese salt (if using).

Heat a teaspoon of oil and chilli oil in a pan. Once hot, add ginger and garlic, saute till flavorful. Next, add spring onion whites, green chilli and green pepper. Cook on high flame for a couple of minutes. Then add some schezwan sauce and mix well. Pour in the cornstarch mixture, mix well and cook on medium flame till the sauce is thick and translucent. Add the fried cauliflower florets and mix well, coating each piece with the sauce.

Once it is well coated and dry, turn down the flame and serve immediately, topped with spring onion greens.
Check out the Blogging Marathon page to see what the other Blogging Marathoners are doing BM# 68