Blogging Marathon #65 Week 4 Day 2
Theme: One Sauce, Two dishes
Dish: Schezwan Dumplings

Dumplings, a word not very popular in India a few years back has got immense popularity in the years. What was once a gourmet dish has become so famous that a cart steaming and serving dumplings is a common sight in all food courts at the malls and the movies. They sell the steamed dumplings with a spicy and sour sauce. The last time I went to India, I was amazed to see the cart even at the Domestic Airport in Mumbai!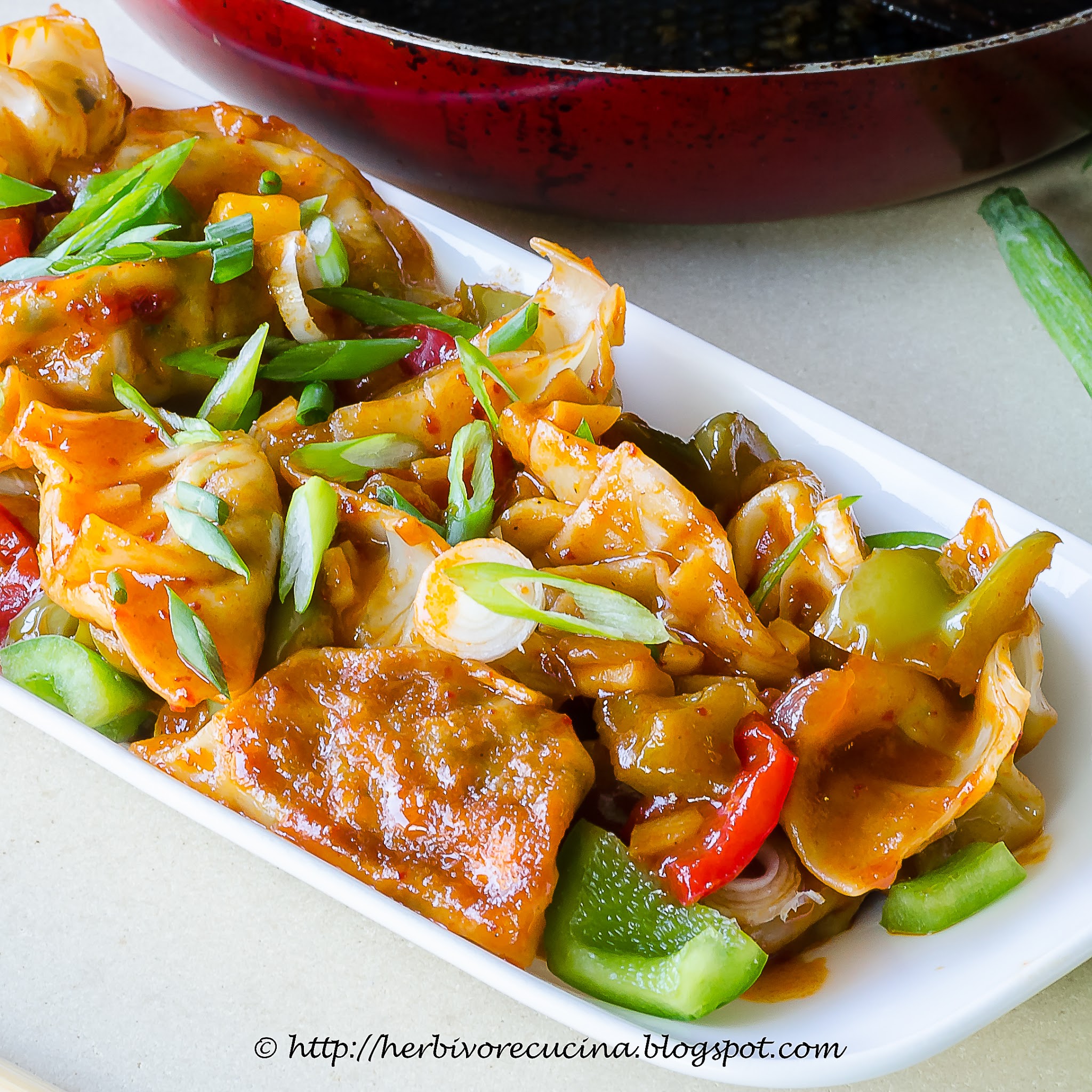 While every recipe of dumpling has a different stuffing ranging from vegetables and meats to tofu and paneer and even cheese in certain places. Another variation of the dumplings that I learnt from a local restaurant is the pan fried dumplings. Roll the dumplings, place them in oil and smear the bottoms. Then add water and cook the dumplings.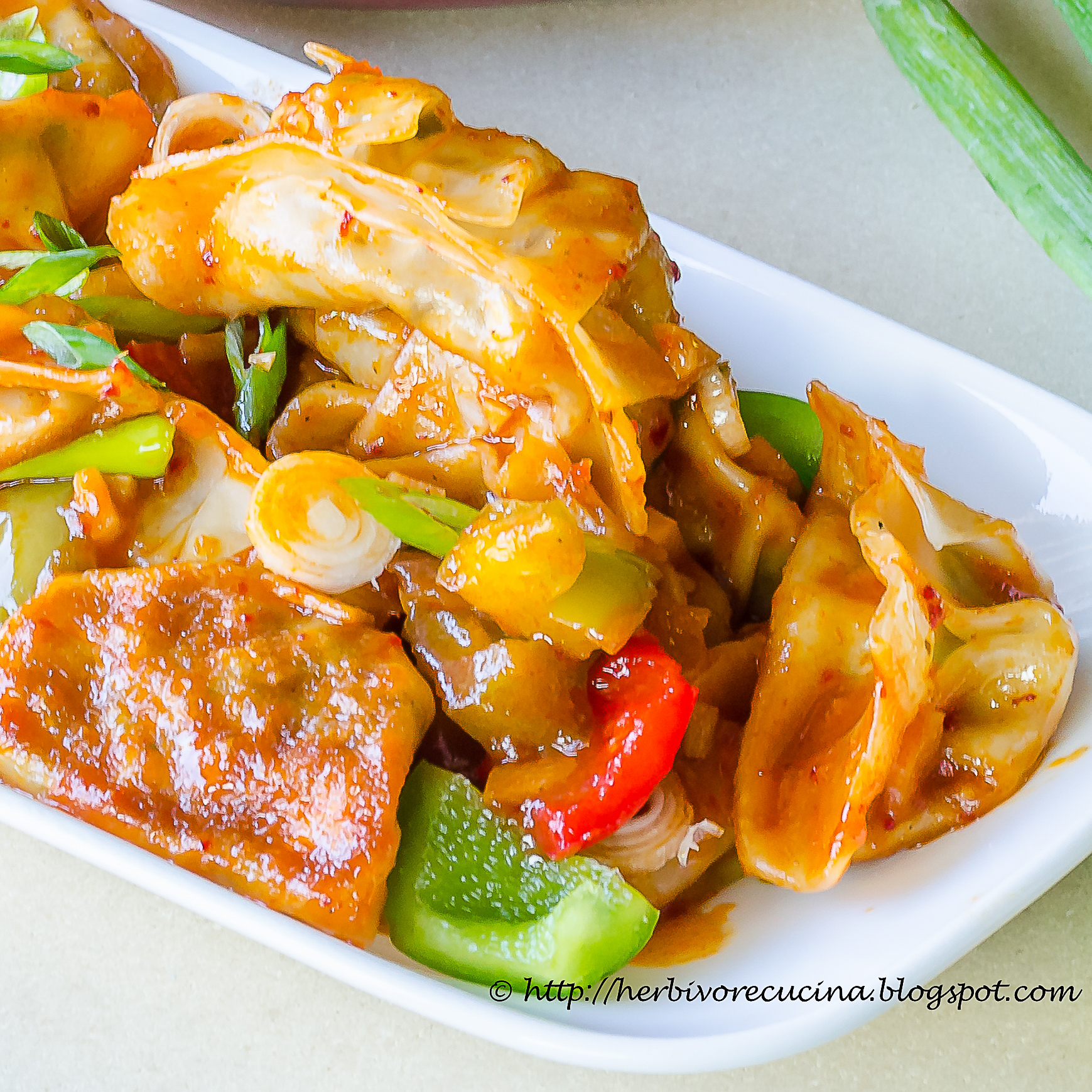 So today, for the second day of the Marathon this week, I decided to take my pan fried dumplings to a different level, a rather spicy one! I have seen tons of recipes on foodgawker of dumplings dunked in chilli oil. So based on that, I decided to fuse the schezwan sauce I posted yesterday with my favorite dumplings recipe! The result was a spicy, tasty and super amazing plate full of schezwan dumplings. This version is on the higher side of spicy, adjust the quantities of schezwan sauce and chilli oil based on your preference. And yes, come back tomorrow for yet another favorite family recipe!


Ingredients

Dumplings 10-12 (Recipe here-> Dumplings)
Green and Red Peppers 1 each
Spring Onions 1 bunch
Garlic 2-3 pods
Schezwan Sauce 4 tablespoon (Recipe here--> Schezwan Sauce)
Soy Sauce 1 tbsp
Vinegar 1 tsp
Tomato ketchup 1 tbsp
Salt 1 tsp
Pepper powder 1 tsp
Oil 1 tsp
Chilli Oil 1 tbsp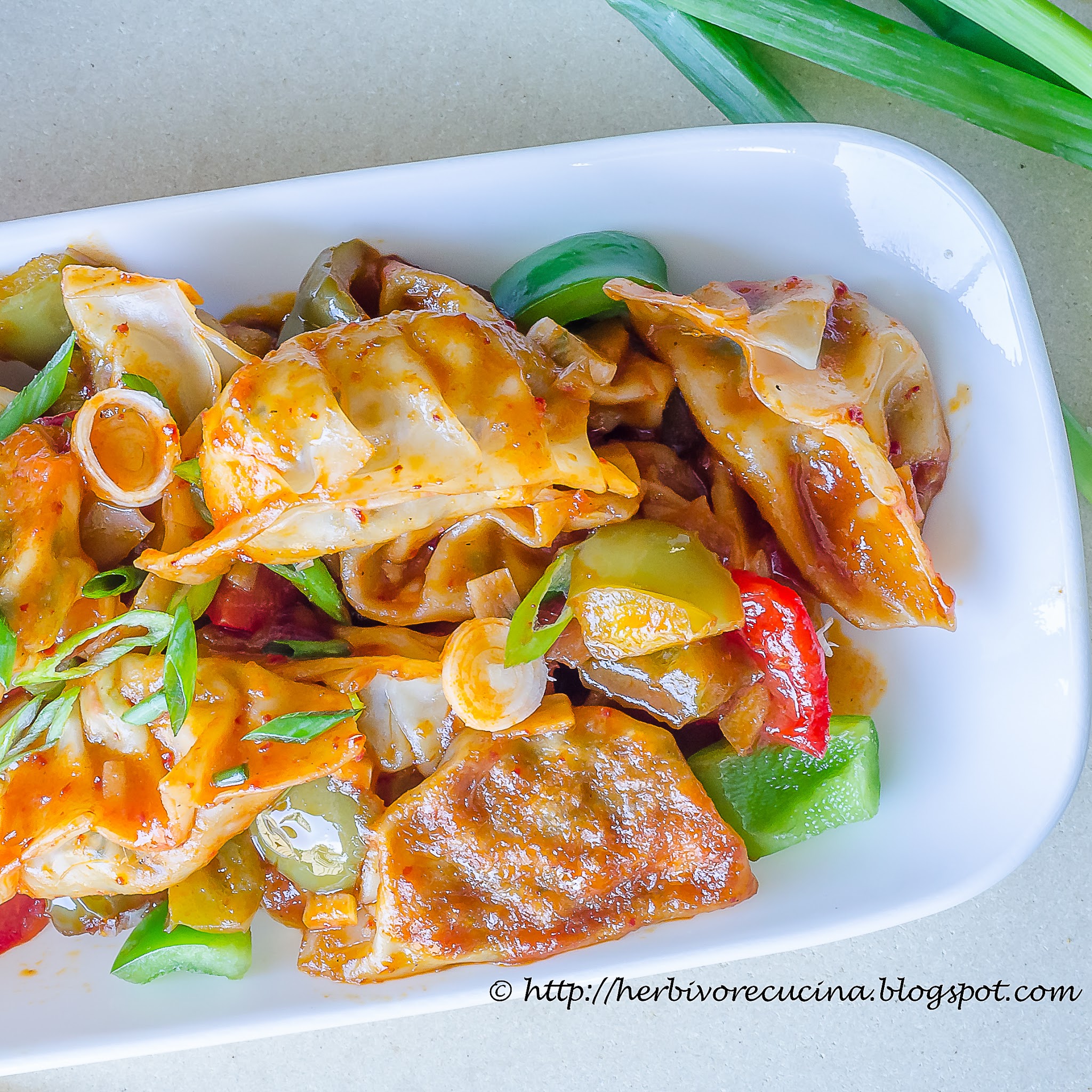 Method
Make the dumplings as mentioned in this recipe. Follow the recipe till the end of folding. You can roll them and freeze them till ready to use. Mix together tomato ketchup, schezwan sauce, soy sauce and vinegar with ½ cup water. Mince garlic, dice peppers and finely chop spring onions.
In a small pan, heat chilli oil. Add garlic pods and saute. Then add pepper and spring onion whites. Saute for a couple of minutes. Add the prepared sauce, salt and pepper. Mix well and bring the sauce to a boil. Turn down the heat and cover.


In a broad pan, heat oil. Place the dumplings and let them turn brown on one side. Once brown, add the sauce and mix it into the dumplings. Then add ¼ cup water and cover. Once the water is completely absorbed in about 3-4 minutes, turn the heat down and serve topped with spring onion greens.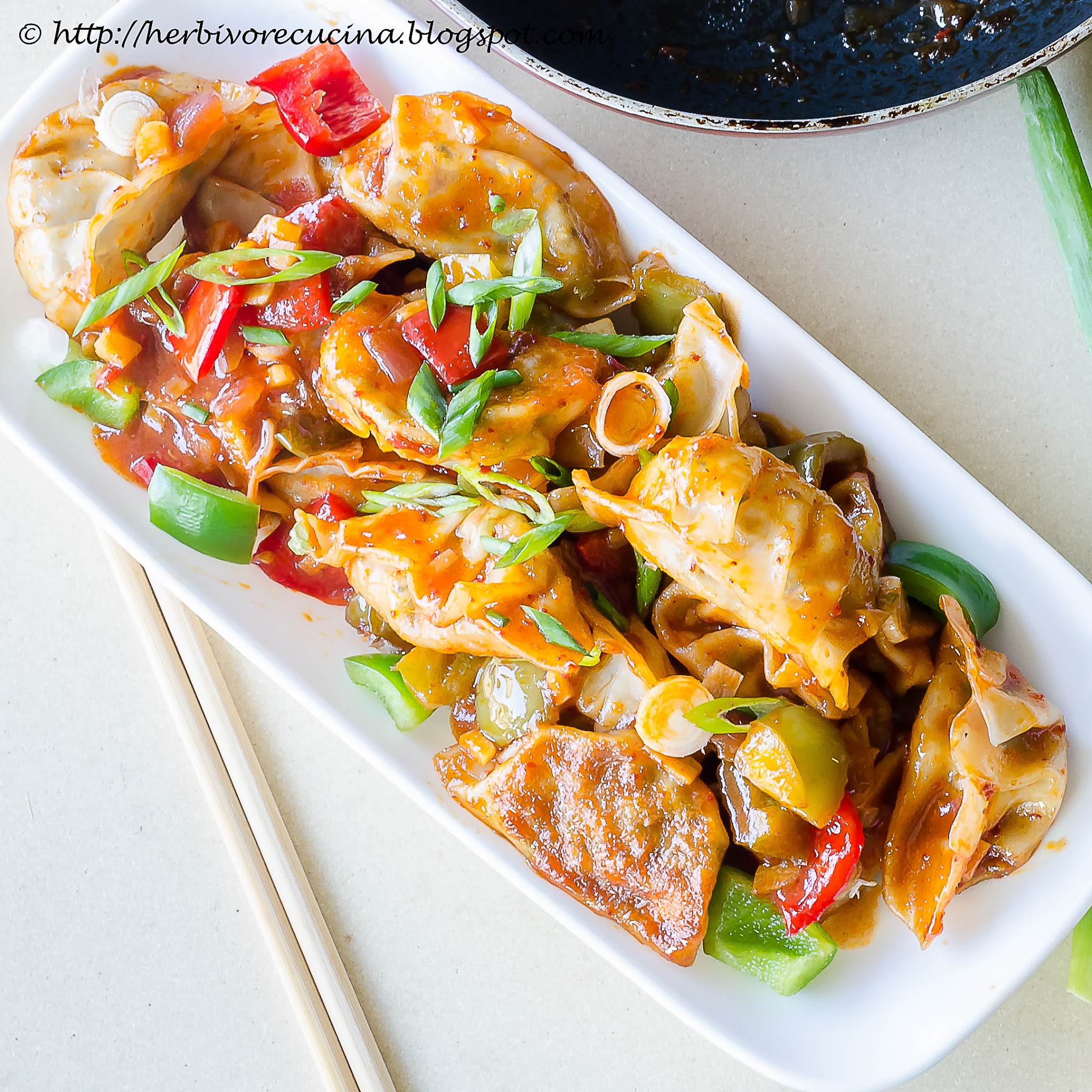 Check out the Blogging Marathon page for the other Blogging Marathoners doing this BM#65