The BEST and QUICKEST way to make crisp bottom and juicy dumplings. A recipe so easy; you will never need to order them for takeout again!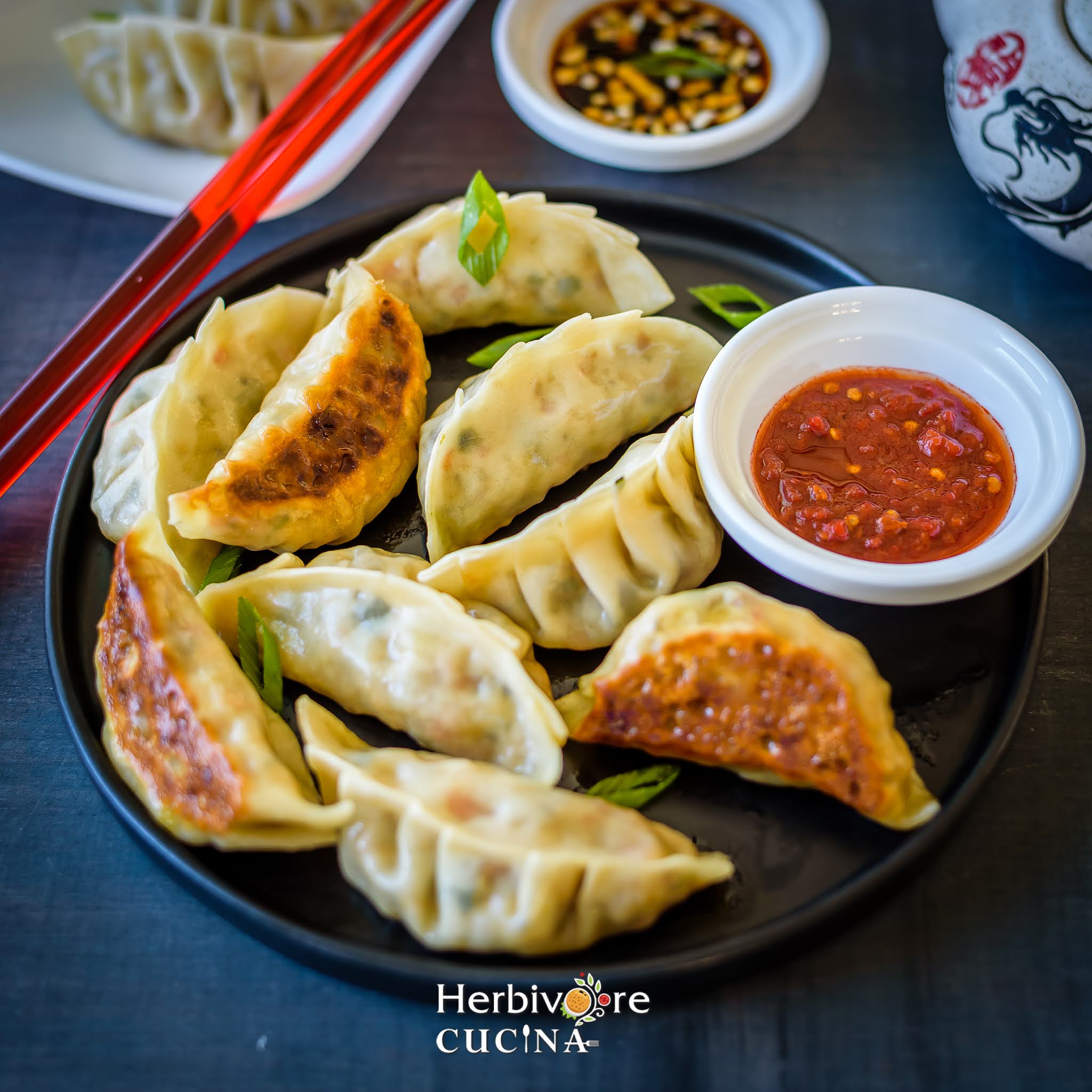 Some of the links below are affiliate links, meaning, at no extra cost to you, I will earn a commission if you click through and make a purchase.
Chinese food is one of our favorites to make at home.
From fried rice and noodles to pepper tofu or lettuce wraps; these recipes make a regular appearance on our dinner menu.
Along with these recipes; potstickers or pan fried dumplings, steamed bao and fried wontons are our favorites for appetizers.
What are potstickers?
Dumplings cooked by a two step process of first pan frying them in oil and then cooking them with some water in a covered pan are delicious.
These are popularly called potstickers.
These dumplings may be filled with a variety of fillings from vegetables and tofu to various meats. This recipe is for dumplings made using a mix of vegetables and tofu.
Mid way between steamed wontons and fried dumplings; these pan fried dumplings have crisp bottoms and juicy filling.
What you need to make these pan fried dumplings
Potstickers are often made from scratch using flour wrappers and fillings. Here I have used store bought wrappers. It helps make the potstickers quickly and easily.
There are a variety of potsticker wrappers available in the Asian stores and on Amazon. I generally buy them in bulk to use over the next few weeks.
Once you have the wrappers, you need some oil, water, vegetables and tofu to complete the ingredient list.
The tofu used here can be either medium firm or firm that is pressed between a couple of paper towels to remove moisture.
The vegetables needed for this can be the ones that you have at hand. I have added napa cabbage, carrots, broccoli, green onions, cilantro and mushrooms.
However, any of the vegetables above can be used in any combination. Plus, adding other vegetables like french beans, onions, peppers, bok choy can be used.
The sauces in this recipe includes soy sauce, vinegar and chili sauce.
Folding the dumplings
Folding the dumplings can be done in several ways.
The easiest way is to fold them over and stick them using water. If you would like to make them in a different way, there are plenty of videos to help.
This post shows how easy it is to fold them!
How are these dumplings cooked?
Once filled and folded, the dumplings have to be cooked.
These dumplings are pan fried in a mix of vegetable oil and chili sesame oil. They help make the bottoms of the dumplings brown and crisp.
Cooked in a wide pan, these dumplings can be cooked quickly in a big batch. They need about 5 minutes to brown and 4-5 minutes to cook.
The time required to cook depends on how thick the wrappers are. It can increase a couple of minutes for super thick wrappers.
Storing these dumplings
I like to make a big batch of these dumplings. While I pan fry some the same day, I store the others for a quick dinner for some other day.
They are best stored frozen. To freeze, wrap them and place them on a baking tray leaving some space between them.
Place the tray in the freezer for a couple of hours till they freeze. Once frozen, transfer to a freezer bag and store them.
The frozen dumplings can be cooked directly from frozen. Thawing them might make the wrappers a little soggy.
Serving Pan Fried Dumplings
These are best enjoyed HOT!
Serve them with a gyoza dipping sauce or a mix of soy sauce, minced garlic and scallions.
They can be served with hot sauce too. Or dip them in a bowl of manchow soup to enjoy!
This post has been updated in September 2020 from the recipe archives, first posted in 2015.
Ingredients
For the Dumplings
Firm Tofu, diced 1 cup
Carrot ½ cup, minced
Napa Cabbage 1 cup, finely diced
Broccoli ½ cup, minced
Cilantro ½ cup, minced
Mushrooms 1 cup, minced
Chili Oil 1 tsp
Vegetable Oil 2 tsp
Salt 1 tsp
Pepper powder ½ tsp
Soy sauce 1 tbsp
Vinegar ½ tsp
Red Chili Sauce 1 tsp
To pan fry
Vegetable Oil 2 tsp
Chili Oil 1 tsp
Water ¾ cup
To Serve
Soy sauce ¼ cup
Vinegar 1 tsp
Garlic 2 pods finely minced
Red Chili Sauce to taste
Method
To prepare the filling
Add all the vegetables in a bowl. Sprinkle salt over them and let them sweat for 10-15 minutes. Squeeze out all the water from the vegetables and set aside.
Press firm tofu between paper towels to remove moisture. Chop to small bits or crumble. Set aside.
Heat vegetable and chili oil in a wok. Once hot, add the vegetables and sauté for a couple of minutes. Next add tofu and mix well.
Sauté the mixture till the water content dries up completely. Add salt, pepper, soy sauce, vinegar and chili sauce (if using). Mix well.
Remove from flame and cool completely.
To fill the dumplings
Take some water in a bowl. I used the round wrappers from the Asian store.
Take one dumpling wrapper add a spoonful of the filling. Apply water on the edge of the skin and fold it into half.
Seal the edges in a crinkled fashion. You may choose to shape them as you like.
At this stage you may freeze them for future use.
First lay them in a single layer in a plate and freeze them. Once they are frozen in about 10-15 minutes, remove and transfer them to a freezing bag.
Freeze them till you are ready to make them. To prepare, do not thaw; use them directly from their frozen form.
To pan-fry the dumplings
Heat some vegetable oil and chili oil in a flat bottom pan.
Once it heats, lay the dumplings in a single layer. Leave some space between them.
Let the dumpling bottoms brown on medium flame.
Once they are brown, increase the flame and add half a cup of water.
The water will sizzle immediately. Cover the pan and let the dumplings cook.
Once all the water is absorbed, remove from flame and serve immediately.
To make the dip

Mince garlic and transfer to a mixing bowl.
Add Soy sauce and Vinegar and mix well.
Serve with the dumplings.
Alternatively, the dumplings can also be enjoyed with Sriracha Sauce!
DISCLOSURE: WE ARE A PARTICIPANT IN THE AMAZON SERVICES LLC ASSOCIATES PROGRAM, AN AFFILIATE ADVERTISING PROGRAM DESIGNED TO PROVIDE A MEANS FOR US TO EARN FEES BY LINKING TO AMAZON.COM AND AFFILIATED SITES.