These Vegan Bao buns are the perfect breakfast you need! Juicy vegetables and tofu filled in the dough and steamed to perfection; this recipe is easy to make and addictive!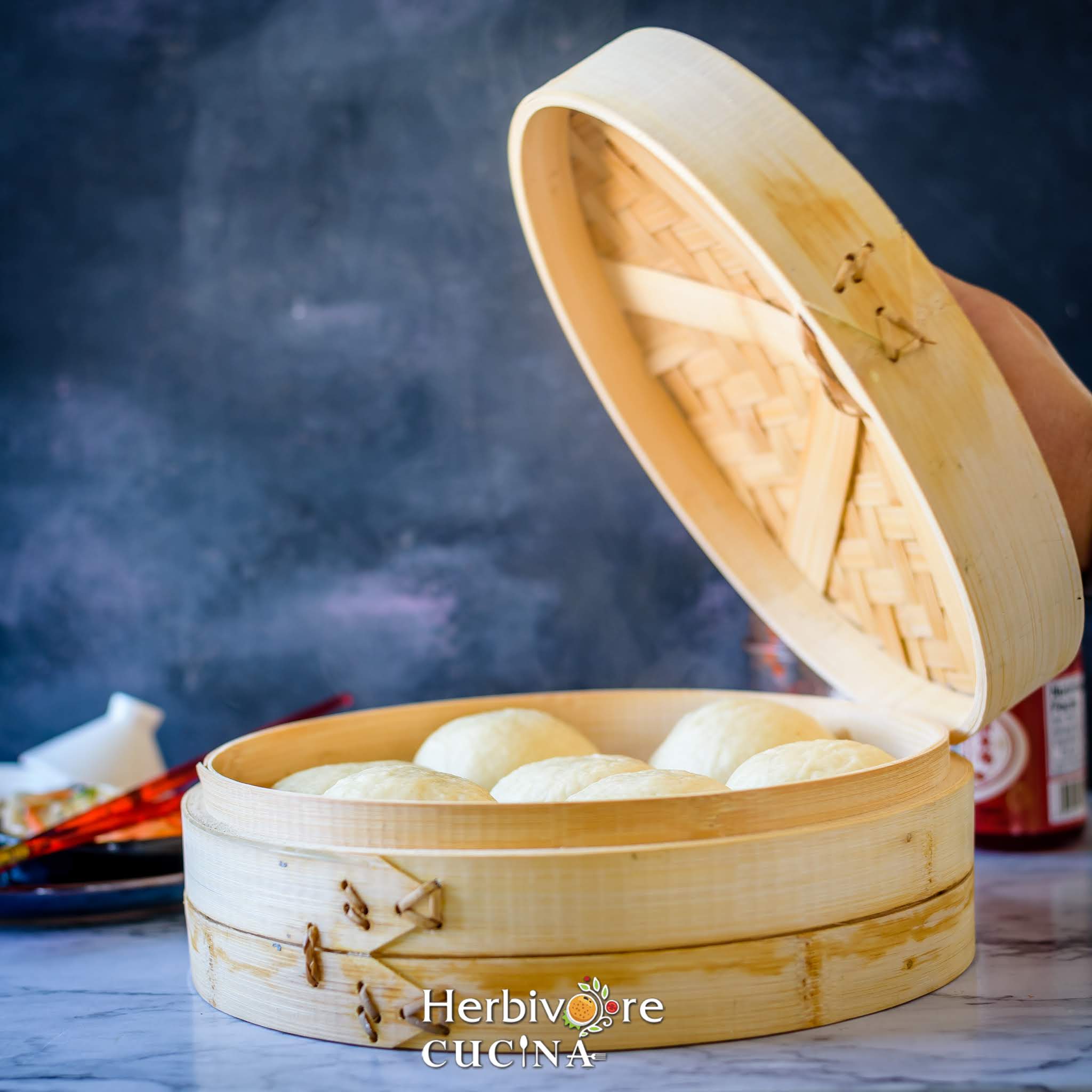 Have you all tried steamed buns before? The fluff balls of dough that are pillowy soft and cane be cut to expose the yummy filling in there? If not; I can assure you that you are missing something. If you thought the yeasty dough for bread can only be used to bake; think again! Once you try these steamed buns, you will want them really often! It happened to me so I can promise you that.
For the longest time this recipe has been on my mind. Ever since I had a TON of these in HongKong last year. Now that three quarters of the year has gone by; I finally shot this one and put it on the blog. And with this month's #Breadbakers theme being Breakfast buns; I HAD to make them appear today on the blog. Thanks to our hostess Felice from All That's Left Are The Crumbs for this theme.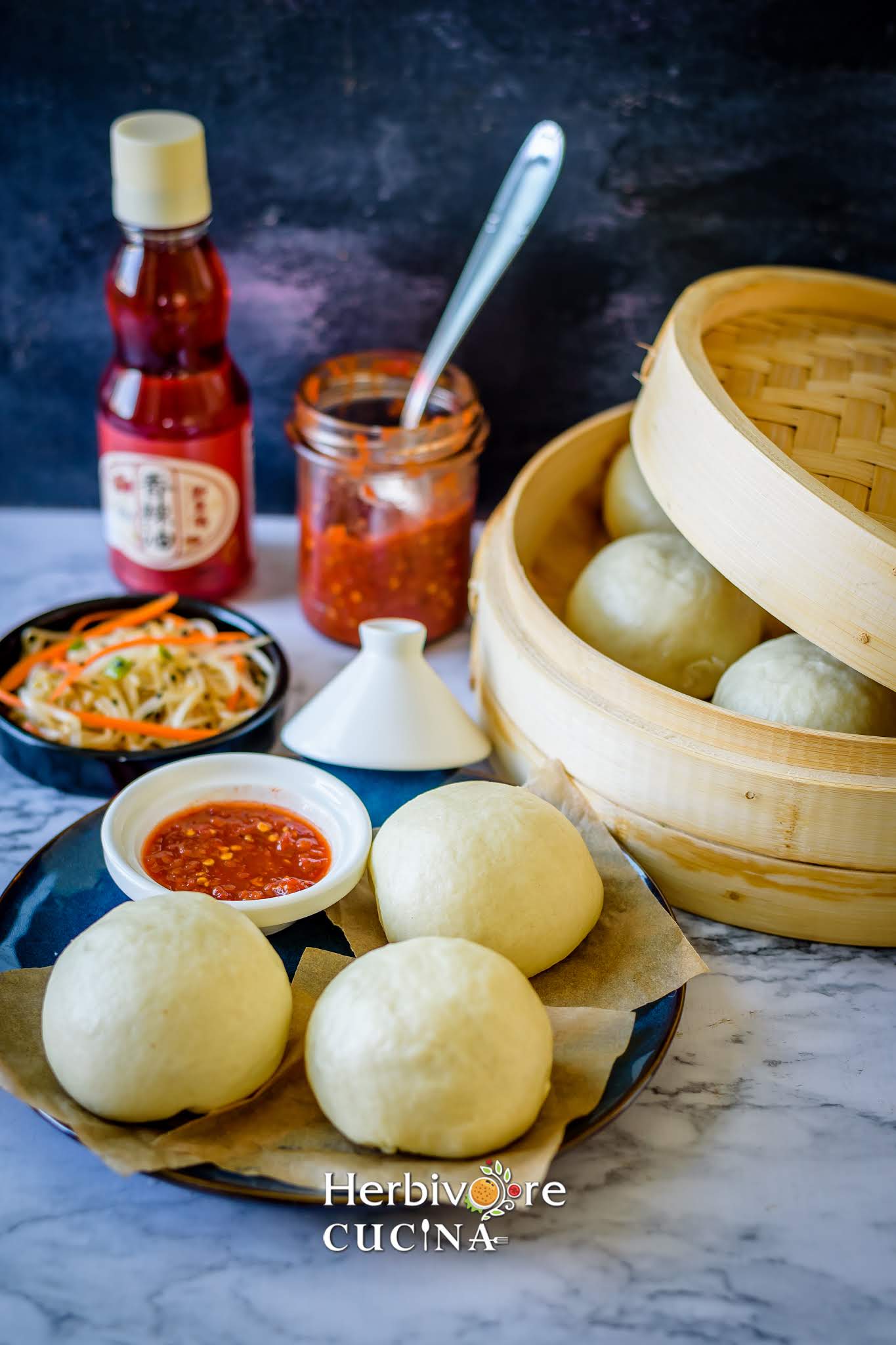 To give you a background about my love for these buns; it started in HongKong as I mentioned. We planned to go for a vacation there last year and were asking folks we knew for recommendations on food etc. Most people told us it is a little tough for folks who do not eat meat or fish so we were a little dicey too. We packed quite a bit of snacks and ready to cook meals with us.
But BOY; we were thrilled at the food options we could customize to make it vegetarian friendly there! And from all the things we had like Vegetarian pho, Vegetarian hot pot, Vegan Mongolian bbq, the varieties of Boba tea and other amazing dishes I fell in LOVE with the Steamed Bao. It was sold by a chain at almost every station and they all had just one type of vegetarian bao but I was not complaining!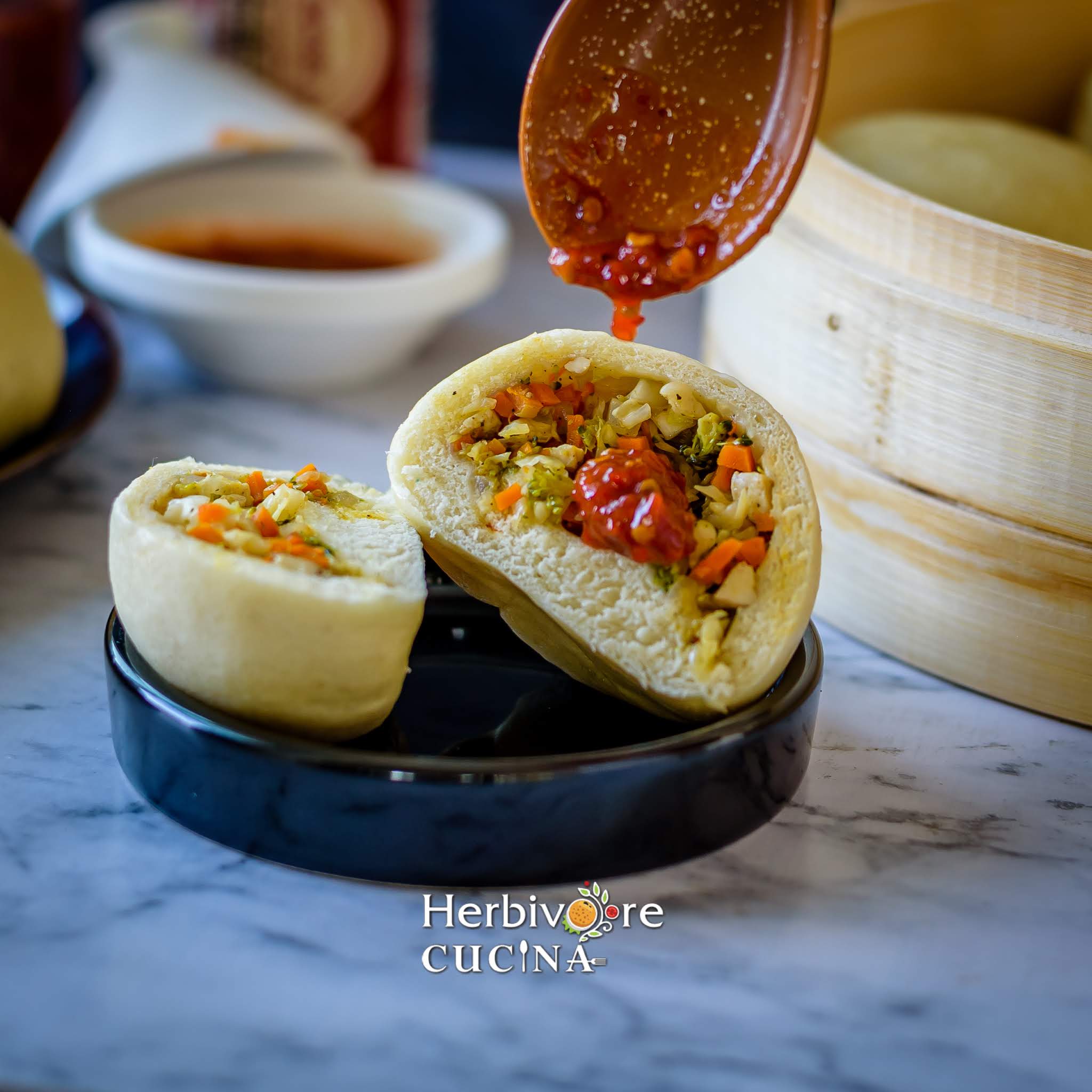 I enjoyed Bao for breakfast, sometimes for lunch and mid day snack too. That is when I learnt this was actually a popular breakfast there and so it was sold by stores right next to most train stations.
Since then, these buns make a regular appearance on our breakfast menu; sometimes fresh and often made earlier and frozen for a busy day! I change the fillings often, but mostly try to add one green, one mushroom type and some protein in the form of tofu or paneer.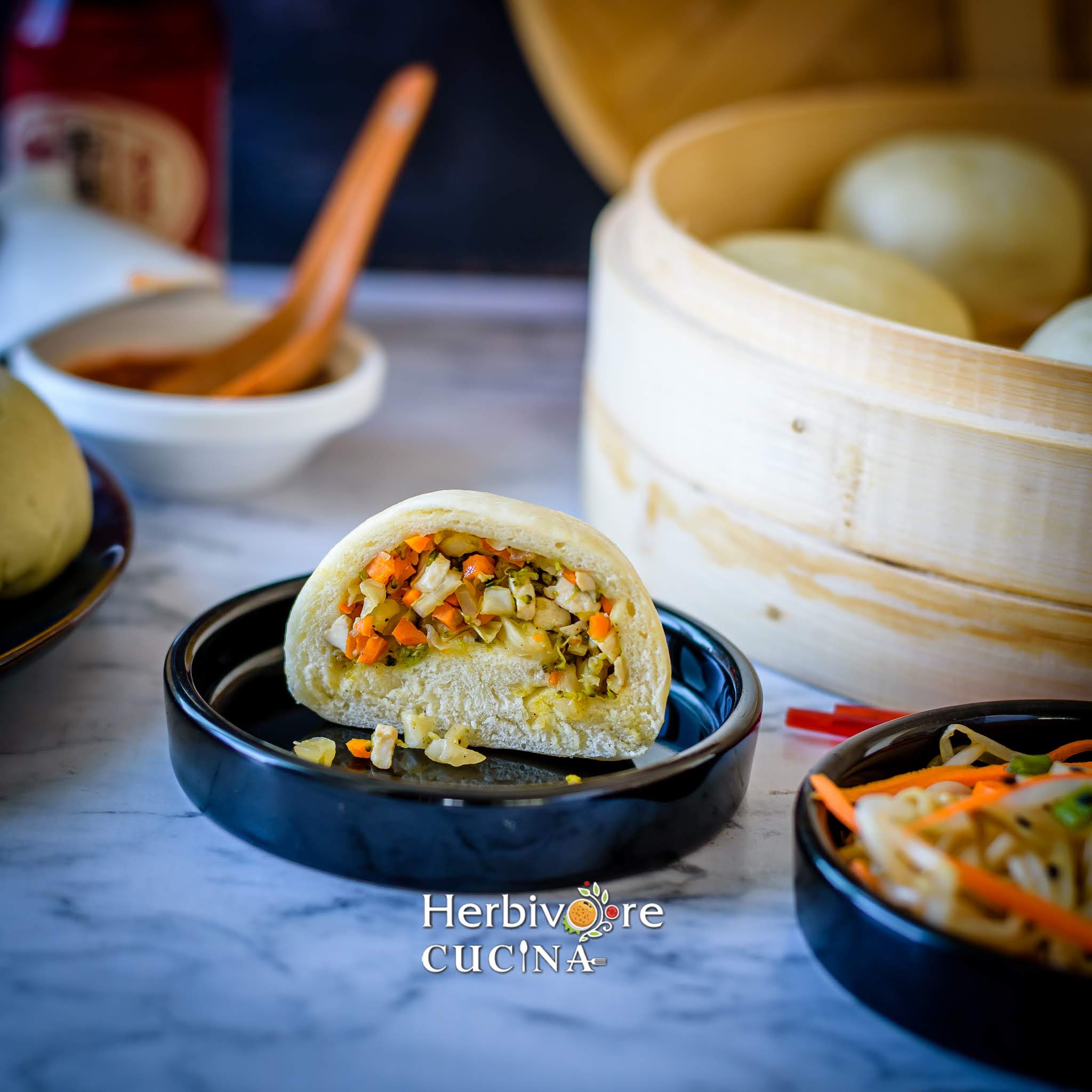 Variations
These buns can be made from scratch early morning or made in advance in two ways. Either make the filling the earlier day and refrigerate. Make the bun dough the next day and steam them. Or make the buns from start to upto steaming them. Then place them on a cookie sheet and freeze them. Once frozen, transfer to a ziploc bag and freeze. When you need a quick breakfast; remove from freezer and steam them for 15 minutes.
These bao buns are super versatile. Add in the filling you like; leave the ones you do not like. Add in boiled eggs, meat or paneer if you like too. Serve them as is or with some Sriracha. These baos taste great both ways.
Pin for Later

Ingredients
For the Filling
Baby Bok Choy 1 cup, diced
Brown Mushrooms 5-6 medium
Carrot 1 medium, diced
Broccoli 2-3 florets, diced
Tofu 6 oz (~200 grams)
Napa Cabbage 1 cup, diced
Cilantro ½ bunch, chopped
Soy Sauce 2 tsp
Vinegar 1 tsp
Sesame/Vegetable Oil 1 tbsp
Five Spice Powder 1 tsp
Salt and Pepper
For the Buns
Allpurpose Flour 1 ½ cups
Corn Starch 1 tbsp
Instant Yeast 1 teaspoon (3 grams)
Baking Soda ⅛ tsp
Vegetable Oil 1 tbsp
Salt 1 tsp
Sugar 1 tsp
Method
To make the Filling
Wash and finely dice all the vegetables. Make sure there is no water left from washing.

In a pan heat oil. Add in the mushrooms and let them brown. Then add broccoli, carrots, Bok Choy and Napa cabbage. Let them cook for a couple of minutes and add in tofu. Mix well and cook for a few minutes before adding cilantro. Add cilantro, season with five spice, salt and pepper and mix well. Add in vinegar and soy sauce. Mix and let the mixture cool.
For the Bun Dough
In a bowl add water, salt and sugar. Warm in microwave to about 110-115 F. Stir in yeast and rest for 15 minutes till it blooms.
In the base of a stand mixer or a bowl add flour, corn starch, oil and bloomed yeast. Mix together and make a soft dough. Knead well for 5-6 minutes.
Apply some oil to a bowl and place the dough. Apply oil on top and cover. Let the dough rest for 1 hour; till it doubles in size.
Once it doubles, deflate and divide the dough into 6-7 balls. Let them rest for 10 minutes.

To make the Buns

Cut parchment paper into squares and keep ready. Add water to pan and place a bamboo steamer in it.

Take each ball of dough and flatten it. Add 2-3 tablespoon of the filling and seal the buns. Place each bun on a piece of parchment paper. Place the buns in the bamboo steamer.

Turn on the gas and let the water come to a simmer. Make sure the water s atleast an inch below the basket.

Once the water simmers; cover the pan and set the flame to medium. Steam for 12 minutes on medium and turn down the flame. Let the buns rest for a couple of minutes before serving.

These taste awesome wit a side of hot sauce or just by themselves. We enjoy them dipped in a sauce made from soy sauce and thinly sliced ginger too.
#BreadBakers is a group of bread loving bakers who get together once a month to bake bread with a common ingredient or theme. You can see all our of lovely bread by following our Pinterest board right here. Links are also updated after each event on the #BreadBakers home page.
We take turns hosting each month and choosing the theme/ingredient. If you are a food blogger and would like to join us, just send Stacy an email with your blog URL to foodlustpeoplelove@gmail.com.
Check out the Breakfast breads that our fellow #BreadBakers have prepared this month: