A perfect weeknight option, this Burnt Garlic Rice is FULL of crunchy garlic, rice and vegetables. Easy to make and always YUM!

Indo-Chinese food makes an appearance on our weekly menu! Whether it is Manchurian or Crispy Vegetables and Chinese Bhel or Hakka noodles; we enjoy all of these at home and at a couple of popular restaurants in the Bay Area! It is the cuisine we have the MOST after Indian cuisine.
One of the BEST dishes from the Indo-Chinese menu is Burnt Garlic Fried Rice. Pretty similar to Fried Rice or Schezwan Rice, this one has a TON of fried garlic for crunch and flavor. It is really easy to make and always YUM!
It is no surprise that the blog will have a lot of Indo-Chinese recipes, given how much we enjoy it. If you are a fan of Indo-Chinese recipes like our family, you MUST check these out:
A perfect combination of rice, vegetables and sauces, this stir-fry recipe is our favorite weeknight recipe that doubles as an awesome lunchbox recipe. Plus, it comes together pretty quickly. And yes, this comes out really great with leftover rice too.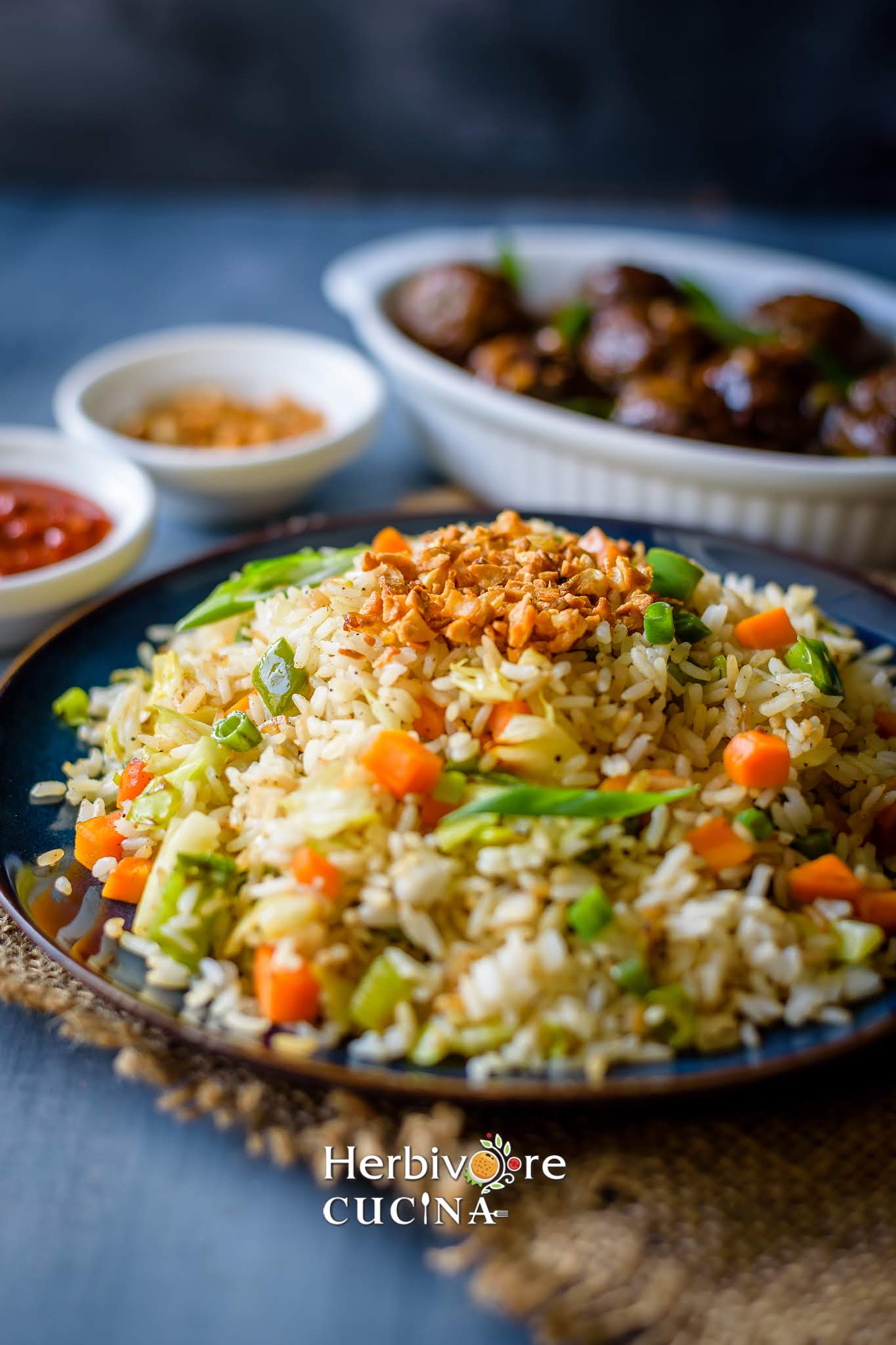 How to get it right EACH time?
If you do not have leftover rice, make sure you cook the rice till only about 70-80% done. If the rice is completely cooked, they will get mushy when stir frying. Cool the rice completely before using so that the grains separate. That is the only secret to get the rice perfect each time.
The vegetables I used in the recipe are carrots, beans and cabbage. While peppers and onion are always in the recipe, the remaining vegetables can change.
From peas to broccoli and mushrooms to cauliflower; everything can be added to the rice. Just add them in the order of the time that they take to cook. Do NOT cook the vegetables completely before adding the next one. They will get cooked with the remaining so leave them a little crunchy before the next!
How to make Burnt Garlic right?
The star ingredient in this recipe is definitely the garlic. While the name says Burnt; if garlic is not fried properly, it can become hard and black. Not a great addition to the rice then, I like mine golden brown and not completely burnt.
It is super easy to get this right each time. Just make sure you add the garlic only once the oil is SUPER hot. Mix well and sauté for a minute. That is enough for the garlic to be crunchy but not hard.
Remove immediately and set aside. If you like, let them sit on a piece of paper napkin. The excess oil will be absorbed. However, this step is not required as the garlic will absorb the oil as it cools.
With all this information, it is time to get the recipe and start making the rice! I served this with my no-fry veggie manchurian and red cabbage salad. The recipes will be on the blog soon!
Ingredients
Uncooked Rice 1 cup (regular or jasmine)
Carrot ¼ cup, finely chopped
Green Beans ¼ cup, finely chopped
Cabbage ½ cup, finely chopped
Green Pepper ¼ cup, finely chopped
Spring Onions 3-4 stalks, white and green parts separate
Garlic 8-10 cloves
Sesame/ Sesame Chilli Oil 2 tbsp
Vinegar ¼ tsp
Soy Sauce ½ tsp
Salt, Pepper to taste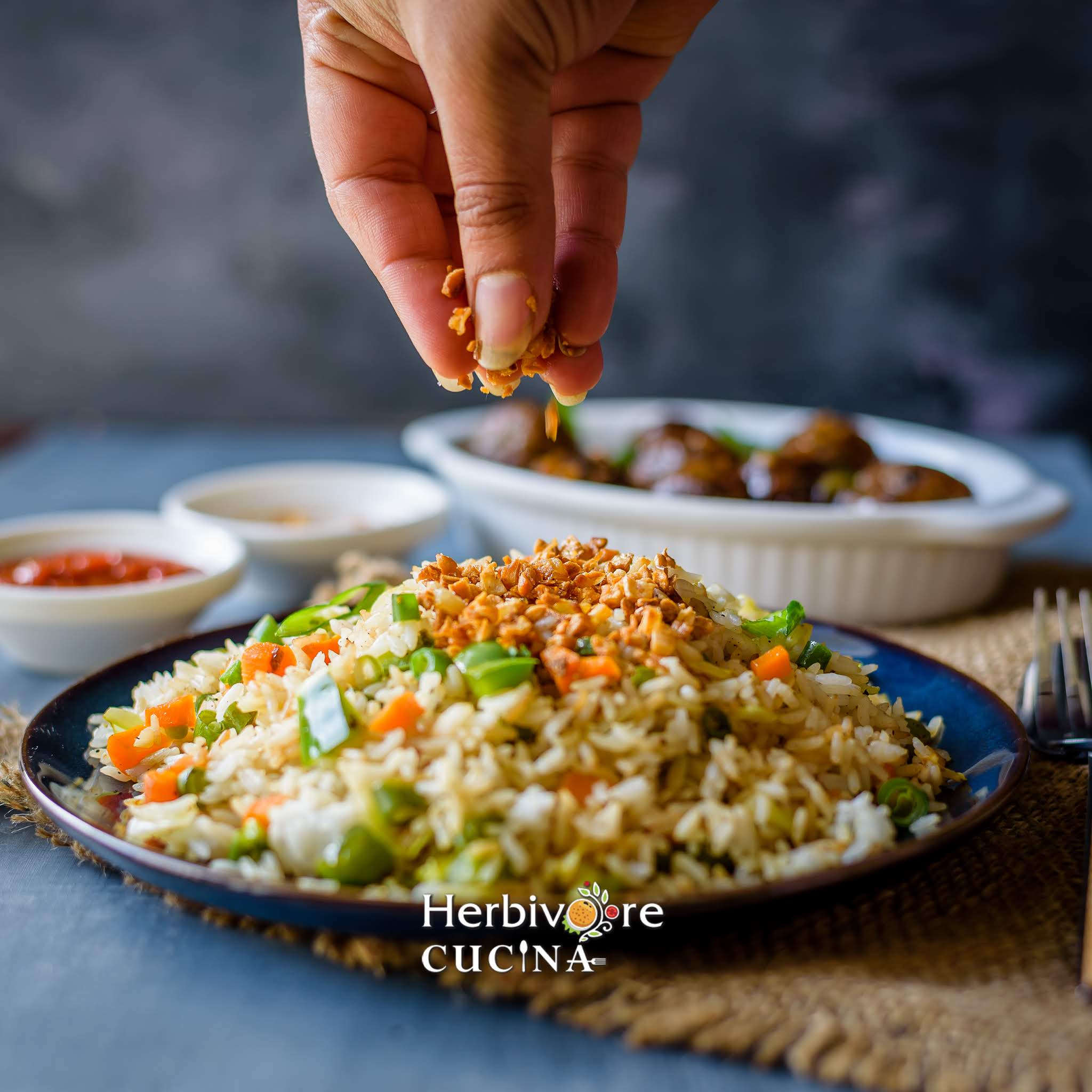 Method

Wash and add rice with 1 cup water to a pan. Add a pinch of salt and boil it on medium flame. Keep covered and cook for 6-7 minutes, till the rice is about 70-80% cooked.
Drain and add cold water to the rice. Drain and set aside.
Heat sesame oil or chilli oil in a pan. Add minced garlic and quickly sauté till it is golden brown. Remove the garlic and leave the remaining oil in the pan.
To the oil add spring onion whites and green peppers. Sauté for a couple of minutes on high flame. Add carrot and beans. Sauté for 3-4 minutes.
Once the beans are partly cooked, add cabbage and mix. Season with salt and pepper. Add the cooked rice, vinegar and soy sauce. Mix well and cook for a minute. Turn down the heat.
Serve warm topped with the fried garlic and spring onion greens. This rice is BEST served with Manchurian Balls in Gravy or Paneer Chilli!