A favorite Asian takeout made easily at home in UNDER 30 minutes. This Instant Pot Vegetable Chow Mein is a keeper I promise!

Some of the links below are affiliate links, meaning, at no extra cost to you, I will earn a commission if you click through and make a purchase.
This Chow Mein can easily become everyone's favorite recipe. After all, who doesn't like a bowl of noodles; laded with colorful vegetables and seasoned with a simple savory sauce?
I made this recipe in the Instant Pot, making it even more easier and converting a multi-pot recipe to a one pot meal. With the use of the Instant Pot the recipe comes together in under 30 minutes, making it an awesome weeknight dinner idea. Sounds easy? It sure is.
Ingredients for the Chow Mein
This recipe needs a handful of ingredients that can easily be swapped out for something that the family would like. It is a versatile recipe in terms of what goes into it.
Noodles- The most important ingredient here, I used Ching's Secret Vegetable Hakka Noodles. They can be found in any Indian store or on Amazon. If you cannot find them, thin spaghetti or any dry noodle pack from the stores works too. Try and avoid super thin noodles as they end up in a mush!
Vegetables- I used a handful of veggies in here. Peppers, carrots, mushrooms, broccoli and cabbage went in. Adding onions, celery, snap peas, cauliflower, baby corn and asparagus is a great idea too.





Seasoning- The noodles are seasoned with soy sauce, vinegar and hot sauce. Sriracha is my choice of sauce for such recipes but any hot sauce of your choice will work. I add a wee bit of chili oil for flavor, but that can be skipped if you do not like the noodles spicy.
Additional ingredients- Adding tofu, paneer or other protein to the recipe is a great idea too. I sometimes air fry tofu pieces and add them to the Chow Mein after it is cooked. They give a great crisp texture to the dish.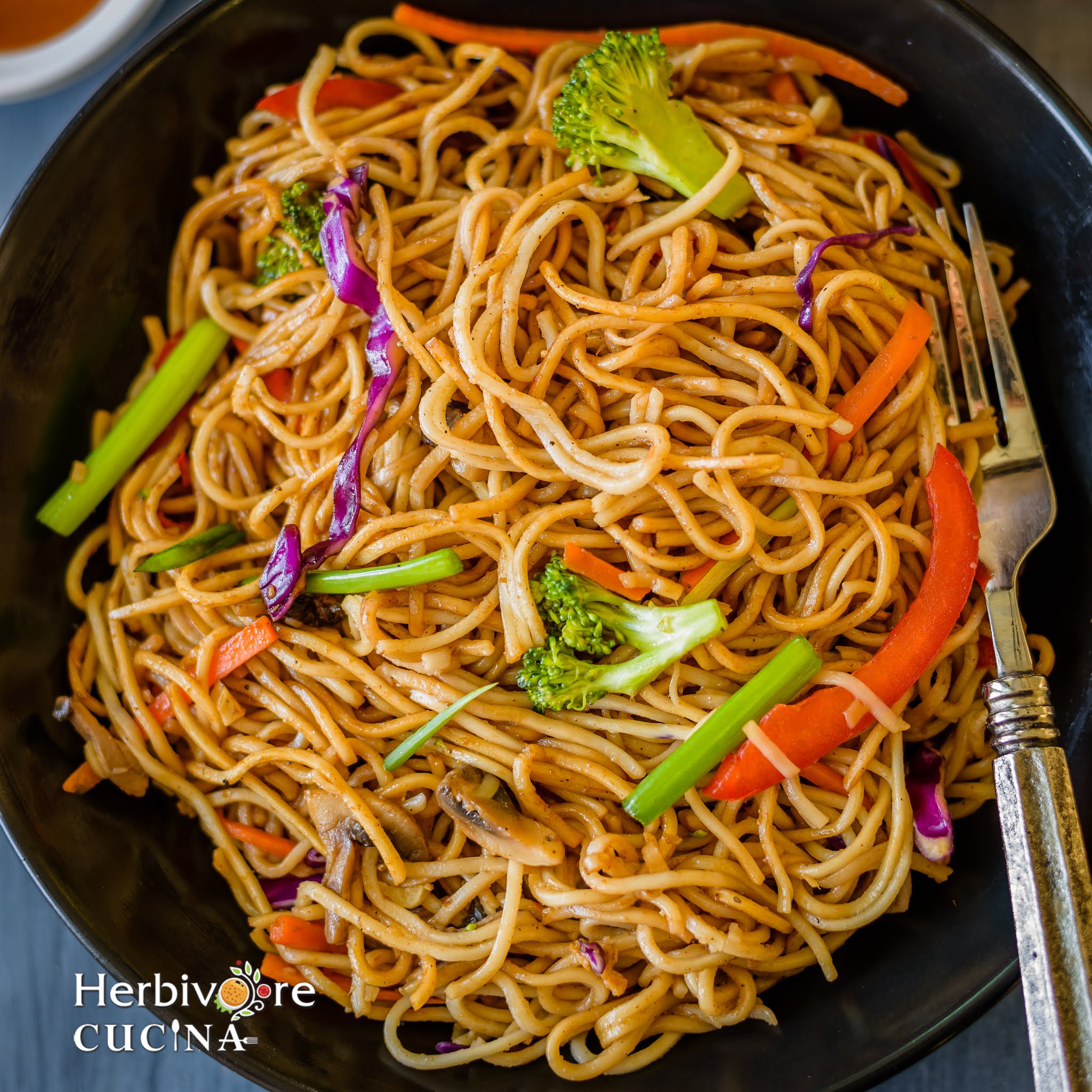 Video Recipe
Why make this in the Instant Pot?
Asian food is enjoyed in our house VERY often. The recipes sometimes have intense chopping and then need a bunch of utensils to make everything. If I make chow mein in pans, I definitely need something to boil the noodles and then something to saute them. Plus, a colander to drain the noodles etc!
In comes the Instant Pot or any electric pressure cooker and eliminates ALL but one pot. The same pot is used to make the sauce, cook the noodles and add the vegetables. No extra vessels or utensils needed here! Plus, the water/ stock is all absorbed by the noodles so no draining etc.
Lastly, the recipe is cooked under pressure and this shortens the cooking time to just two minutes. Including the time it takes to build pressure and the time taken for the other ingredients to cook, the recipe is ready in under 30 minutes.
More Instant Pot Asian recipes to try
Ingredients
Dry Noodles 10 oz
Sliced Red Peppers ½ cup
Thin sliced Carrots ½ cup
Sliced Mushrooms ½ cup
Broccoli Florets ½ cup
Shredded Red Cabbage ½ cup
Spring Onion Greens ¼ cup
Minced Garlic 1 tbsp
Grated Ginger 1 tsp
Vegetable Broth/ Water 3 cups
Soy Sauce 1 tbsp
Vinegar ½ tbsp
Chili Sauce/ Sriracha Sauce 1 tbsp
Vegetable Oil 1 ½ tsp
Chili Oil ½ tsp
Salt 1 tsp
Black pepper powder ½ tsp
Method
Set the Instant Pot mode to 'Saute'. Once the display reads 'Hot' add oil and chili oil. Add the minced garlic and grated ginger and saute till the raw flavor vanishes.
Add water/ vegetable broth to deglaze the pot. Add soy sauce, vinegar, chili sauce, salt and pepper. Mix well.
Break the noodle cakes and add them in the Instant Pot. Make sure they are almost completely covered with water/broth.
Let the water come to a boil and then add mushroom, peppers and carrots. Do not stir.
Close the lid and press the 'Manual' or 'Pressure Cook' button. Set time to 2 minutes and cook on high pressure. The time should be set to ½ the time mentioned on the noodle package.
Once the Instant Pot beeps, quick release the pressure and open the lid. Add in broccoli, cabbage and spring onion greens.
Close the lid and let it sit for 2 minutes. Open the lid, mix everything well and serve.
DISCLOSURE: WE ARE A PARTICIPANT IN THE AMAZON SERVICES LLC ASSOCIATES PROGRAM, AN AFFILIATE ADVERTISING PROGRAM DESIGNED TO PROVIDE A MEANS FOR US TO EARN FEES BY LINKING TO AMAZON.COM AND AFFILIATED SITES.