20 minute Instant pot weeknight meal. No fuss easy one pot pasta recipe of Creamy Red Sauce Pasta is here!!




December is racing and we are only a few days away from 2019. We are also headed towards the shortest day of the year. It is the time when evenings are dark and cold. All I crave right now is a warm bowl of goodness. Pasta, soup, stews and of course, dal rice!
Lately I have started making atleast one meal in the Instant Pot and loving how easy it is! I am sure there are plenty of people doing the same. And if you need a comforting dinner recipe, this post will not disappoint you. It has one of the easiest recipe of pasta made in the Instant Pot.
For the longest time our family is divided over Marinara and Alfredo! We have our preferences set and hate to tip over to the other sauce. There are times that I boil pasta and then make two sauces for us! In an effort to minimize effort, I sometimes make a totally different sauce like Pesto or Butternut Squash.


After a lot of deliberation, he two of us sort of agreed on a creamy red sauce that we both like. It has the creaminess like Alfredo and the tartness like marinara. It is a compromise but a rather delicious sauce! And the recipe never disappoints, I promise!
Why make pasta in the Instant pot?
Pasta is probably one of the easiest recipes to make. However, it needs a few pans and utensils, making it time consuming. When you boil pasta in a pan, drain it, transfer to a plate to cool and make the sauce in another pan! Finally mix everything and pasta is ready.


I hate these steps and so I love using the Instant Pot. It is a one-pot recipe, with no compromise on taste. Plus, it takes lesser time, given we are not draining, cooling or anything like that!
And the most important thing is that the Instant Pot recipe can barely yield soggy results, unless you do something totally absurd! It is a timed version so the pasta will not become mushy like they would if they cooked one extra minute in boiling water on the stove. I am sure this is enough to convince you to use the Instant Pot to make pasta.


How to avoid the BURN message on Instant Pot?
A lot of people dread the 'BURN' message on the Instant Pot. While a lot of recipes do end up with this message, pasta is a culprit in many cases. There are several reasons for this, but they can easily be avoided.
First reason for the burn message is that the vegetable used tend to stick to the base of the Instant pot and lead to the burn message while pressure cooking. Avoid this by deglazing the pan before adding the pasta.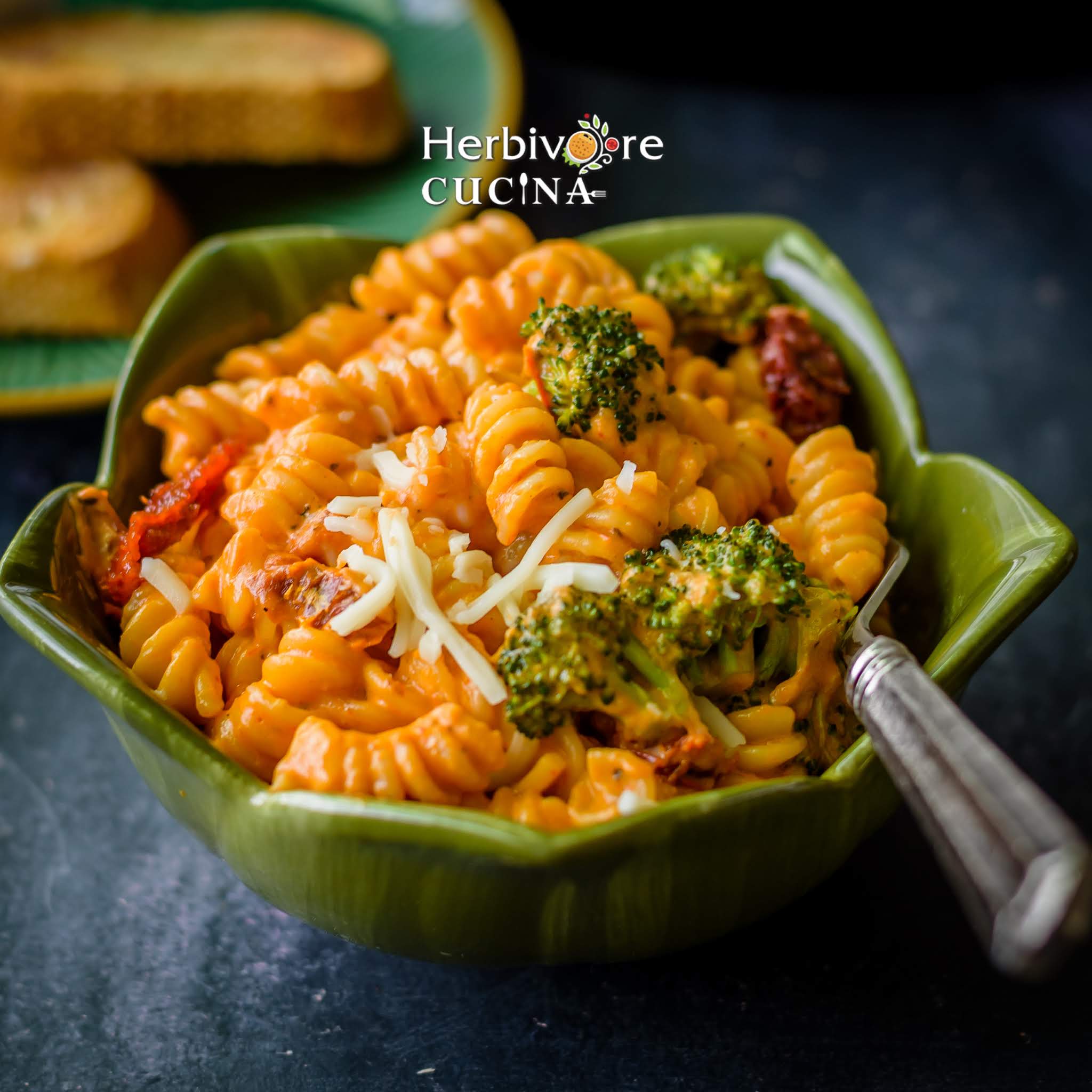 The next reason for the pasta to burn is less liquid. By nature, pasta will absorb a lot of water and end up being super dry, triggering the burn. So make sure there is atleast ½ inch liquid above the pasta level. That will be enough liquid to not burn the pasta.
If using store bought pasta sauce, remember they are super thick and can be a culprit to bring on the burn message. So remember to thin out the sauce with enough water or stock. Else, like I did, add the sauce after pressure cooking. Either way, it works well!


Want to try some more Instant Pot recipes? Try one of these:
Plus, join us on Facebook to find more Instant pot recipes!
Instant Pot Recipes Community
Public group · 3 members
This group is for sharing recipes made in the Instant Pot/ Electric pressure Cooker.



Ingredients
Dry Pasta 2 cups (I used Rotini)
Heavy Cream 1 cup
Vegetable Stock/ Water 1 ½ cup
Garlic 2 cloves, diced
Sun Dried Tomatoes ¼ cup
Broccoli Florets ¼ cup
Olive Oil 1 tbsp
Shredded Mozzarella Cheese ½ cup
Marinara Sauce 1 cup (store bought/homemade)
Pepper powder ½ tsp
Crushed Red pepper ½ tsp
Dried Oregano 1 tsp
Salt to taste
Method
Set the Instant Pot to 'Saute' and Normal. Add Olive Oil and allow it to heat. Add garlic and sauté till fragrant.
Add water or Vegetable Stock, Heavy Cream, Pepper powder, Crushed Red pepper and dried Oregano. Mix well.
Next add the Dry Pasta. Press 'Cancel'.
Now set the mode to 'Pressure Cook', pressure high and time to 6 minutes. Close the lid and set valve in 'Sealing' position.


Once the Instant Pot beeps, let the pressure release naturally for 5 minutes. Then move the valve to 'Venting' and remove excess pressure.
Open the lid. Mix well, add Marinara Sauce, Sun Dried Tomatoes and Broccoli Florets.
Once the pasta is boiling, add Shredded Mozzarella Cheese and mix well. The pasta is ready. Enjoy with some Garlic Bread!