Restaurant style Indian Chole recipe; garbanzo beans cooked in tomato onion curry. The recipe that takes super long on stove top can be made easily in the Instant Pot!
Chole or Chickpea curry is one of the most popular Indian curries. A super versatile curry that pairs brilliantly with breads, samosa or rice; chana masala is commonly found in Indian restaurants, events and parties!
The curry is popular by a variety of names and many styles of making it. With variations like no tomato version to boiling the beans with tea bags to get a dark color; every household has their own recipe for chana masala. And not to forget, some places call it call it chole, some chana masala and some Pindi chana.


I have tried several versions in restaurants across India and US. Here in the US there are a few Indian and Pakistani restaurants that make Chole really well. Served with a variety of breads; my favorite remains kulcha. Soft bread that pairs perfectly with chole; this combination is super popular across India.
The secret to make restaurant style chole is pretty simple. A couple of essential ingredients make all the difference. And the most important thing is patience. Soaking, boiling and simmering the chole in onion tomato curry yields the best chole.
However, sometimes we are in a rush and need a quick yet authentic recipe. The Instant Pot comes handy for those situation! It can be used to replicate the taste of slow simmering in spices. And once you are hooked on to this version, it is difficult to go back to the older recipe; I promise!


Why use the Instant Pot to make Chole?
The method I used to make Chana masala or Chole for so long was soaking the chana overnight or atleast 12 hours, boiling it in the pressure cooker and mixing it with a tomato onion gravy. While the Instant pot method is similar, now soaking is not a necessity.
If chole is not soaked, it can still be made in the Instant Pot. Here is how:
In the base of the Instant Pot add 1 cup water. Place the trivet and keep it ready. In a heat resistant bowl add 1 cup dry chole, 2 cups water and 1 teaspoon salt. Place the bowl on the trivet and close the lid.

Set the mode to 'Pressure Cook', time to 5 minutes and pressure to high. Close the lid and move the valve to sealing. Let the chole cook. Once the Instant Pot beeps let the pressure release naturally for 10 minutes.

Then move the valve to venting and release the remaining pressure. Open the Instant Pot and remove the container.


Here are a few more Instant Pot recipes that you must try. And before you get there, here are a few ACCESSORIES that are great for the recipe!
Love Instant Pot recipes? Head here to see all the wonderful recipes from bloggers and food lovers!
Instant Pot Recipes Community
Public group · 3 members
This group is for sharing recipes made in the Instant Pot/ Electric pressure Cooker.
Variations
In this recipe I used tomatoes for the sour taste. However, there are a couple of variations possible. Amchur powder is a commonly used powder in the recipe and the other options include tamarind and anardana powder.
Here I added minimum spices like cinnamon, cloves and bay leaves only. The rest of the flavor comes from the Chole Masala. However, if you do not like to stock your pantry with every kind of masala; just add garam masala and some peppercorns and cardamom. It gives a great taste for sure!
If you would rather use canned garbanzo beans for the recipe; it works too. Just drain the chickpeas and follow the recipe. Just adjust the time to 12 minutes and reduce water to 1 cup.


Ingredients
Chickpeas 1 cup soaked overnight or cooked as explained above
Onion 1 cup, diced
Tomatoes 1 ½ cup, pureed
Ginger 1 inch piece, grated
Garlic 1-2 pods, minced
Chole Masala 1 tsp
Turmeric Powder 1 tsp
Red Chili Powder 1 tsp
Cinnamon 1 inch piece
Cloves 2-3
Bay leaves 2-3
Amchur Powder ¼ tsp
Oil 3 tbsp
Salt ½ tsp
Lime Juice ½ tsp
Chopped onion and cilantro to top


Method
Add oil to the insert of the Instant Pot and set mode to 'Sauté' and normal. Once the display reads 'hot', add cinnamon, bay leaves and cloves. Once they are aromatic, add garlic and ginger. Sauté till it is flavorful and add onion. Mix well and cook till the onions are soft. It takes about 6-7 minutes.
Next add salt, chole masala, turmeric powder and red chili powder. Mix well and cook for a few seconds. Deglaze by adding 2-3 tablespoon water. Then add the tomato puree and mix well. Let the mixture cook for 7-8 minutes till it is bubbling.
Add in the chole and 2 cups water. Mix well. Close the lid, press 'Cancel' and press 'Pressure Cook'. Set pressure to high and time to 15 minutes and move the valve to sealing.
Once the Instant Pot beeps, let the pressure release naturally for 10 minutes. Then release the remaining pressure manually and open the Instant Pot. Add lime juice, amchur powder and adjust the consistency by adding water if required.
Serve topped with chopped onions and cilantro. Chole is amazing with bhature, puri, roti, kulcha or rice.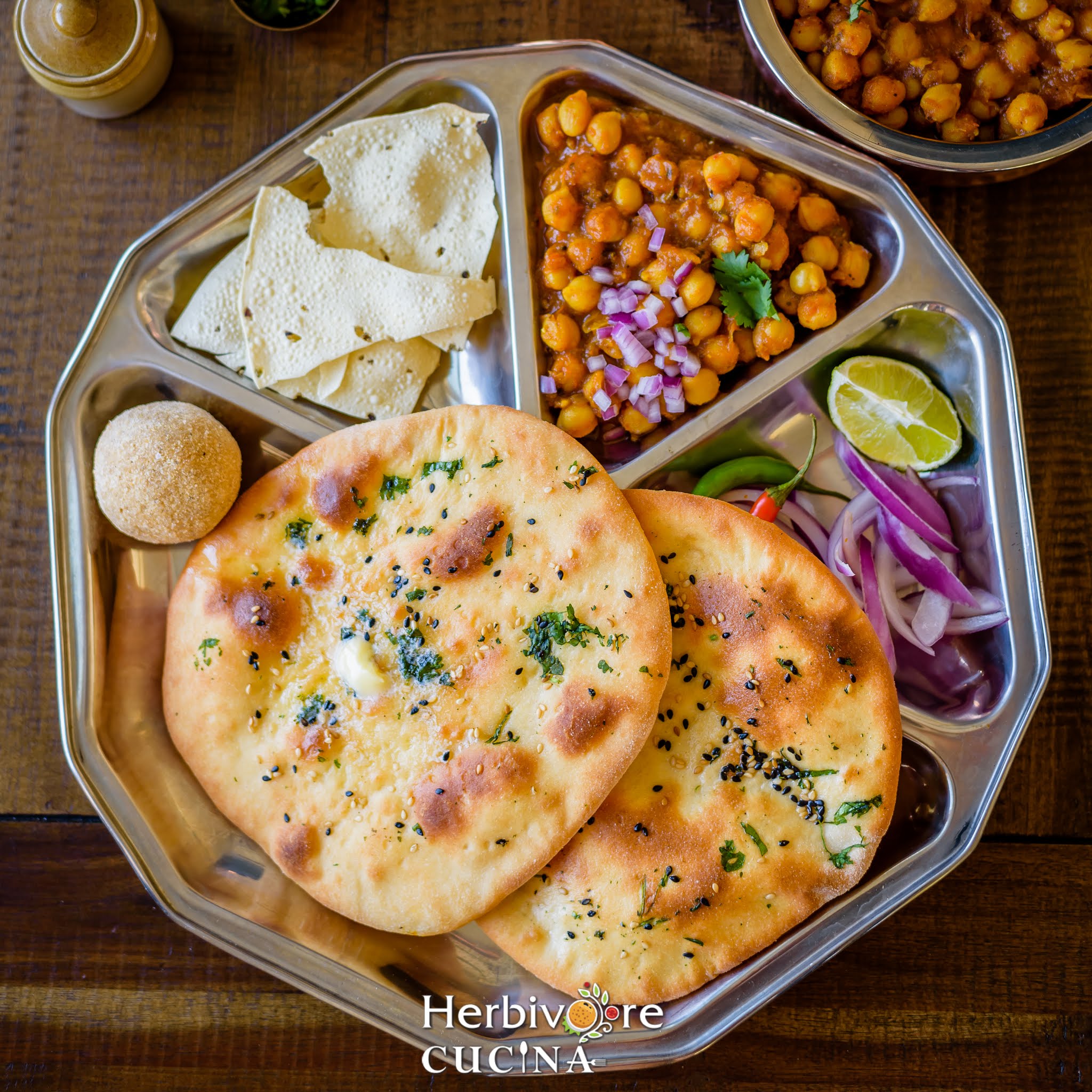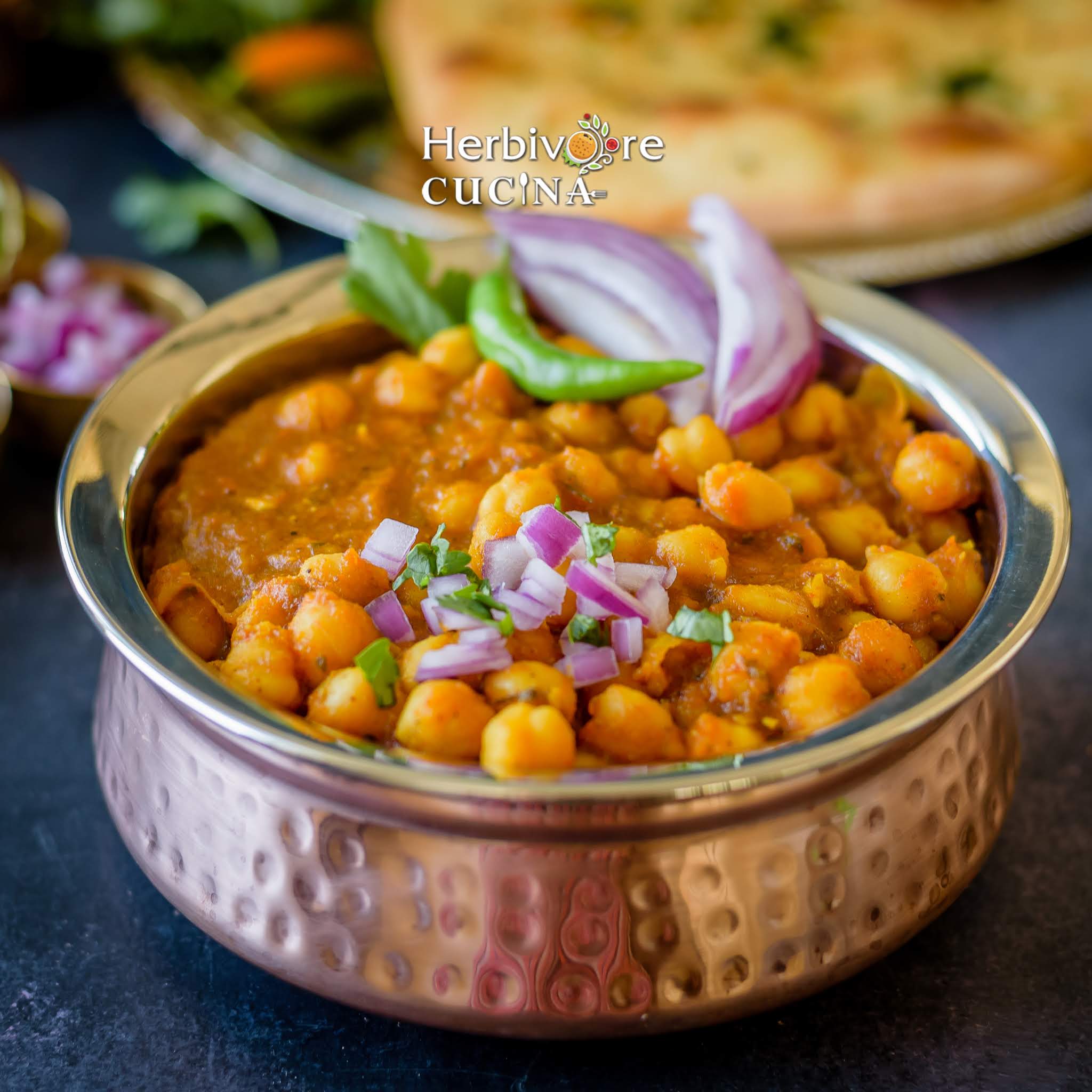 DISCLOSURE: WE ARE A PARTICIPANT IN THE AMAZON SERVICES LLC ASSOCIATES PROGRAM, AN AFFILIATE ADVERTISING PROGRAM DESIGNED TO PROVIDE A MEANS FOR US TO EARN FEES BY LINKING TO AMAZON.COM AND AFFILIATED SITES.