A popular Indian curry made from spinach and paneer (cottage cheese); Palak paneer is creamy and yummy plus really easy to make in the Instant Pot!

Some of the links below are affiliate links, meaning, at no extra cost to you, I will earn a commission if you click through and make a purchase.
Spinach is one of the vegetables I make pretty often at home. A versatile vegetable that is great for curries, with lentils, in soups and pasta sauces; spinach is amazing for dinner or lunch.
Out of ALL the recipes I make using spinach; Palak Paneer is our favorite. Pieces of paneer dunked in bright green curry and topped with cream; this Indian recipe pairs perfectly with roti, naan or rice. If you need a Punjabi favorite to go with the curry, try this with Missi Roti. It makes a great combination.
One of the popular recipes at most Indian restaurants, buffets and events; Palak Paneer has a LOT of variations and many people make it using different methods. A couple of ingredients might vary in different households and so do the method to make it.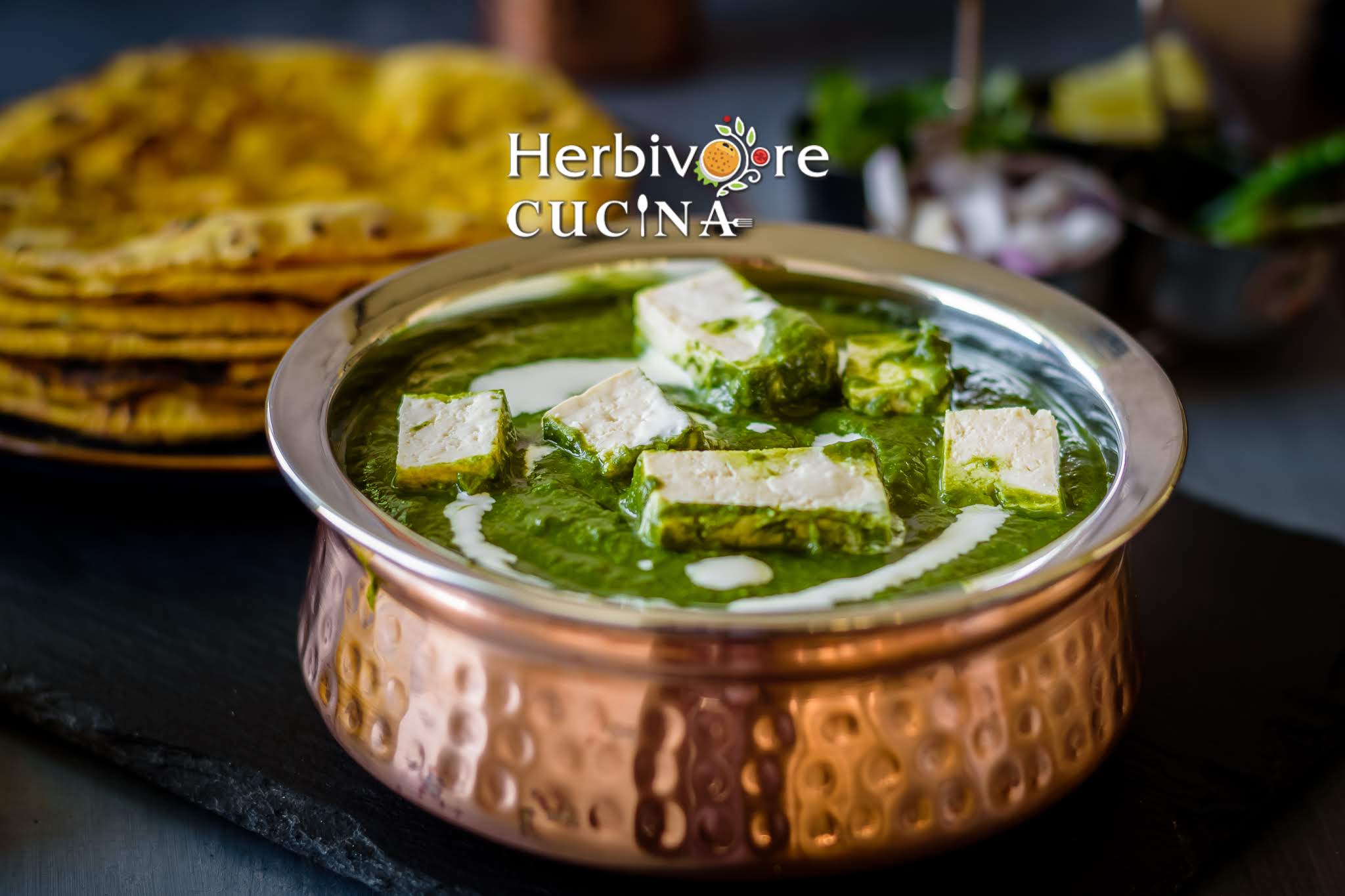 Video Recipe






How to keep Spinach bright green in the curry?


I love to make sure my spinach is bright green in my curry. When cooking the curry on the stove top, I blanch the spinach and use it. To do so, I boil water, add salt and sugar and then add spinach leaves to the hot water. Remove them in a few seconds. It helps keep the spinach green.
In the Instant pot, I skip the blanching. I like to quickly cook the spinach and and open the lid quickly after the cooking is complete. Letting the spinach sit for longer than 5 minutes after cooking will lead to a much darker green than I would like. Adding a pinch of sugar helps retain the green color too!
Looking for more Spinach recipes? Check these out:
Variations
The paneer used in the recipe can either be shallow fried or used as is. I make both the versions. When making in the Instant Pot, the paneer can be shallow fried first and then the curry can be made in the same pot. It is super quick and makes the paneer golden brown on the outside but soft inside.
I generally add cream for making the palak creamy. However, this can be substituted by unsalted cashew paste too. It makes the curry creamy too.
Finally the texture of the curry. I like to process my spinach to a smooth paste. However, if you like it with some crunch, do not make a smooth paste. Leave it with some bits in it.
How to serve Palak Paneer?


Palak Paneer is an Indian curry served with a variety of breads. Tandoori Roti, Naan, Paratha or Missi Roti taste amazing with the curry.
Rice dishes like Jeera Rice, Peas pulao or just steamed rice makes a great accompaniment for the curry too.
Lastly, I sometimes use the curry as a sauce for Indian style pizza. Just spread the curry on a pizza base and bake topped with cheese. It makes a great alternative to regular pizza!
So, now with all the information, I hope you try this curry! If you love Instant pot recipes, do not forget to join this FB group: Instant pot Recipes Community. It has recipes made in the Instant Pot by bloggers and food lovers!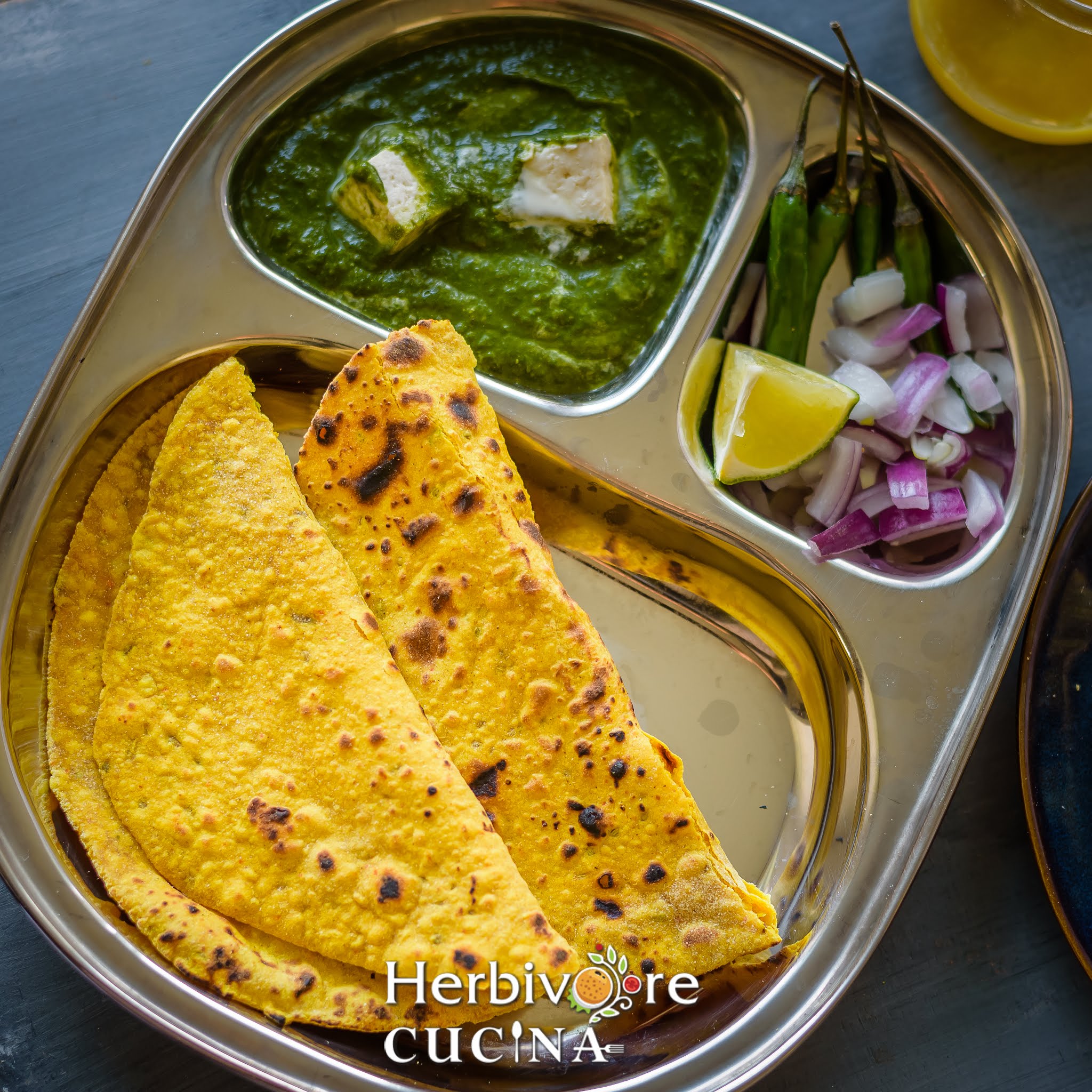 Ingredients
Spinach 4 cups, packed
Paneer 1 cup, cubed
Onion ½ medium
Tomato ½ medium
Garlic, ginger and green chili paste 1 tsp
Cream ¼ cup
Mustard seeds 1 tsp
Cumin seeds 1 tsp
Asafetida a pinch
Turmeric powder ½ tsp
Red chili powder ½ tsp
Garam Masala 1 tsp
Oil 2 tsp
Salt ¾ tsp
Sugar ¼ tsp
Method
Set the mode of the Instant Pot to 'Sauté' and add oil. Once the oil heats up, add mustard seeds, asafetida and cumin seeds.
Once the seeds pop, add the garlic, ginger and green chili paste. Let the paste sauté till the raw flavors vanish.
Next add the onions and tomatoes. Mix well and sauté for a minute. Then deglaze by adding ½ cup water. Add salt, sugar, turmeric powder and red chili powder. Mix well.
Once the water is boiling, add the washed and drained spinach. Once added, close the lid of the Instant pot.
Set mode to 'Pressure Cook' and Normal. Set pressure to high and time to 2 minutes. Move the valve to sealing.
Once the cooking time lapses and the Instant pot beeps, let the pressure release naturally for 5 minutes. Then release the remaining pressure and open the lid.
Mix well and puree using an immersion blender or a regular blender. Set the mode to 'Sauté' again and add Garam Masala.
Add the paneer and mix well. Let the paneer rest in the curry for 5-6 minutes to absorb the flavors.
Serve topped with cream. I like mine with Naan, paratha or Missi Roti.
DISCLOSURE: WE ARE A PARTICIPANT IN THE AMAZON SERVICES LLC ASSOCIATES PROGRAM, AN AFFILIATE ADVERTISING PROGRAM DESIGNED TO PROVIDE A MEANS FOR US TO EARN FEES BY LINKING TO AMAZON.COM AND AFFILIATED SITES.