We completed a month long Coking Carnival in the end of September. I took a short break from posting here and now I am back. This recipe is what I made for a barbeque potluck in late summer. The dish turned out pretty good and we had no leftovers. Though the proportions in this post are to make the entire packet, you can scale it down to make half the amount if required.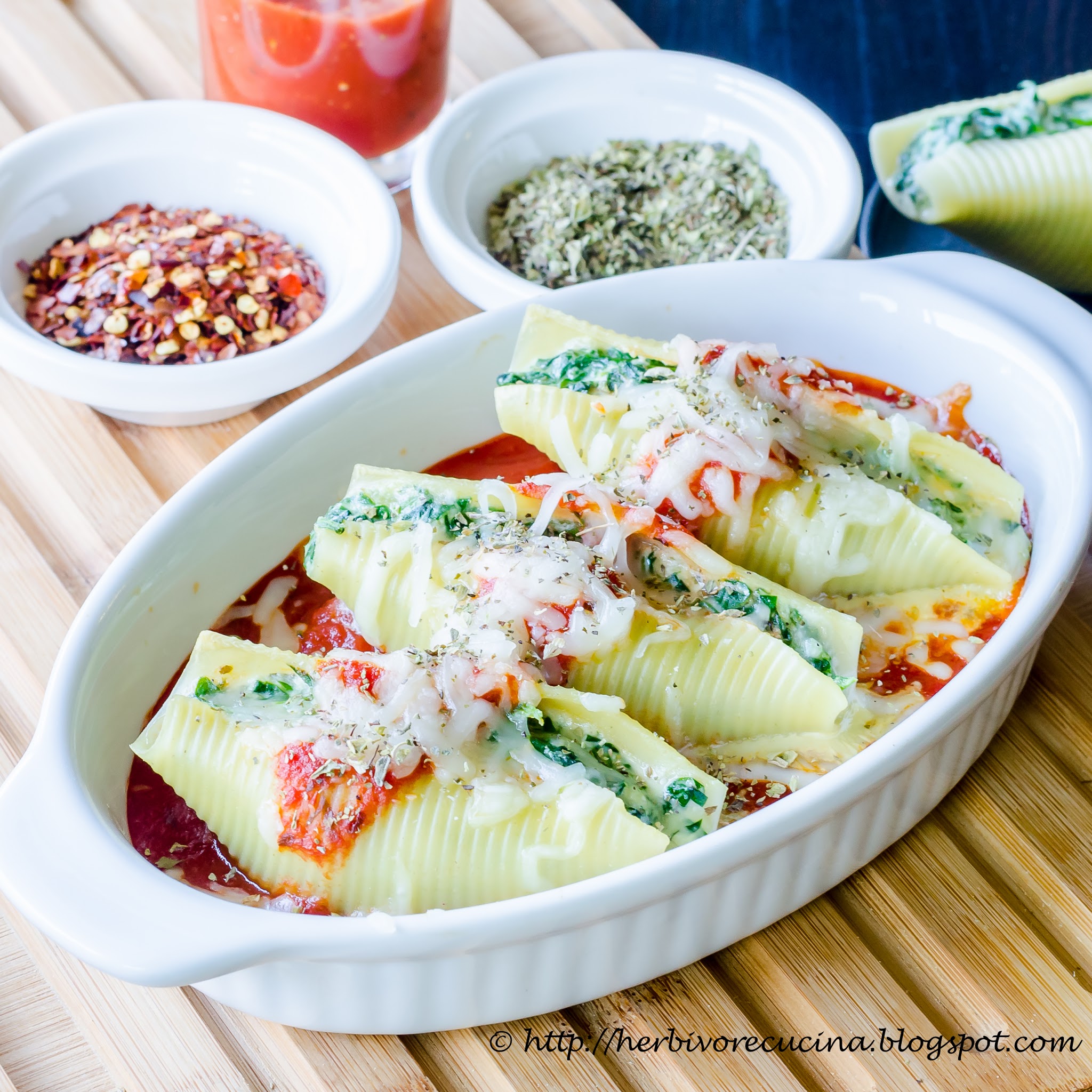 The first time I had this dish was at an aunt's place in Boston. She made a lovely version with spinach and cheese. I loved it so much that I had to make it at home soon. So, I too made this one stuffed with spinach. Along with spinach, I added ricotta cheese, cottage cheese and mozzarella. The same recipe can be made with pesto, pumpkin puree or any other filling of your choice.
The task of making this dish looks tedious, boiling the pasta first, then making the filling and finally baking it all together. But trust me, the effort is all worth it! The taste is super and the dish freezes really well too. Make a big batch and freeze the individual shells. To serve the dish, just add more marinara sauce and cheese and the dish is as good as it was!
Coming to substitutions in the dish, the same recipe can be used to fill cannelloni or any other pasta shapes. Plus, the filling can be changed to include or exclude ricotta and/or cheese. In case you cannot find either of them, adding paneer to the recipe works well too. In case you do not like marinara sauce, make the dish with alfredo sauce. It not only makes the whole thing yummy, but also super pretty! Do try this recipe, while I start working on a pumpkin version of the same before fall is gone.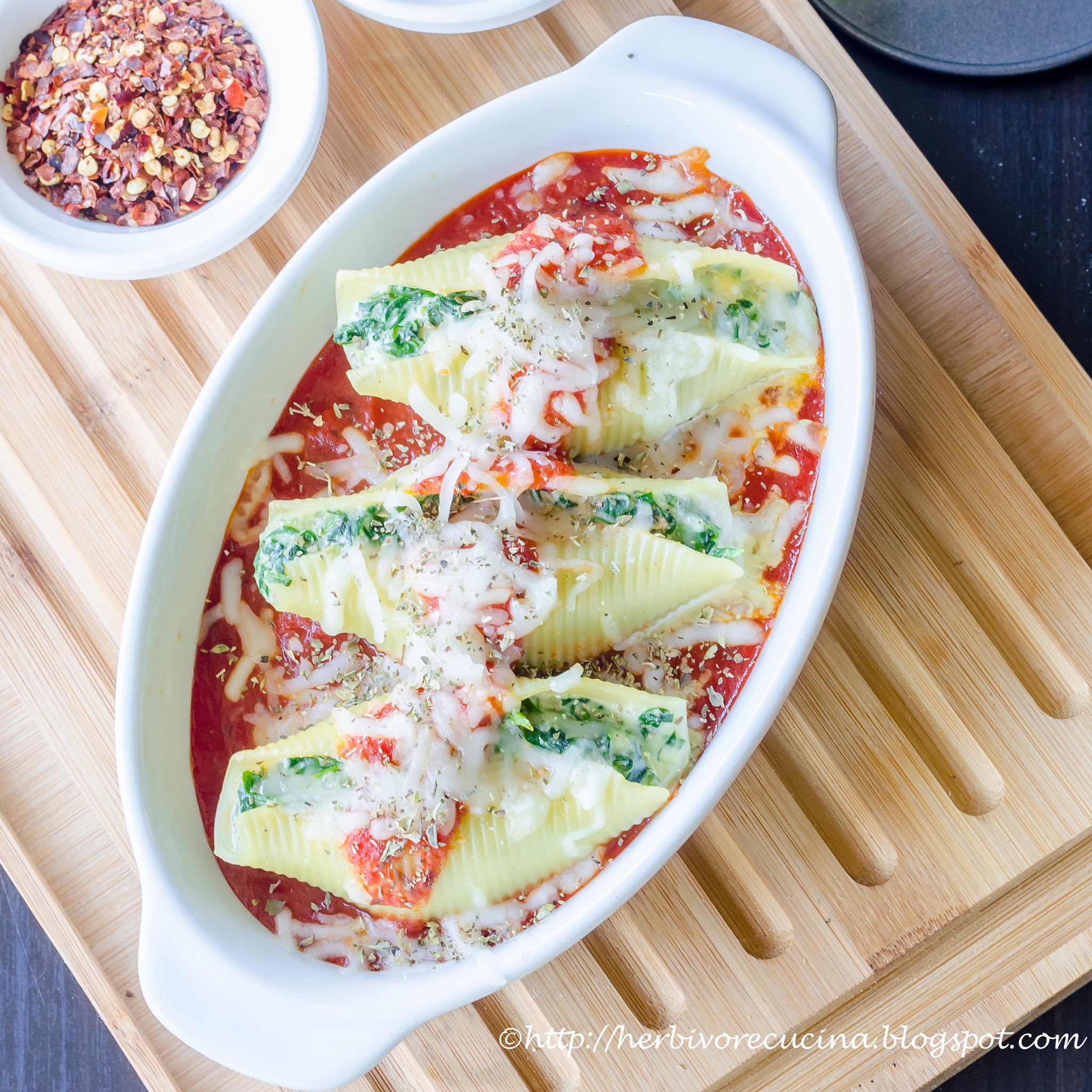 Ingredients
Shell Pasta 1 packet
Marinara Sauce (homemade or store bought) 2 cups
Mozzarella Cheese ¼ cup
Dried Oregano ½ tsp
For the Filling
Ricotta Cheese ¾ cup
Cottage Cheese 1 cup
Spinach 1 bunch, thinly sliced
Garlic 3-4 cloves, minced
Mozzarella Cheese ¾ cup, shredded
Olive Oil 1 tbsp
Dried Oregano 2 tsp
Chilli Flakes 2 tsp
Salt and pepper to taste
Method

To prepare the Pasta
Heat 6-7 cups water in a pan. Add a tablespoon of salt and bring the water to a boil. Add the pasta and cook till al-dante. Drain from the water and cool completely. Set aside.
To make the filling
In a pan heat olive oil. Add garlic and saute till soft. Then add the shredded spinach and mix well. Once the spinach starts to cook and becomes dry, add ricotta cheese and cottage cheese. Mix well and season with 1 teaspoon salt and 1 teaspoon pepper powder. Mix well and cook till it is dry. Add dried oregano, chilli flakes and combine. Turn the heat down and add shredded cheese once the mixture is cool. Set aside.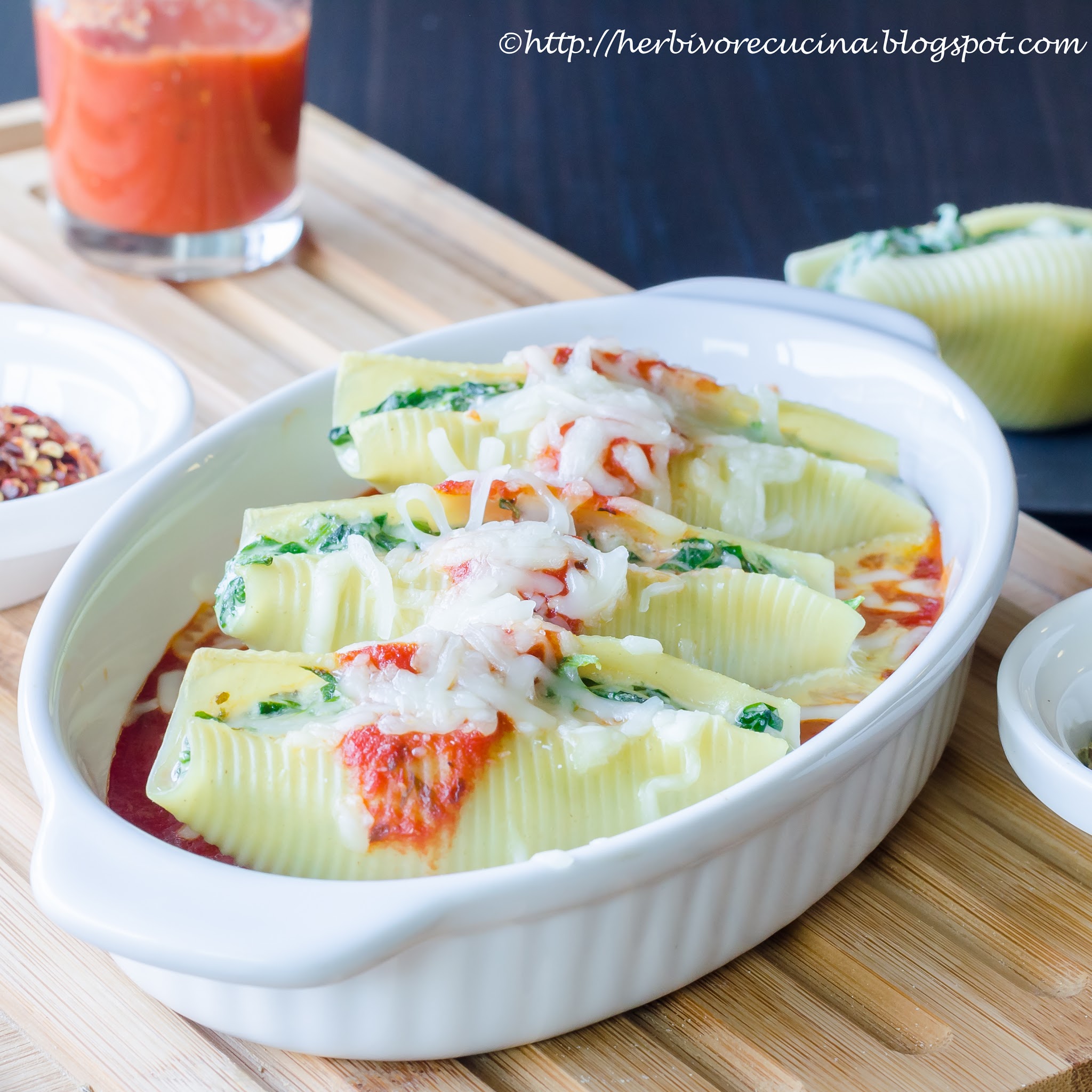 To assemble
Preheat oven to 350 F/ 200 C. In a large baking tray or individual serving trays, add some marinara sauce. Spread to form an even layer. Pick each shell and add 2 tablespoon of the filling. Press well and place the shell on the marinara layer. Leave some space between the shells so they do not stick.
Add some more marinara on top, sprinkle cheese and oregano. Bake for 15-18 minutes till the sauce starts to bubble and the cheese melts. Once done, remove and serve immediately. The shells can be frozen as well. To serve the frozen ones, just bake them at 350 F for 5 minutes and serve.