"April hath put a spirit of youth in everything."
- William Shakespeare
This quote is absolutely true. The month of April is such that everything from the flowers to the trees, and from the grass to the clouds are filled with a youthful freshness. Spring brings in joy that the cold days are gone and May is almost here!!
Spring is the month that we see colors everywhere. And how can we forget Kale, those green leaves that promise a unique nutty and fresh flavor in everything that we make with it. I love to add Kale in a lot of dishes, Indian or non-Indian. Today, I have added the leaves of kale to some spinach, lemon juice and spices to make a kale pesto. Process them together, and add the prepared pesto sauce to fettuccine or any pasta of your choice and a perfect week night meal is ready.
Ingredients
Fettuccine Pasta 2 cups
Kale Leaves 1 cups, packed
Spinach ½ cup, packed
Garlic 2-3 cloves minced
Onion ½ medium diced
Lemon 1, juice and zest separate
Olive Oil
Mixed Herbs, Salt, Ground Black Pepper
Mozzarella Cheese ¼ cup (optional)
Method
Heat water in a large pot and add salt. Once the water boils, add the fettuccine and cook till it is el-dente. You can use any pasta of your choice. Once done, drain and set aside.
Wash and separate the kale leaves from stems, add set aside. In a skillet add a teaspoon of olive oil and saute garlic in it. Add the onion and cook with a pinch of salt. Once done transfer the garlic, onion and the oil to a blender pot along with kale, spinach and blend to a paste. You may choose to keep it a little coarse too. Once processed, add lemon juice, lemon zest, pepper powder and mixed herbs. Use the pesto as required, and refrigerate the rest in air-tight container. This pesto can be used in salads, pasta or as a dip for chips.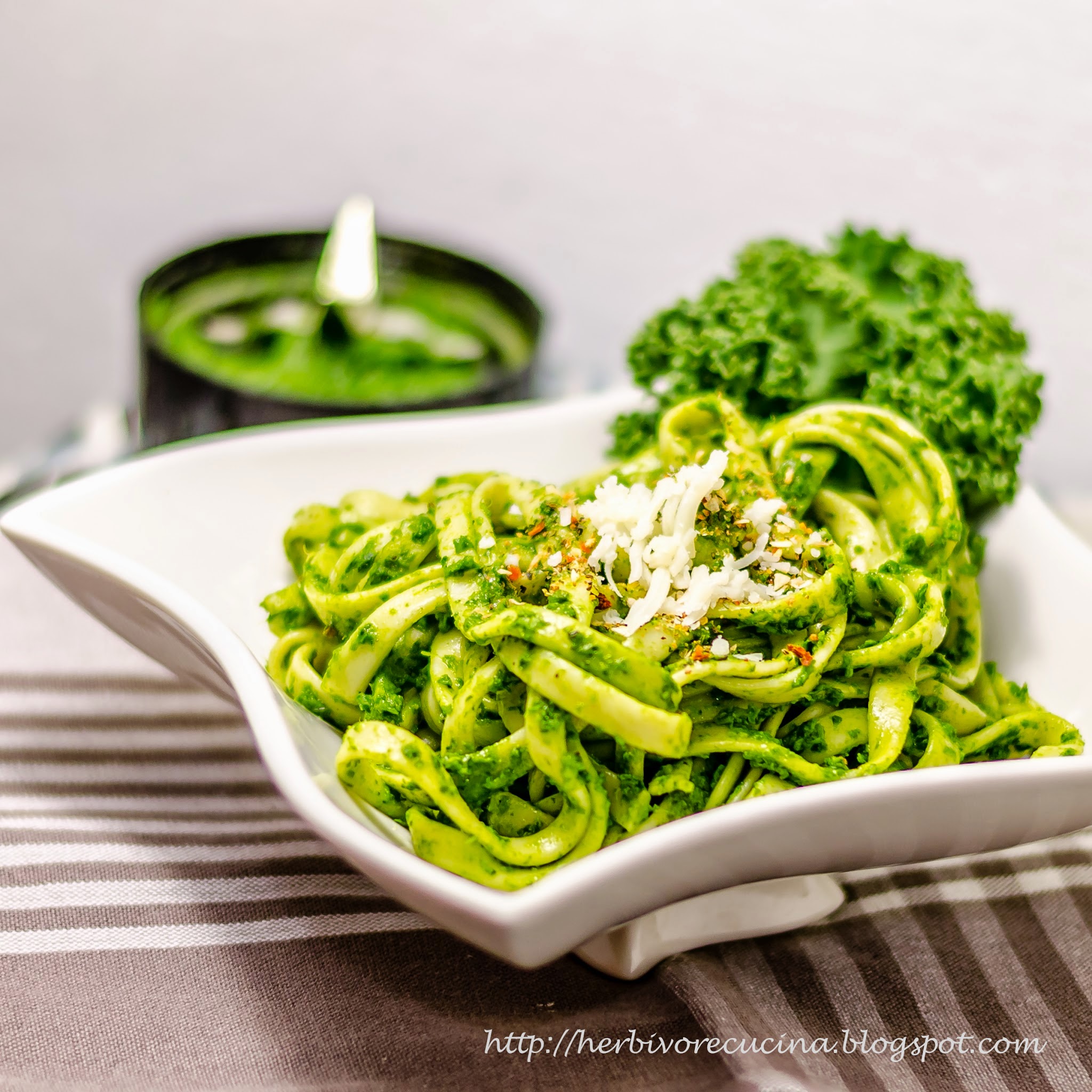 In a pan, heat a teaspoon of olive oil and saute any vegetables if you want to add to the pasta. I did not add any of that. Next add the pesto sauce and mix well. Put in the cooked pasta. Mix everything well and top with some shredded mozzarella cheese. This is absolutely optional. Serve warm with a bowl of soup and a side of herb bread.
Have extra Kale? Try this Kale Muthiya.