Velvety smooth Butternut Squash Soup made in the Instant Pot. With Thai flavors infused in the soup, this one is definitely a KEEPER through Fall and beyond!
We are racing through Fall and currently we are gorging on YUMMY soups atleast 3-4 times a week. From creamy soups and stews to broth based soups; we are enjoying them all. Vegetables, lentil, pasta and dals are making an appearance in a soupy form on the dinner table!
All year round I keep waiting for Fall and the delicious squashes the season brings with it. From pumpkin and butternut to acorn and spaghetti squash, we LOVE them all. Every year I enjoy all of them through the season but BUTTERNUT is by far my favorite squash.
The yummy taste, smooth silky texture and bright orange color always make me want to have it pretty often. Plus a versatile vegetable that is great in curries, soup and other recipes; this squash features on our menu very often. If you are a fan of Butternut squash like me, check out these recipes: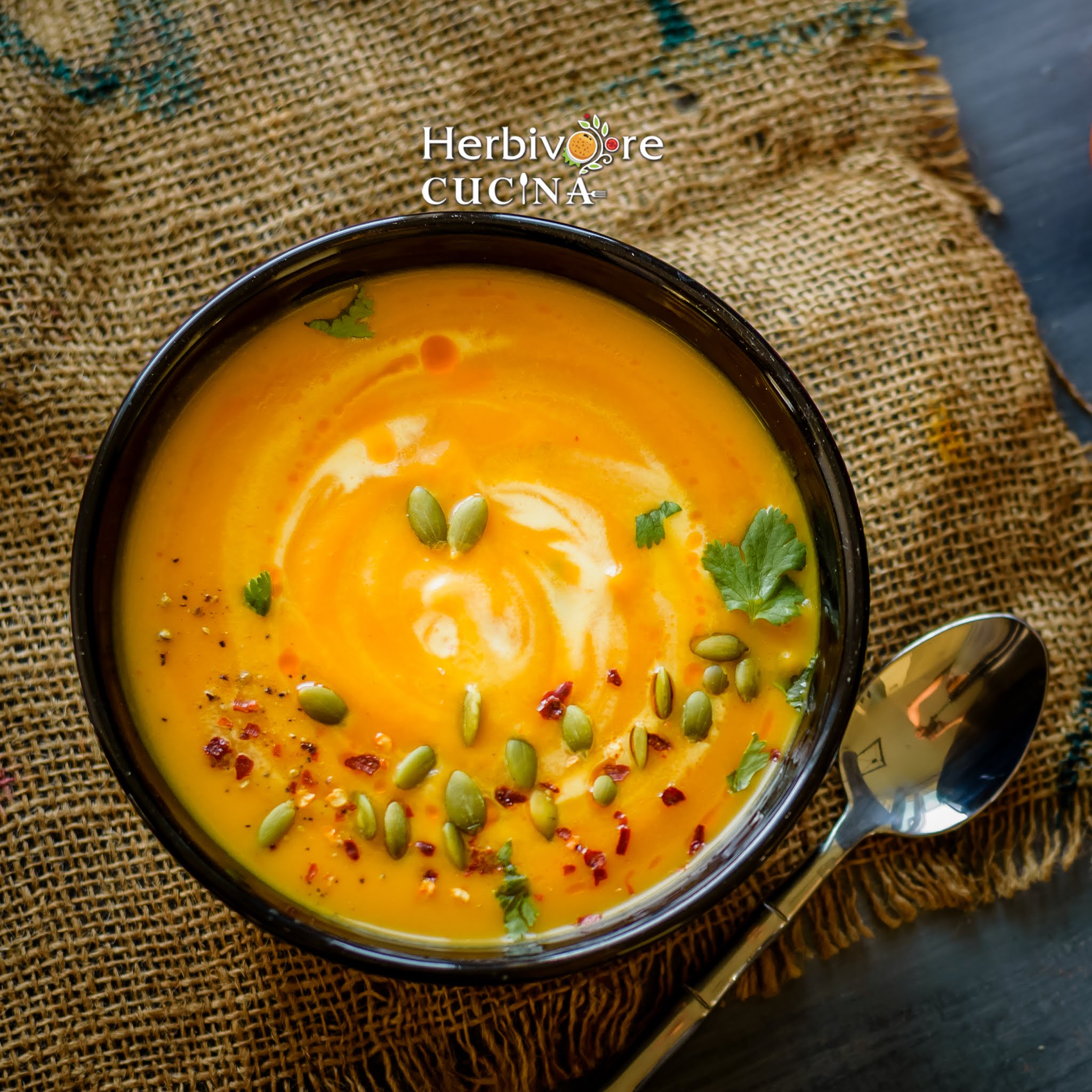 Why make this soup in the Instant Pot?
For the longest time I have been making pumpkin and butternut squash soup in a pan or pressure cooker. But since I started using the Instant Pot, I am loving the ease of using it for soups. The method is similar to the pressure cooker, but I love the consistency this one has.
Using the Instant Pot and an immersion blender, you can make almost all creamy soups really easily. I have tried a lot of them and they are all YUM! From spinach, tomato and pumpkin to celery and sweet corn; I make them all in the Instant Pot and loving it.
One of the BIGGEST advantage of the Instant Pot is that you can sauté and place all the ingredients in the pot in the morning and leave the device on a delay start mode. When you get back from work, the soup is ready to be pureed and served!
Just toast a few slices of bread or use a sour dough bread bowl to serve the creamy orange soup! Or whip up a salad and enjoy.
Looking for more Instant Pot meals? Try one of these: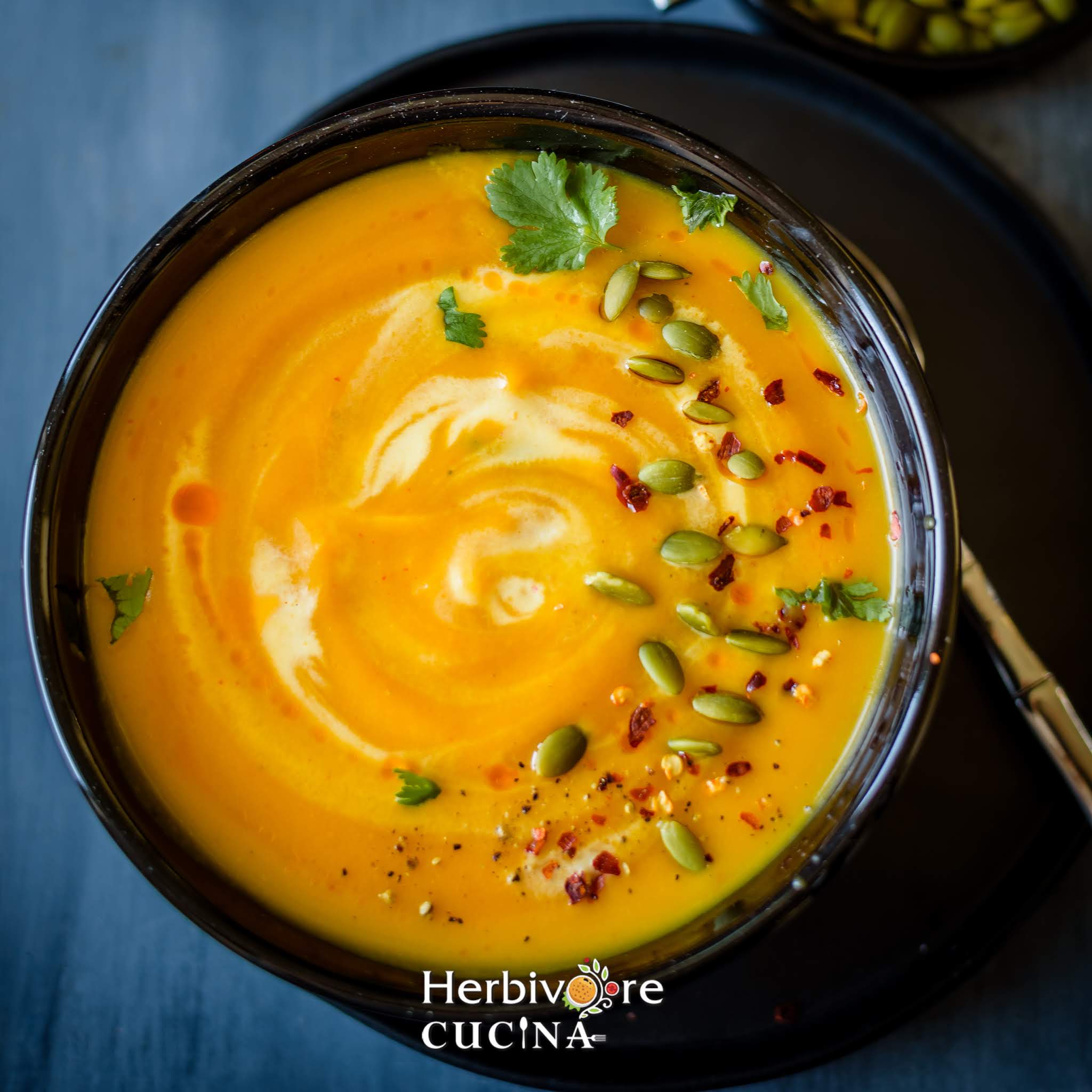 The Ingredients to make it YUM!


There are a LOT of recipes to make butternut squash soup. Some recipes call for roasting the squash, some add apples or pears in the soup. I like those versions too, but my favorite is this version.
I do love the sweetness of butternut in my soup but my husband loves spicy soups. So I add some Thai Red Curry paste in the soup to balance the sweetness. Plus, he LOVES a splash of chilli oil on top to make the soup a little spicy. It is optional and can be eliminated of you do not like spicy toppings.
I added a stalk of celery in my soup. The stalk is super flavorful and adds a lot of freshness to the soup. I would strongly recommend not skipping it. The other ingredients like onion, garlic and ginger can be added or left out based on preference.
Adding a pinch of turmeric in the soup goes a long way. However, if you do not have it or do not like it, leave it out. Adding some cayenne pepper to the soup is also a great idea!
Ingredients
Butternut Squash 1 medium
Onion 1 medium
Garlic 2-3 cloves
Ginger 1 inch piece
Celery 1 stalk
Red Curry Paste 1 tbsp
Turmeric Powder ¼ tsp
Oil/ Unsalted Butter 1 tbsp
Salt 1 tsp
Black Pepper Powder 1 tsp
Sugar ½ tsp
Water/ Vegetable Broth 1 ½ cups


To Garnish
Coconut Milk/ half and half ½ cup
Pumpkin seeds ¼ cup
Black pepper powder and Chilli flakes
Chilli Oil (optional)
Method
Peel and deseed the squash. Cut into cubes and set aside. Chop the onion and celery to 1 inch pieces. Mince garlic and ginger.
Switch on the Instant Pot and set the mode to 'Sauté' and Normal. Add oil or butter. Once hot, sauté ginger and garlic till the raw flavor vanishes. Next add onions and celery. Mix and let them cook for 1-2 minutes.
Next add the butternut squash pieces. Mix and add red curry paste, turmeric, salt, pepper powder and sugar. Let the squash cook for 2 minutes. Then add water or broth.
Mix well and press 'cancel'. Set the mode to 'pressure cook', high pressure and time to 7 minutes. Close the lid, set valve to sealing and let the soup cook.
One the time is done, let the pressure release naturally for 3-4 minutes and then release the remaining pressure.
Open the lid and use an immersion blender to puree the soup. Alternatively process in a blender.
Add in the coconut milk or half and half. Mix well and serve topped with pumpkin seeds, black pepper powder and chilli flakes. Add some chilli oil if using.