A great way to make weeknight dinner in under 30 minutes; this Thai Butternut Squash Curry is perfectly flavorful. Plus make steamed rice using the Pot-in-Pot method in the Instant Pot!

We are racing through October and finally it feels a lot like Fall! The trees are slowly becoming colorful, the air crisp and days shorter. Such things make us want bowls of comforting meals every evening.
What better than the Instant Pot to make these meals in under an hour and have our bellies full! Pumpkin and squashes are all around us and it the perfect time to make delicious meals using them.
Last weekend I got quite a few butternut squashes and wanted to make something apart from the regular soup. We had a truckload of Thai Basil in our yard and it was the perfect opportunity to make a Thai curry with the squash.
For the longest time out Thai curries have had tofu or vegetables. So this Fall I made a curry with the squash pieces. The result was PERFECT. Slightly sweet when you bite in, the curry was mildly spiced and had a TON of Basil flavor.
Why use the Instant Pot for the Curry?
Thai curries are something we love in our home. Served with either steamed rice or Curry Fried Rice, we love all our curries. Ever since I started making the curries in the Instant Pot, I have not gone back to the Stove-top version.
A simple to follow recipe of adding ingredients, stirring and cooking on high pressure; this recipe is NO-FAIL and yes, this NEVER gives me the dreaded BURN warning.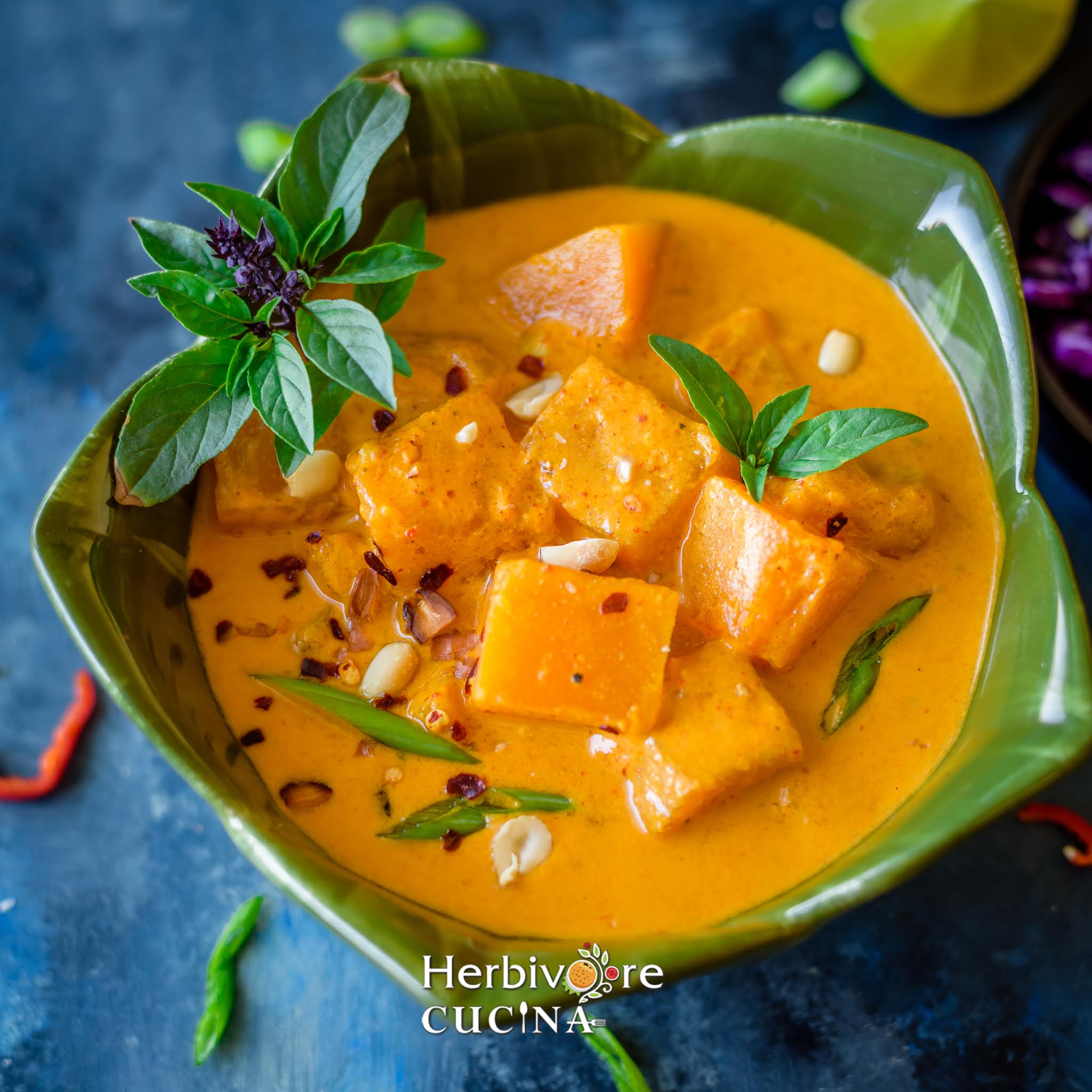 The Instant Pot method does not need stirring the pieces once they are added to the curry so minimizes the chances of getting a mushy curry. If making on the stove-top, we need to be a little cautious not to mix the curry too much else the pieces will disintegrate and make a mess!
Plus, a great way to make the curry and rice together; the Instant Pot has been a boon to get the entire meal together in a jiffy. Using the Pot-in-Pot (PIP) method is great to make this recipe in under 30 minutes.
If you are an Instant Pot fan like me, try these recipes from the blog:
Variations to the Butternut Squash Curry
I made this curry using butternut squash. However, the same can be made using pumpkins or potatoes. And yes, using assorted vegetables or tofu in the curry works well too. When the squashes are not in season, I like to make this with baby corn, pineapple, peppers, carrots and beans.
If you are not a great fan of red curry paste, use green curry paste. Full of flavors of galangal and basil, this curry tastes equally yummy. I have not tried using yellow curry with butternut squash, but I am sure that will be awesome too.
Ingredients
For the Curry
Butternut Squash 1 medium, peeled and diced
Onion 1 small, diced
Green Pepper 1 small, deseeded and diced
Garlic 2 clives, minced
Ginger 1 inch piece, minced
Thai Basil 4-5 leaves, chopped
Vegetable Oil 2 tbsp
Red Curry paste 1 ½ tbsp
Curry Powder 1 tsp
Soy Sauce 1 teaspoon (Tamari if Vegan)
Vinegar ½ tsp
Salt 1 ½ tsp
Sugar 1 ½ tsp
Red Chilli Flakes 1 tsp
Lime Juice ½ tsp
Thick Coconut Milk 1 cup
For the Rice
White Rice 1 cup
Water 1 cup and 2 tbsp
Oil 1 tsp
Salt ½ tsp
Method
In the base of the instant pot add the vegetable oil. Set the mode to 'sauté' and 'more'. Once hot, add minced garlic an ginger and sauté till fragrant. Add in onions and peppers. Mix and sauté for two more minute.
Next add the Red Thai curry paste and curry powder and sauté for a minute. Add in the coconut milk, salt, sugar and half the chilli flakes. Also add soy sauce, vinegar and shredded basil leaves.
Add more water if it is too thick for your liking. Stir well, add the butternut squash cubes and let it bubble for 2-3 minutes. Do not mix any more.
Also, wash the rice till the water runs clean. Add to a steel bowl and pour in water. Add salt and oil and mix. Place a trivet in the Instant Pot and place the rice bowl on it. Close the lid.
Press 'cancel' and then press 'Pressure Cook' and 'High pressure'. Set vent to 'sealing' and time to 3 minutes. Once the time is up, do a quick release. Remove the bowl if rice and fluff with a fork.
Add in lime juice to the curry and mix well. Top with spring onions, roasted peanuts, red chilli flakes and cilantro. Serve with steamed rice or make some curry fried rice using the steamed rice.