This post is sponsored by Real California Milk but the content and opinions expressed here are my own. #RealFoodRealSnacks
You will not believe the amount of vegetables I sneaked into these yummy Cheese Balls. Plus, baked to perfection, these are great for snacking or as an appetizer!
Who doesn't like a delicious snack that is yummy, easy to make and comes together quickly? If you are like that, this recipe MADE for you! A perfect way to sneak in a truckload of vegetables in your kids' snacks, these balls are cheesy enough for them to like and healthy enough for you to serve!
Whenever we sit down to watch a game or a movie, we love to snack on something that is crispy. While popcorn and chips are always a great idea, they are not the best when you munch on them too often! Plus, with zero vegetable or fruits or even nuts in them, I prefer to make something that has at least one of the above and more importantly, something that is non fried.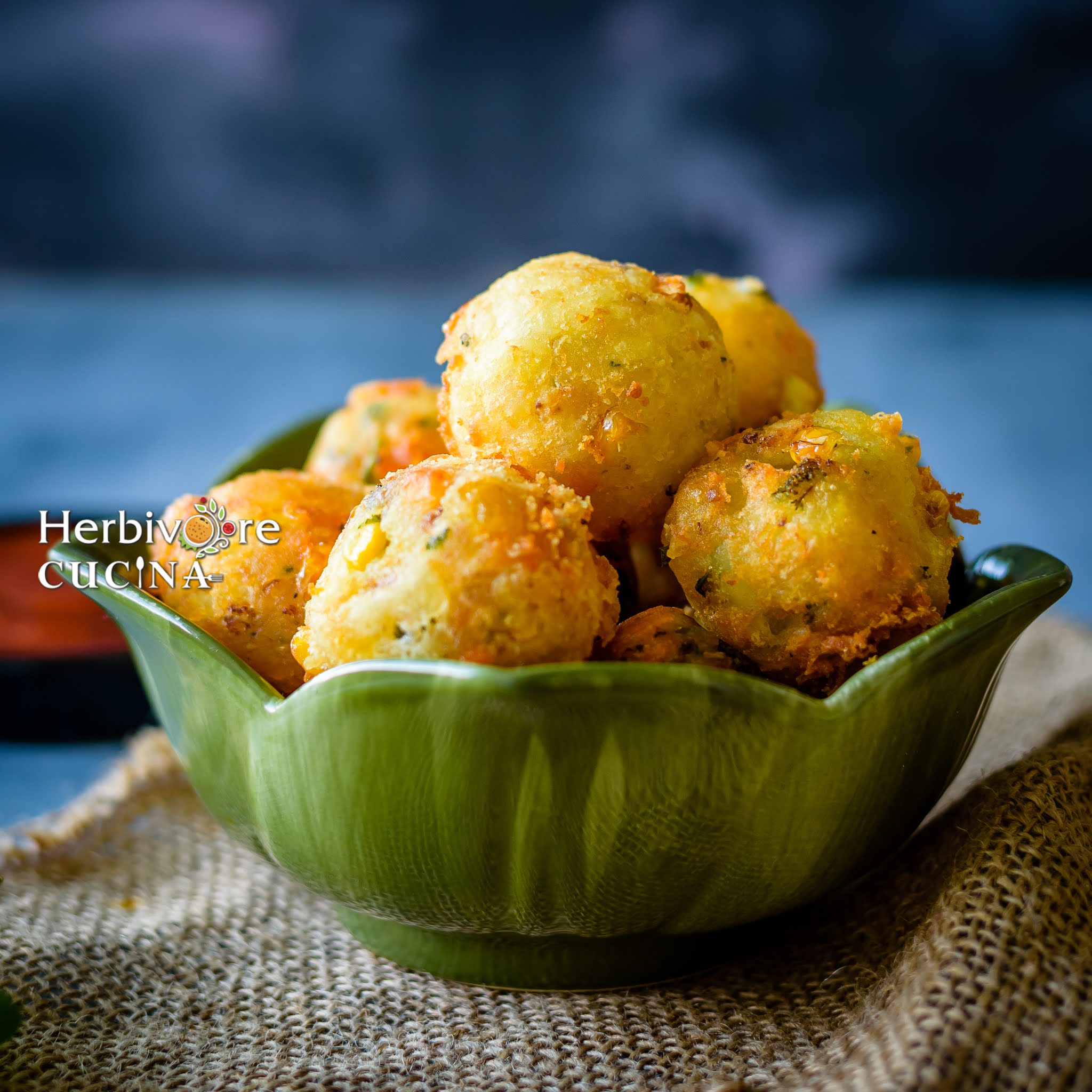 I made these cheese balls over the weekend and now I am sure I am making these for our next viewing party! While these balls have cheese in them, they have much more of vegetables in them. And given that they are 'cheese' balls, kids are bound to DIG IN!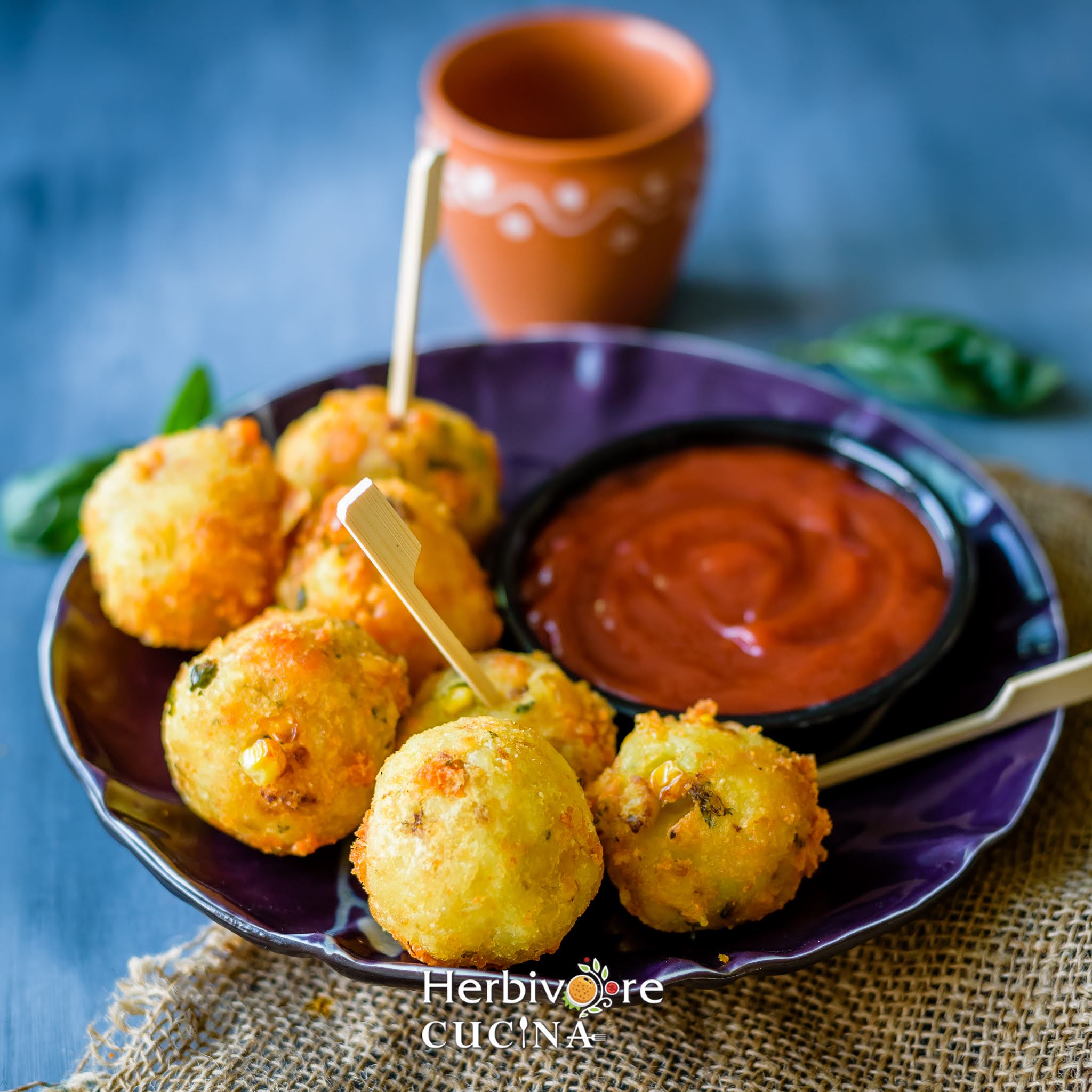 What makes these Cheese Balls SO GOOD?
For this recipe I started with a LOT of vegetables. The recipe can be modified to use your favorite veggies or anything that you find in the refrigerator. Avoid vegetables with a lot of water because they tend to make these balls soggy.
Along with the vegetables I added cheese. I used a block and chopped it into cubes, but shredded cheese works well too. Being in California I love to support brands that are local. I love the fact that this state is a source for quality, sustainable dairy foods. A healthy source of protein, California milk and dairy products are a healthy, tasty way to get essential vitamins and minerals. From butter, milk and yogurt to cottage cheese, cream cheese and drinkable yogurt; these dairy products are available with the Real California Milk seal. Find your favorite Real California Milk products here.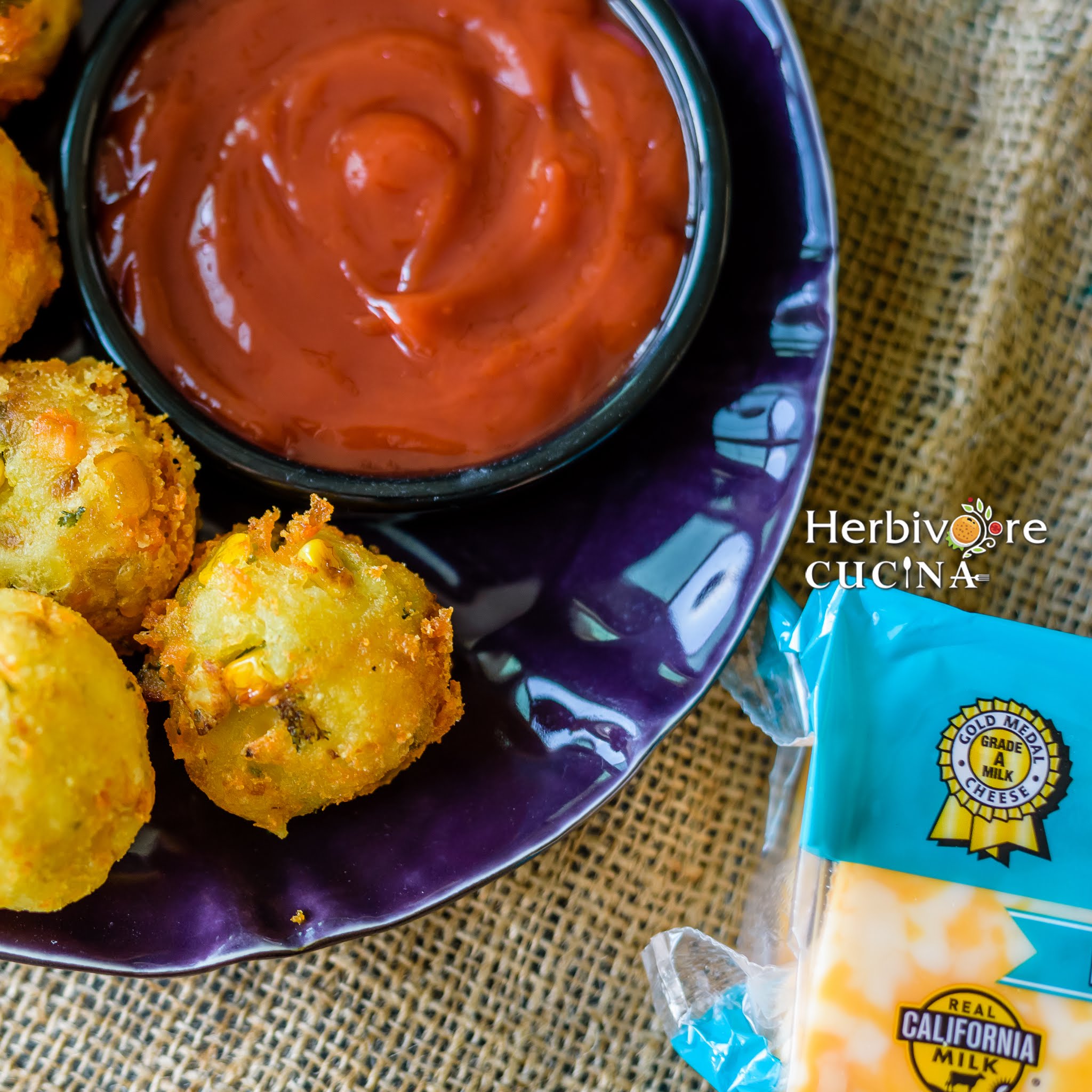 Variations
I used the vegetables I had in my refrigerator, but the recipe works well with a lot of vegetables. Add the ones and skip you do not have. But I would strongly recommend avoiding frozen carrots, spinach, cabbage, tomatoes, cucumber and frozen peppers. They tend to leave moisture when baked and make the balls mushy.
I added marbled pepper cheese but ricotta works well too. If you like another kind of cheese like cheddar or mozzarella, get your favorite California Milk cheese here. A LOT of brands have the BEST cheese that you can use in the recipe.
To make these balls, I baked them in the oven. If you have an abeliskiver pan (paniyaram patra), you can use that too. It needs just a little oil to cook the balls and works well. I would love to try this in the air fryer some day! If you are not watching calories, you can even deep fry the cheese balls.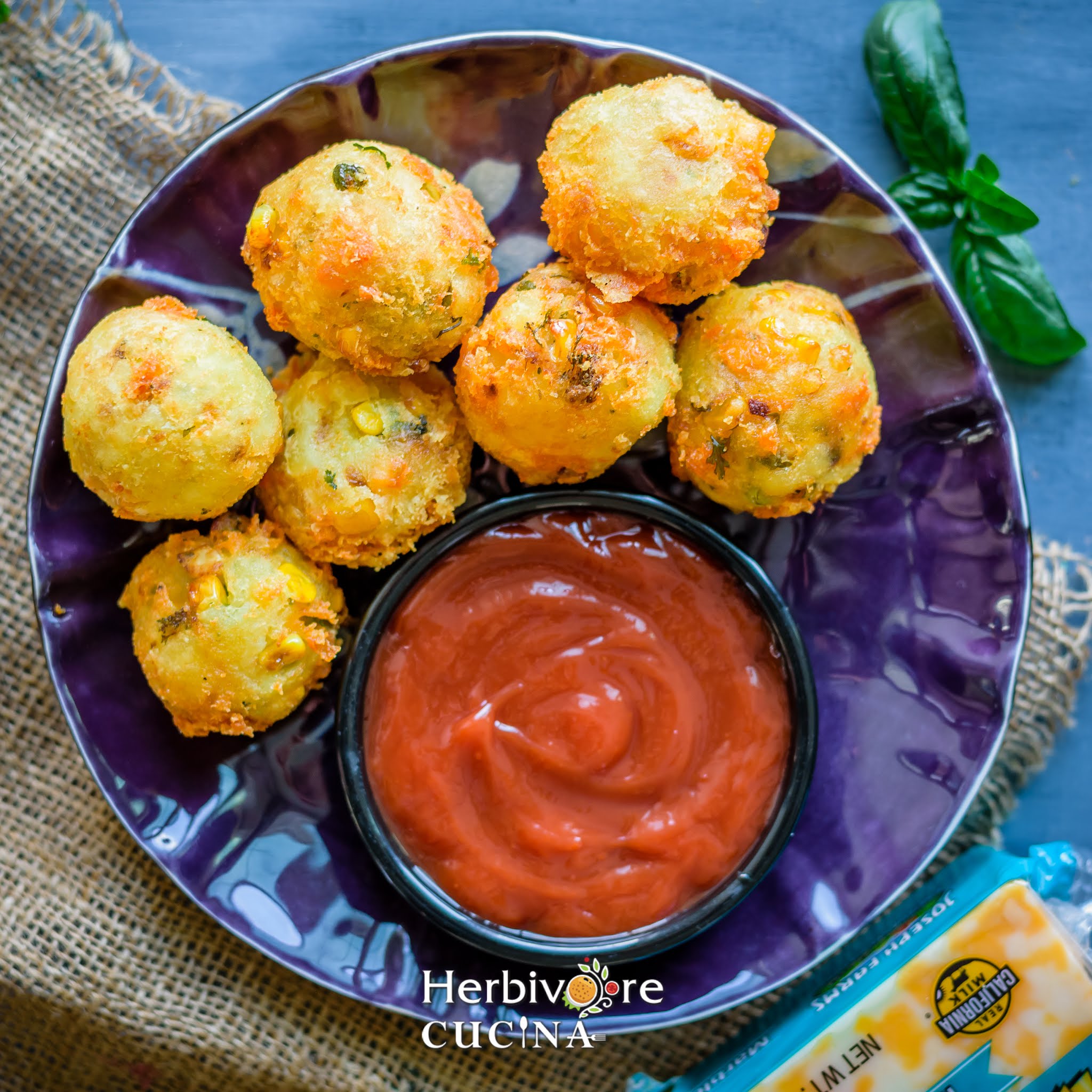 Ingredients
Potato 1 medium, boiled
Onion ½ medium, diced
Corn Kernels ½ cup
Green Peas ¼ cup
Broccoli ½ cup, diced
Cauliflower ½ cup, diced
Real California cheese ½ cup, cubed
Corn Starch 1 tbsp
Oregano 1 tsp
Salt 1 tsp
Non-stick Spray as needed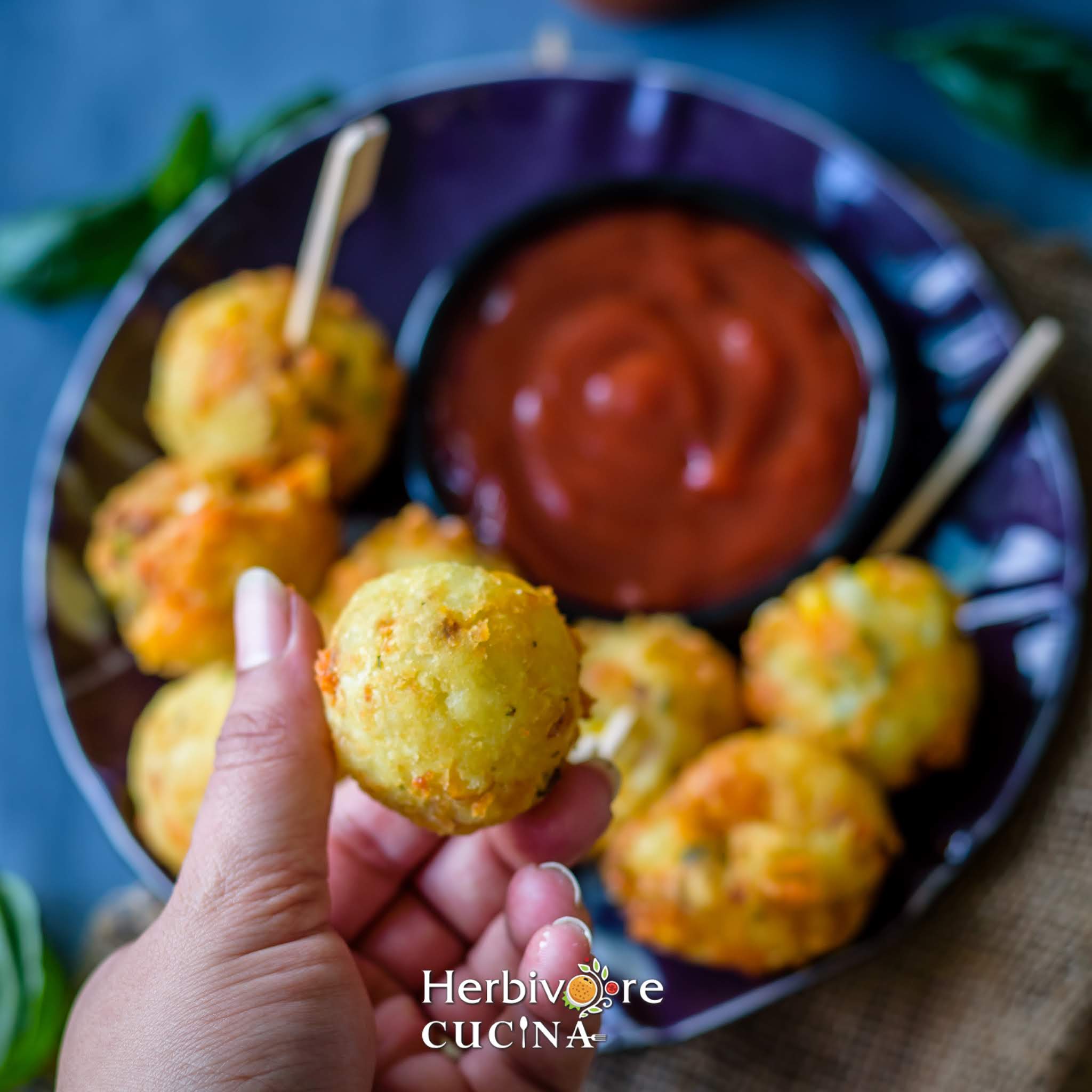 Method
Heat the oven to 350 F/ 180 C. Line a cookie tray with parchment paper.
In a bowl mash the potatoes. Add in the other vegetables, oregano and salt. Mix well.
Using a Real California Cheese of your choice (I used Marbled Pepper Cheese), shred or make small cubes.
Add the cheese to the vegetable mixture and mix well. Also add in the corn starch.
Make even size balls of the mixture and arrange on the cookie tray. Spray some non-stick spray and place the tray in the preheated oven.
Bake for 15 minutes, turning them over once after 7-8 minutes. Remove once golden brown and serve with your favorite marinara sauce or tomato ketchup.