Ready in under 30 minutes, this Instant Pot Vegetable Biryani is flavorful, delicious and easy to make. This recipe is definitely a keeper!
Vegetable Biryani, a PERFECT meal idea for weekday dinners and weekend brunch takes a LOT of time to make from scratch. Not if you have this wonderful device; Instant Pot.
I got my 7-in-1 Instant Pot recently and it is my favorite gadget already. From yogurt to soups, sprouts to rice dishes, I like to use my IP for everything. After trying multiple recipes many times, I finally decided to shoot and post them on the blog. So here is my FIRST Instant Pot recipe; a 30 minute Vegetable Biryani made from scratch.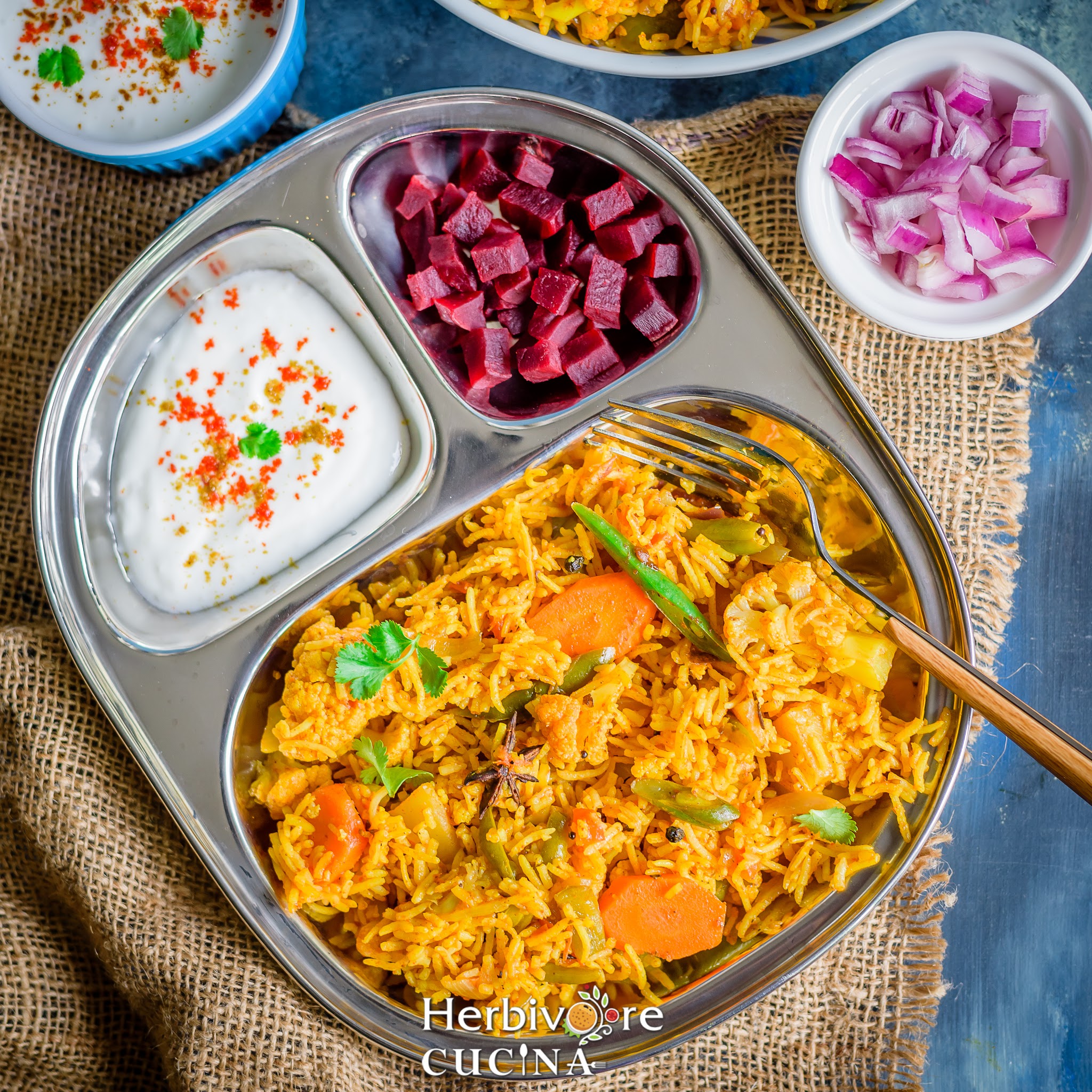 Being a Biryani lover, I like it to be yummy and well made. Making it from scratch takes over an hour and a half to make it. But after trying it in the IP, I cannot believe it comes together in under 30 minutes!
If you are new to this gadget, this recipe is great to start off. It has only a few steps and a sure shot recipe to make it awesome each time! The ingredient list might look intimidating, but I promise you it has only three basic types of ingredients; vegetables, spices and rice. It only looks crazy, it is pretty simple to put together this recipe and yes, it takes under 30 minutes!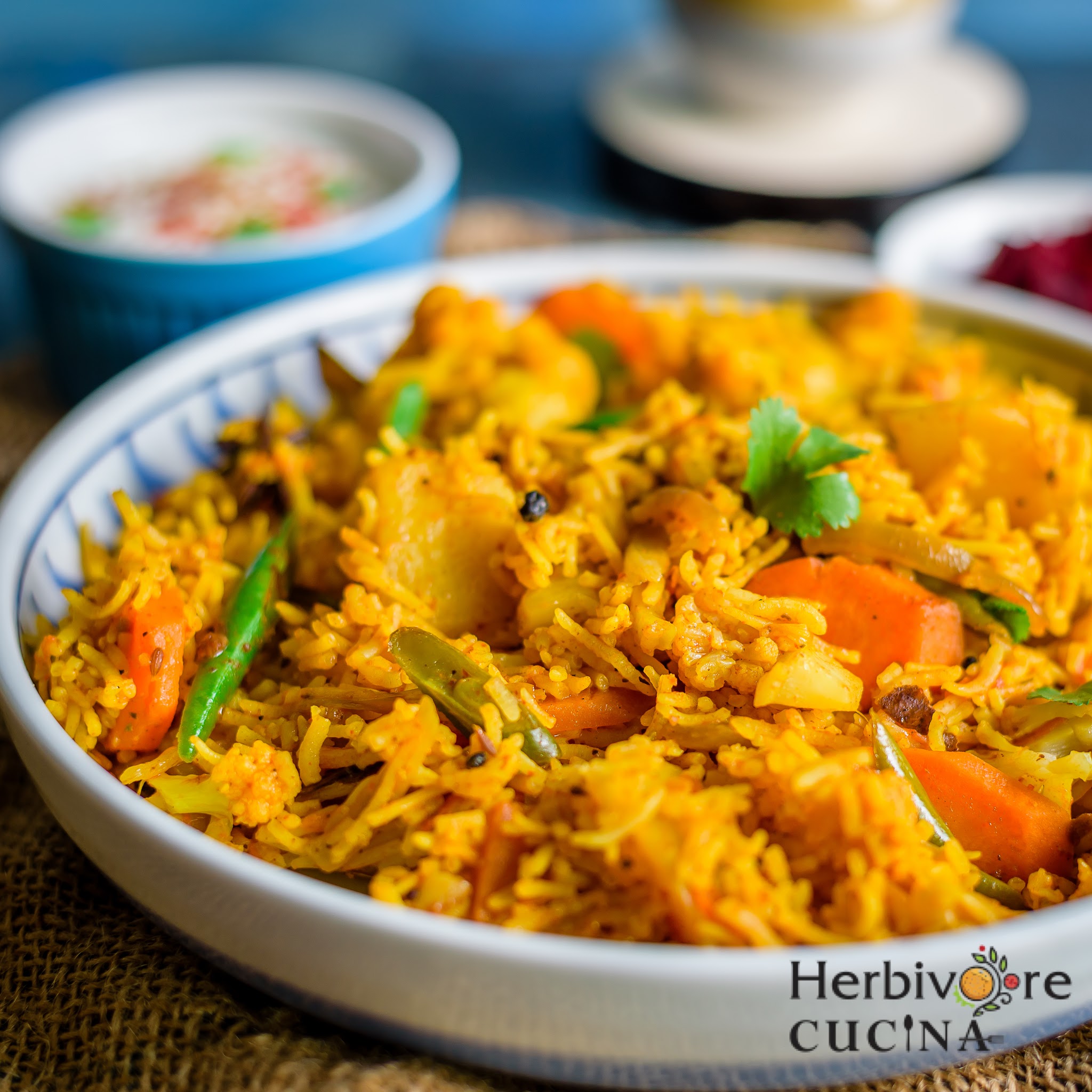 Are you a rice lover? You need to try one of these recipes too:
Coming to the recipe of this recipe, I have used mixed vegetables. It is more like a clean your fridge recipe. Grab the vegetables you find in the refrigerator, mix it with rice and cook it all with Indian spices. Serve with yogurt to complete the meal.
I have tried biryanis at various restaurants from different regions. From the biryani with red colored masala to the ones with paneer and brown colored masalas, they all have a signature ingredient or method to make them. In this recipe I used a mix of various styles by chopping the vegetables into larger pieces than I would for pulao and making a gravy using 2 tomatoes. These tomatoes turn mushy on cooking and makes the biryani nice and moist.
Variations
The BEST biryani is made from basmati rice. the flavor and fragrance of this variety is unmatched for Indian dishes. However, if you cannot find it, use any long variety of rice. Adjust the time if required.
Just like many of you, I have a couple of favorite brands for masalas. Many times my readers ping me to ask the brand I used. Here I have used Everest Biryani Masala, my favorite packet for all kinds of pulaos and biryanis. Pick your favorite or make your own. If you have a favorite recipe, do send the recipe to me too. I would LOVE to make my own version!
The vegetables in this recipe can vary based on liking and availability. Broccoli, mushrooms, babycorn and sweet peas are amongst my favorite vegetables to add in. Not to forget paneer! Marinated paneer makes the biryani even better, I promise!
Finally, for my readers who do not have an Instant Pot yet, you can make the same recipe in your pressure cooker. Most rice varieties can be made well in 3 whistles on medium flame.
So wait no further; just get everything together and start making this recipe for your weekend! And if you are looking for more vegetarian recipes, do not forget to join my latest FB group: Herbivore Cucina.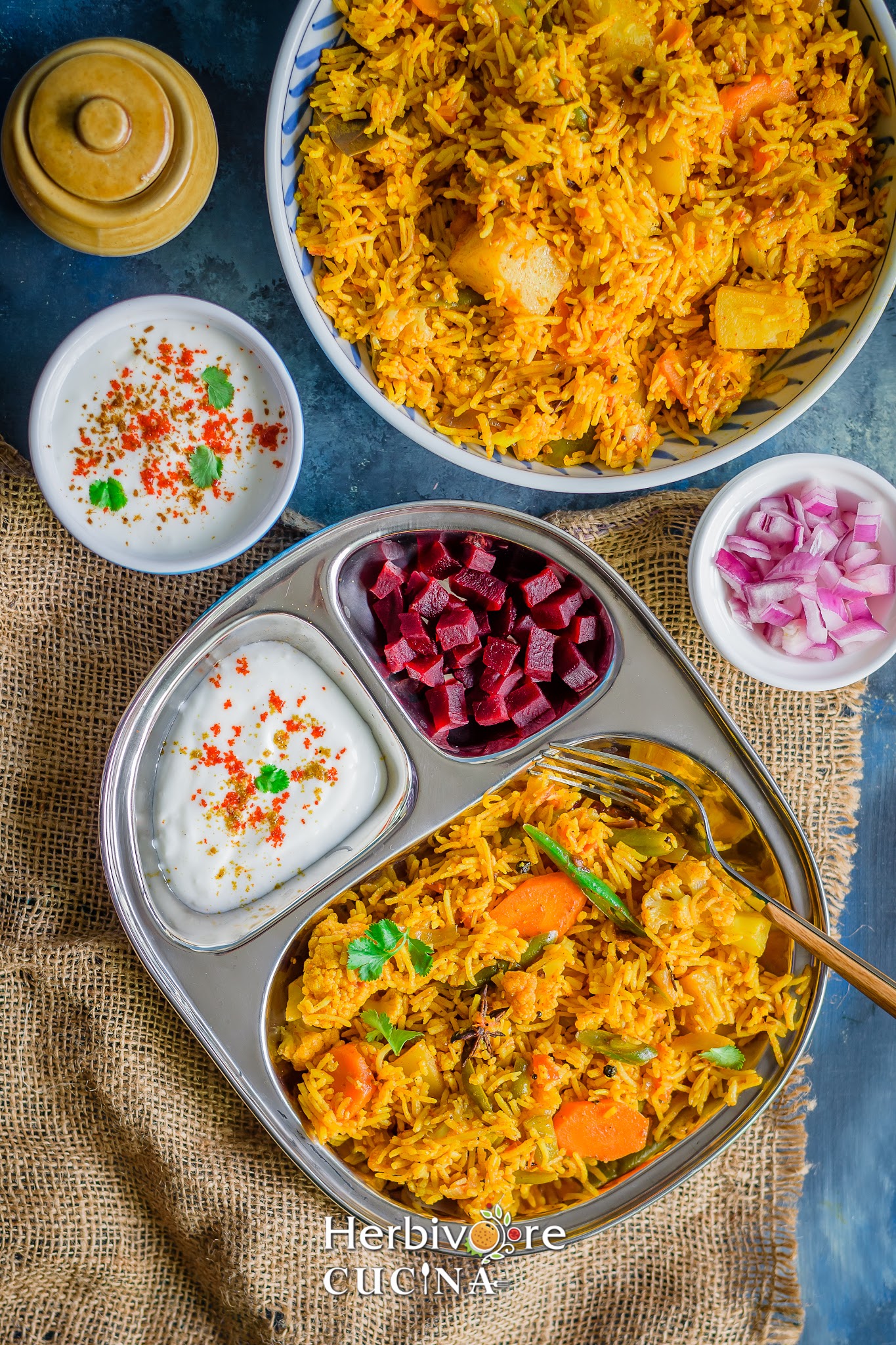 Ingredients
Basmati Rice 1 cup
Mixed Vegetables (Carrots, French Beans, Potato, Cauliflower) 1 cup, chopped
Garlic 1-2 cloves, minced
Ginger Chilli paste 1 tsp
Onion ½ medium, chopped
Green Pepper ½ medium, chopped
Tomatoes 2 medium, diced
Bay leaves 1-2
Cloves 3-4
Black Pepper 3-4
Star Anise 1
Mustard Seeds ½ tsp
Cumin seeds ½ tsp
Red Chilli Powder 1 tsp
Turmeric Powder 1 tsp
Garam Masala/ Biryani Masala 1 tsp
Yogurt ¼ cup
Oil/ghee 2 tbsp
Salt 1 tsp
Lemon Juice ½ tsp
Cilantro to top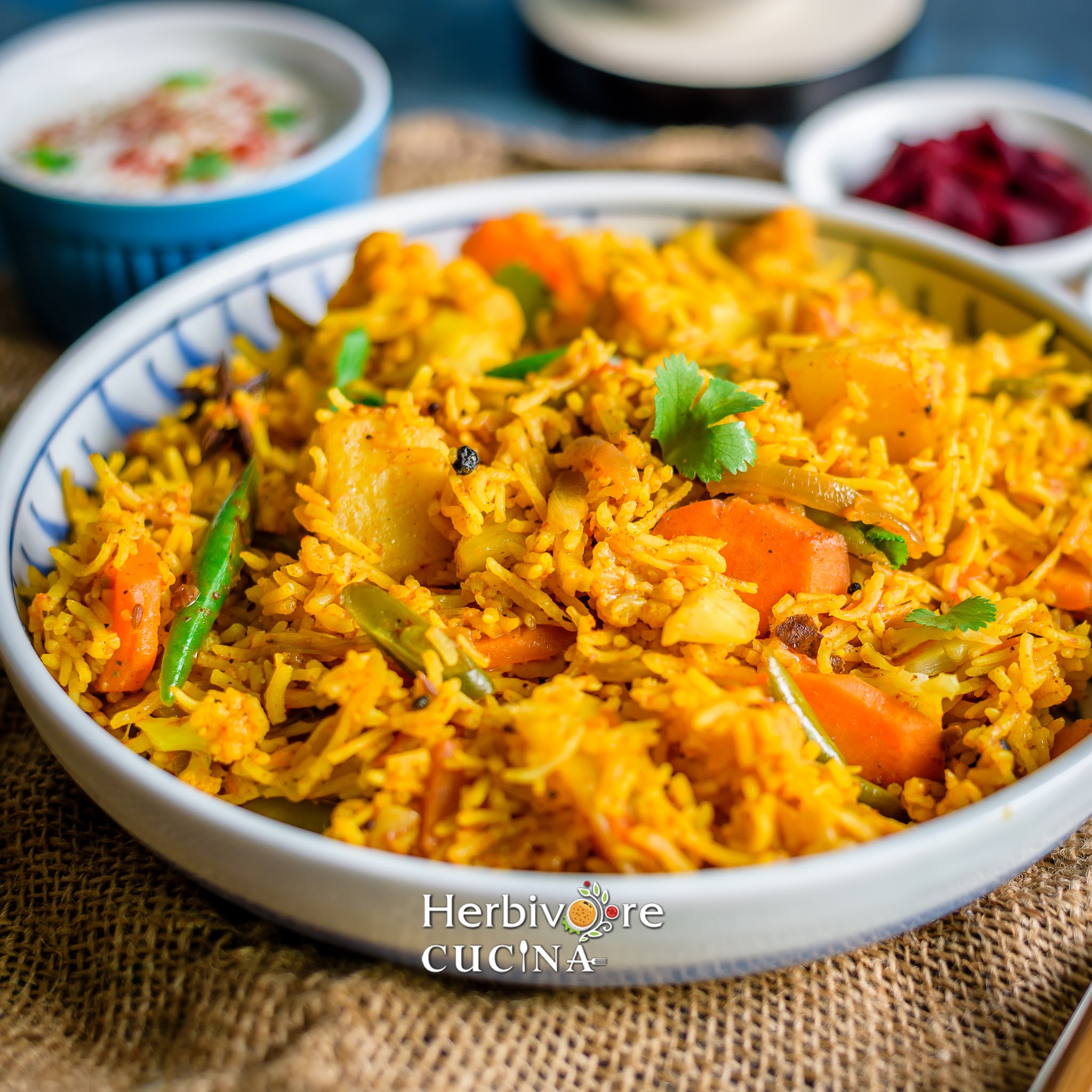 Method
Wash and soak the rice in 2 cups of water for 30 minutes and keep ready.
In the base of the Instant pot add oil or ghee. Set the pot to saute mode and select normal. Wait till the display reads 'Hot'.
Add mustard seeds, cloves, star anise and black pepper. Let them pop and add cumin seeds and bay leaves. Once the cumin seeds pop, add garlic and ginger chilli paste. Saute for a minute.
Add onion and pepper and saute for a couple of minutes. Add in tomatoes and mix well. Cook till the tomatoes are mushy. Whip the yogurt and mix it in.
Add salt, turmeric powder, red chilli powder and biryani masala. Mix well and add ¼ cup water. Mix well and add the diced vegetables.
Cook for a couple of minutes and add drained rice and 1 cup water. Close the lid, set the mode to Pressure Cook. Set the time to 6 minutes and Pressure level to high. Close the lid and set the vent to sealing.
Once the cooking process is complete, let the pressure release naturally for 2 minutes, then do a quick release.
Open the Instant pot, add cilantro and lime juice. Mix well and serve with Mixed vegetable raita and salad.