Spinach Dal is a flavorful blend of Spinach, yellow lentil and Indian spices. This one pot dal recipe is easy to make, delicious and healthy too!

Some of the links below are affiliate links, meaning, at no extra cost to you, I will earn a commission if you click through and make a purchase.
Dal is an essential part of Indian cooking. There are lots of dals prepared in households, restaurants and events each day. From all the different dals, Moong Dal is one that most people have a LOVE or HATE relationship with. Some love this lentil in everything and others feel it is too bland and boring.
I belong to the clan that loves moong dal. I use it pretty often in various recipes. From the regular tadka dal to Quinoa Khichdi and from Sookhi Moong Dal to Kale Dal. The dal is not very difficult to deal with, it only needs a couple of steps to get of right each time.
Today I am making a delicious lentil preparation with spinach in it. I like to make the recipe in the Instant Pot and it turns out awesome each time. The BONUS is that I make steamed rice using the Pot-in-Pot technique and it yields everything I need for dinner in one go!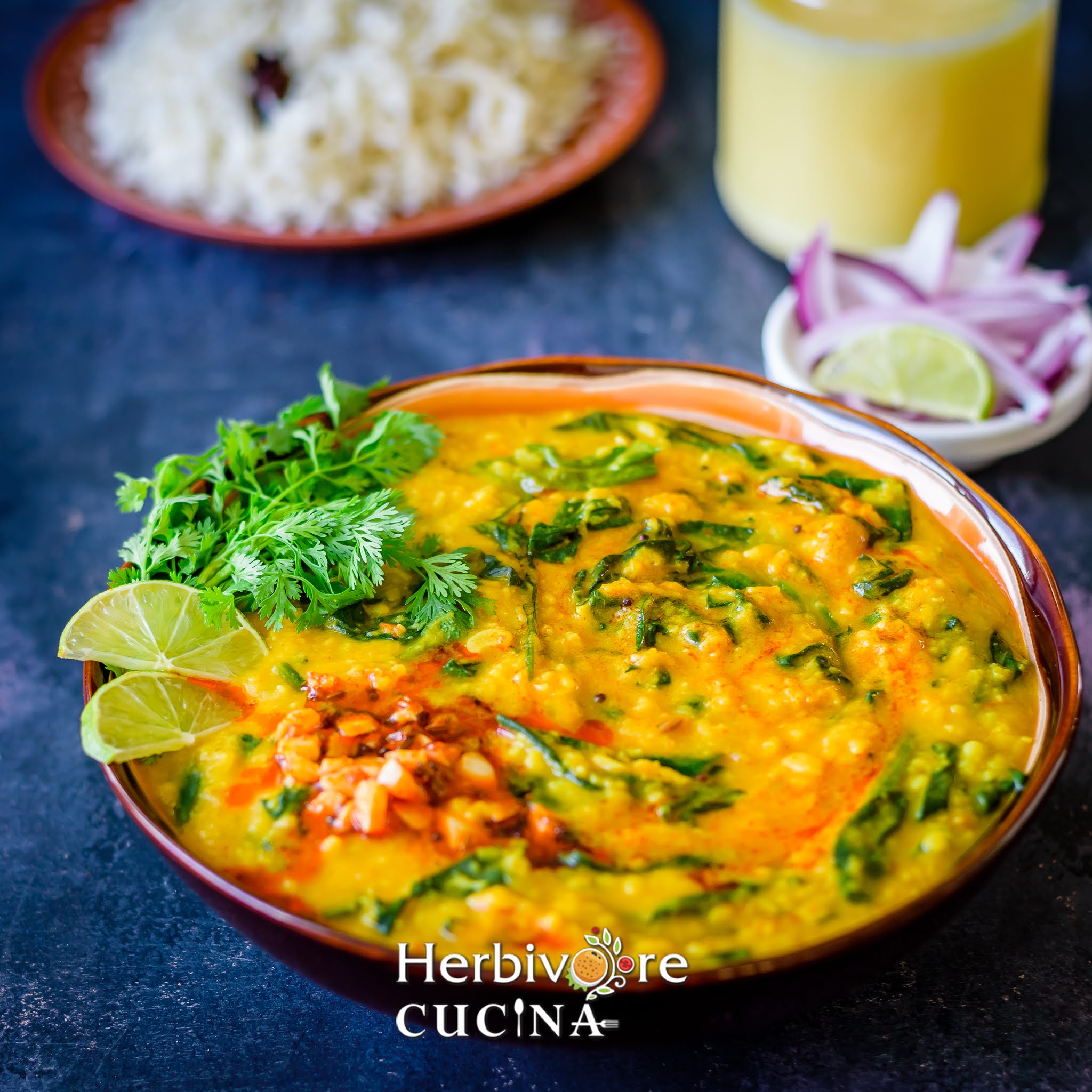 How to make Moong Dal perfectly each time?
While preparing moong dal for any kind of recipe there are a couple of steps that I follow. First is washing the dal 3-4 times till the water runs clear. If this is not done, the scum from cooking tends to accumulate in a layer above the dal. To prevent it, wash the dal well.
The second thing is water to dal ratio. If you need the dal to have each lentil separate, use just a little water. Like this recipe of Sookhi Moong Dal where we do not want the dal to become lumpy and disintegrate.
If you are making something like dal tadka or this palak dal, add extra water. That way the lentils cook perfectly and have a great consistency after cooking. Also, soaking the dal for 30-40 minutes before cooking works great too.
Adding a little ghee or oil while boiling the dal is often a way to cook the dal perfectly without the scum accumulating on top. As I have sautéed the ingredients first and then added the dal, I already have ghee in it. Else I would add some oil or ghee to my dal.
Looking for more Moong Dal recipes? Try these:
Making Palak Dal in the Instant Pot
This dal can be made using a regular stove top pressure cooker or in a pan. However, I like to make it in the Instant Pot as it helps make the dal as well as the rice at once.
Sometimes I finish all the steps except pressure cooking before hand and set the timer for later. That way, I just need to add palak and seasonings to the dal once it is cooked. That saves a LOT of time for sure.
Plus, the Instant Pot is perfect to make the rice along with the dal using a trivet and Stackable Inserts. That saves a lot of time and makes the recipe one pot! At the end of the cooking cycle, there is just the Instant Pot and a ladle to wash!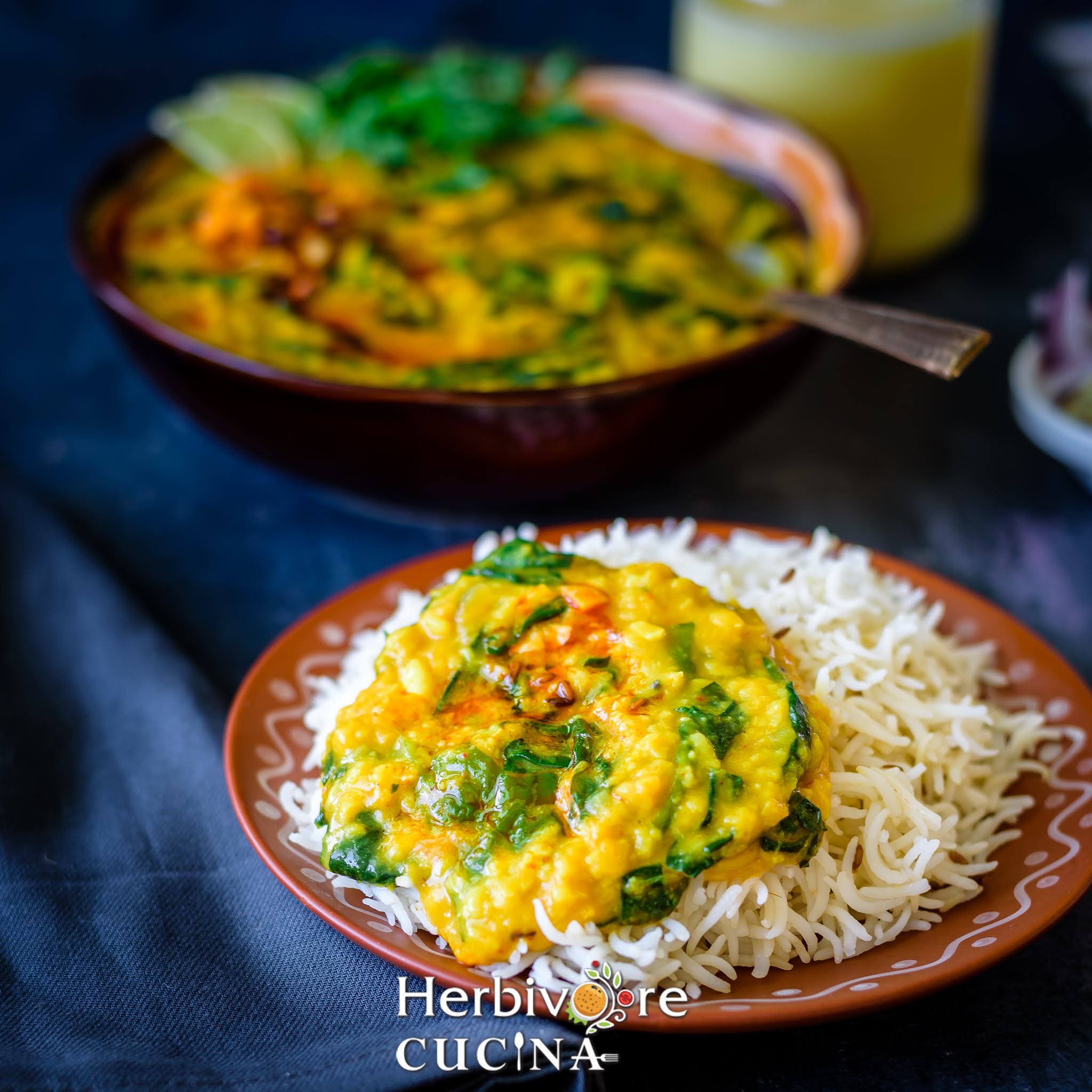 Variations
For the recipe I have used baby spinach leaves. These do not need to be chopped a lot. But if you cannot find that, use regular spinach and chop them to smaller pieces.
Besides, this dal can be made with any kinds of greens to make it a saag dal. Collard, Kale, Beetroot leaves or mustard greens are all perfect in this. Certain greens like mustard need some extra time to cook, so add them and cover with a glass lid to cook them for 4-5 minutes before serving.
The dal I used in this recipe is yellow petite lentil. The same recipe can be made using Green Moong Dal, Toor Dal or a mix of multiple dals. The cooking time remains the same for these, just the water content changes.
Lastly, I added some minced garlic and red chili powder to ghee and topped the dal with that. This is for some extra garlic flavor and can be skipped. If you like the prominent taste of garlic, this is really great!
Looking for more Instant Pot recipes? Join us on Facebook: Instant Pot Recipes Community and find many more recipes there.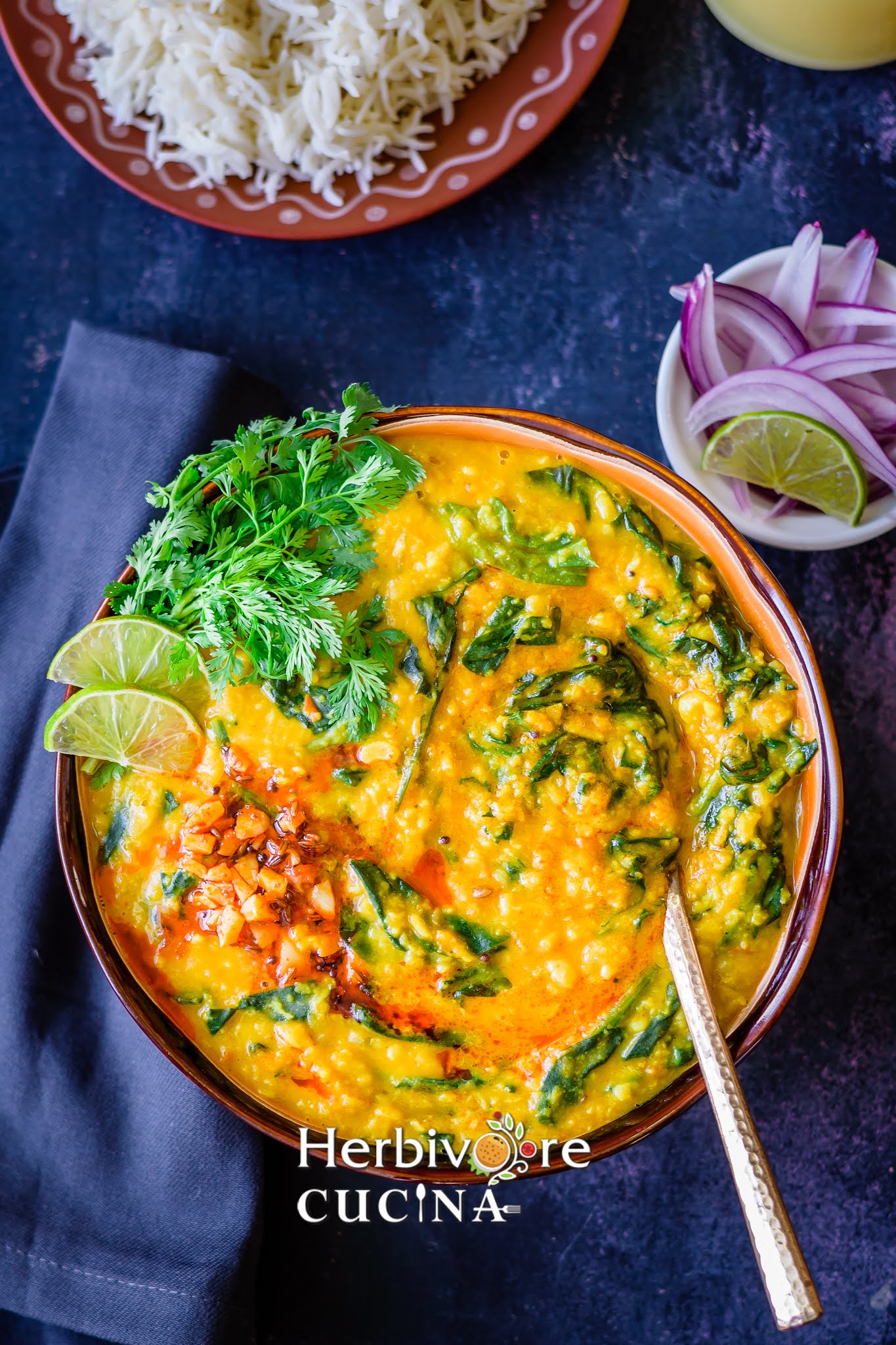 Ingredients
For the Dal
Moong Dal/ Split Yellow Petite Lentils ¾ cup
Baby Spinach Leaves 2 cups
Garlic 2-3 cloves, minced
Ginger ½ inch piece, grated
Onion ½ medium, diced
Tomato 1 medium, diced
Green Chili 1, slit lengthwise
Curry Leaves 2-3
Mustard Seeds ¼ tsp
Cumin Seeds ¼ tsp
Asafetida a pinch
Turmeric Powder 1 tsp
Red Chili Powder 1 tsp
Salt 1 tsp
Lemon Juice ½ tsp
Ghee 1 tbsp
Water 3 cups
Cilantro to top
For the Rice
Basmati Rice 1 cup
Water 1 ½ cup
Ghee ¼ tsp
Cumin Seeds ¼ tsp
Cinnamon stick 1 inch
Method
Wash the lentil till the water runs clean. Drain and set aside.
Set the Instant Pot mode to 'Sauté' and Normal. Add ghee and let it heat. Then add mustard seeds, asafetida and cumin seeds. Once the seeds pop, add garlic, green chili, ginger and curry leaves.
Once the raw flavor vanishes, add the onions. Let the onions cook for 5-6 minutes till it is soft. Add tomatoes, salt, turmeric powder and red chili powder. Mix and let the tomatoes become soft.
Deglaze the pot by adding 3 cups water. Add in the lentils and mix well. Place a trivet in the center of the Instant Pot.
Wash the rice till the water runs clean. Drain and add 1 ½ cup water, cumin seeds, cinnamon and ghee. Place the bowl on the trivet.
Close the lid and press 'Cancel'. Press 'Pressure Cook' and set time to 6 minutes. The pressure should be set to high and the valve to sealing position.
Let the lentils and rice cook. When the Instant pot beeps, let the pressure release naturally for 5 minutes. Move the vent to venting and remove the remaining pressure.
Open the Instant Pot and remove the insert with the rice.
Set the mode to 'Sauté' and add washed spinach. Mix well and cook for 3-4 minutes. Turn off the instant pot and add lemon juice and cilantro. Remove and serve with rice.
Optional: If you like the dal with LOTS of garlic, in a pan heat ½ teaspoon ghee, add 1 clove of minced garlic and ½ teaspoon red chili powder. Add that on top of the dal and serve. It gives a great garlic flavor.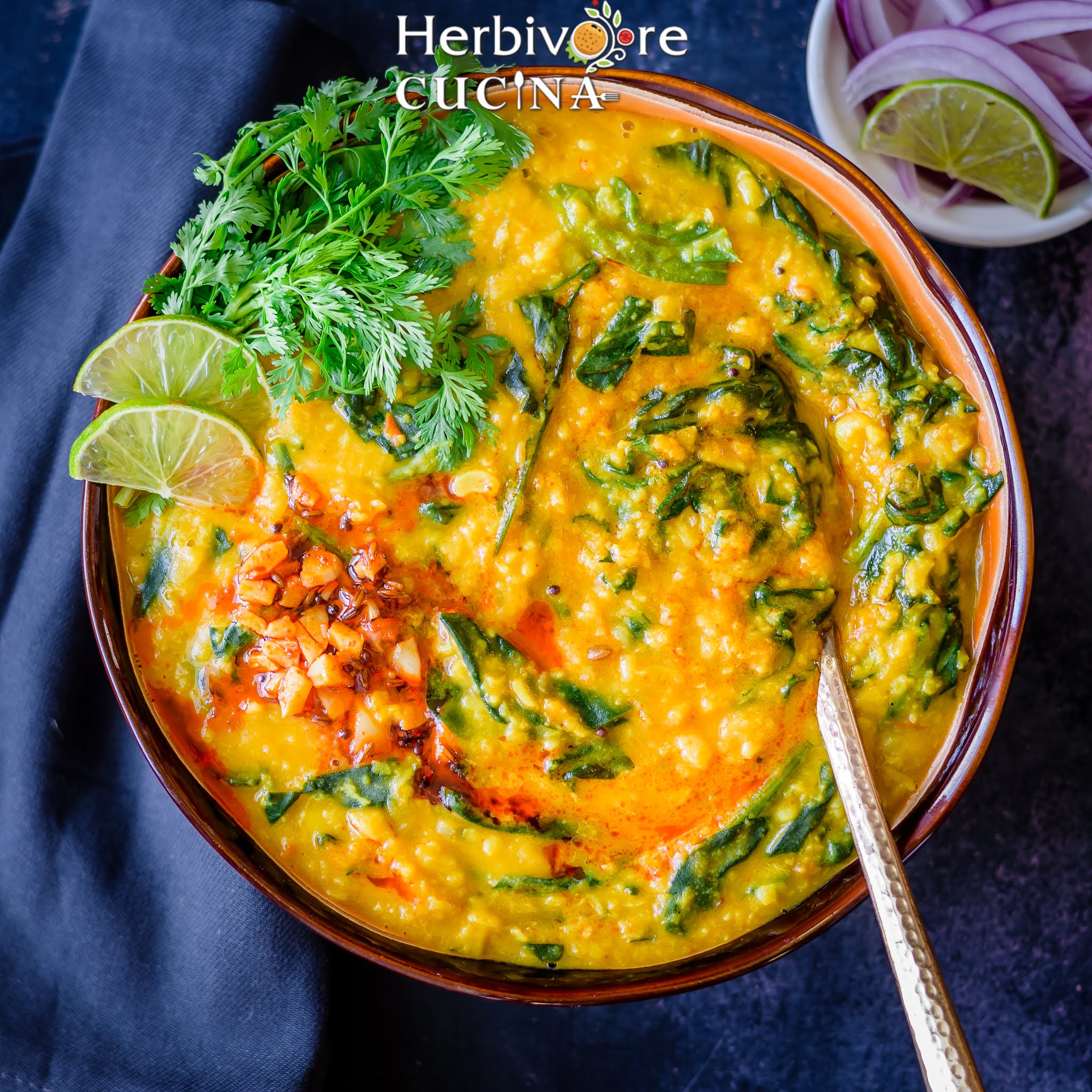 DISCLOSURE: WE ARE A PARTICIPANT IN THE AMAZON SERVICES LLC ASSOCIATES PROGRAM, AN AFFILIATE ADVERTISING PROGRAM DESIGNED TO PROVIDE A MEANS FOR US TO EARN FEES BY LINKING TO AMAZON.COM AND AFFILIATED SITES.