Creamy, rich and delicious restaurant style Paneer Butter Masala. This recipe is super easy to make in the Instant Pot and is best served with Tava Naan, Garlic Kulcha and Jeera Rice!

Some of the links below are affiliate links, meaning, at no extra cost to you, I will earn a commission if you click through and make a purchase.
I have posted a variety of Indian recipes on the blog. Various curries, rice recipes, snacks, appetizers and desserts. Today, I am posting yet another easy Indian recipe that can be made at home for restaurant style meals.
Paneer Butter Masala is a popular Indian curry that is PERFECT with naan, roti or parathas. This curry is often ordered from restaurants, had at weddings and other occasions or made at home. This creamy curry is now easy to make with the Instant Pot!

A mildly sweet and super creamy preparation of paneer (Indian cottage cheese), this curry has a base of onion, tomatoes, cashews and cream. Flavored with Indian spices, Paneer Butter Masala is pretty easy to make in the Instant Pot. A fairly complex recipe can converted to a one pot meal with this recipe!
Video Recipe
Paneer Butter Masala vs Paneer Makhani


Paneer is a popular ingredient in Indian cooking. A favorite among many people, there are TONS of recipes using paneer. From paneer palak and paneer tikka to paneer pasanda and paneer chilli, all these recipes are super delicious and popular.
However, the MOST popular paneer dishes are Paneer Makhani and Paneer Butter Masala. While a lot of folks use these names interchangeable; there are subtle differences in them.
Paneer Makhani is made by adding tomato puree to sautéed garlic and onion. For Paneer Butter Masala, diced tomatoes are added to butter with garlic and onions. The tomatoes get cooked with the other ingredients and then it is pureed.
Both curries are made with cashews and cream; and both have some butter in them. Given Makhani means creamy and Butter is creamy too; both these curries have creaminess in them. That makes them a little heavy to eat and call for a nap after enjoying them with HOT naan!


Why use the Instant Pot to make this?


Most Indian curries tend to be pretty tedious to make. They call for a ton of pots and pans and need complex ingredients. By using the Instant Pot we can convert these complex recipes to one pot methods. They take far less time to make without compromising on the taste.
This curry is one such recipe. Simple ingredients are used, it needs only one pot (especially if you have an immersion blender) and is no fail. I have made this recipe several times, finally got to shooting it and writing it out this week!

Love Instant Pot recipes? Try these easy to make Indian recipes using the Instant Pot: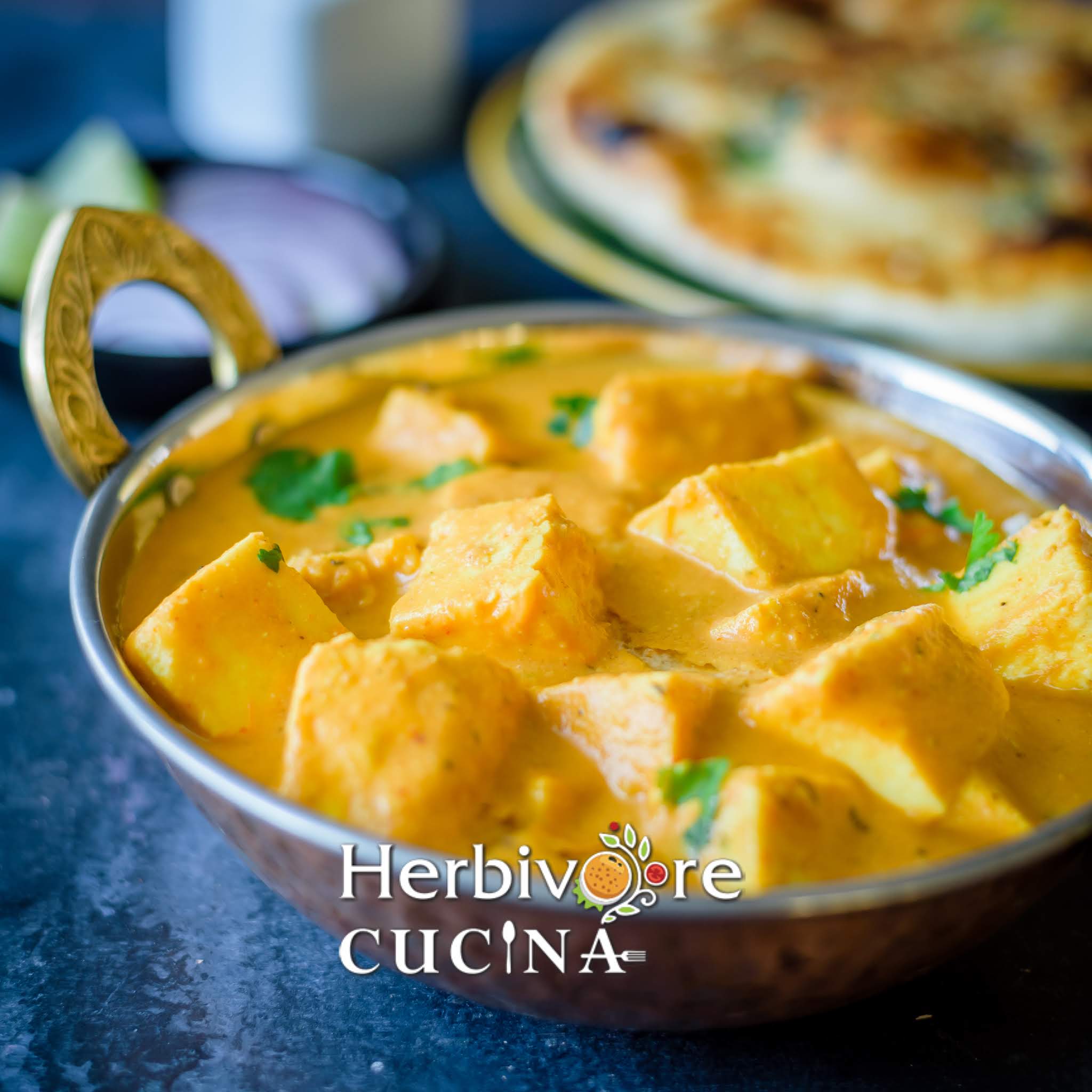 Important Ingredients in the recipe


As the recipe name mentions, this curry is made EXCLUSIVELY in butter. Paneer Butter Masala tastes perfect when butter is used. If you use oil, the curry will definitely not taste the same.
The paneer used in the recipe determines how good it tastes. Good quality Malai paneer or freshly made paneer can be used in the recipe. If using homemade paneer, make sure it is pressed well and diced. Else the paneer will crumble in the gravy.

Raw cashews work best in this recipe. Roasted cashews do not process to a smooth paste and tends to yield a thin gravy with pieces of cashews. I used cream from a store in the recipe. If you have homemade cream, that works too.
Garam Masala is used here for flavor to simplify the ingredients. If you like, you can add whole spices like cardamom, cinnamon, cloves and black pepper. It can be added to the butter and then pureed with the other ingredients. Sugar is added in the recipe. This little amount of sugar goes a long way in making the taste balanced. Finally, kasoori methi is used here. It gives a characteristic flavor to the curry. Try not skipping this one!
Now, with all that information, hope you try this recipe. Looking for serving suggestions? Try this Tava Naan, Garlic Kulcha and Jeera Rice.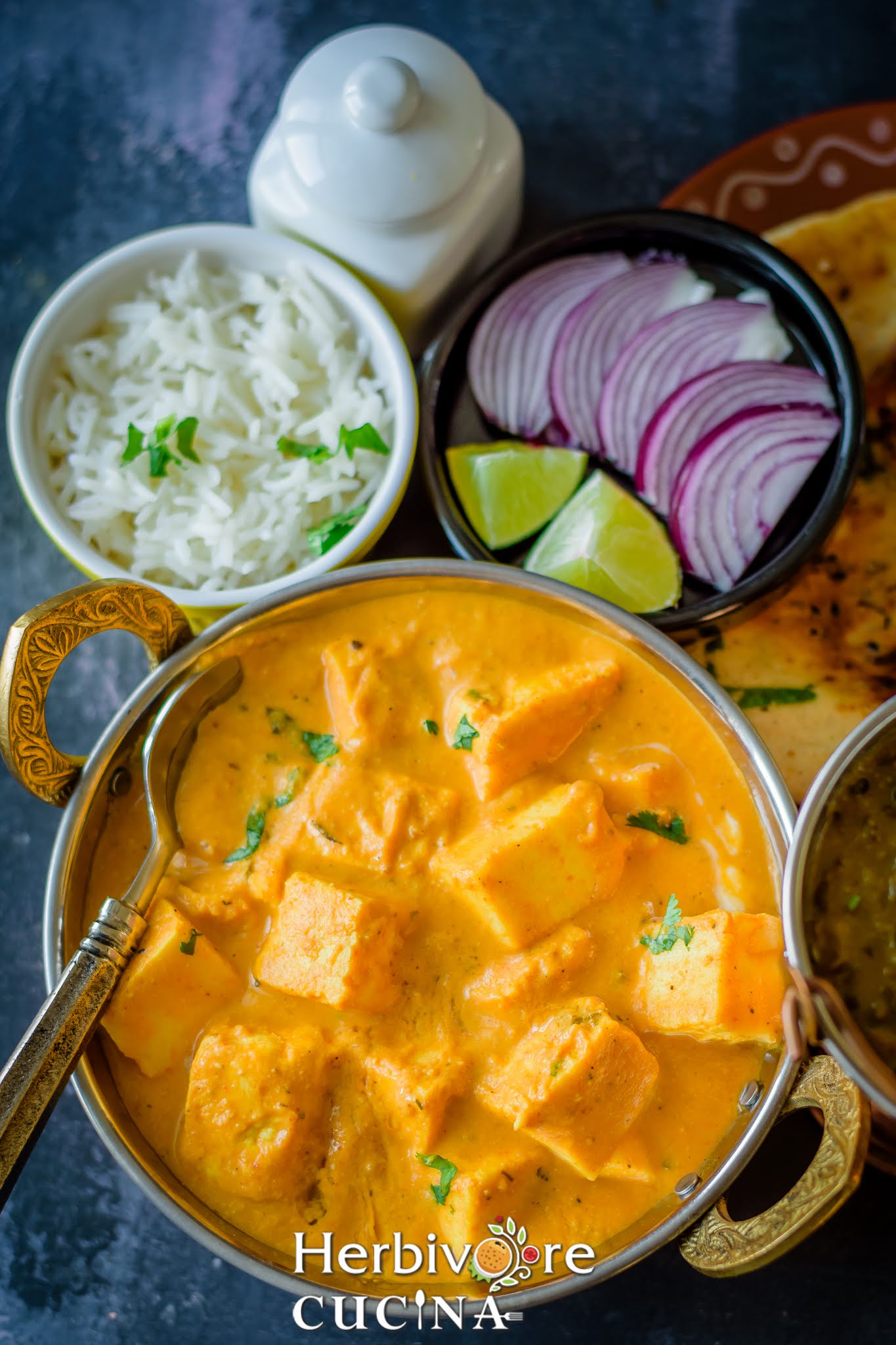 Ingredients
For the Gravy
Onion ½ cup, diced
Tomatoes 1 cup, diced
Garlic 2-3 cloves, chopped
Ginger 1 inch piece, chopped
Green Chili 1, minced
Raw cashews 8-10
Butter 2 tbsp
Turmeric Powder 1 tsp
Red Chili Powder 1 tsp
Garam Masala ½ tsp
Salt 1 tsp
Sugar ½ tsp
Other Ingredients
Paneer 400 grams, cut into cubes
Fresh Cream ½ cup
Kasoori Methi/ Dried Fenugreek leaves ½ tsp
Cilantro to top
Method
Set the Instant Pot to 'Saute' and Normal. Add butter and let it melt. Once the butter melts, add garlic, ginger and green chili. Add onion and mix well.
Next add the tomatoes and cashews. Mix well and add turmeric powder, red chili powder, garam masala, salt and sugar. Mix well and add 2 cups water. Mix well.
Press 'Cancel' and set the mode to 'Pressure Cook'. Set pressure to high and time to 3 minutes. Close the lid, move the valve to 'Sealing' and let the gravy cook. Once the timer goes off, let the pressure release naturally for 5 minutes.
Then, move the valve to 'Venting' to release the remaining pressure. Open the Instant Pot. Either with an immersion blender or using a blender, process the gravy to a smooth paste.
Transfer the gravy back to the pot. Set the mode to 'Saute' and add the fresh cream. Mix well and add the paneer cubes. Let it simmer for 3-4 minutes and add kasoori methi. Mix well and serve topped with cilantro.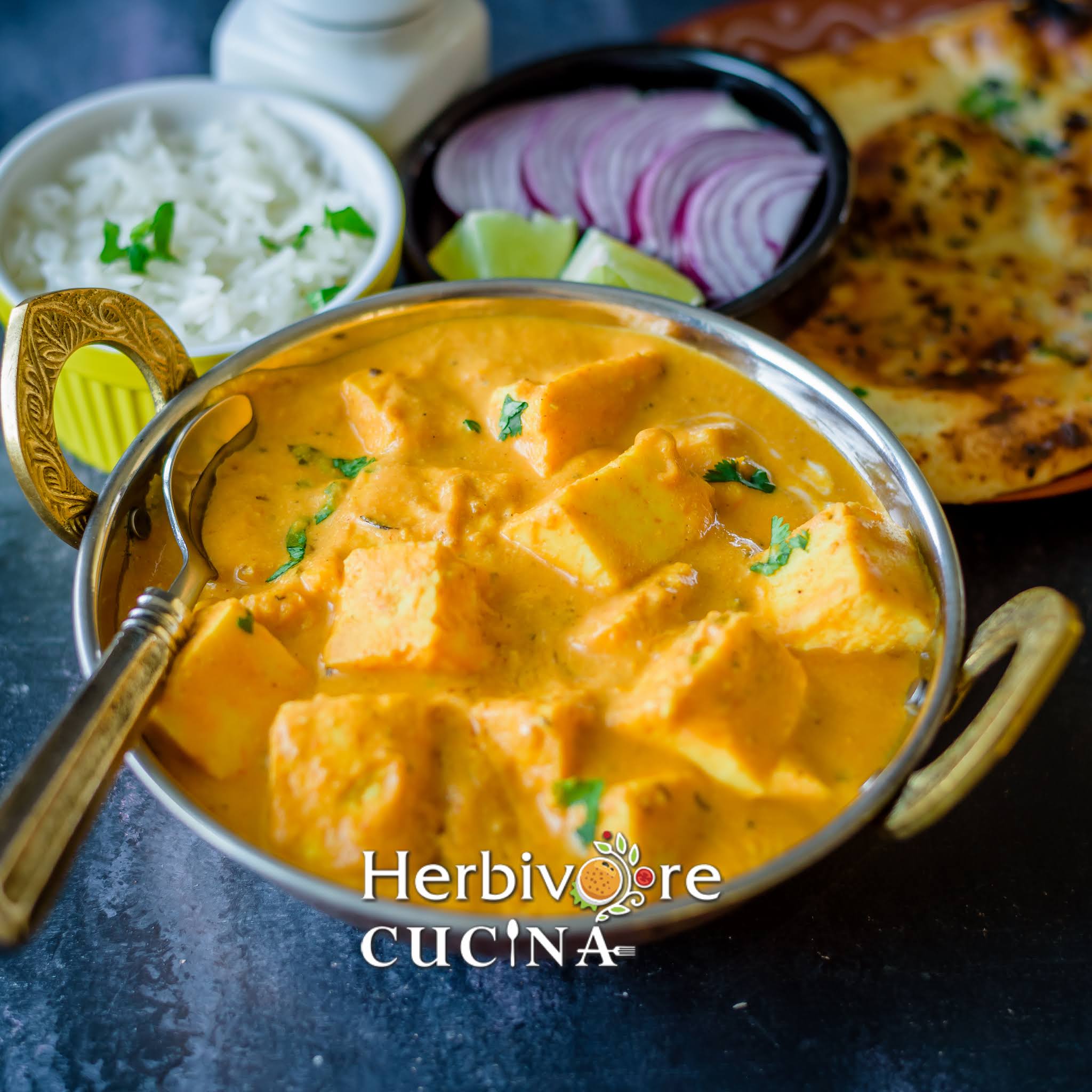 DISCLOSURE: WE ARE A PARTICIPANT IN THE AMAZON SERVICES LLC ASSOCIATES PROGRAM, AN AFFILIATE ADVERTISING PROGRAM DESIGNED TO PROVIDE A MEANS FOR US TO EARN FEES BY LINKING TO AMAZON.COM AND AFFILIATED SITES.