Kale Dal is a combination of kale leaves with lentil and a zingy tadka.
This comforting dish is perfect for any meal when paired with steamed rice and papad.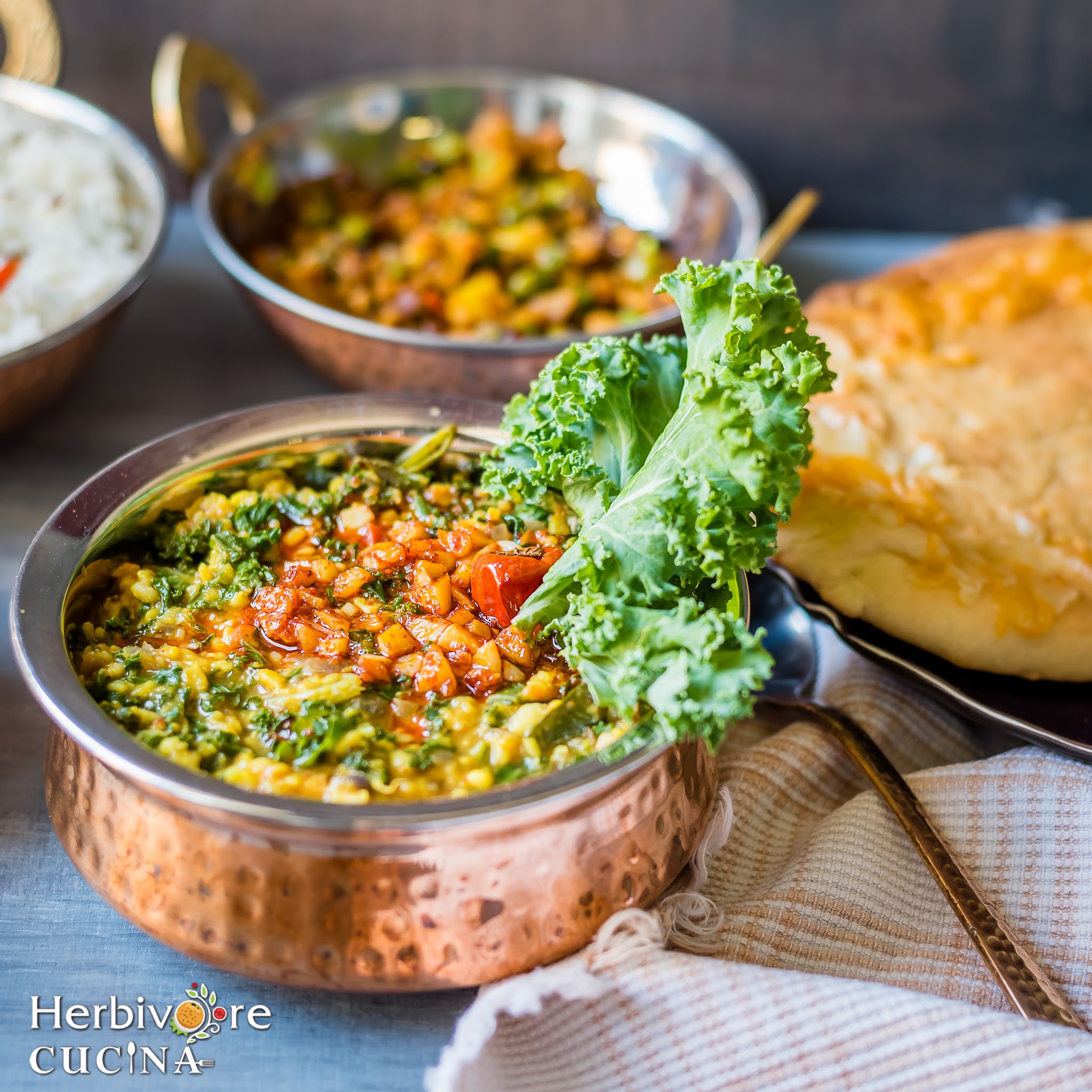 Happy New Year everyone! 2017 has ended and we have stepped in 2018. The year changes and most people (including me) decide to lead a healthier, cleaner and great lifestyle. But what is life without something yummy to eat?
So I decided to start with year with this recipe; kale leaves and lentil cooked together to make a delicious dal that is amazing with naan or rice. Believe you me, I actually finished off a bowl of the dal by itself. It tasted very much like a lentil stew!
For those who do not think that is something they can do, fret not. This dal tastes amazing with all kinds of breads and rice. Together, the combination of rice, dal, roti and salad makes a PERFECT meal! I made this recipe sometime back but never shot it. Finally, I shot this dal last week and made it my FIRST recipe for 2018!
Dal and Kale, both healthy ingredients are pretty boring sometimes. But when they come together in a stew, it makes a yummy side. And not to forget the spicy touch of GARLIC tempering that I added in the end. It is almost like the cherry on the cake!
I made this recipe in the pressure cooker. I bought myself an Instant Pot and still getting a hang of all the lingo and recipes. Though I am learning everything else, I am already in LOVE with the yogurt feature. The creamy yogurt is my latest favorite, and comes out perfect even in this cold weather. I think I am going to try this same recipe in my IP. Have any of you tried it? Do let me know in the comments below.
Coming to the recipe, this one has simple pantry ingredients, comes together quickly and is super yummy too. I made it with kale, but any greens of your choice work well. I have another recipe using Spinach. Try it here.


Variations


To make this Dal I used kale and Moong Dal. However, if you would like to use a different dal, try chana dal or masoor dal. They both come out really well. Besides, substitute kale by any green of your choice.
I used my pressure cooker to cook the dal. If you would like to use an Instant Pot instead, that will work too. Making the dal from start to end in an IP is something I am going to try next.
The tempering on the dal adds a garlicy taste and spice. If you would like a recipe that is not very spicy, you can leave out the garlic and red chilli powder. It will result in a milder version of the dal.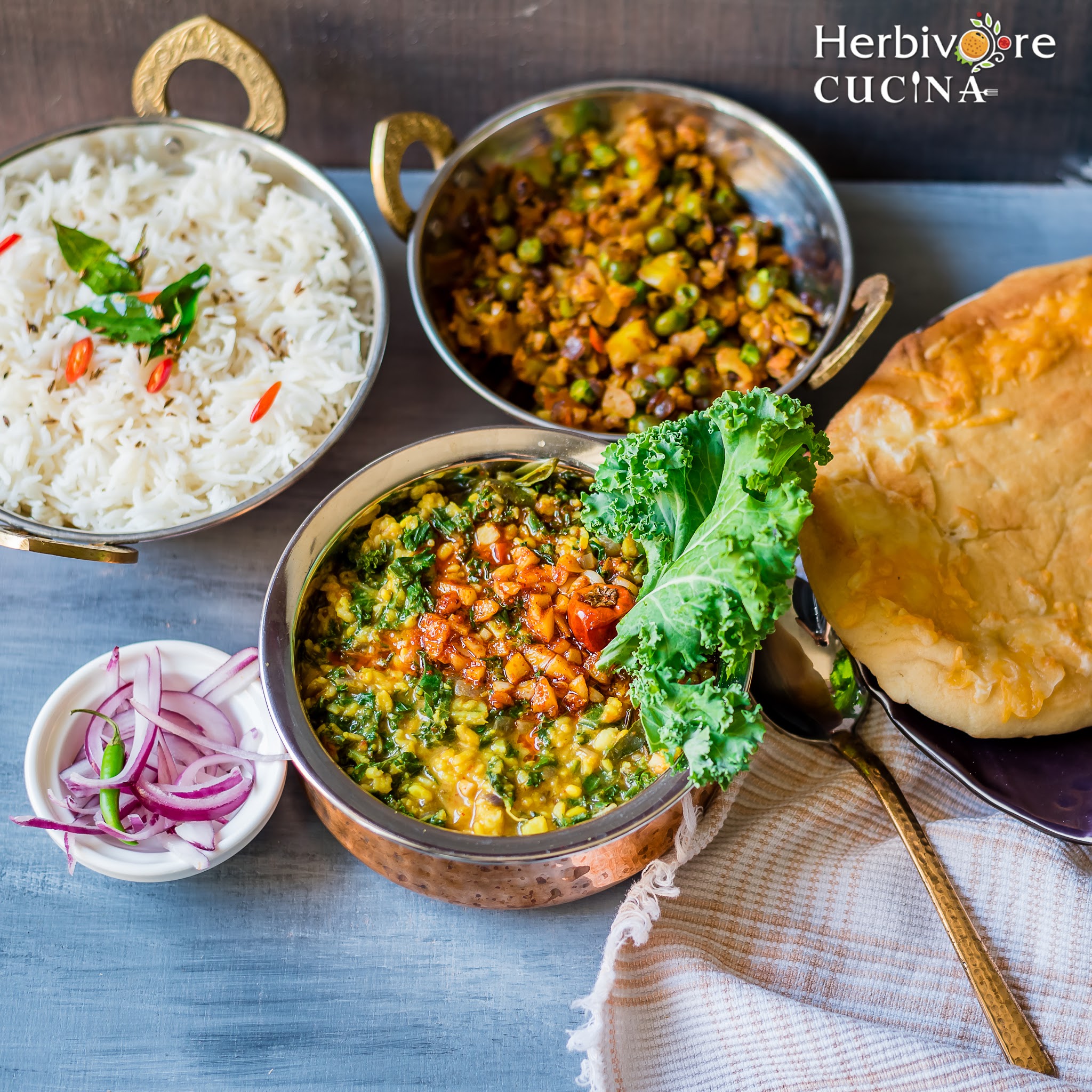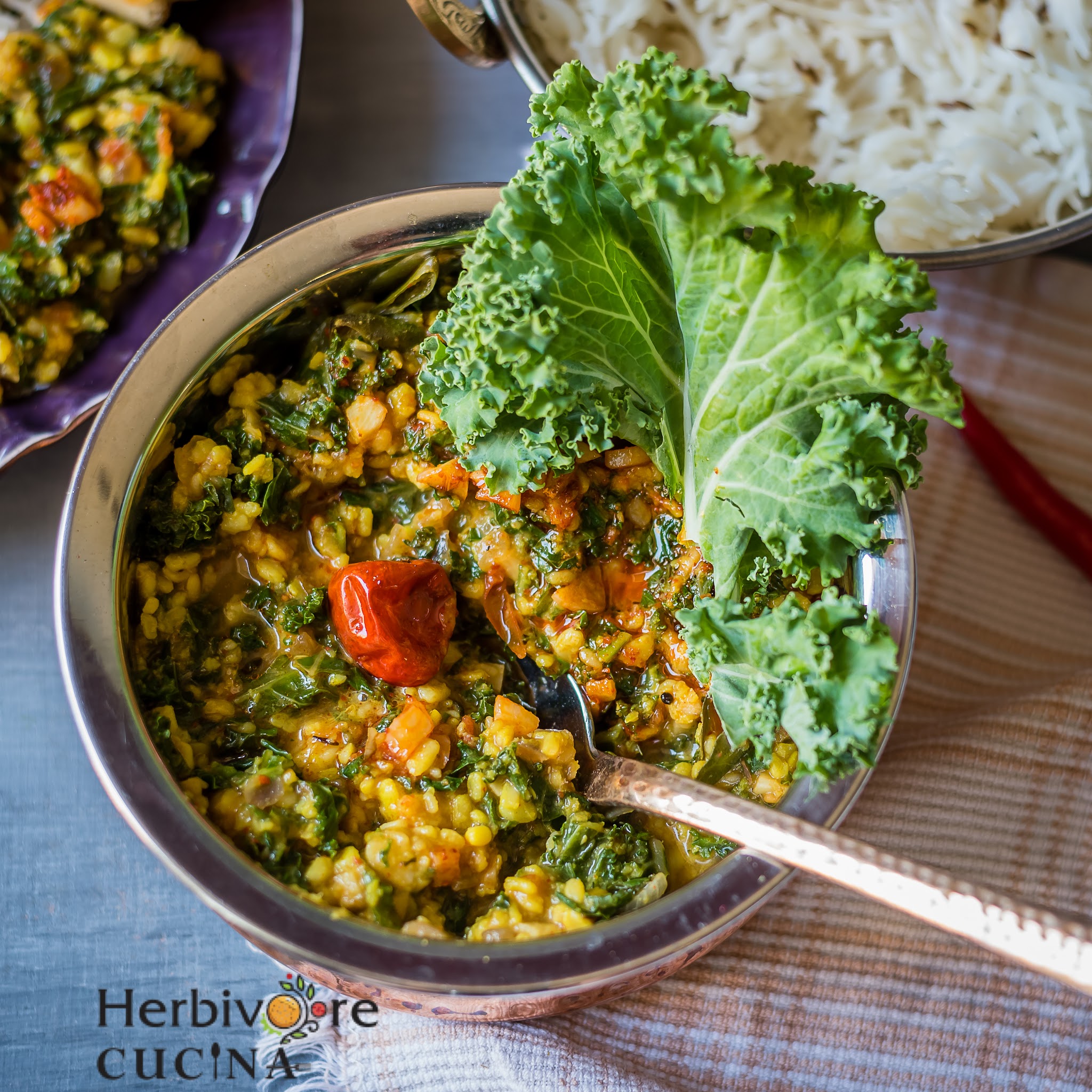 Method
Wash and add yellow moong dal to the base of a pressure cooker.
Add 1 cup water and a pinch of salt.
Pressure cook for 2 whistles, till the dal is cooked. Open the cooker and let the dal cool.
In a pan heat ghee and saute ginger and onions.
Once they are cooked, add the tomatoes.
Sauté till the tomatoes are mushy.
Add in the kale leaves and let them cook for 4-5 minutes.
Transfer the dal into the pan and add salt and turmeric. Mix well and add 2 cups water.
Cover and cook for 8-10 minutes till the dal thickens and is cooked. Once done, add kasoori methi and cilantro and mix well.
In a small pan heat the oil for tempering.
Add in the remaining ingredients under tempering and wait for a minute.
Transfer the tempering to the dal and serve hot with a side of rice and chopped onions.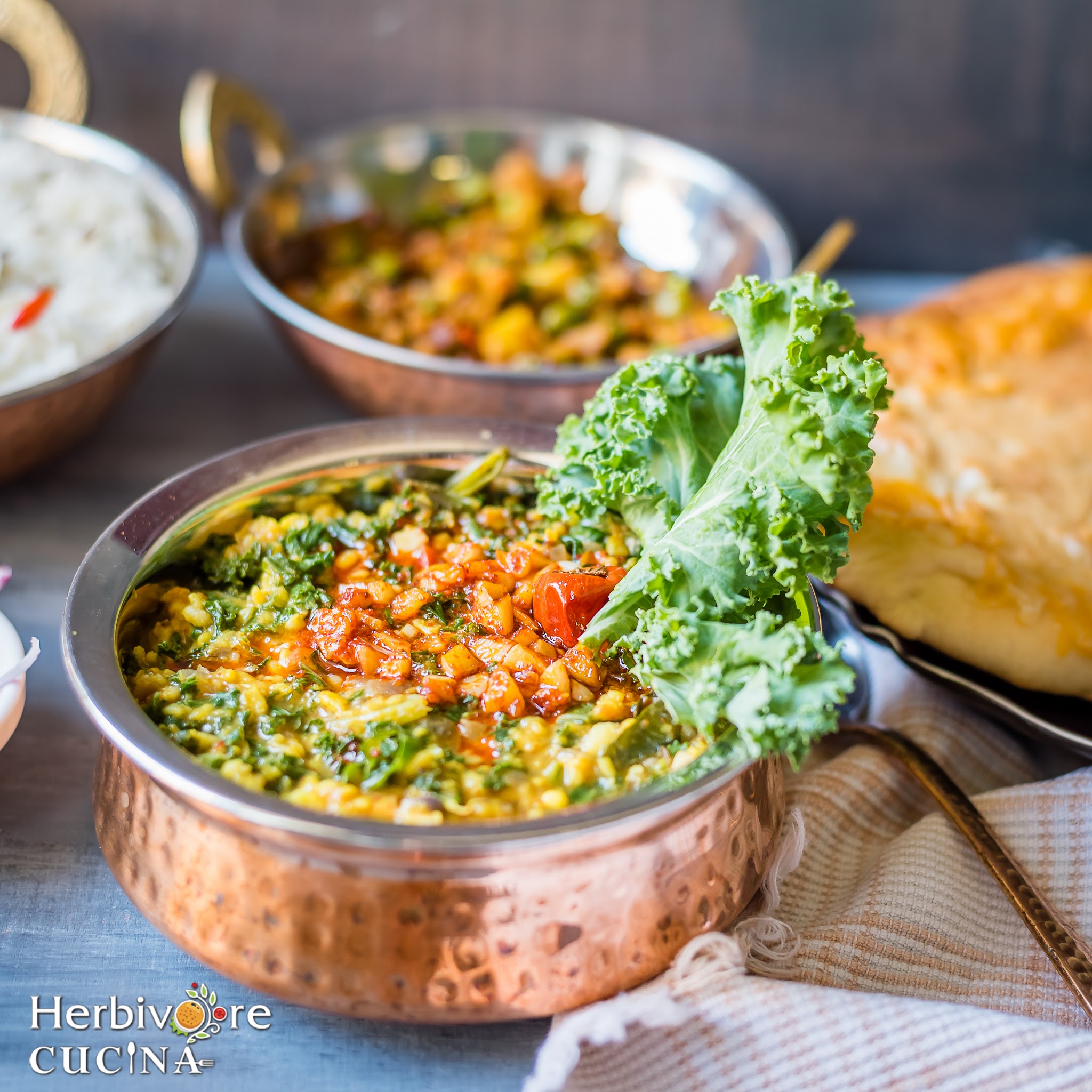 Pairings
This Kale Dal pairs wonderfully with steamed rice, naan and salads. Here are some of the best pairings.
More Dal Recipes
Love this recipe? Please leave a star rating in the recipe card below & if you REALLY like it, consider a review in the comments whilst you are there, thanks!