An easy to make Moong Dal recipe, this one is perfect with Kadhi and Steamed Rice. Now that is how I describe 'Comfort Food'!!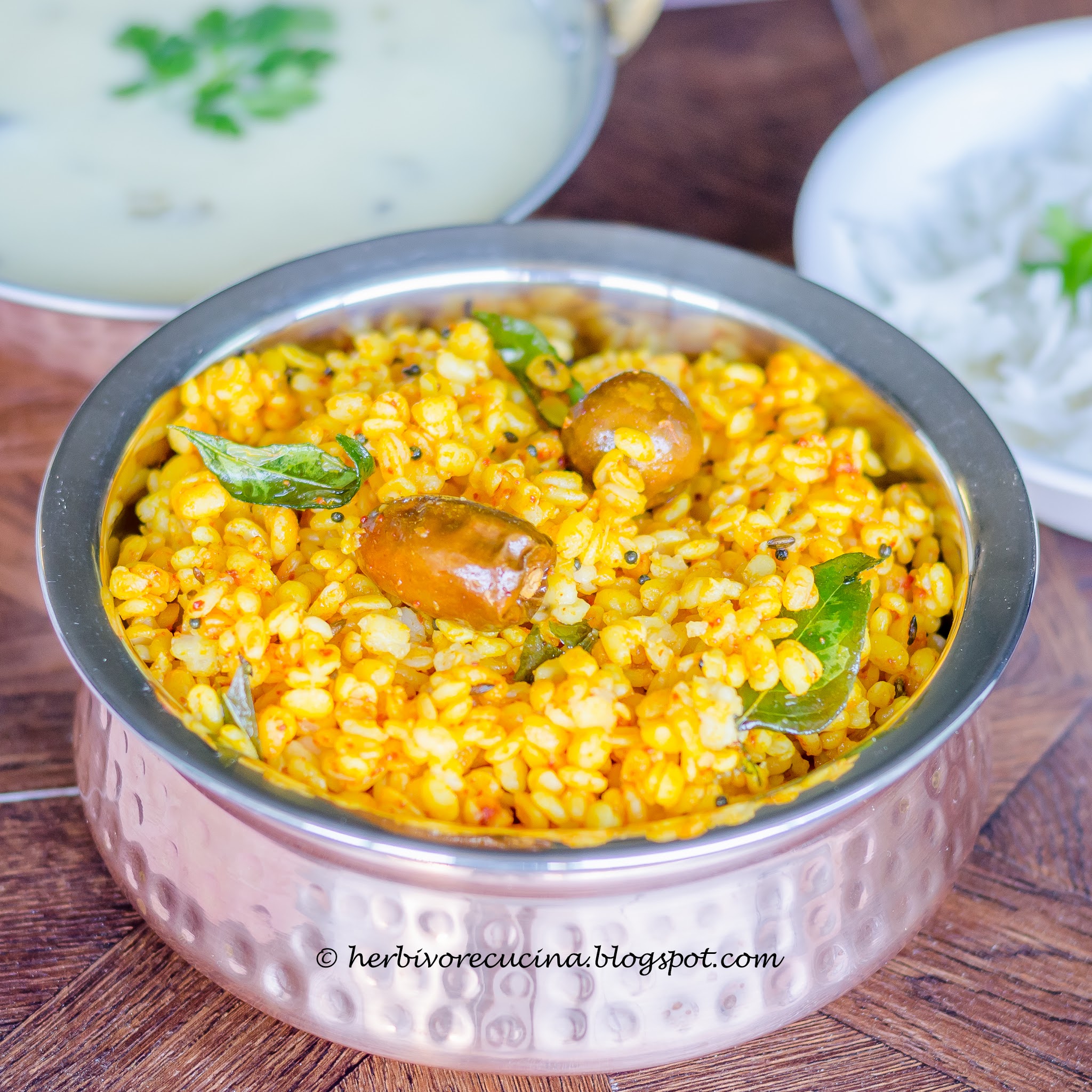 Weekends call for cozy lunches. One of our family favorites is the typical Gujarati Thali. A perfect blend of vegetables, dal, kadhi, savory dish, sweet dish, roti and rice is what we LOVE. It takes a long long time to make it all but the feeling of accomplishment I get when we all enjoy the meal is unmatched!
On days that I don't feel like making an elaborate Thali, my go-to meal generally consists of Gujarati Kadhi , Steamed Rice and this Moong Dal. The dal is nice and healthy, kadhi and rice makes the perfect comfort food. Served along with some roasted papad, it is an amazing meal.
Moong dal is used in various ways across India. From the famous Dal Tadka from Punjab to the Moon Dal Sundal down south. And from Moong Dal Halwa to this Sookhi Dal, this lentil is made in different ways. I LOVE all the versions of the dal, but this one qualifies as comfort food!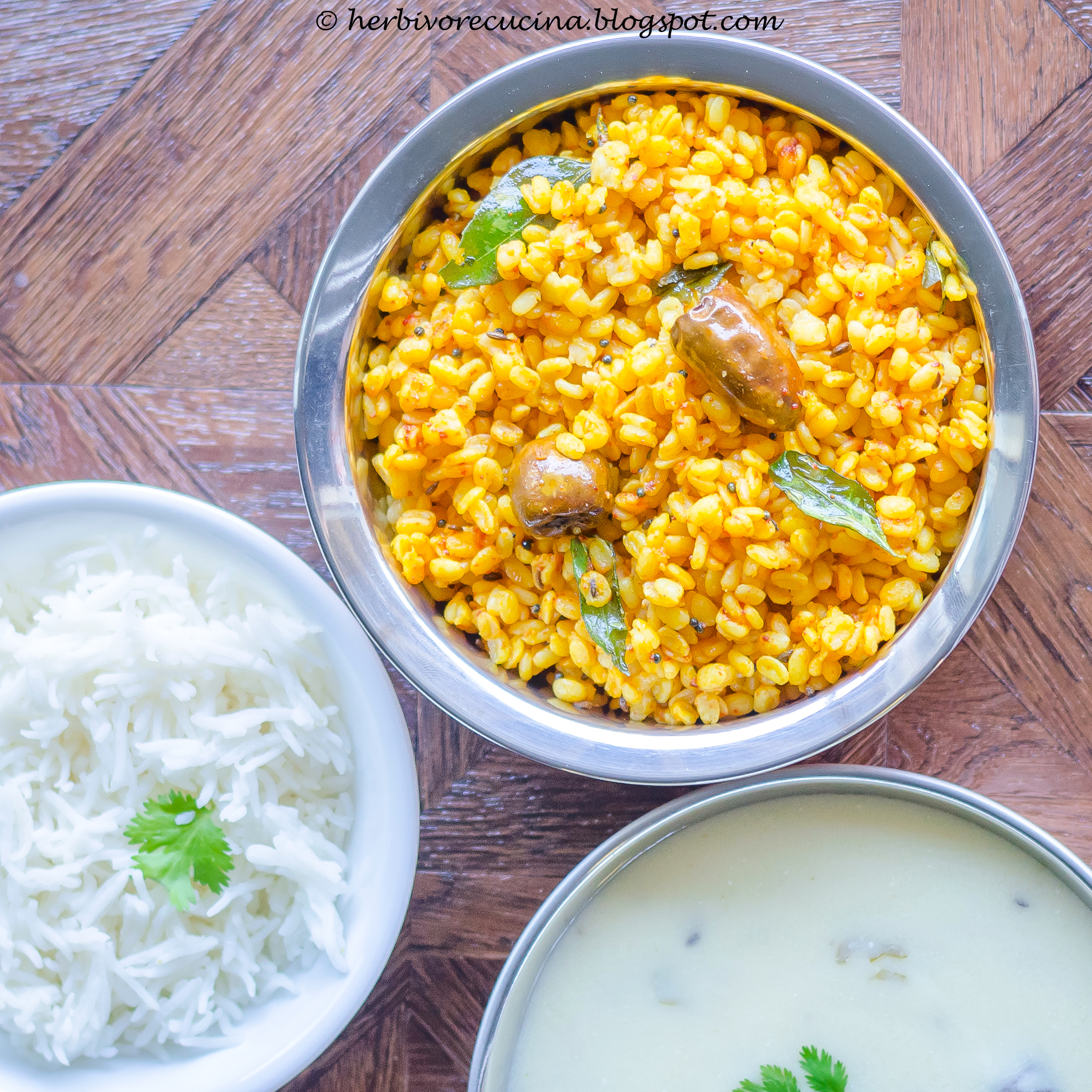 A rather simple recipe, just boil the dal and temper it with mustard and cumin seeds, this one is not a very common recipe in the blog space. I made this dal last weekend and shot some pictures too. I wasn't sure if I would put it up on the blog, given how simple it is. Then I browsed through a few blogs and saw this recipe is not really present on many blogs.
That gave me the reassurance that I should add this to my blog. That way I make sure I have one more authentic Gujarati recipe here for people to make at home. Finally, the post is up and I am glad! I went back and forth with the decision to post or not and finally ended up typing it out 🙂
With just a few ingredients and easy to follow recipe, I hope you all enjoy this one and if you make it for your family, do share your feedback here or on my Facebook page. Also share it on Instagram and tag @herbivorecucina in your post!!

Ingredients
Moong Dal 1 cup
Turmeric Powder ½ tsp
Red Chilli Powder 1 tsp
Oil 2 tsp
Mustard Seeds ½ tsp
Cumin seeds ¼ tsp
Asafoetida a pinch
Dry Red Chilli 1-2
Curry Leaves 1-2
Salt 1 tsp
Lemon Juice ½ tsp
Cilantro to top
Method
Wash the dal well and place in a container with ½ cup water. Add a pinch of salt and turmeric powder. Pressure cook for two whistles. Once the pressure releases, open the cooker and cool the dal.
To temper, add oil to a small pan. Once hot add the mustard seeds. As they pop add asafoetida and cumin seeds. Then add curry leaves and dried red chilli.
Add the tempering to the dal. Also add red chilli powder and mix well. Squeeze the lemon and add cilantro. Mix and serve with Gujarati Kadhi and rice or with Gujarati Rotli.
This recipe was part of the Gujarati Thali I posted some time back. Do check out the entire Thali here.