Blogging Marathon #70 Week 2 Day 1
Theme: Thali
Dish: Gujarati (Jain) Thali
An amazing spread of Indian dishes. This Jain Thali has all the must-have dishes from the Indian state of Gujarat. Delicious and colorful!
Today is the first day of this week's Blogging Marathon and my theme is Thali. For the longest time I have been wanting to make a complete meal for the blog. But somehow I was always overwhelmed by the number of dishes I would have to make for a Thali. Finally when Valli said the theme for this month is going to be Thali, I HAD to do it.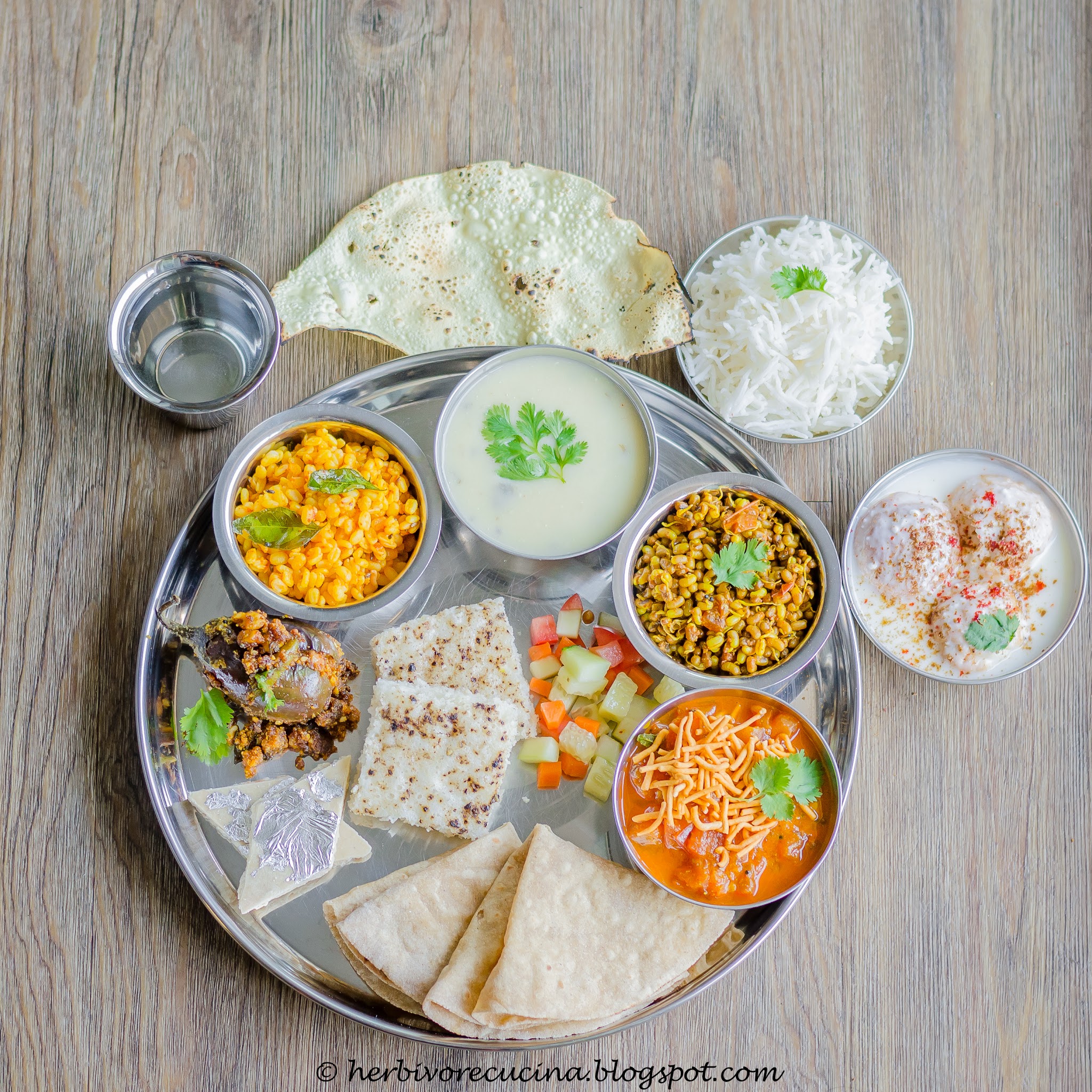 At first I thought I would take a break this month as I am on vacation with my family back home. But just for the Thali theme, I decided to take up this month. My post is delayed as I am trying to do too many things at a time, but I am glad I finally sat down to draft it.

According to India and other countries around it, the concept of Thali is well known. The idea is to serve the six tastes in the same meal. The flavors are sweet, salt, bitter, sour, spicy and astringent. The perfect balance of these tastes completes the meal. Traditionally, the thali consists of various dishes served in small size katoris (bowls). Depending on the type of Thali, it can be either a steel platter with steel bowls, or silver, copper or occasionally even gold!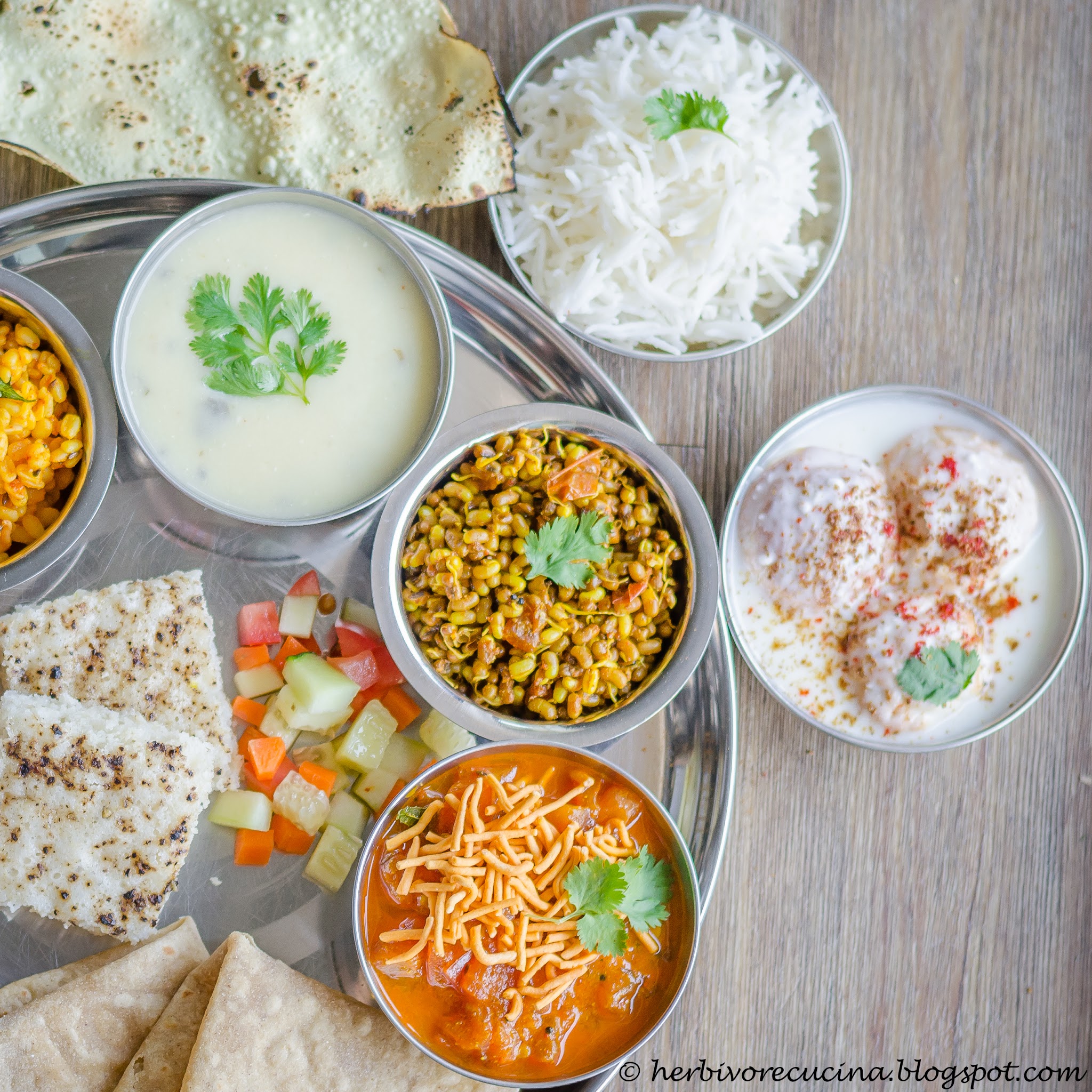 Each state has it's own version of thali but most of them will have the following dishes: dal,a dry vegetable, a curry, roti or other bread, salad, yogurt, rice, sweet dish and savory snack. Only a few Southern states will not have any breads. They generally have more than one type of rice in the platter.

Coming to today's Thali, here is a Gujarati Thali. This one is a special thali, i.e. all the items in the platter are perfect for Jains to consume. The followers of the Jain religion do not consume any plant that grows below the soil. This includes potato, onion, garlic, ginger, carrot, yams and the likes. However, given the health benefits of carrots and ginger, many followers now add them to their diet. So this thali is for those who do not consume onion, garlic and potato.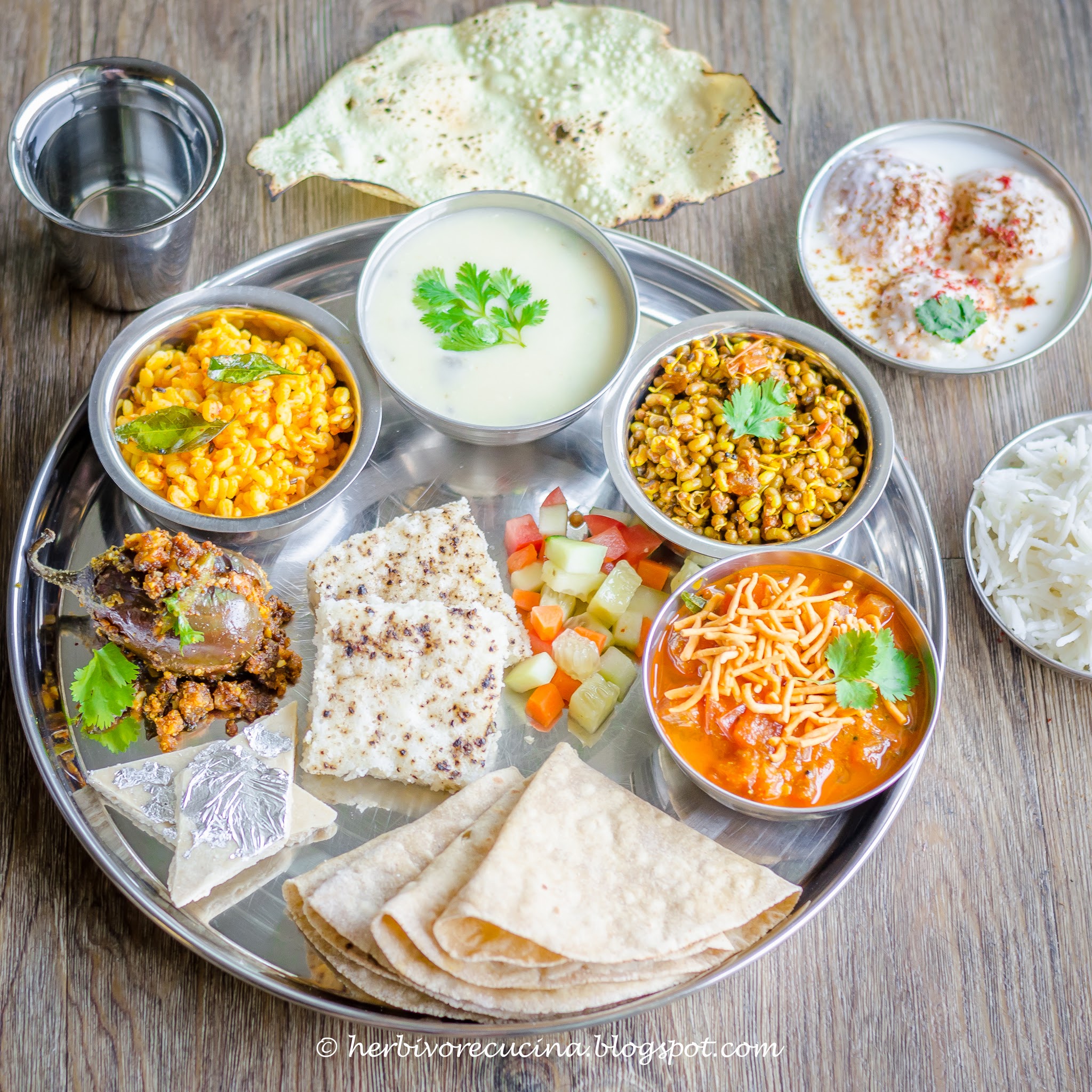 A Gujarati thali generally has the following components: kathod (pulse), sukku shaak (dry vegetable), farsan (savory snack), mishtan (sweet dish), roti or bhakri or rotla, rice, dal, kachumbar and kadhi.

Here is what's on my Thali (click on the title to be redirected to the recipe)
This yogurt and gram flour based curry is a must-have in Gujarati cuisine. The recipe has it's own flavor of sweet and sour.


Ingredients


Sour yogurt ¼ cup
Chickpea Flour 2 tbsp
Water 2 cups
Ghee/ Oil 1 tsp
Dried Red Chilli 1-2
Curry leaves 2-3
Mustard seeds ¼ tsp
Green Chilli 1, slit
Cumin seeds ¼ tsp
Asafoetida a pinch
Salt and Sugar to taste
Cilantro to top
Method


In a bowl whisk the yogurt with water. Once whisked, add the chickpea flour and whisk again. Transfer to a pan.
In a small pan heat oil or ghee or mix both. Add the mustard seeds and once they pop add cumin seeds, asafoetida, curry leaves and red and green chilli. Let them pop and add the tempering to the yogurt mixture.
Mix well and bring to a boil. Add the salt and sugar to taste, and lime juice if the yogurt is not sour enough. Top with cilantro and serve.

A flavorful curry made from ripe tomatoes, spices and sev(fried gram flour strings)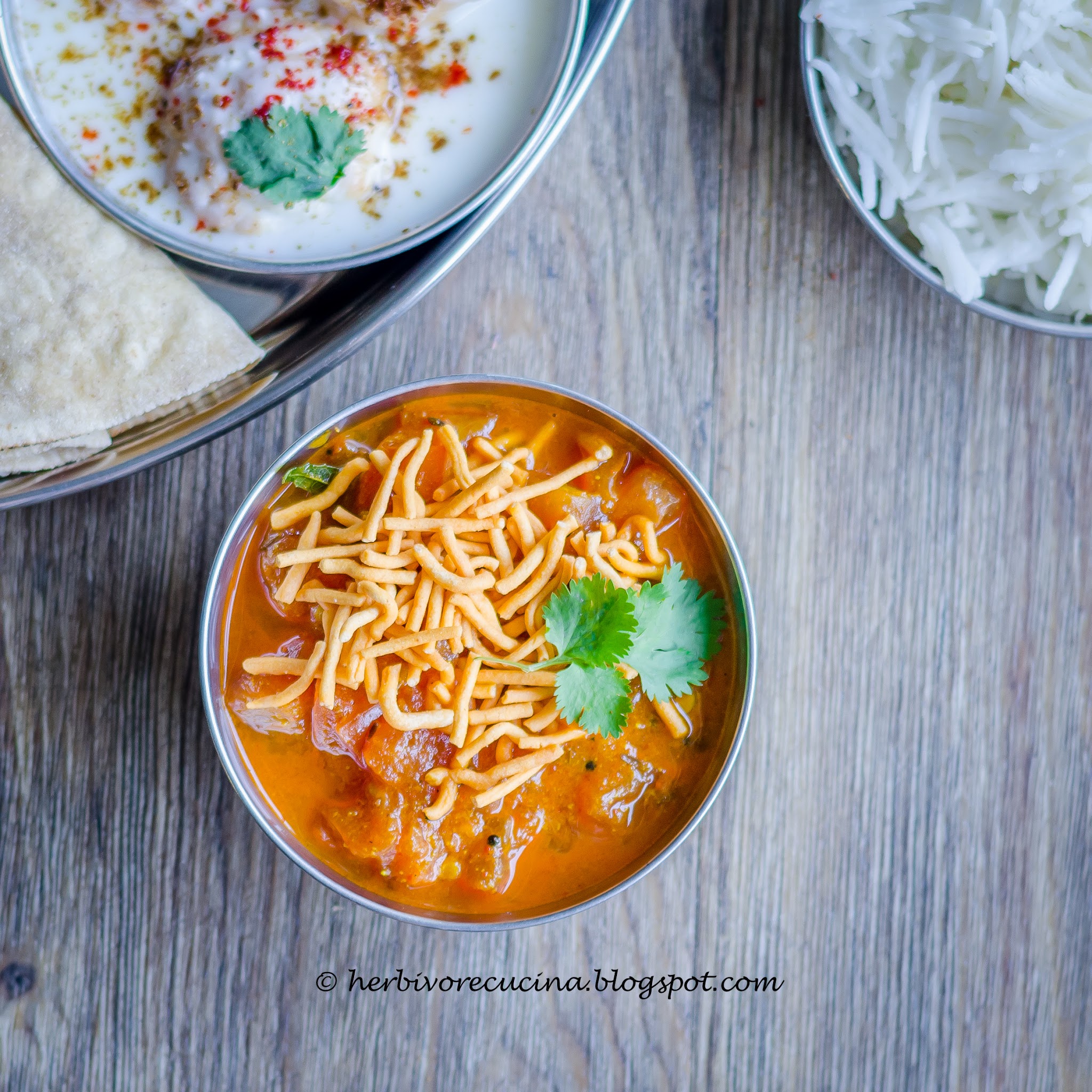 This Gujarati specialty is super delicious. Made from a fermented mixture of ground rice and lentil, these dhoklas are every Gujarati's signature dish!
A blend of sprouted matki beans with tomatoes and simple spices.
Lentil dumplings fried or cooked in paniyaram stand and dunked in flavored yogurt. Served as a side dish, this one is super delicious and cooling.
Boiled yellow moong dal tempered with mustard seeds and curry leaves.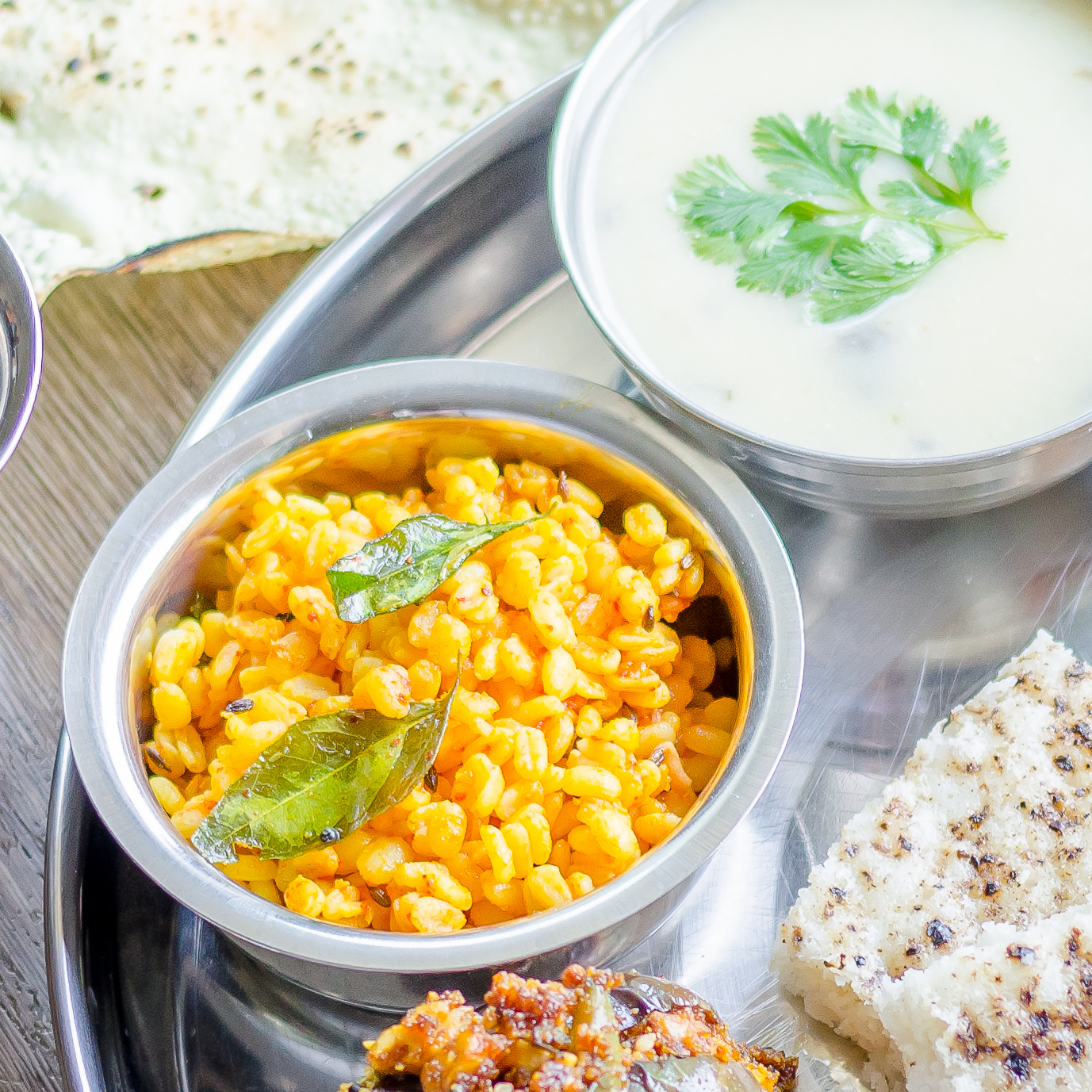 Kachumbar
A blend of chopped cucumber, carrots and tomatoes; sprinkled with salt and pepper.
Bharela Ringan
Baby eggplants stuffed with spiced peanut and gram flour and cooked to perfection.
Gujarati style thin wheat flour rotis. They taste best with all the Gujarati curries and sabjis.
Freshly made cashew fudge; a combination of raw cashews and sugar. This sweet is every household's favorite.
Steamed Rice
Urad Papad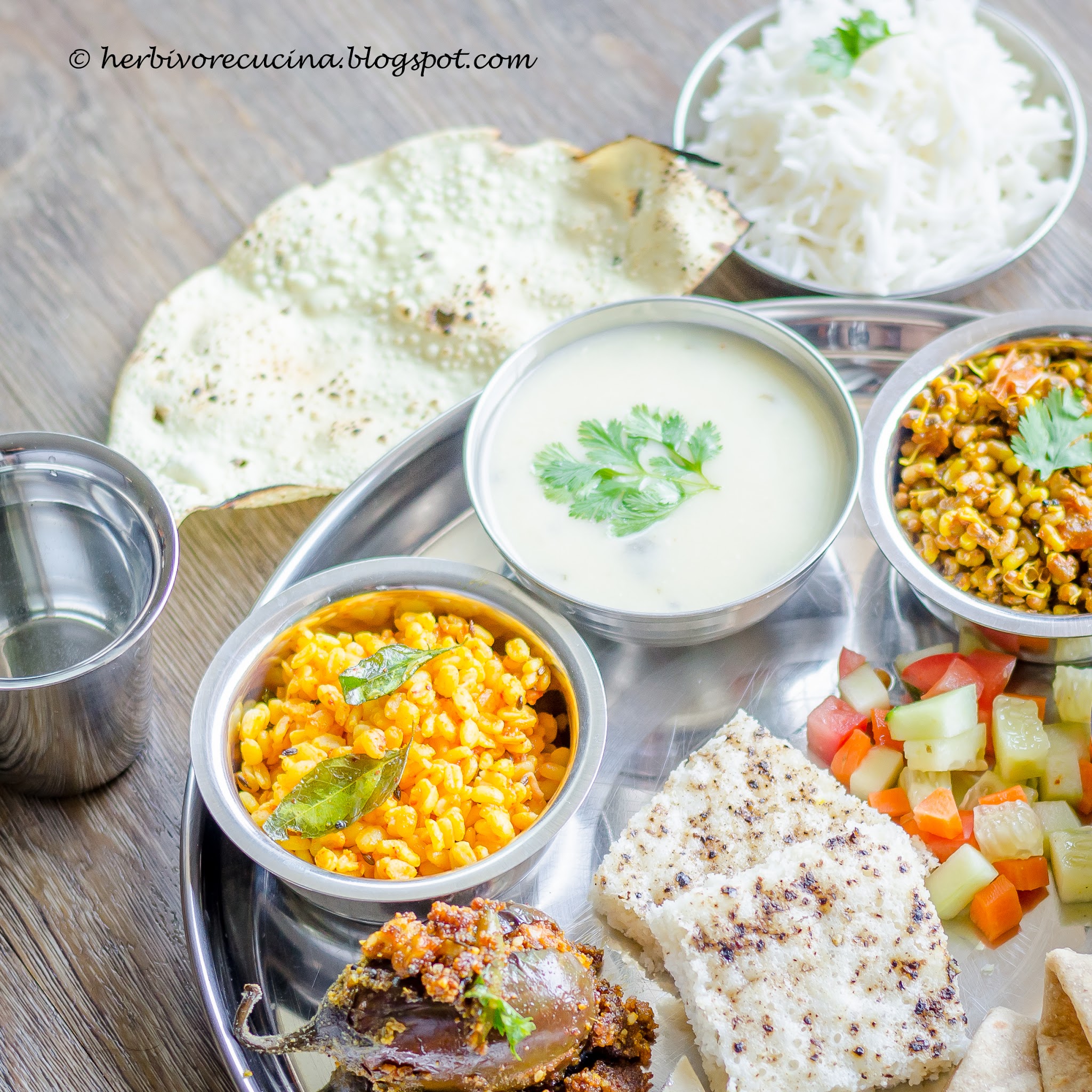 Check out the Blogging Marathon page to see what the other Blogging Marathoners are doing for this BM#70