I posted a Gujarati Thali recently. One curry in the Thali is Sev Tamatar nu Shaak. A typically Gujarati and Rajasthani vegetable, this one is a combination of perfectly cooked tomatoes with crunchy sev. Spiced with chilli powder and other basic spices, this curry is perfect for a quick meal with roti or rice.
For the longest time I have wondered why people would make a curry using sev. My grandmother once told me a story behind this one. It dates back to the time that people had large families and often times the vegetable made would be less in quantity. When half the people are already dining, it is difficult to make an elaborate vegetable or curry. It was during those crisis situations that the women would whip up easy to make and minimum ingredient based curries like this one. With just tomatoes, sev and spices, this sev tamatar comes together in under 5 minutes. I do not know how true this is, but it seems like a valid explanation.
All said and done, this curry is really yummy and I love it as my comfort food with just a couple of freshly made rotis. Being a curry, it is nice and warm. It soothes the throat when you drink the tomato based soup. The crunchiness of the sev complements the smooth soup. Add the sev while serving so that it does not become soggy. There is really no fun in having soggy sev in tomato.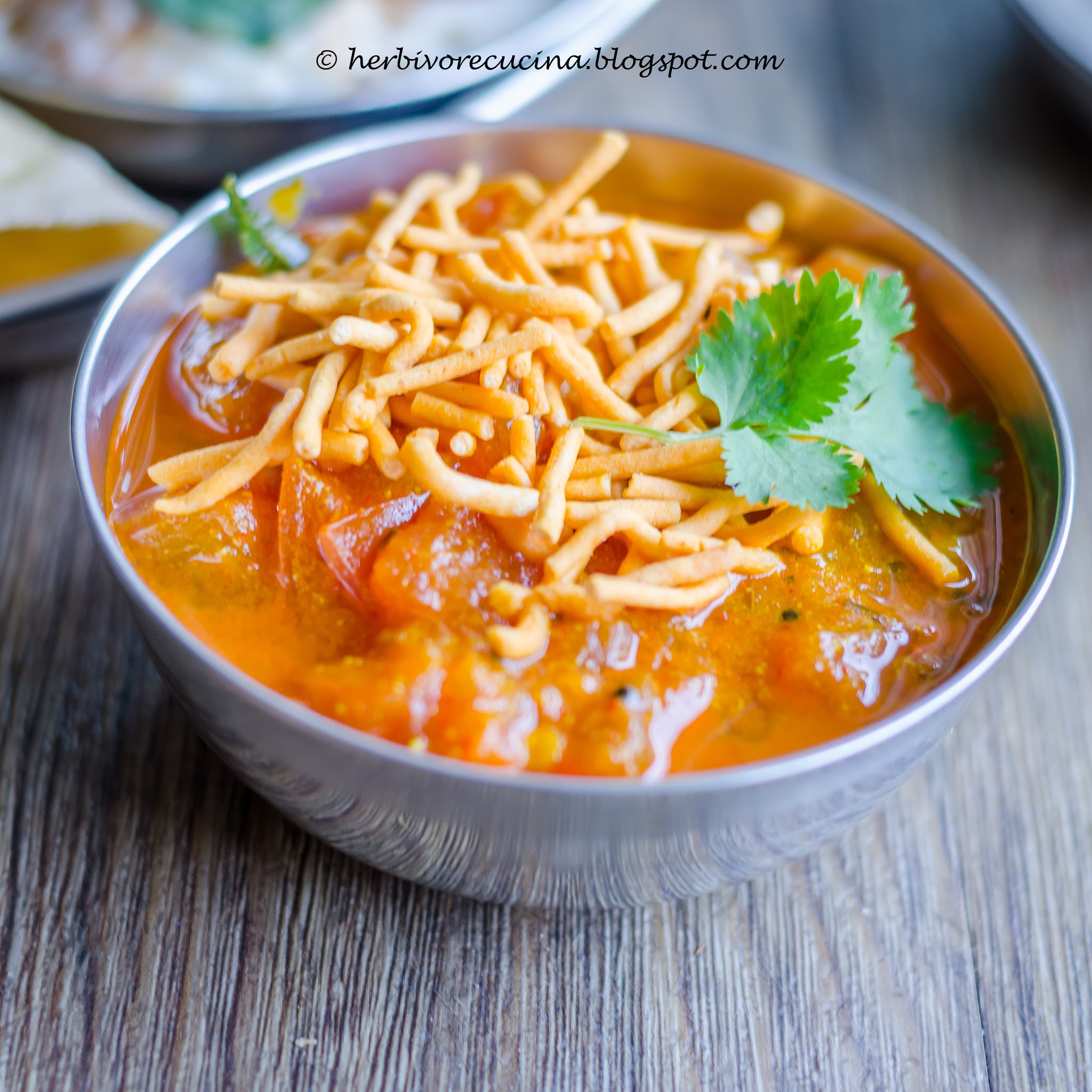 I have described the quantities of the ingredients for a medium spiced soup. However, if you like a milder version, adjust the spices. This is a Gujarati version of Sev Tamatar. I have had a different version of the same curry. That is the Rajasthani version of Sev Tamatar. In that style, the tomatoes are cooked and not much water is added. That yields a drier version of tomatoes with spices. Then the sev is added and served. While I do like that version as well, I LOVE this style of making sev tamatar. That is because it is soupy, warm and perfect for the colder weather. Enjoy this one and come back for another thali tomorrow!!
Ingredients
Tomatoes 2-3
Medium Sev 1 cup
Mustard Seeds ½ tsp
Cumin Seeds ½ tsp
Asafoetida a pinch
Curry Leaves 2-3
Green Chilli 1 medium
Turmeric Powder 1 tsp
Red Chilli Powder 1 tsp
Dhania Jeera Powder 1 tsp
Salt ½ tsp
Sugar ½ tsp
Oil 1 tsp
Cilantro to top
Method
Dice the tomatoes and set aside. Heat oil in a pan. Add the mustard seeds and once they pop add cumin seeds, asafoetida, curry leaves and green chilli.
Then, add the tomatoes and cook till soft. Add turmeric powder, red chilli powder and dhania jeera powder. Season with salt and sugar, mix well. Add 2 cups water and bring to a boil. Once it starts boiling, turn down the heat and remove in bowls. Top with sev and serve with roti.
Check out the remaining dishes from the Thali here.