Mint is one of my favorite ingredients. I love mint in everything I eat! Mornings begin with tea with a lot of mint, parathas get their share of dried mint leaves powder, iced tea is filled with them, mint flavor ice cream makes it to my fav list and even my coffee now has mint after I tried the Mint Mojito at Philz coffee! So adding mint to rice was not something I was going to miss out on. I love the minty flavor and the bright green color.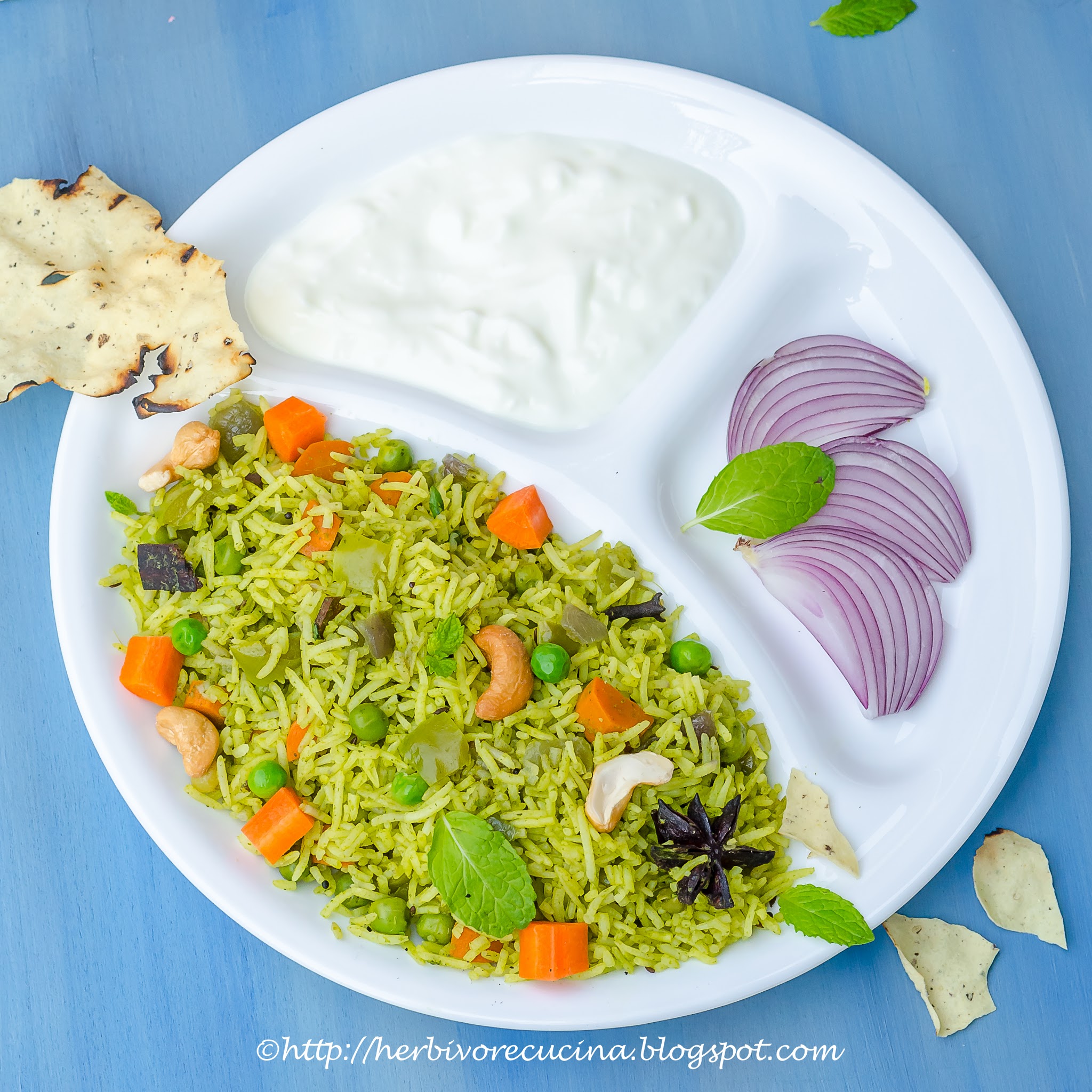 I have made this mint rice very often. But yes, never pictured it as it was always an instant fix for weekend meal and either the light is not right or I am just too lazy! A few days ago we hosted a dinner party for all our friends. I made an elaborate menu including paneer matar, baked vada pav, this mint rice, raita and naan. I was initially really tensed about the whole event, but it went really well. Infact, I finished cooking and had time enough to picture this recipe for the blog!

As I am posting rice dishes this week, I included the recipe here. This is one of the easiest rice recipe and I love how it has a light green color and fresh aroma. It is essentially a one pot dish that can be served with yogurt and salad to complete a meal! I generally like to cook the rice with a mixture of chillies, ginger and mint. However, if you have cooked rice, just saute the vegetables in ghee or oil and add the green paste. Cook for a minute and add the cooked rice. The flavors differ in the two methods but I use this method sometimes to finish off leftover rice.

I have added vegetables we generally have in the refrigerator. Add or subtract any based on preference. I have added broccoli, cauliflower and even potato to the rice earlier. It all comes together really well. Another version of the rice is one with no vegetables, just spices and mint. That tastes divine too. Do try this bright colored rice and have a great meal!


Ingredients


Basmati Rice 1 ½ cup
Carrot 1 medium, diced
Green Peas ¼ cup
Green Pepper 1 medium, diced
Onion 1 medium, diced
Ghee 1 tbsp
Cashew nuts a handful
Cumin Seeds 1 tsp
Curry leaves 2-3
Spices (Cloves 2-3, Cinnamon 1 inch piece, Star Anise 1-2)
Salt 1 tsp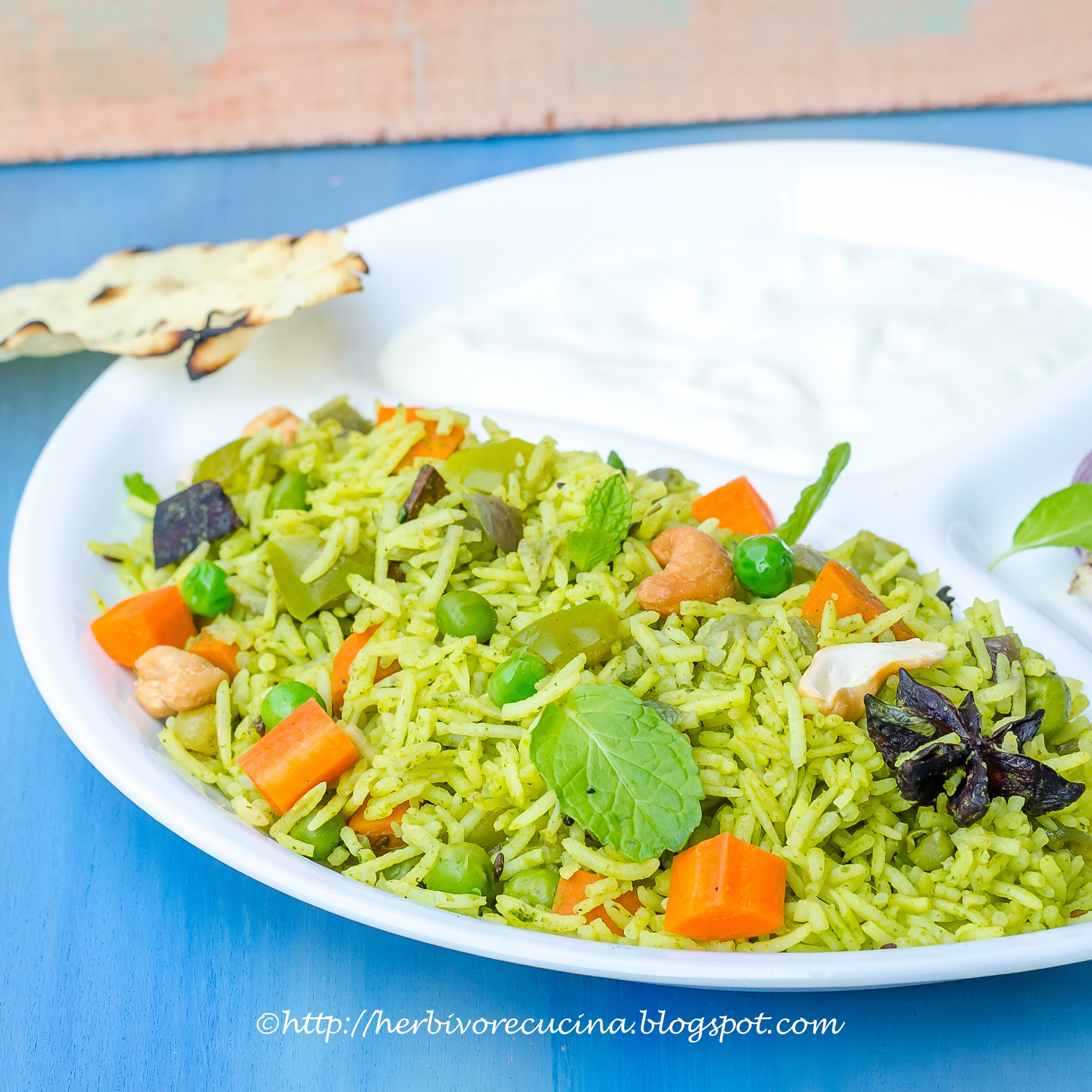 To be ground to a paste
Ginger 1 inch piece
Green Chilli 3-4
Mint 1 cup
Cilantro ¼ cup

Method


Grind all the ingredients under paste and keep ready. Wash and soak the rice in 2 ½ cups water for an hour or so.

Heat ghee in a pressure cooker bottom. Add the cumin seeds, cashew nuts and spices. Fry till fragrant. Then add the onion and peppers. Saute for a minute and add carrots and peas. Mix well and cook for a couple of minutes.

Add in the water and rice. Season with salt and add the green paste. Add another ¼ cup water and pressure cook for 2-3 whistles. Open, toss in some mint leaves and cilantro. Serve with onion slices, yogurt or raita.