Creamy Pumpkin Sauce and Pasta - An easy to make 30 minute dinner. One pot, a handful of easy to find pantry essentials and Vegan friendly too!
This post sponsored by Rachael Ray Cookware. All opinions are mine alone.
Some of the links below are affiliate links, meaning, at no extra cost to you, I will earn a commission if you click through and make a purchase.
Fall is here and I am ready to embrace all the flavors for the season. PUMPKIN, the star of the days to come is a favorite in our household. We love using pumpkin in quite a few recipes ranging from appetizers and mains to drinks and desserts.
Pastas are one of our go-to meals for weeknights. These recipes come together easily. Plus, there are plenty of variations to whip up a new combinations using varied sauces, pastas, proteins and vegetables. And, most importantly; everyone here LOVES pasta and a side of toasted bread!
If you love making pastas but are limiting yourself to just the regular sauces like red, white and green; you DEFINITELY need this recipe. A creamy pasta made using pumpkin puree, this orange pasta is a keeper! And if you need even more colorful ideas for pasta; try these:
One Pan Pasta Recipe
Serving quick dinner is often a necessity. When you do not have time for multiple steps and complex processes, recipes like these come handy.
Here I have cooked the pasta and made the sauce in the same pan. Cooking the pasta with some seasoning and then adding the remaining sauce ingredients not only shortens the time required; it makes a rather flavorful pasta.
For this recipe I used a pan from Rachael Ray Create Delicious Stainless-Steel Cookware set. These pans feature durable polished stainless-steel construction inside and out for gleaming elegance.
An aluminum base encapsulated in magnetic stainless steel provides even heating and versatile all-range use, including induction. All the pans are dishwasher safe!
What need to make this Vegan Pumpkin Pasta
This recipe makes a delicious Vegan dinner that comes together quickly and in one pan only. The sauce I made here can be used in many recipes. It needs a handful of easy to find ingredients.
Dried Pasta: Most of the types of pasta shapes work well here. I used Rotini but everything from spaghetti to penne works well. The cooking time might vary slightly so keep an eye!
Pumpkin Puree: With Fall here and time for all things Pumpkin, I generally have a can of pumpkin puree in my pantry. That works well here and so does fresh pumpkin puree. Choose the kind you have at hand.





Coconut Milk: Given the recipe is Vegan, I skipped heavy cream and milk and opted for Coconut milk. If you are making a Vegetarian version, adding either cream or milk is also an option.
Seasoning: As the pasta has pumpkin puree, coconut milk and a handful of other flavoring agents, I kept the seasoning minimal and just added salt, pepper, nutmeg and oregano. A lot of people do like adding some Pumpkin Spice to the pasta too.
Other Ingredients: Here I used only a couple of vegetables like spinach and sun-dried tomatoes. However, adding a LOT of vegetables is an option too. Or even your favorite protein. Just saute them in some oil and top the cooked pasta with it. They do taste super amazing. Or throw in a handful of the frozen vegetable mixture. That works wonderfully too.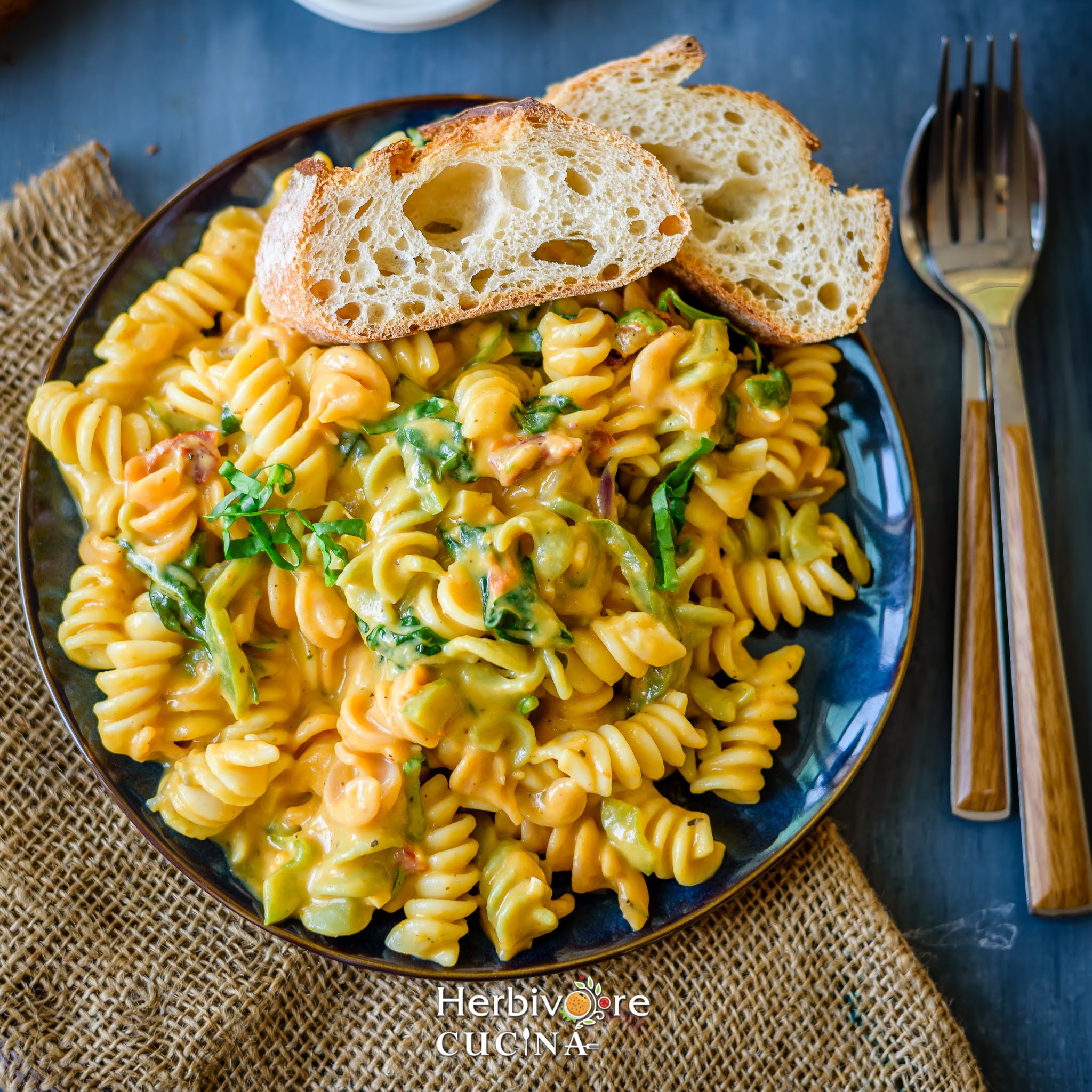 Why is this a PERFECT weeknight dinner?
This pasta made in a flavorful pumpkin sauce is great for weeknights. It comes together in under 30 minutes and needs just one pan to make.
The recipe is super versatile and can be used with any combination of vegetables or seasonings.
Though leftovers from the dish like any other pasta dish do not freeze very well, it makes a great option for lunch box. The sauce will retain the consistency as there is no flour to thicken it up. And the pasta does taste great even at room temperature.
Hope you all try this one for Fall dinners! I like to serve mine with toasted baguette or bruschetta. Plus adding a simple butternut squash soup to go with the pasta completes Fall dinner!
Ingredients
Dried Pasta 8 oz, I used tricolor Rotini
Water 2 ½ cups
Salt 1 tsp
Spinach 1 cup, packed
Sun dried tomatoes ¼ cup, chopped
Olive Oil 2 tbsp
Garlic 2-3 cloves, minced
Coconut Milk ½ cup
Pumpkin Puree 1 cup
Salt 1 tsp
Black Pepper Powder ½ tsp
Dried Oregano ½ tsp
Nutmeg Powder a pinch
Method
In a steel saucepan add olive oil. Heat for a minute and add minced garlic. Let the raw flavor vanish.
Add the other ingredients- dried pasta, water, salt, pepper, nutmeg powder and dried oregano Mix well and bring to a boil. Once it boils, reduce flame to simmer and cover the pan.
Simmer until the pasta is cooked and all the liquid is absorbed. Open the lid, stir in coconut milk, pumpkin puree, spinach and sun-dried tomatoes.
Stir and simmer for a few minutes. The pasta sauce will start to thicken and become creamy.
Mix everything well and serve with a side of garlic bread or toasted baguette.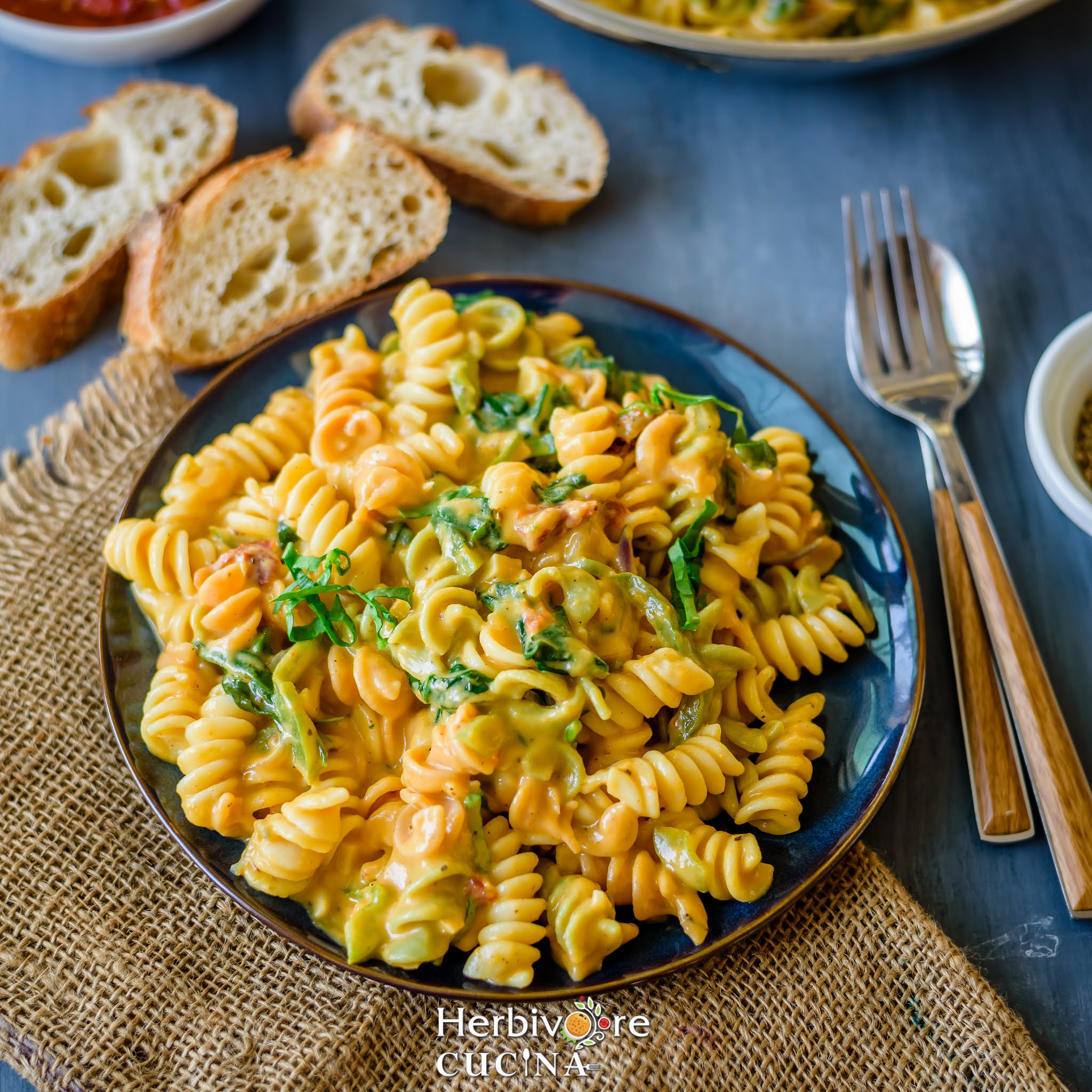 DISCLOSURE: WE ARE A PARTICIPANT IN THE AMAZON SERVICES LLC ASSOCIATES PROGRAM, AN AFFILIATE ADVERTISING PROGRAM DESIGNED TO PROVIDE A MEANS FOR US TO EARN FEES BY LINKING TO AMAZON.COM AND AFFILIATED SITES.