This Balsamic Caprese Pasta Salad is a light, quick, and simple vegetarian side dish or picnic special recipe. Easy to make and super delicious.
Pasta is one of our favorite dishes. Whenever I am out of ideas to cook for dinner, I make pasta. From red sauce based pastas to green, pink, white and orange; we enjoy all of them!
Apart from the regular stove top pastas, we also enjoy casseroles, salads and au-gratin made from pastas. Plus, when we are planning trips, a quick salad with pasta and vegetables is always demanded!
A simple combination of pasta, vegetables and either a balsamic vinegar based sauce or a mayonnaise based one is our favorite. Just mix everything up and the salad is ready.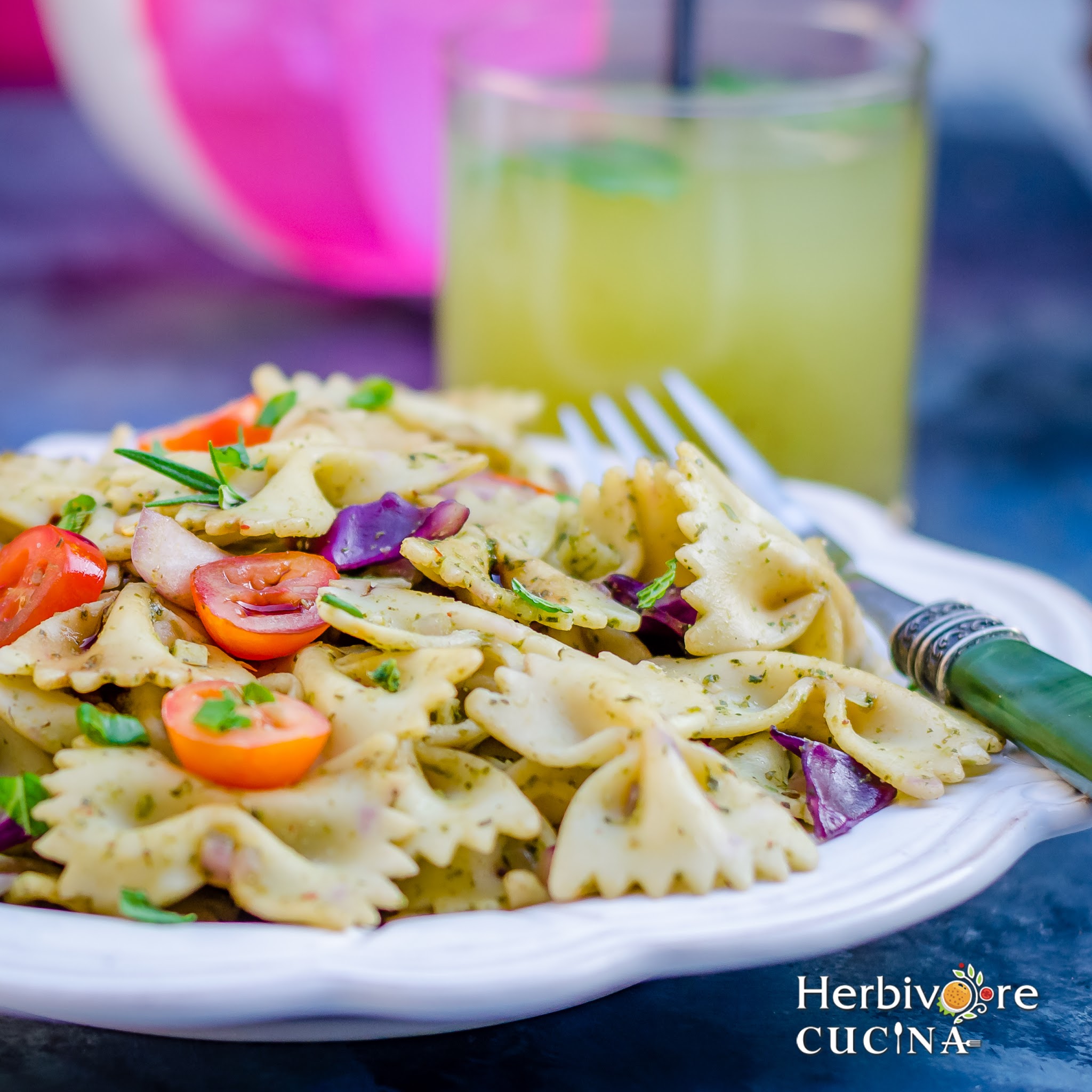 Pasta for a trip?
Isn't pasta supposed to be a fine dine recipe? Is it not something we enjoy with a glass of wine and and in a candle lit setup? Can we take pasta for a trip? If you have these questions in mind, you need to read on.
Pasta is one of the easiest dishes to make for a trip. And it can also be one of the freshest dishes for a day trip. What I like to do is boil the pasta the previous night and refrigerate. On the day of the trip mix in everything else and pack it right away! The pasta remains fresh and the flavors get a chance to settle well too.
We went for a fruit picking trip last weekend. It was going to be a picnic for the entire day. So we packed some of our favorite snacks to nibble on the way. Plus, we made some yummy dishes for lunch that we enjoyed by the fields. For this trip I made this Caprese Salad with Farfalle pasta.
When making a pasta for a trip it has to be dry enough to carry and wet enough so that it does not feel chewy or dry. That is the reason I use balsamic vinegar in the salad. And a LOT of basil leaves. The flavors go well and the pasta turns out really yummy. Plus, adding fresh mozzarella makes the salad nice and moist.
If you do not find fresh mozzarella cheese, use the shredded one. Plus, if you cannot find fresh basil, use the frozen ones. They work equally well. And select a pasta of your choice, just make sure it is small in size like penne, farfalle or elbows.
So next time that you are planning a trip, consider making a salad using pasta. It is delicious, easy to make and filling! Or make this with Minestrone Soup, Olive Garden style Salad and Garlic Breadsticks. It will surely become your go-to meal idea for weeknights!

Ingredients
Pasta of your choice 1 cup (I used Farfalle)
Fresh Mozzarella Cheese ¼ cup, pieces
Onion ½ medium, diced
Cherry Tomatoes 5-6, sliced
Garlic 2-3 cloves, minced
Basil Leaves 5-6, chopped
Olive Oil 1 tbsp
Balsamic Vinegar 1 tsp
Dried Oregano 1 tsp
Salt 2 tsp
Pepper powder ½ tsp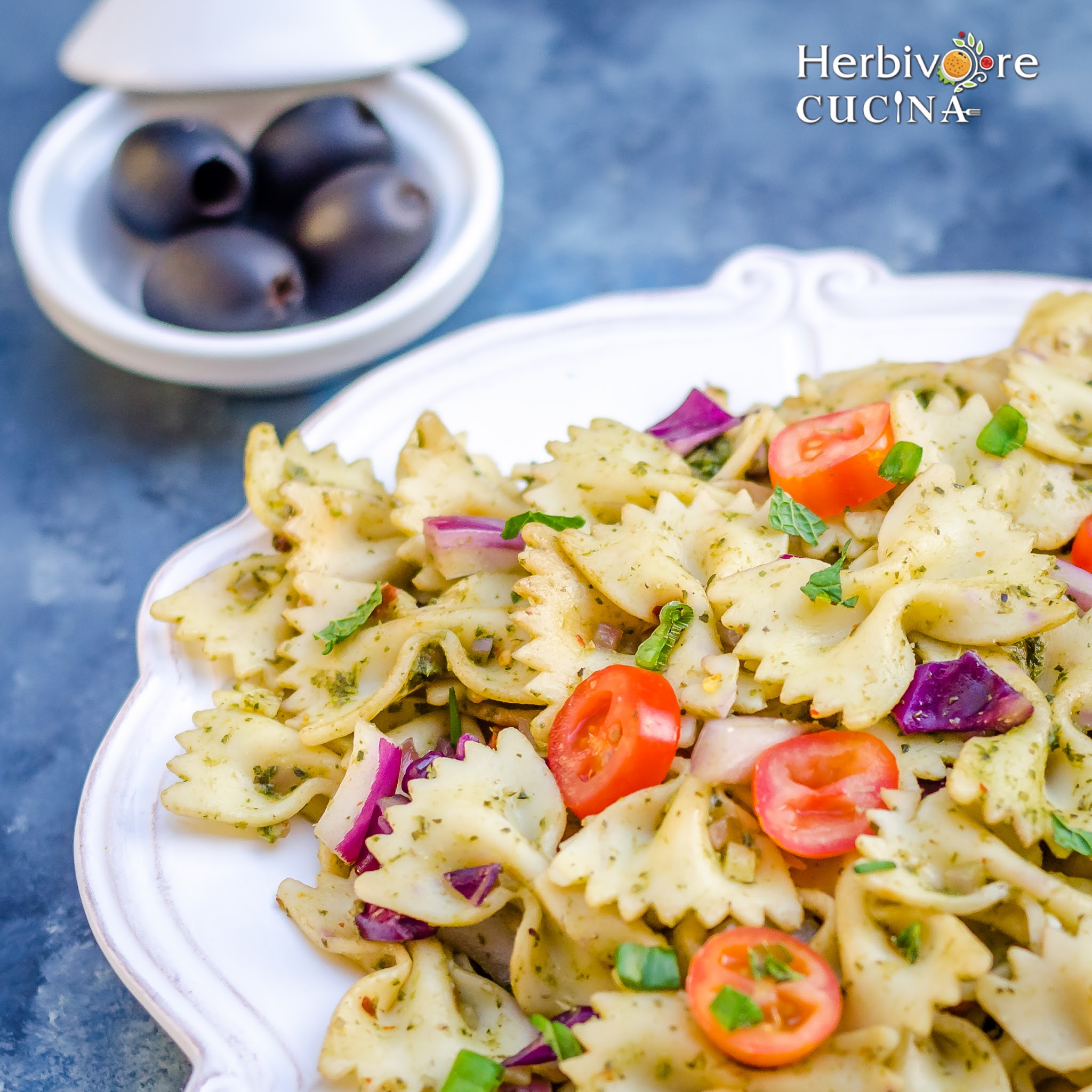 Method


In a pan heat 4-5 cups of water. Add 1 teaspoon salt and bring to a boil. Then, add pasta and cook till al-dente. Drain and set aside.

In a bowl mix olive oil, balsamic vinegar, garlic, basil leaves and dried oregano. Once it is mixed, pour over the cooked pasta.

Then add the onions, tomatoes, Mozzarella Cheese, salt and pepper. Toss everything together and serve.