Have you tried Olive Garden's signature Italian salad? Those big bowls piled with yummy salad vegetables and that signature dressing. The salad at Olive Garden is what attracts me to have dinner there many times. Ofcourse, not to forget the awesome Minestrone Soup and their warm Garlic Breadsticks!
Few days ago I was shopping at Walmart and happened to see that Olive Garden actually sells the dressing in bottles!! I had made this salad along with the Minestrone Soup and Garlic Breadsticks a few days ago and my dressing was pretty close to the ingredients mentioned on the bottle 🙂 We loved having the salad and it felt like Olive Garden at home!
If you want to make the salad for dinner, I would suggest that you whip up the dressing i the afternoon and refrigerate it till ready to use. The flavors become bold when the dressing rests for a while. When ready to eat, make fresh breadcrumbs, cut the vegetables and enjoy a yummy bowl of salad just like the restaurant!! Not very complex yet amazing flavors.
Ingredients
For the Dressing
White Vinegar ¼ cup
Olive Oil ¼ cup
Mayonnaise 1 tbsp
Garlic Powder 1 tsp
Italian Seasoning 1 tbsp
Sugar ½ tsp
Dry Parmesan powder 1 tsp
Lemon Juice 1 tsp
Pepper and salt to taste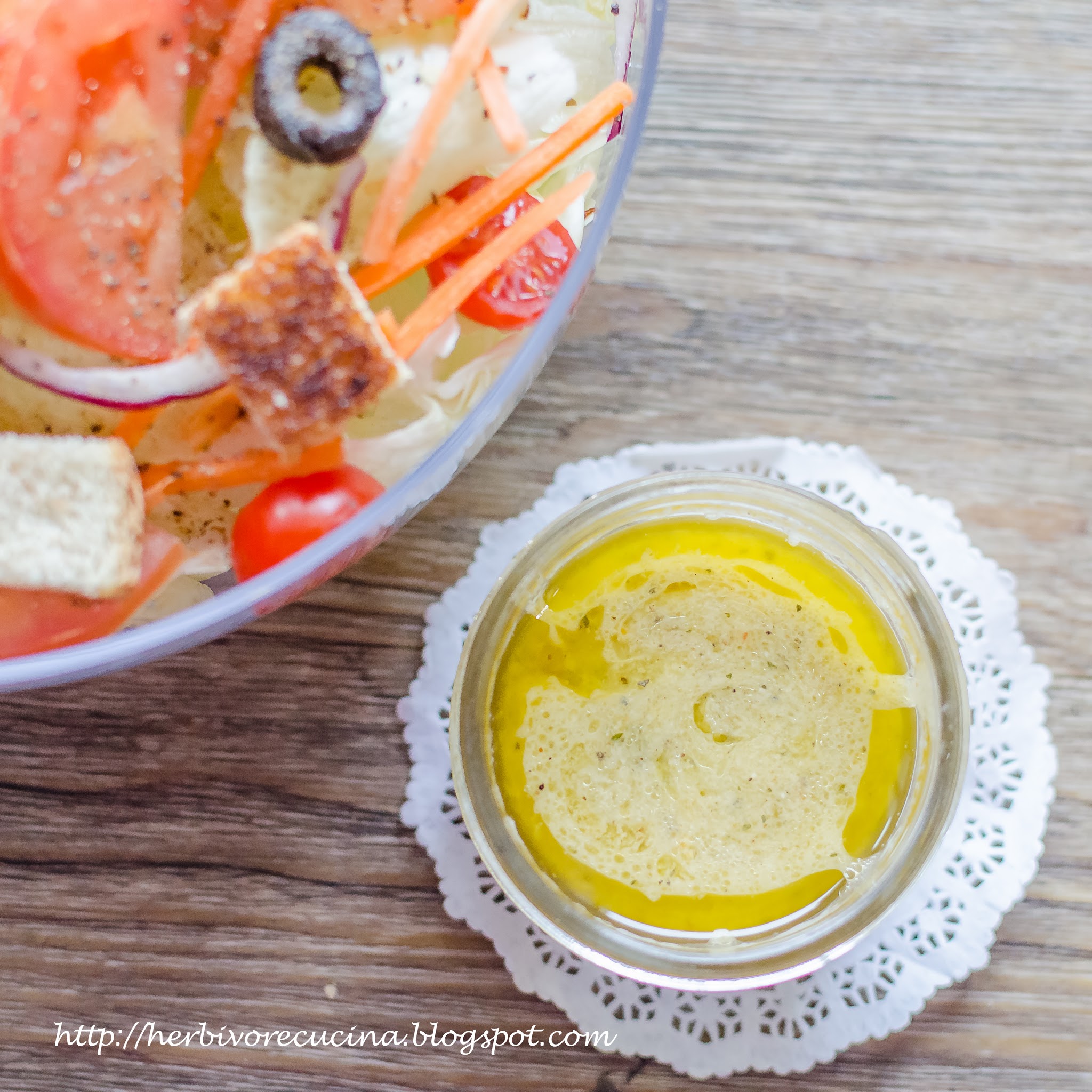 For the Salad
Iceberg Lettuce ½ head
Cherry or Regular Tomatoes 2-3
Pink Onion 1
Carrot 1
Cucumber ½
Black Olives ¼ cup
Bread croutons
Cilantro
Parmesan cheese
Method
For the Dressing
Mix everything under dressing and refrigerate while preparing the salad.
To assemble the Salad
Tear the lettuce into small bits and place them in ice water to make them crisp. Remove from water just before assembling the salad. Julienne the carrot, slice the cucumber and tomatoes. Chop the pink onion and slice the olives.
If making croutons at home, just follow this recipe.
In a large mixing bowl, add all the vegetables. Top with some Italian Seasoning, pour the dressing and finally top with croutons and fresh parmesan. Serve immediately.