A delicious meal that is incredibly easy to make, this Ravioli Lasagna is a perfect dish for date night or family dinner!
It is a fancy meal with hardly any preparation needed.
This post is sponsored by S. Pellegrino Essenza but the content and opinions expressed here are my own.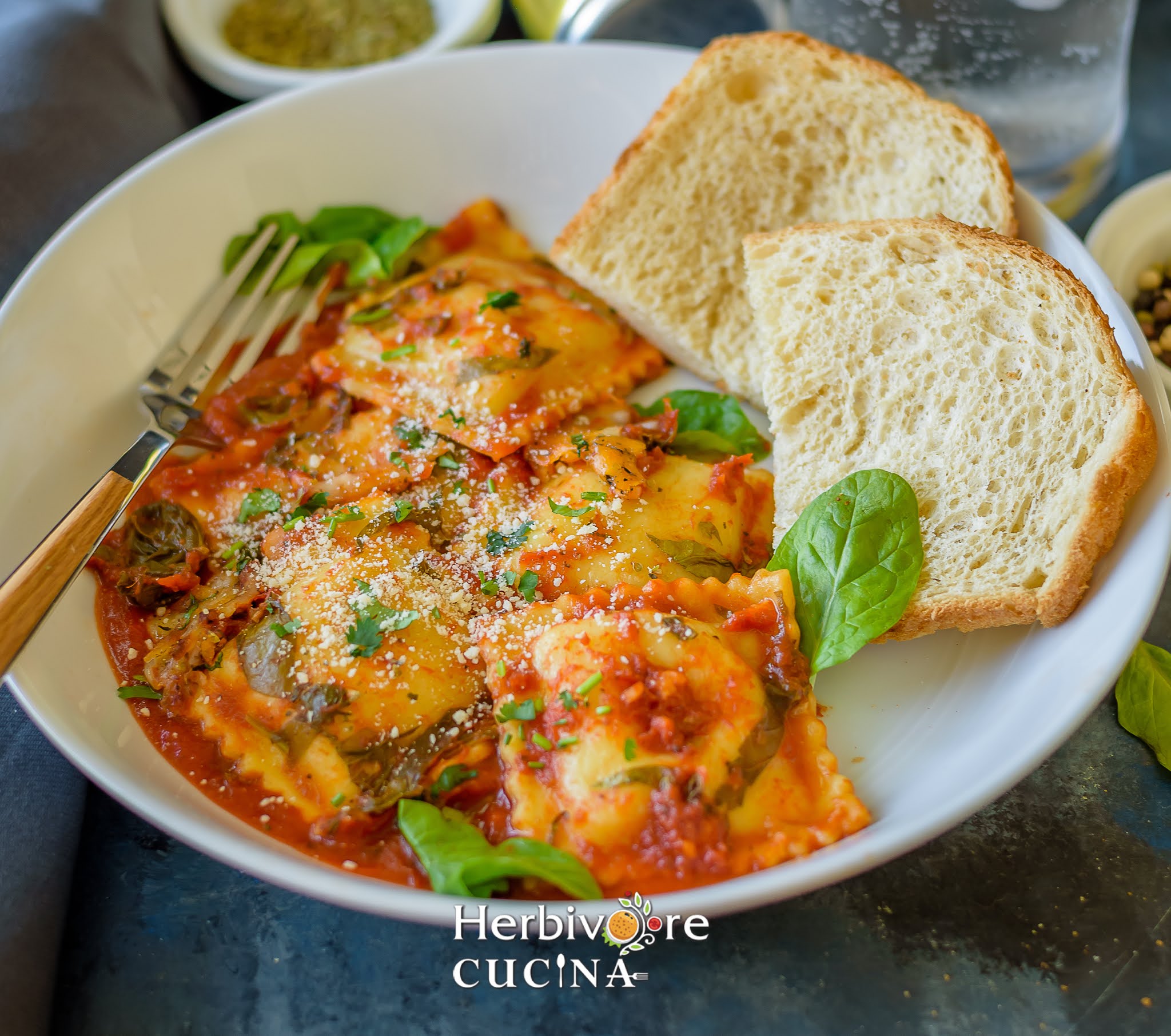 Ravioli, the pasta that is super delicious, versatile and has a restaurant feel to it. Most of the time ravioli is ordered at luxurious restaurants that serve it with exotic sauces and toppings.
Making a ravioli lasagna at home is a great idea because it has the feel of your favorite fine dining restaurant when served the right way!
I like to serve mine with S.Pellegrino Essenza to complete the meal. I would not have it any other way.
Jump to:
Why make this Ravioli lasagna
Family meals are something that we enjoy. Making dishes that are yummy yet easy are a big win for family dinners.
Lasagna is a popular recipe for family style meals. However, it might get boring after a while. So bring in some change while hanging on to the classic flavors; this ravioli lasagna is a great idea.
Just a handful of ingredients needed, preparation time under 10 minutes and a bake that is cheesy, yummy and perfect each time. Plus, freezes beautifully to enjoy later.
Why I chose S.Pellegrino Essenza
A natural accompaniment to the baked ravioli dish is a refreshing drink. This S.Pellegrino Essenza offers the perfect pairing with the Lemon & Lemon Zest Flavor.
Super refreshing, versatile and easy to serve from the can, this drink is definitely a great way to elevate home cooked restaurant style meals.
It is great with a meal and also good to enjoy as a drink.
These days I am ordering almost all of my groceries online and it is great to have everything delivered in my Walmart order. It was super easy to order from the app and have it delivered to my doorstep! Get yours today.
What you need to make this Ravioli Lasagna
Back to the recipe; this is the EASIEST batch ingredient and bake recipe that turns out like a beautiful restaurant quality dish.
Frozen or fresh ravioli is the base for this recipe (obviously!) and it needs a sauce of your choice. Plus, cheese and vegetables (totally optional) complete the dish. After the dish comes together, no one will ever guess how easy it was to put together!
I generally use fresh ravioli that is filled with cheese, butternut squash or mushrooms. Meat based raviolis will work too.
For the sauce, there is marinara, three cheese, alfredo or pesto. Whether you make it from scratch or use it from the jar, it does not really matter! It all tastes great for sure. I used jarred marinara here.
Parmesan, mozzarella or cheddar is the choice of cheese for the dish. I like to use a combination of three by adding mozzarella and cheddar in the dish and topping it off with dried parmesan.
Spinach is the addition I made to the dish this time. While raw spinach works, sautéing it in butter tastes great too.
Substitute with any vegetable you like such as mushrooms, zucchini or peppers.
How to serve this
This recipe makes a great dinner dish. Serve it family style with some toasted bread, soup or salad. And of course do not forget the S.Pellegrino Essenza.
I chose the Lemon & Lemon Zest Flavor that is fine and elegantly enhanced with refined bubbles that offer a surprising fresh taste.They also have Tangerine & Wild Strawberry flavor as well as Dark Morello Cherry & Pomegranate. Pick your favorite flavor here!
Storing Ravioli Lasagna
This dish is super versatile. It can be enjoyed hot out of the oven (my personal favorite way) or enjoyed later.
If serving a few hours after making, store at room temperature or in the refrigerator. Heat it up in a warm oven till the sauce starts to bubble.
If storing for later, freeze the lasagna. It stays well for a couple of months. To serve, defrost and warm in the oven till it bubbles. This ensures the filling is heated well too.
How to make this recipe
Preheat oven to 400 F (200 C). In a baking tray (I used a 7*9 inch baker) spread ¼ cup sauce.
Arrange half the frozen or fresh ravioli to cover the sauce.
Spread half the spinach over it. Add ¼ cup sauce.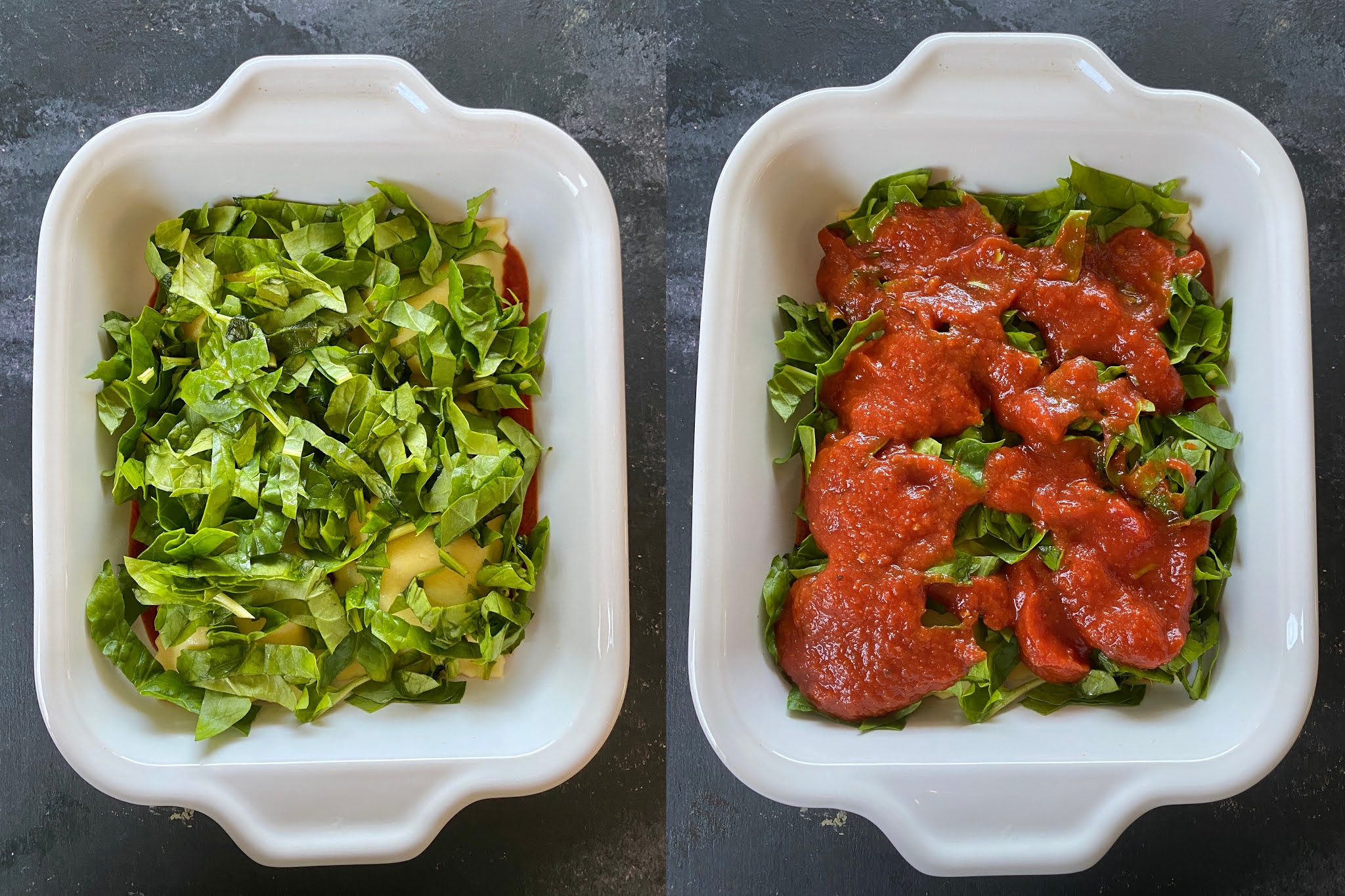 Sprinkle half the cheeses.
Repeat the layers of ravioli and spinach. Top off with leftover sauce and cheese.
Sprinkle oregano and cracked pepper over it.
Cover with aluminum foil and bake for 20 minutes if using fresh ravioli (30 minutes for frozen).
Remove foil and bake for 8-10 minutes till the cheese is golden brown and the sauce is slightly dry.
Remove and top with chopped parsley and parmesan cheese. Serve warm.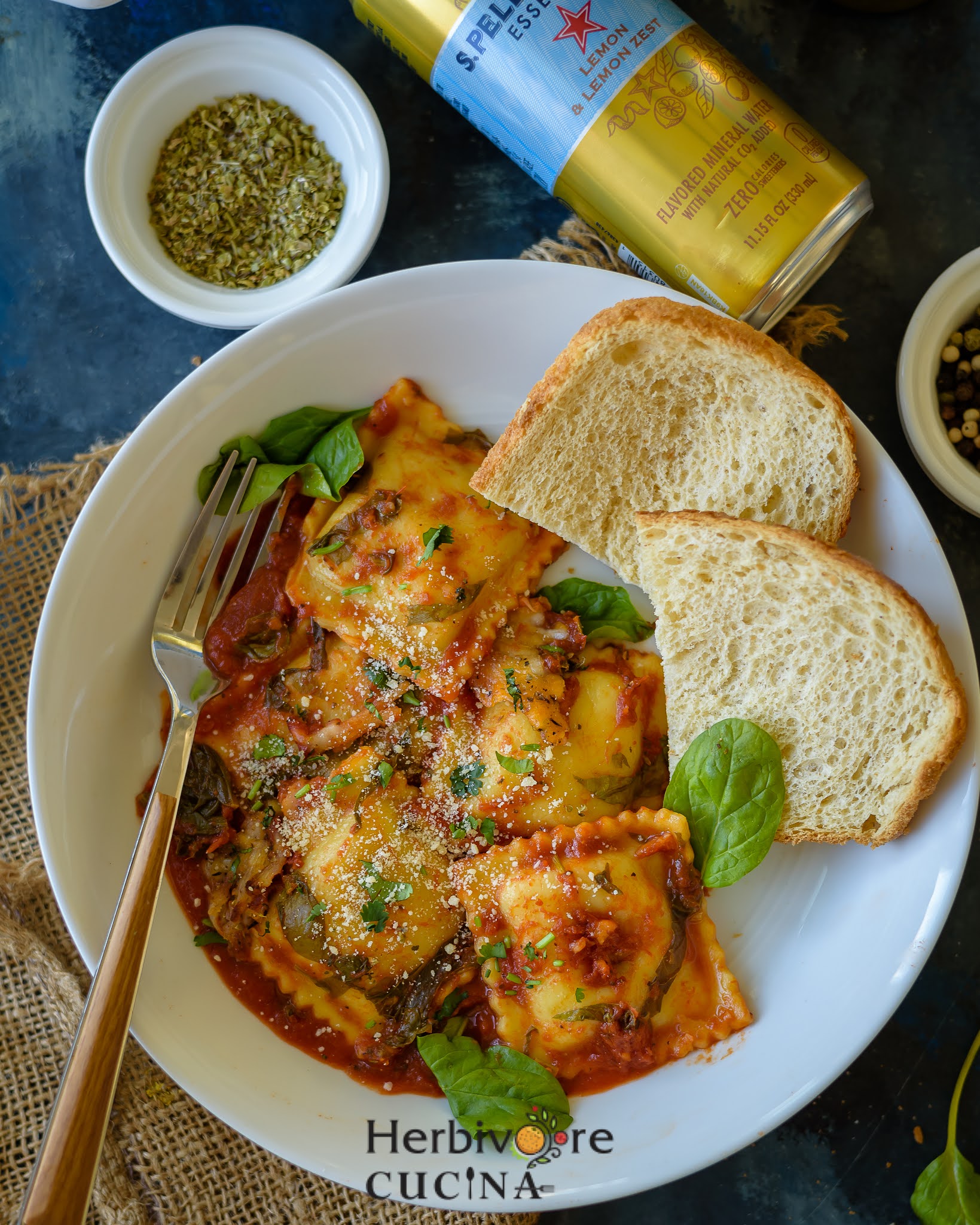 Pairings
This pasta dish is wonderful with so many sides. Breads, soups and salads pair wonderfully. Here are some amazing sides.
More One Pot Meals
Love this recipe? Please leave a star rating in the recipe card below & if you REALLY like it, consider a review in the comments whilst you are there, thanks!