A perfect meal; this Mushroom and Wild Rice Soup made in the Instant Pot is hearty, easy to make and super delicious! Try it to believe it!
Some of the links below are affiliate links, meaning, at no extra cost to you, I will earn a commission if you click through and make a purchase.
Soups are like a warm hug on cold days. But they are great for weeknight dinner year round. I can practically live on them! Given a choice between soup and dessert, I would probably pick soup.
This wild rice and mushroom soup has been in my drafts longer than it should have! I made it, took photos and they got buried somewhere in the folders. I chanced upon them over the weekend and finally the post is up on the blog.
We still have a few weeks of winter and all of spring to enjoy it. Plus, as I mentioned, this soup can be enjoyed year round!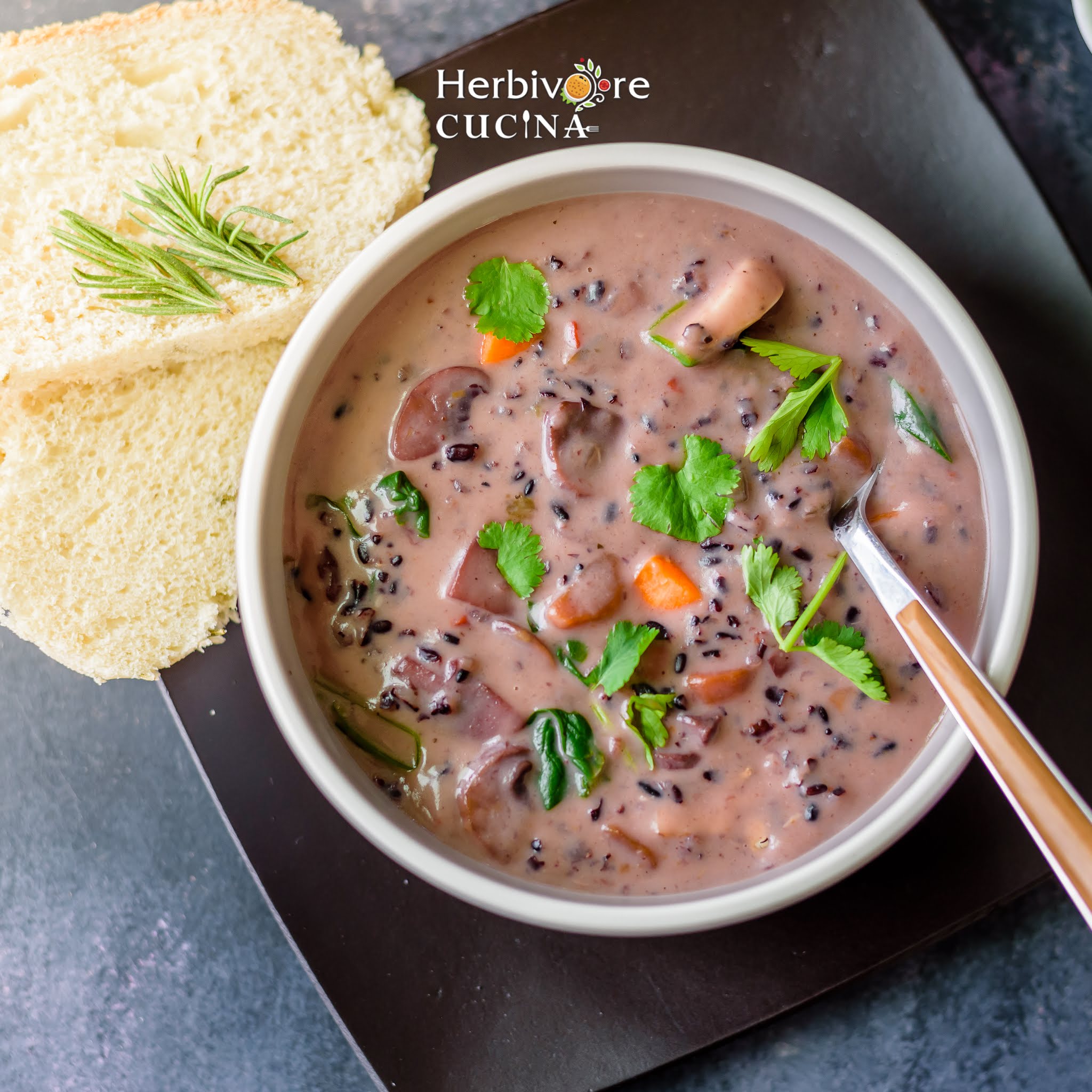 This Mushroom Wild Rice Soup


One of the BEST kinds of soups are the ones that need no baby sitting. Soups that are as simple as sauté, cook and enjoy. This soup is like that. No complex steps and no mess with a ton of utensils.
All you need for this soup is the Instant Pot and a cup. It comes together very easily and has everything to qualify as a complete meal by itself. Combine with some toasted bread and it could define my weeknight meal for days!
Besides enjoying it on the day it is made, this recipe freezes really well too. Make a big batch and enjoy it for a couple of meals.
What do you need to make this soup?
Wondering about the ingredients? This mushroom and wild rice soup has one key ingredient; WILD RICE. Everything else is pretty much based on how you like your soup.
Getting the actual wild rice is key to making the soup perfect. Once you have that, you are ready to make the soup. It is best to not get any sort of blend for this recipe as the blends often contain white rice which would become mushy in 35 minutes cooking time and then make the soup super thick, almost like a paste.
I add some veggies to the soup and keep rotating them like carrots, kale, peppers, celery, beans, broccoli, mushroom, peas and spinach. I try and make a new combination each time I make the soup.
The day when I shot this soup I had carrots, mushroom, celery and spinach. Sometimes I even throw in some tofu. It adds protein to the soup and makes it delicious too. So you can add anything you like to this one.
A lot of recipes of this soup called for roux made on the stove top and added to the soup. I personally just mix room temperature broth and flour and add it to the soup. No need of cooking it separately or adding any additional butter. The soup is perfectly creamy and delicious.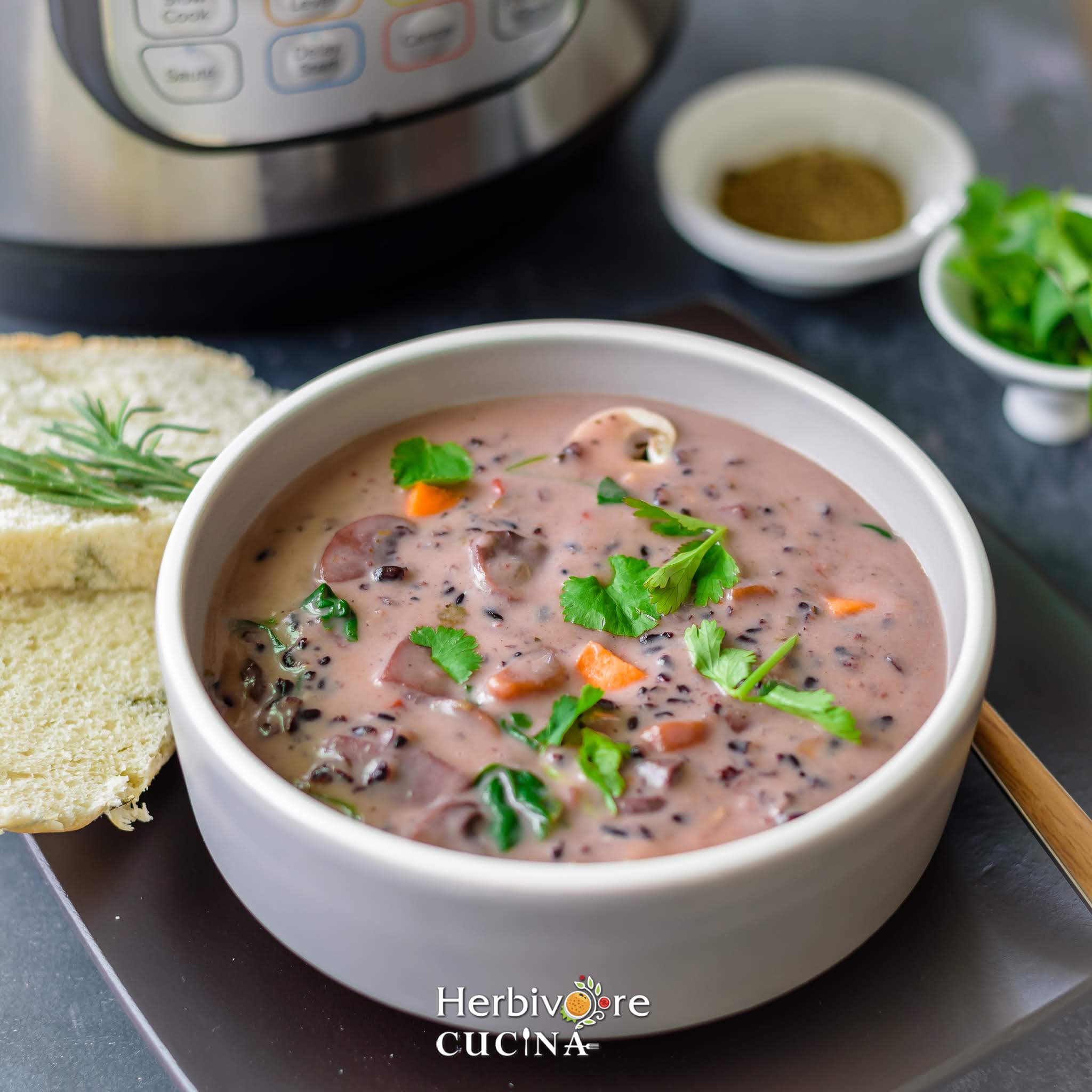 How to enjoy this soup?
As I mentioned above, this soup is a great meal by itself. However, if you would like any accompaniment, I would totally vote for a bread like Cheese Jalapeño Stuffed Pretzel Rolls or Ciabatta Sandwich Rolls. They are great with the creamy soup for sure.
If you are freezing this soup to enjoy later, it is a great idea. Once ready to enjoy, heat a teaspoon of olive oil or butter in the instant pot and add the frozen soup. Pressure cook for 2 minutes and do a quick release. Enjoy a bowl full of warm soup!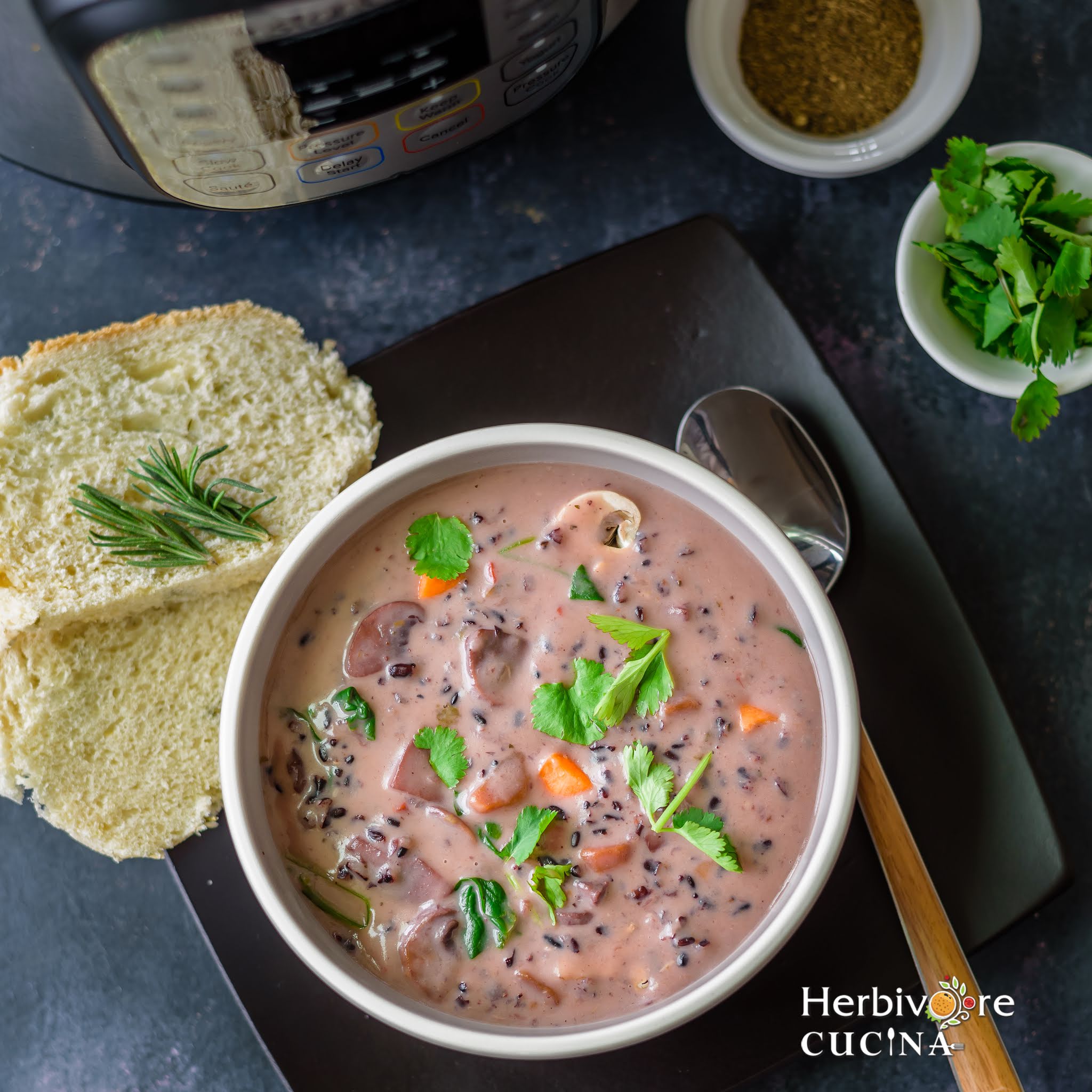 Ingredients
Wild Rice 1 cup
Brown Mushrooms 8-10
Carrot 1 medium, diced
Celery 2 stalks, sliced
Spinach a handful
Onion 1 medium, diced
Garlic 4-5 cloves, minced
All purpose Flour 2 tbsp
Heavy Cream ½ cup
Vegetable Broth/ Water 4 cups
Olive Oil 2 tbsp
Italian Seasoning 1 tsp
Paprika ½ tsp
Salt ¾ tsp
Pepper Powder ¼ tsp
Cilantro to top
Method
Press Sauté on the Instant Pot. Once the display reads 'Hot', add Olive Oil. Sauté garlic till fragrant and add onions. Sauté till the onions are soft and translucent.
Add carrots, celery, mushrooms and wild rice. Stir and let them sauté for a minute. Deglaze the pot with 3 ½ cups vegetable broth or water.
Mix in Italian Seasoning, paprika, salt and pepper powder. Press Cancel.
Close the lid and put the vent in sealing position. Press Pressure Cook/Manual and set the pressure to high. Adjust time to 35 minutes and let the soup cook.
Once the timer reaches zero, wait for 15 minutes and then remove the remaining pressure manually.
Open the Instant pot and set the mode to Sauté again. In a bowl mix together all purpose flour and ½ cup water or broth. Add that along with heavy cream to the soup.
If the soup is too thick add some more broth or water. Let the soup simmer for 2-3 minutes and then add in spinach. Stir, add cilantro and serve warm.
DISCLOSURE: WE ARE A PARTICIPANT IN THE AMAZON SERVICES LLC ASSOCIATES PROGRAM, AN AFFILIATE ADVERTISING PROGRAM DESIGNED TO PROVIDE A MEANS FOR US TO EARN FEES BY LINKING TO AMAZON.COM AND AFFILIATED SITES.