This shop has been compensated by Collective Bias, Inc. and its advertiser. All opinions are mine alone. #MazolaHeartHealth #CollectiveBias
Air Fryer Cauliflower Bites taste great and are super easy to make! A crave-worthy Vegan appetizer that is Keto friendly too! A clinical study showed Mazola® Corn Oil reduces cholesterol 2x more than extra virgin olive oil. To learn more about this claim, visit Mazola.com.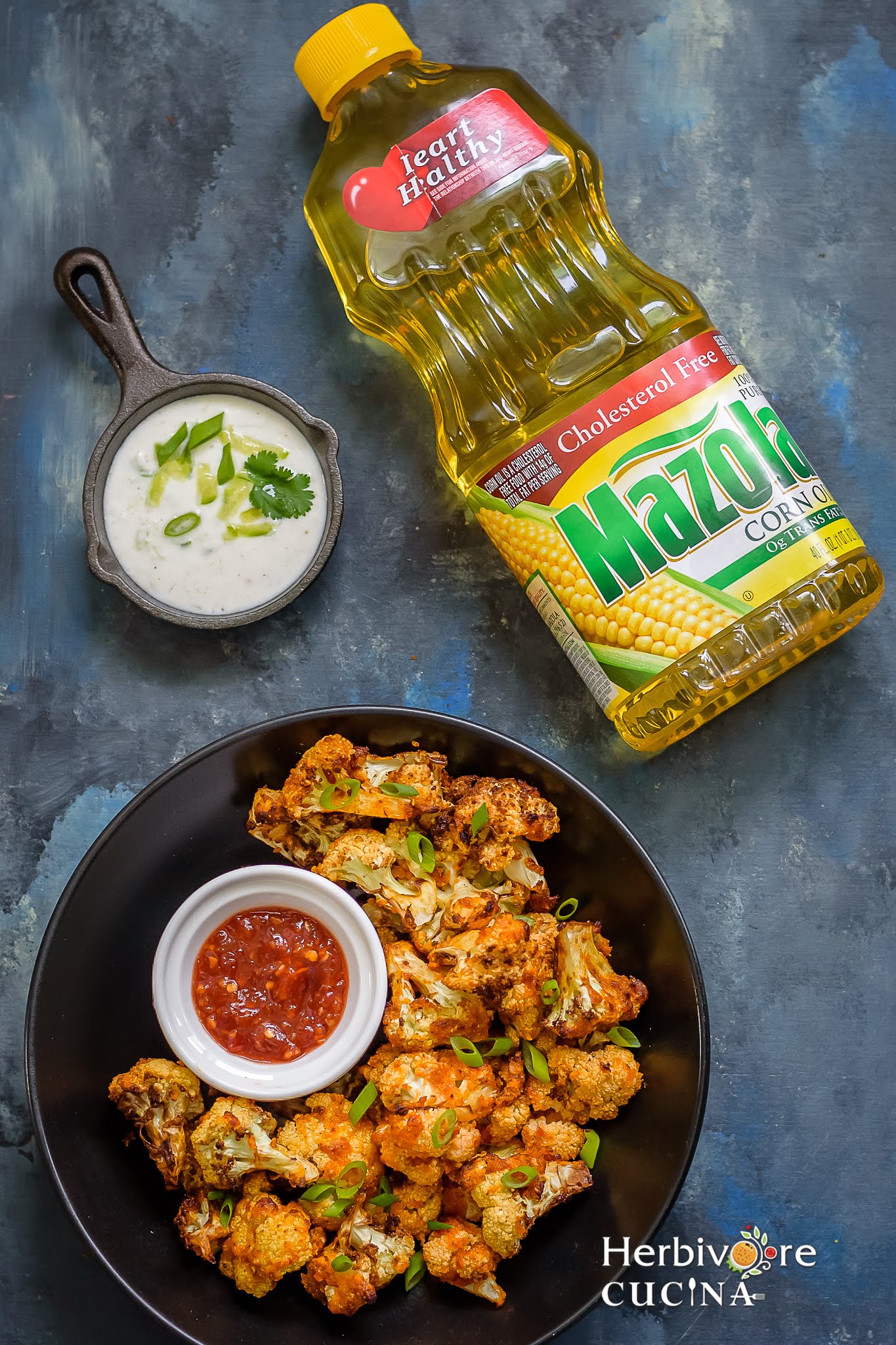 A delicious snack or appetizer that is easy to make. Does that sounds like something unachievable? This recipe of Cauliflower Bites will make it possible. A whole head of cauliflower coated with Mazola® Corn Oil based marinade and air fried to golden brown! A PERFECT recipe to celebrate Heart Health Month this February.
This Keto friendly recipe is super quick and needs only a handful of pantry essentials including cauliflower, a few spices and Mazola Corn Oil. A clinical study showed Mazola Corn Oil reduces cholesterol 2x more than extra virgin olive oil. To learn more about this claim, visit Mazola.com.
This recipe has been a favorite in our house for many parties as well as weeknight sides. Using the air fryer makes it super quick, non messy and definitely delicious. Plus the marinade can be made in under a couple of minutes and the cauliflower soaks up the flavors quickly too.
Video Recipe
Why use Cauliflower in this recipe?
For a very long time cauliflower has been a star in vegetarian cooking. From the traditional recipes like aloo gobi and cauliflower 65 to more complex cauliflower pizza and rice, cauliflower is everywhere.
A perfect replacement of chicken and other meats, cauliflower is a great carrier for various flavors. It does not have any strong flavors in itself making it great for all kinds of sauces and marinades.
Cauliflower is easily available year round at a LOT of places. You will not have to hunt for it. From the local farmer's market to big chains, everyone has these on their aisles.
Lastly, the florets are beautiful and they cook really well in a pan, on the grill, in the air fryer as well as the oven. This gives us a lot of ways to use them.
How to make the BEST Cauliflower Bites?
The starting point of this recipe is definitely the cauliflower. So pick one that looks clean and will not need a lot of trimming. Make the recipe while the cauliflower is still fresh. This gives the dish a perfect crunch.
I used the air fryer to make the recipe and I must admit I LOVE air fried cauliflower. Ready in just 12-15 minutes, the air fryer is great for this recipe. However, the same can be made in the oven too. Just spread out the bites in a baking tray and bake at 350 F for 15-18 minutes.
The ingredients here mention hot sauce. Adding 3-4 tablespoon of sauce will not make the recipe SUPER spicy. But if you have a smaller cauliflower, it might. So start with 3 tablespoon of hot sauce and add more if you think it is required. If you like spicy food, add some more!
While placing the bites in the air fryer tray make sure they do not pile on top of each other. They should be in a single layer to cook evenly.
Swaps to make this recipe 'Better for You'
This recipe uses a few swaps that makes it delicious and better for you. By using these swaps I like to enjoy the recipe more often!
Use almond flour in place of regular flour. Not only is it full of nutrition, it is perfect to give the cauliflower a great crust.

Mazola Corn Oil in place of butter. This one is an all-purpose, cholesterol free cooking oil that is a smart heart-healthy* choice for your family. *See Mazola.com for more information on the relationship between corn oil and heart health. It has a variety of uses include baking, grilling, sautéing, stir frying, or mixing up a marinade or dressing.

Air fry or bake instead of frying. When the ingredients are not submerged in hot oil, it makes them lighter while still being delicious.

Serve the bites with a lighter dip like the Greek yogurt one in the recipe below. Or serve it with celery sticks.
Variations
I have used cauliflower in this recipe but other vegetables like broccoli, carrots, french beans and mushrooms work equally well. You can use a mix of these vegetables too.
The hot sauce in the recipe makes it spicy. Add a pinch of sugar or some honey to make it sweet and spicy.
Use the oven instead of air fryer if you do not own an air fryer. I would totally recommend having an air fryer at home though! I hope you try this recipe for your next party or movie night!
Ingredients
For the Bites
Cauliflower 1 medium head
Mazola Corn Oil 3 tbsp
Hot Sauce 3-4 tbsp
Almond Flour 2 tbsp
Garlic Powder ½ tsp
Pepper Powder ½ tsp
Salt ¾ tsp
For the Dip
Greek Yogurt ½ cup
Shredded Cucumber ¼ cup
Garlic Powder ¼ tsp
Salt ¼ tsp
Pepper Powder a pinch
Method
Preheat air fryer to 400 F/ 200 C.
Chop the cauliflower into bite size pieces. Wash and pat dry.
In a bowl add oil, hot sauce, almond flour, garlic powder, pepper powder and salt.
Add the sauce to the cauliflower bites and mix until coated.
Transfer half the cauliflower bites to the air fryer tray and fry for 12-15 minutes. Halfway through this time open the air fryer and toss the bites.
The edges should be crisp in 12-15 minutes. Remove and set aside.
Add the remaining batch but cook for 2-3 minutes less.
To make the dip, whip the Greek Yogurt till smooth. Add the remaining ingredients under dip and mix well.
Serve the cauliflower bites with the dip.