A wonderful combination of tangy taste and crunchy texture, bell peppers are the Christmas ornaments of the vegetable world with their beautifully shaped glossy exterior that comes in a wide array of vivid colors ranging from green, red, yellow, orange, purple, brown to black. Using these peppers in making a pasta sauce is completely delightful. It is time to move away from the Marinara Sauce and Alfredo Sauce to give way to some more interesting pasta dishes.
Here is a recipe to make pasta in roasted red pepper sauce. It can be made with other colored peppers too, but red pepper gives a really nice color to the dish. Not only is this dish colorful and full of flavor, it completely eliminates the need to use cream and the all purpose flour and makes a healthy dinner. The cheese topping is also completely optional and can be done away with. Make a large jar of the pepper sauce and keep it refrigerated. Whipping up a quick dinner is then just child-play.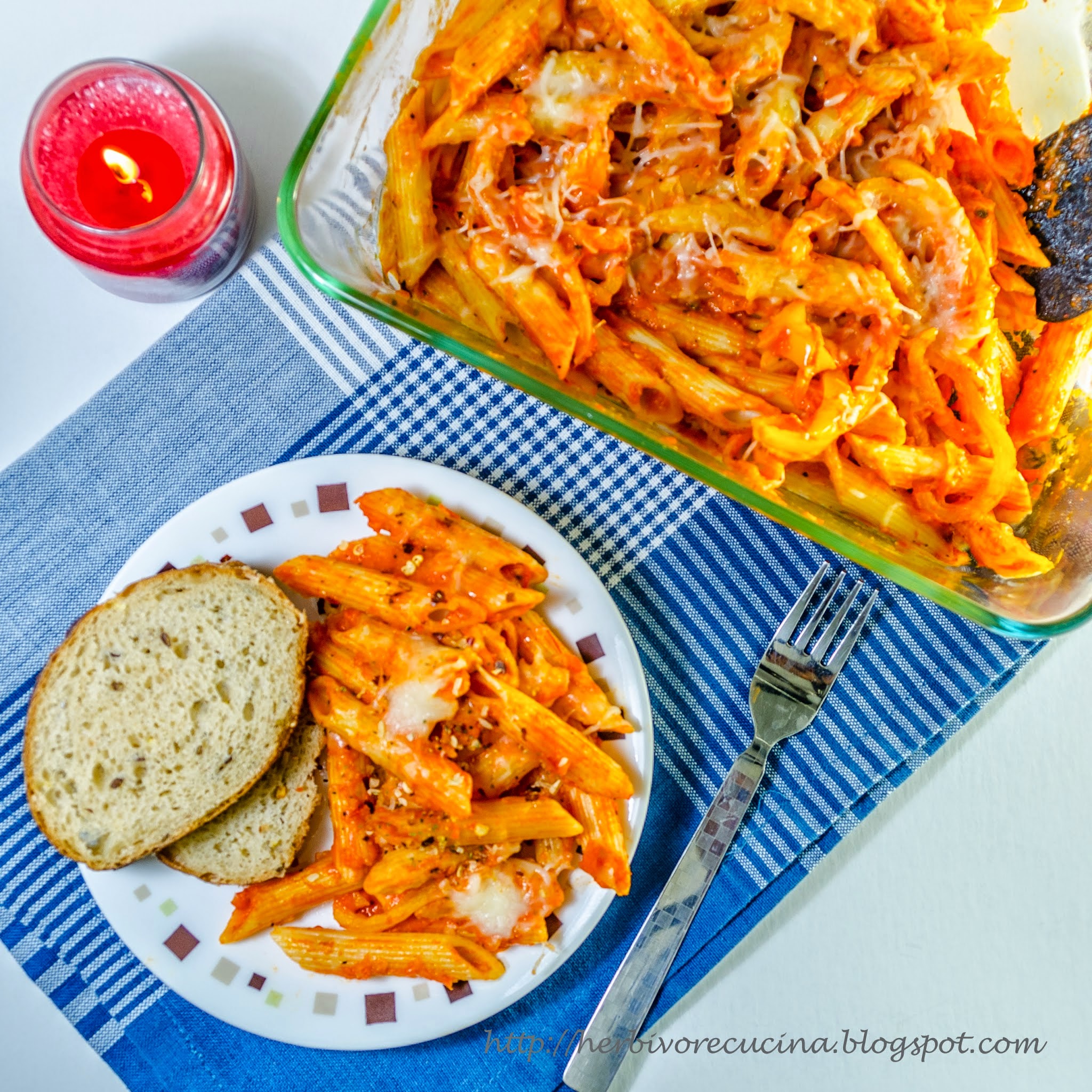 Ingredients
Penne Pasta 2 cups
Red Bell Pepper 2 medium
Yellow Bell Pepper 1 medium sliced
Garlic 2-3 cloves minced
Onion 1 medium diced
Mozzarella Cheese ½ cup
Butter
Mixed Herbs
Salt
Ground Black Pepper
Method
Heat water in a large pot and add salt. Once the water boils, add the pasta and cook till it is el-dente. You can use any pasta of your choice. Once done, drain and set aside.
Wash and dry the bell peppers with a kitchen towel. Spray some cooking spray on them or apply olive oil. Wrap each of them in a piece of aluminium foil. Roast them one by one on direct flame turning it around to ensure even roasting. Roast for about 8-10 minutes and then let it rest for sometime on the kitchen counter. This allows the pepper to be cooked in steam. After about 10-15 minutes, unwrap the pepper, remove the charred skin and the seeds and cut it into small pieces.
In a skillet add a teaspoon of butter and saute garlic in it. Add the onion and cook with a pinch of salt. Once done transfer the garlic, onion and bell pepper to a blender pot and blend to a paste. You may choose to keep it a little coarse too.
In a pan, heat a teaspoon of butter and saute sliced yellow pepper in it. Add the pepper sauce and mix well. Put in the cooked pasta, mixed herbs, salt and pepper. Mix everything well and top with some shredded mozzarella cheese. Serve warm with a bowl of soup and a side of herb bread.
If you are looking for other pasta dishes, try these: