30 minute recipe to make Restaurant style Mexican Rice in the Instant Pot. This one pot vegan meal is also a great side for tacos and burrito!

Some of the links below are affiliate links, meaning, at no extra cost to you, I will earn a commission if you click through and make a purchase.
Weeknight dinner calls for easy, quick one pot recipes! Mexican rice is a dish that meets all these criteria and is LOVED by most people. It is a favorite in out house, with various add-ins and sides.
Before we go to the sides and add-ins; let's talk about the recipe. For the longest time I have made Mexican/Spanish rice in a pan. Though the recipe is PERFECT; this version made in the Instant Pot is quicker yet equally tasty. It has become one of our favorite weeknight recipe.
If you are a fan of Mexican food, this recipe is definitely a keeper. Make a big batch and enjoy in burritos, bowls, tacos or just with a side of beans. It freezes really well and can be used for meal prep menu.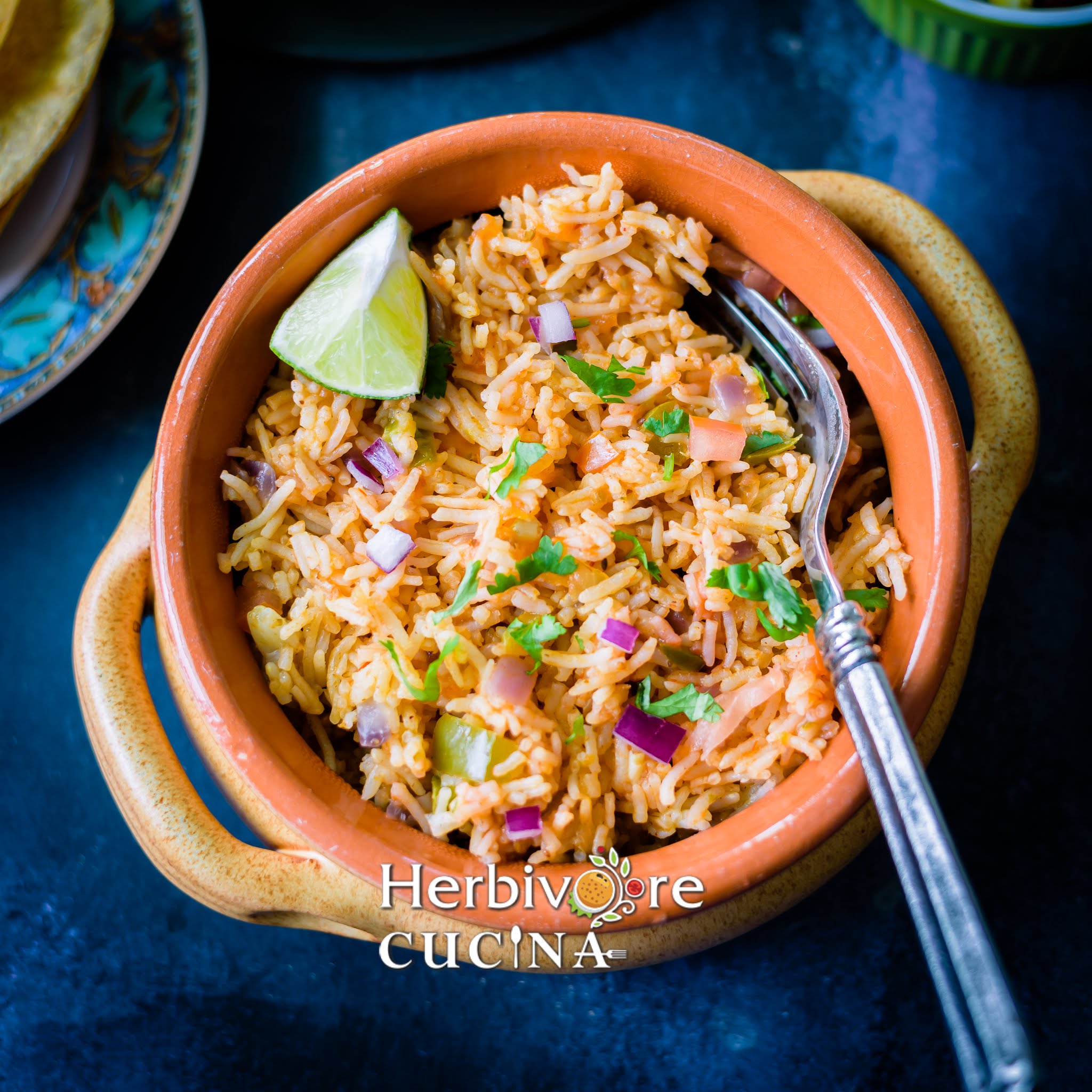 Why make Mexican Rice in the Instant Pot?
Most people who make Mexican rice at home would usually make the rice and then add the other ingredients to it. It does take some extra time to let the rice cool before we sauté in the remaining ingredients.
Making the recipe in the Instant Pot is made all at once in one go. No extra pans to clean, no wait time to let the rice cool and it comes together in under 30 minutes!
I made this recipe in the 6 quart Instant Pot but it works well in the 8 quart too. And yes, it will also fit the 3 quart without an issue.
What do you serve the rice with?
This rice is PERFECT to make in a big batch. Make it and freeze it for a quick meal on busy days. This rice is great to add into any kind of Mexican dishes like burrito, taco, quesadilla or on tostadas. However, I like to enjoy it as is!
Just the rice is my meal quite often than not! And it never feels dry given that we have added salsa and tomatoes to ensure the rice is moist. If you feel it is dry, you can stir in a couple of spoons of salsa and it will be great.
If you are looking for more Mexican recipe inspirations that are great with the rice, check these out:
This Mexican Rice in Instant Pot!
This recipe is super delish! Plus the recipe has these features too:
Under 30 minutes to come together

Tastes just like the rice from Mexican restaurants

Freezes well and can be made in a big batch

Easy to customize

Vegan and Gluten-free!
Here I used just rice and a couple of add-ins like pepper and onion. However, adding a handful of fresh or frozen corn and beans works well. To do so, add the corn and beans along with the salsa.
The recipe calls for tomatoes and salsa; both culprits for the dreaded 'BURN' message! So after adding these two, do not stir. If the salsa settles at the base, the burn sign is almost sure to come up.
I have used Basmati Rice that was just washed and drained. If the rice is soaked, it requires far less time to cook. So adjust the timing if you plan to soak the rice. Toasting the rice in oil is a great way to enhance the flavor. Make sure you do not skip that!
Now wait no more and make a batch soon!
Ingredients
Long Rice like Basmati 1 cup, washed and drained
Onion ½ medium, diced
Green Pepper ½ medium, diced
Garlic 2-3 pods, minced
Tomato 1 medium, diced
Jalapeño 4-5 slices, minced
Salsa ¼ cup (homemade or store bought)
Water/ Vegetable Stock 2 cups
Taco Seasoning 1 tsp
Cumin Powder 1 tsp
Salt 1 tsp
Lime Juice 1 tsp
Olive Oil 2 tbsp
Cilantro to top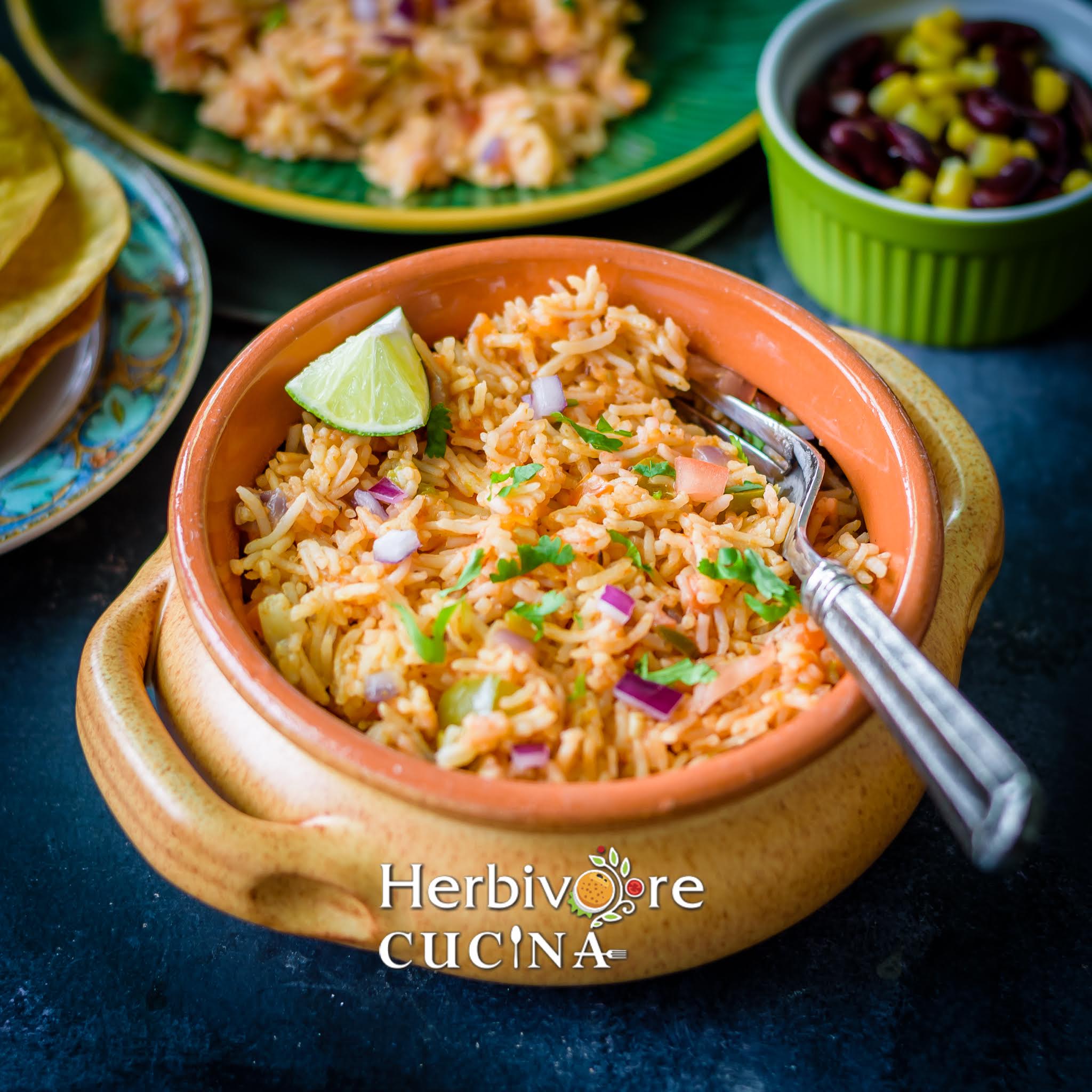 Method
Set the Instant Pot mode to 'Saute' and wait till the display reads 'Hot'. Add Olive Oil and garlic. Once the raw flavor vanishes; add onions and green peppers. Mix well and sauté for a couple of minutes.
Next add the drained Basmati Rice and mix. Toast the rice for 3-4 minutes. Then, add jalapeño, Taco Seasoning, Cumin Powder and salt. Mix and add water/ Vegetable Stock. Stir well.
Add the tomatoes and salsa. DO NOT stir.

Close the lid and set valve to sealing. Press 'Cancel' and press 'Pressure Cook'/'Manual'. Set timer to 5 minutes and let the rice cook.
Once the Instant Pot beeps, let the pressure release naturally for 3 minutes. Then remove the remaining pressure and open the lid.
Add cilantro and lime juice and let the rice cool for 3-4 minutes. Fluff the rice using a fork and serve with beans and corn.
DISCLOSURE: WE ARE A PARTICIPANT IN THE AMAZON SERVICES LLC ASSOCIATES PROGRAM, AN AFFILIATE ADVERTISING PROGRAM DESIGNED TO PROVIDE A MEANS FOR US TO EARN FEES BY LINKING TO AMAZON.COM AND AFFILIATED SITES.