A perfect dish for dinner; this BAKED Tortilla bowl is filled with some yummy ingredients! Super easy to customize and delicious; this recipe is definitely a winner!
Love Vegetarian recipes? Join this group Herbivore Cucina: Delicious Vegetarian Recipes and check out recipes from bloggers and food lovers!
Taco salad or bowl; a tortilla bowl filled with various kinds of ingredients like rice, beans, fajita and protein is commonly found dish on many Mexican restaurant menus. It is a highly customizable dish; and can be easily made vegetarian, full of meat, vegan or perfect for kids!
I have ordered this at so many places and loved it most of the time! The make or break for this dish is DEFINITELY the shell. If that is soggy, oily or limp; the dish loses for sure. The BEST taco shell salad I have had is the one from Qdoba. They do not have an outlet anywhere in the Bay Area. I wish I could have it more often around me.


When I talk of restaurants; YES I eat out quite a bit. Sometimes to try a new place, sometimes because we have an outing with friends and sometimes because I crave something somewhere. I do like to review the places I visit (genuine and unpaid, of course) and if you like reading reviews, head to my YELP profile here!
Coming back to home cooked food, I make a lot of restaurant style dishes at home. They start off with what we try at restaurants but it has EVERYTHING we enjoy in a meal. Sometimes I change some ingredients, bake instead of fry or add some protein like tofu or paneer to the dishes.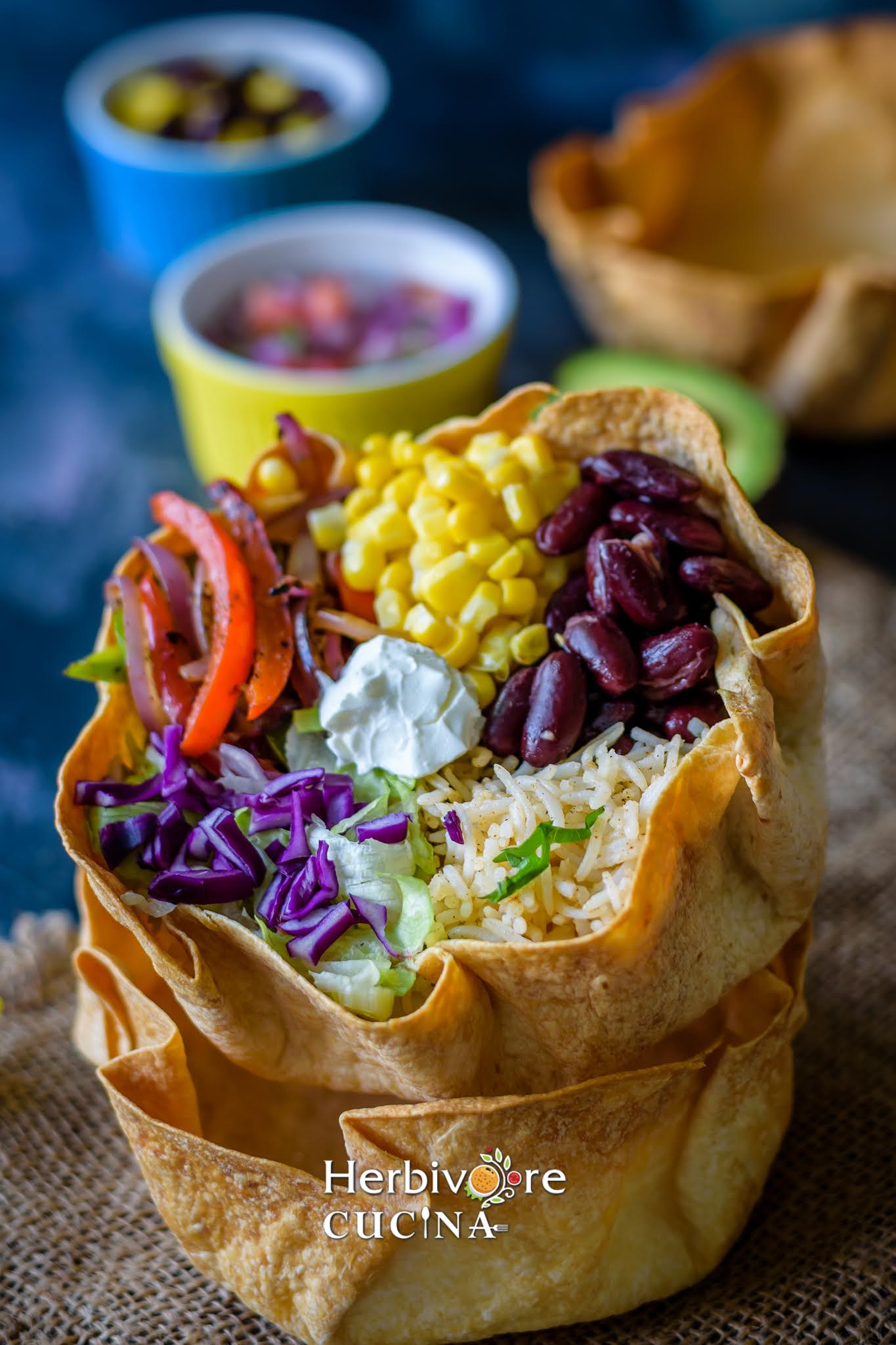 BAKED Tortilla Bowl?
A lot of focus in this dish is on the shell. If the shell is not right, the dish will not turn out great. I have tried various techniques to make the bowl, but enjoy the BAKED version the most.
The fried version is generally a little oily in the corners and obviously needs a large pan to fry and a lot of oil. The baked version needs just a teaspoon of oil and yields a super crunchy shell without any special pan!
All you need to make the baked shell is a baking pan about 9 inches in diameter, some aluminum foil and some non-stick spray! A few things to consider before starting off are here:
Choose the LARGEST size of tortilla if you are making a main course or mini tortillas to make appetizer portions

If the tortilla is frozen or super cold, let it rest outside the refrigerator for a while. This will make it pliable and not tear while shaping

Choosing a thinner version compared to a super thick kind helps bake the bowl evenly and crisp

Do not use a tortilla with any holes. The filling will fall out for sure!


The Fillings
Once the shell is made, the filling is a breeze. Plan it well and have everything you like, or just add in the ones you have in the refrigerator! If you like SOFRITAS, make this recipe and add to the bowl.
The protein comes from tofu, meat or beans. Mix and match the protein with your favorite salad or greens. Here I used shredded lettuce and purple cabbage. Mixed greens work great too.
Along with that I added some Fajita and fajita seasoned rice. It helped make the bowl filling with the rice and get a flavorful addition of charred onion and pepper. Quinoa makes a great addition to the recipe too.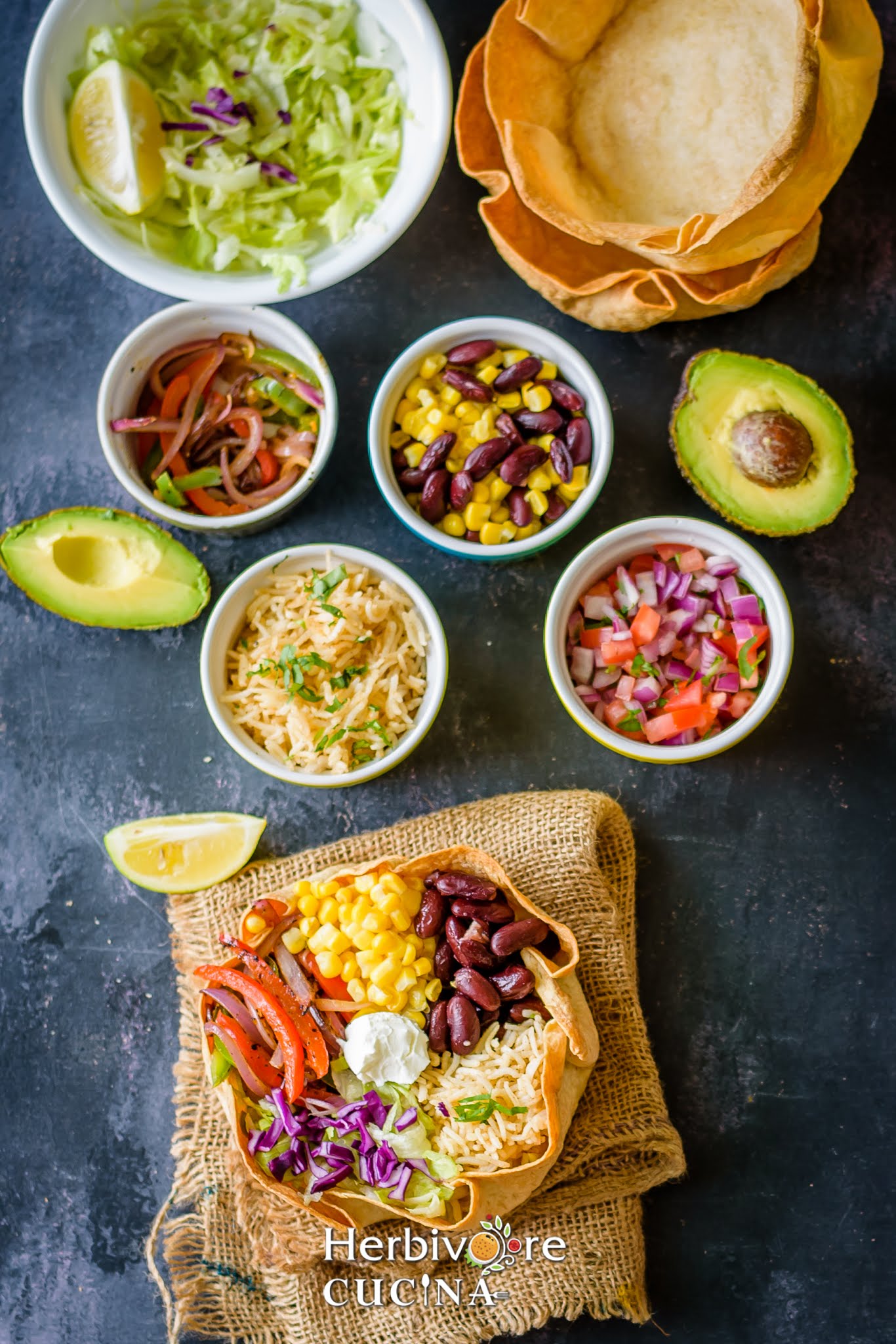 I also added some corn and beans. These can be substituted with creamed corn, pinto beans or even refried beans.
For the sauces I added some sour cream and store bought salsa. Guacamole, Mole sauce, Picante sauce or Salsa Verde all work great here. Pick the sauce you like and complete the bowl!
I have even set all this up as a station at a party. Each guest gets to pick and choose what they want in their bowl and it is great to see the combinations people make! Spicy, sweet, tangy or a balanced mix of all!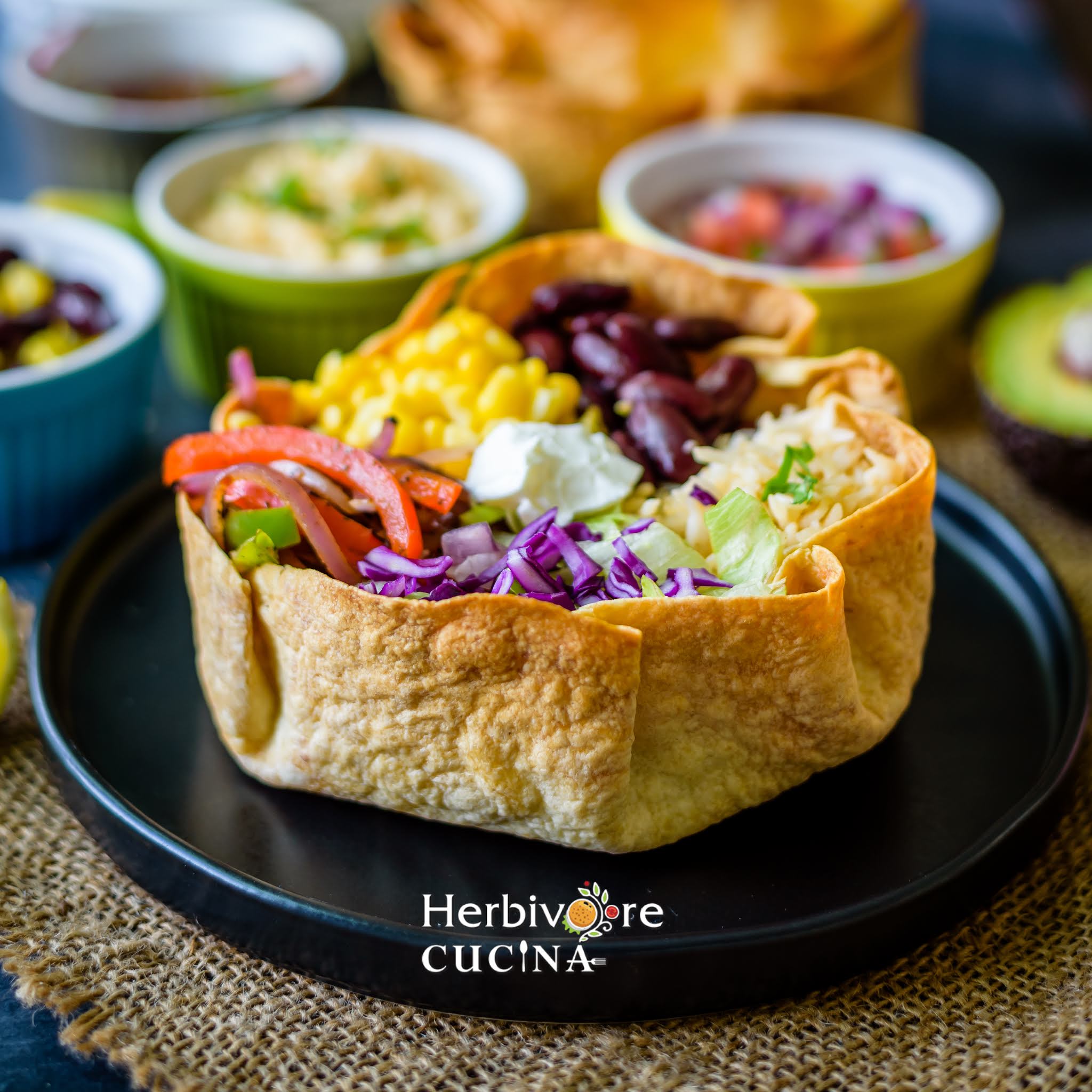 Ingredients
For the Bowl
Large Tortilla (12 inch) 4 pieces
Unsalted butter/Cooking Spray as required
For the other toppings
Fajita 1 cup
Iceberg Lettuce and Red Cabbage 1 cup shredded
Corn ½ cup fresh or frozen
Kidney Beans ½ cup, soaked overnight
Sour Cream ¼ cup
Rice 1 cup
Onion and Tomato chopped 1 cup
Cilantro 2 tbsp
Avocado 1 sliced
Fajita Seasoning 1 tsp
Salt and Pepper as required
Lemon Juice as required


Method
To make the Bowl
Preheat oven to 425 F/ 220 C. Spray non stick cooking oil or spread butter on the tortilla.
Place the tortilla in a 9 inch baking pan and fold the sides up to align with the edges.
Place a ball made by crumpling aluminum foil in the middle such that it almost touches the tortilla. Alternatively, place a 6 inch pan.
Bake for 10-12 minutes; till the shell is crisp and golden brown. Remove and set aside. I made four of these to serve for dinner.
To make the other toppings
Steam the corn kernels and kidney using a pressure cooker or in the Instant Pot. Drain the water and season them with Fajita Seasoning.
Mix together the chopped onion and tomatoes with some salt, pepper and lime juice. Add some cilantro and mix well.
Cook the rice in the pressure cooker. Season with salt, pepper and fajita seasoning. Add some lime juice and set aside.
When ready to serve; divide the ingredients in four tortilla bowls. Sprinkle some salt, pepper and lime juice. Enjoy!
DISCLOSURE: WE ARE A PARTICIPANT IN THE AMAZON SERVICES LLC ASSOCIATES PROGRAM, AN AFFILIATE ADVERTISING PROGRAM DESIGNED TO PROVIDE A MEANS FOR US TO EARN FEES BY LINKING TO AMAZON.COM AND AFFILIATED SITES.